Neha Kakkar Celebrates Her Birthday With Friends And Family In An English Tea Party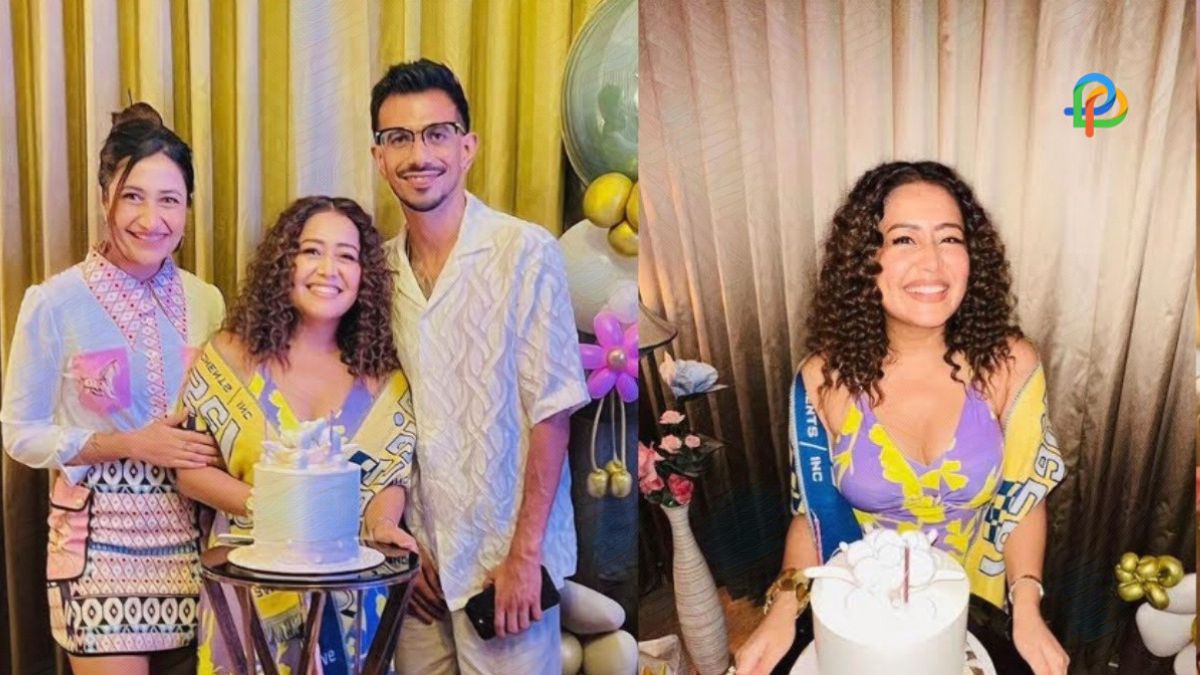 Playback singer Neha Kakkar celebrated her 35th birthday on 6th June by hosting an English tea party for her friends and family. Neha shared the photographs of her birthday celebrations on her Instagram account.
The singer's first series of pics had the caption ' This is how my birthday began.. midnight 6.6.23. Thank you @surbhikakkar12 @dewnyrose @rinka_jha @rashmi5044 @vibhagusain @nargis9052 @madhura_makeupnhair and Guddu for making it more special!'. A blushing Neha, clad in a black printed gown is seen happily posing for photographs along with her father Rishikesh and mother Neeti.
In the second set of pictures, Neha, wearing a lilac sleeveless dress is seen along with her friends. A big group of friends including Indian cricket player Yuzvendra Chahal and his wife Dhanashree Verma are seated on the floor in a circle. They are heard discussing Pav Bhaji and fried rice and Neha can be seen laughing aloud.
In the last series of photos, Neha Kakkar poses with the cake in front of her and 'Bala Ki Khoobsurat Lagti Ho', her song playing in the background. Neha has uploaded a video of her cutting the birthday cake and giving a slice to her mom.
Neha Kakkar is also seen posing for a photograph with Yuzvendra and Dhanashree. A variety of eatables were also arranged including vada pav, cupcakes, pastries, Pani puri, and iced tea.
However, the person who was most conspicuous by his absence was Neha's husband Rohanpreet Singh. Since he was missing in the birthday party pics posted by the singer, the internet was abuzz with discussions about the reason for his absence.
Neha Kakkar met her husband Rohanpreet for the first time during the shooting of their first music video, Nehu Da Vyah. Later, the couple fell in love with each other and finally got married in October 2021. Last April, on the occasion of her brother Tony's birthday, Neha shared some pictures on her Instagram handle.
Both Neha Kakkar and her husband Rohanpreet are seen inside a swimming pool and she was passionately kissing him. Neha was flaunting a black bikini in the photographs and she was looking stunning. The birthday party was held at a property situated half an hour from Uttarakhand.
The Rishikesh-born Neha is the younger sister of leading playback singers Tony Kakkar and Sonu Kakkar. During her childhood days, Neha suffered a lot due to her poor financial background. The singer's father used to sell samosas outside the school where her sister was studying in Rishikesh.
Though she made her debut in the Hindi film industry as a chorus singer in the film 'Meerabai Not Out', Neha rose to fame after the release of the dance track "Second Hand Jawaani" from the movie Cocktail.
The singer has achieved several coveted feats such as appearing in the India Forbes Celebrity 100 for two years and also making an entry in the list of Asia's 100 Digital Stars by Forbes.
Read More:
Niharika NM: Sucessful Story Of Indian Comedy Influencer!
Varun Tej: Check Out Unknown Facts About The Telugu Actor!