Bikaner, Old Jangladesh – Visit These Places In 2022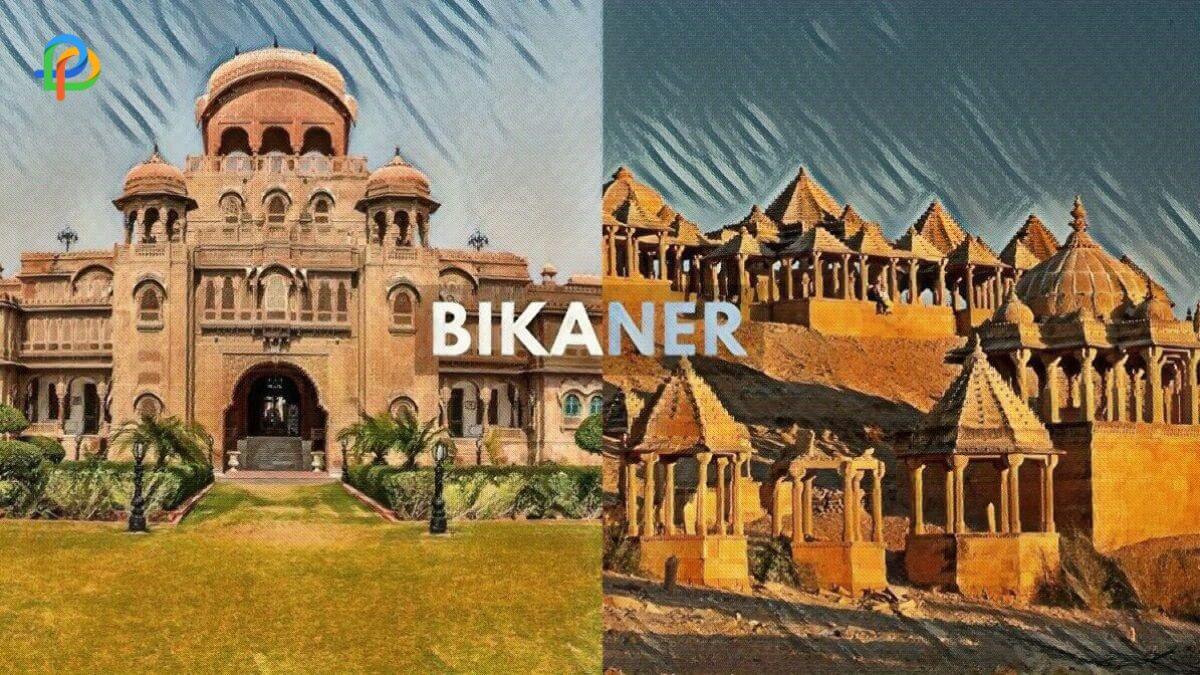 One of the most frequent destinations for tourists who are traveling through the state of Rajasthan is Bikaner, Rajasthan. Rao Bika established Bikaner in 1488 CE, and since then it has grown to become the fourth-largest city in Rajasthan. Bikaner is referred to as the royal city of Rajasthan.
Bikaner, also known as "Camel Country," served as the provincial capital of Rajasthan's erstwhile royal province. Tours to Bikaner, one of Rajasthan's top tourist destinations, are typically included in itineraries for trips to the sovereign state.
The city exudes the classic allure of Rajputana's former kings. There are numerous museums, forts, temples, and heritage sites. The city is surrounded by several sand dunes and is located on the edge of the Thar Desert. A trip to Bikaner can make you feel wonderful because you'll discover and learn about how the Rajasthani kings and queens lived in this princely state. Visit the lovely city of Bikaner if you want to experience it like a king.
Things To Do/ Places To Visit:
Following are the places you must visit if you are in Bikaner:
Lalgarh Palace And Museum
If you're ever in the Bikaner region of Rajasthan, be sure to check out Lalgarh Palace and Museum of Bikaner. Lalgarh Palace is a beautiful estate that was once the home of Maharaja Jajoji Rao Scindia, one of the most important rulers in Rajasthan history. For the Maharaja Ganga Singh of Bikaner, in the year from 1902 to 1926 this museum was built.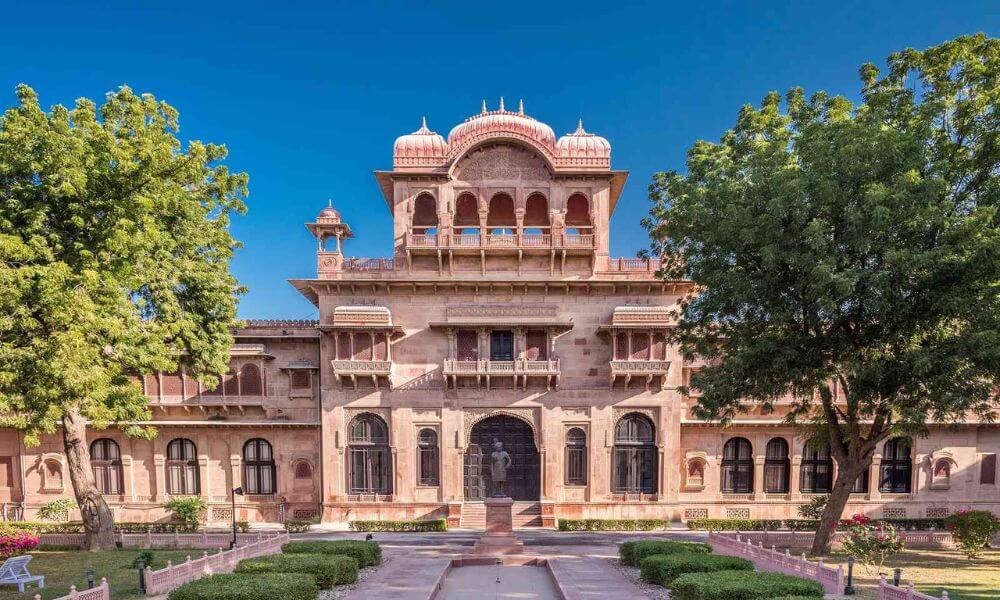 The European-style palace is now open to visitors as a Heritage Hotel, and the entire estate is managed by the National Heritage Trust.
The estate has been restored and is now home to an amazing museum that celebrates the history and culture of Bikaner. The museum has a wide range of exhibits, including displays on Rajput kings and queens, traditional Rajasthani art, and traditional Bikaneri crafts. If you're interested in learning more about Bikaner's unique culture, Lalgarh Palace is a great place to start.
National Research Centre on Camel
The National Research Centre On Camel is a popular tourist destination in Bikaner and is open to visitors in the afternoon. Visitors can observe several camel breeds and their behavior. They can learn more about the camel's evolution and research in the desert ecology by visiting a camel museum.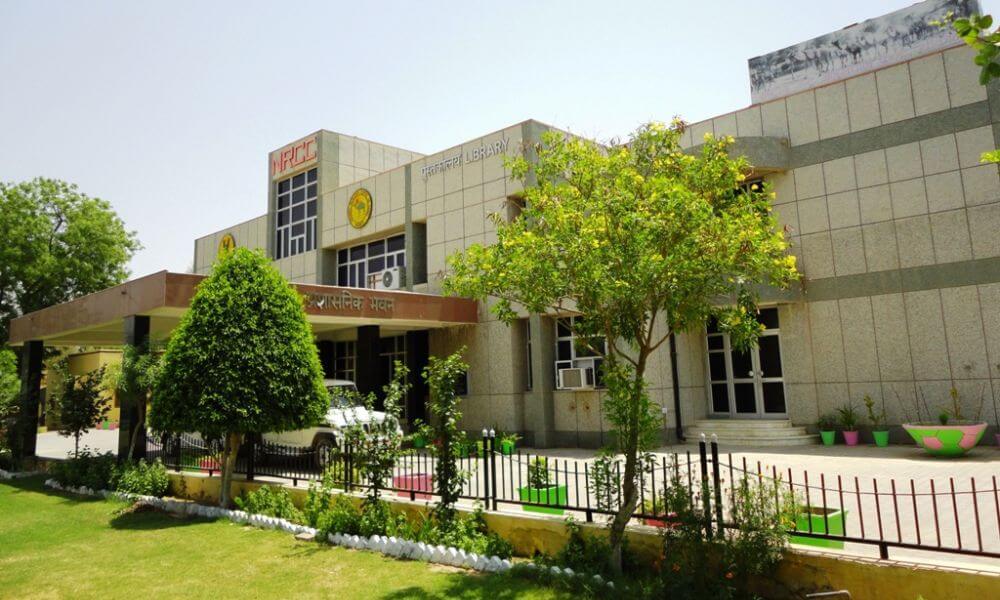 This is a location in Bikaner, and in all of Rajasthan, that must be seen at least once. With roughly 230 camels of three different breeds, the National Research Centre on Camel is more of a breeding nursery. Samples of camel milk and lassis are available at the on-site store.
The tour takes place over a half-hour round journey and walks you through the entire facility while teaching you about the methods used there. This location, which is among the best places to visit in Bikaner, is especially special for visitors thanks to its small museum and camel ride.
There are also services for camel riding, safaris, and video/photography. Camel milk parlor, where you can get special value-added camel milk items including ice cream, hot and cold beverages, is the center's main draw. Additionally, there are other various options also available.
Junagarh Fort
There is no denying that the Junagarh Fort is one of the most impressive forts in Rajasthan. It's a UNESCO World Heritage Site and a must-see for any traveler to Rajasthan. The fort was originally built by the Vaghela dynasty in the 16th century, and it has since been occupied by the Mughal, Maratha, and British empires.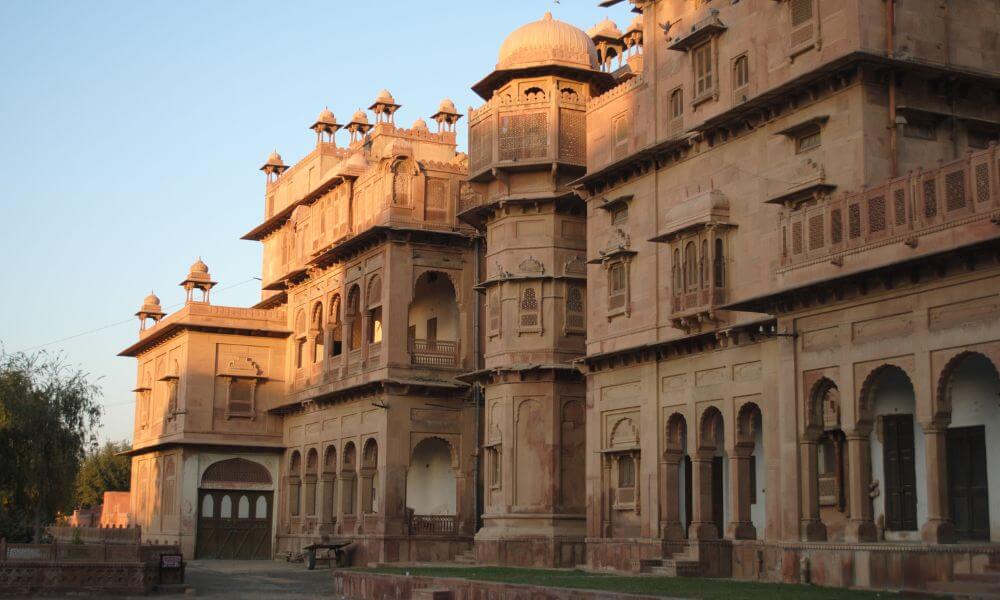 It played an important role in their history. It was used as a base of operations for their campaigns against the Muslim rulers of India, and it also served as a prison for many prisoners. It is a popular tourist destination, and there are plenty of attractions to explore inside. Highlights include the Emperor's Palace, and the Shah Jahan Tomb. Whether you're interested in history or architecture, the Junagadh Fort is a must-see for anyone visiting Rajasthan.
Today, the Junagarh Fort is still an important part of Rajasthan history. It's a popular tourist destination, and it's easy to see why – it's a beautiful place with an interesting history. If you're ever in the Bikaner region, be sure to visit the Junagarh Fort
Laxmi Niwas Palace
The Laxmi Niwas Palace was once the home of Maharaja Ganga Singh, the king of Bikaner, and is one of the most lavish and impressive places to see in Bikaner. Between 1898 and 1902, it was constructed by Sir Samuel Swinton Jacob, a British architect. Laxmi Niwas Palace, a stunning landmark that was once Maharaja Ganga Singh's royal palace, is now accessible to the general public as a heritage hotel.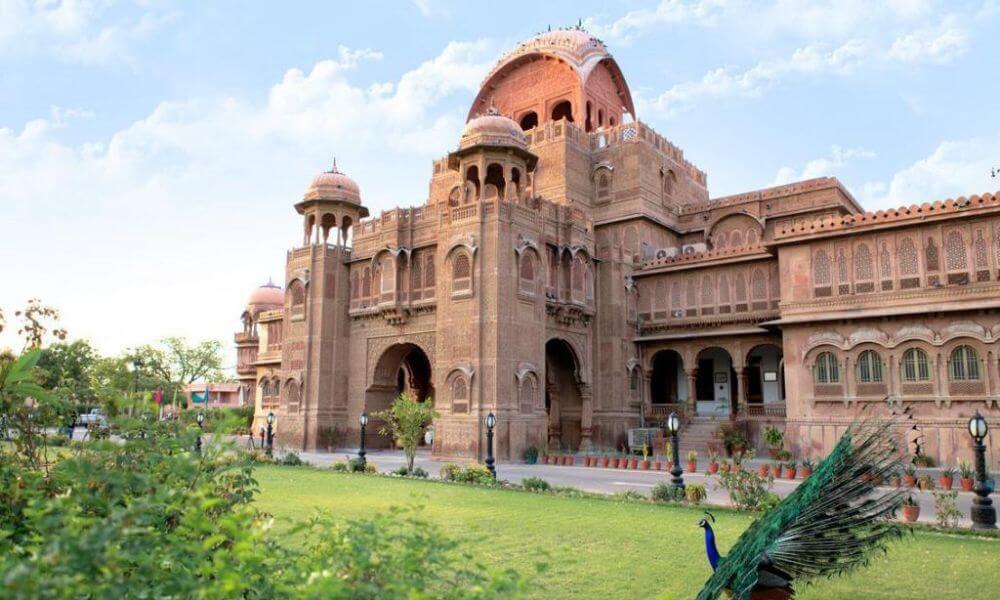 Numerous visitors are attracted to the palace by its exquisite architectural design and extensive historical and heritage value. The palace, one of the largest luxury hotels in the nation, was constructed in the Indo-Saracenic architectural style. Additionally, this area is home to a museum that is a treasure trove of information about Bikaner's royal family. You can explore the museum in the grand palace to learn more about Bikaner's aristocracy.
Gajner Palace And Lake
On the shores of Gajner Lake, in the city of Bikaner, is where you'll find Gajner Palace. Maharaja Ganga Singh constructed this majestic palace as a hunting lodge for himself and his family, but it was later turned into a hotel in 1976. You can partake in a range of recreational activities at Gajner Palace, including boat rides and desert safaris.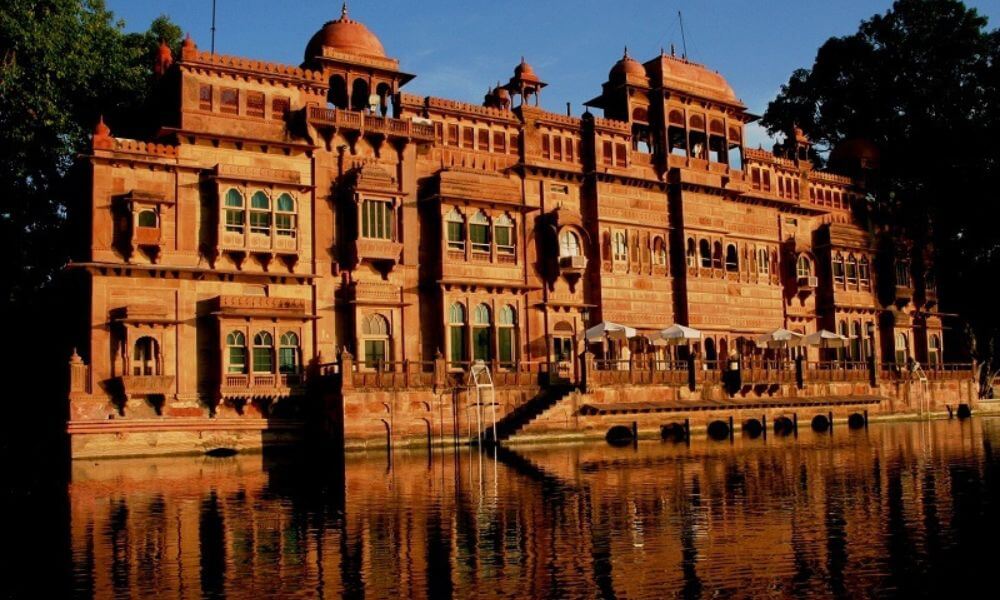 This location, which is in the center of a dense forest, is regarded as one of the greatest places to visit in Bikaner because tourists may see wandering animals including well known Sand Geese, Antelopes, and Black Bucks.
On the edge of a lake, the Gajner Palace is one of Bikaner's most well-known tourist destinations. In the past, Gajner Palace served as a hunting and vacation lodge where the King of Bikaner and members of the royal family shared their love of hunting with the visitors.
Devi Kund
Near Bikaner, in a place called Devi Kund, are the royal chhatris, or cenotaphs, of the valiant Bika dynasty kings. There are numerous cenotaphs at this royal crematorium. The royal crematory known as Devi Kund was constructed to honor the Rajput king Rao Bikaji, his descendants, and other members of the Bikaner royal family.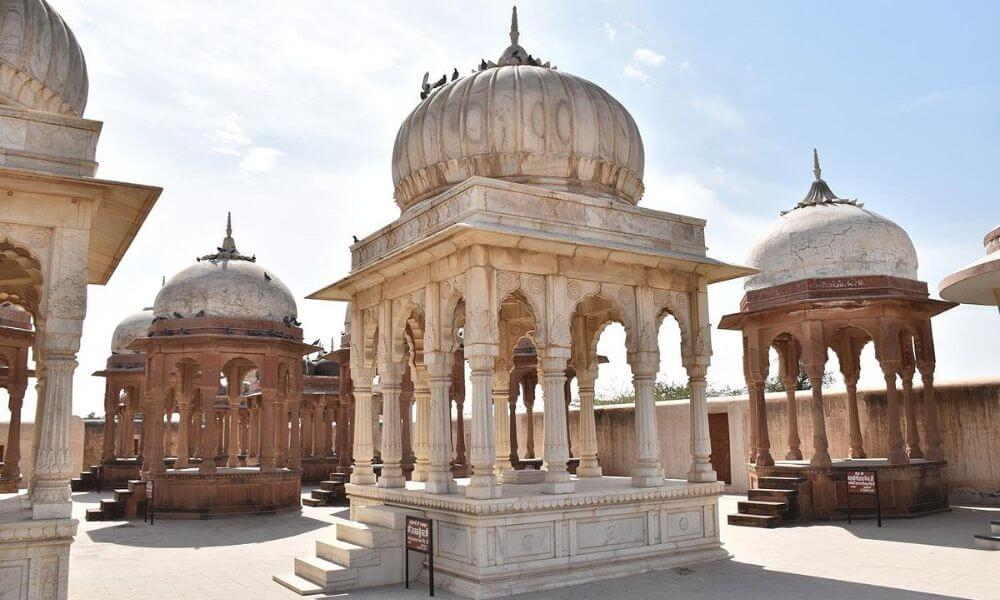 The site is renowned for hosting numerous cenotaphs or memorials. Each cenotaph or monument was built in remembrance of the departed royal family member and is surrounded by a stela and a chattris.
The majority of royal cenotaphs include epigraphs or inscriptions on the memorial stones in addition to stunning architecture, engravings, floral patterns, and gorgeous portraits. The distinction between early cenotaphs constructed of Dulmera red sandstone and the more current ones made of white marble is important information regarding the royal crematorium in Devi Kund.
Each cenotaph showcases exceptional Rajput craftsmanship. You must see this beautiful architecture while you are in Bikaner. You can also go to the nearby Dargah of Rustal Ali Shah Peer.
Jain Temple Bhandasar
There are two well-known Jain temples in Bikaner. The Jain Temple Bhandasar is regarded as one of the top one among them and also in the place. One of the 27 stunning Jain temples in Bikaner is the Bhandasar Jain Temple. The fifth Tirthankara, Sumatinath, is honored in this temple, which is also regarded as the highest and most magnificent temple in existence.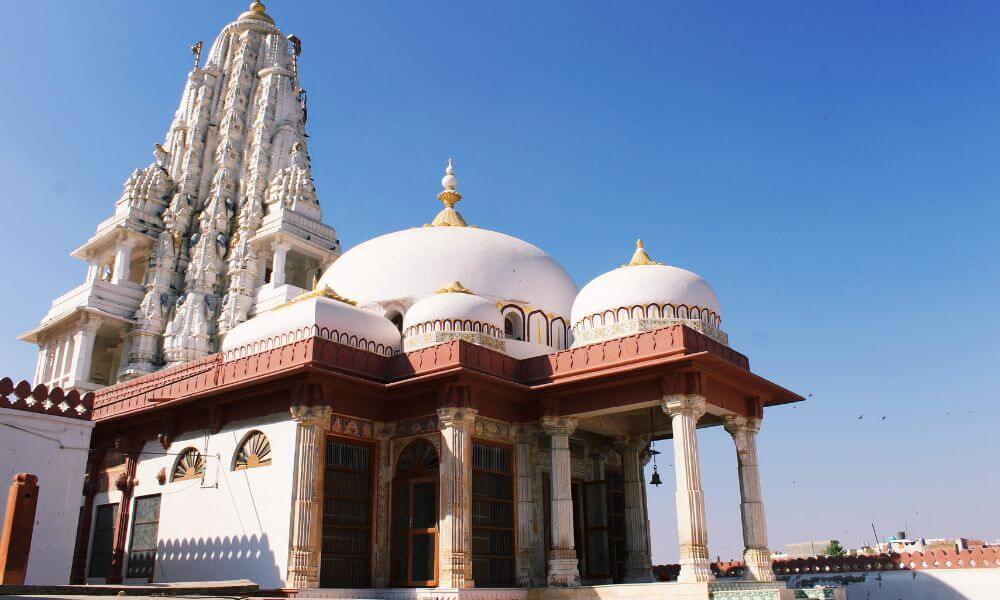 Yellow stone sculptures and colorful paintings adorn it. The artwork on the walls and pillars give the temple's interior a magnificent appearance. The 24 Jain instructors are represented on the walls together with floral arabesques.
Basically, the temple is dedicated to the fifth Tirthankar, Sumtinath and was commissioned by a Jain trader called Bhandasa Oswal. Since the temple was created during the 16th century, it has lots of historical views and attributions depicted in the structure. This temple known as Bhandasar temple was built by Bhanda Shah. For the lining of the Bhandasar temple's foundation, it is said that dry coconuts and pure ghee were used.
The Bhandasar temple is made of red stone and it features the usta art as well as some well known wall paintings. From 5:00 AM to 1:00 PM and 05:30 PM to 11:30 PM, the temple will be open.It is one of the religious tourist destinations in Bikaner because of the it's amazing view and look built with the use of white marble as well as red sandstone with a gold layer covering from top. This three-story temple's grandeur is admirable, and every traveler should include it on their itinerary.
Katariasar Village
Bikaner's Katariasar village is a classic Rajasthani hamlet. It is 45 kilometres from Bikaner on the Jaipur road. Visitors who want to experience Rajasthani rural culture must stop by this village. The village of Katariasar is more known for its modest pleasures than its tourist attractions. As sunlight reflects on the sands, the settlement in the desert shines.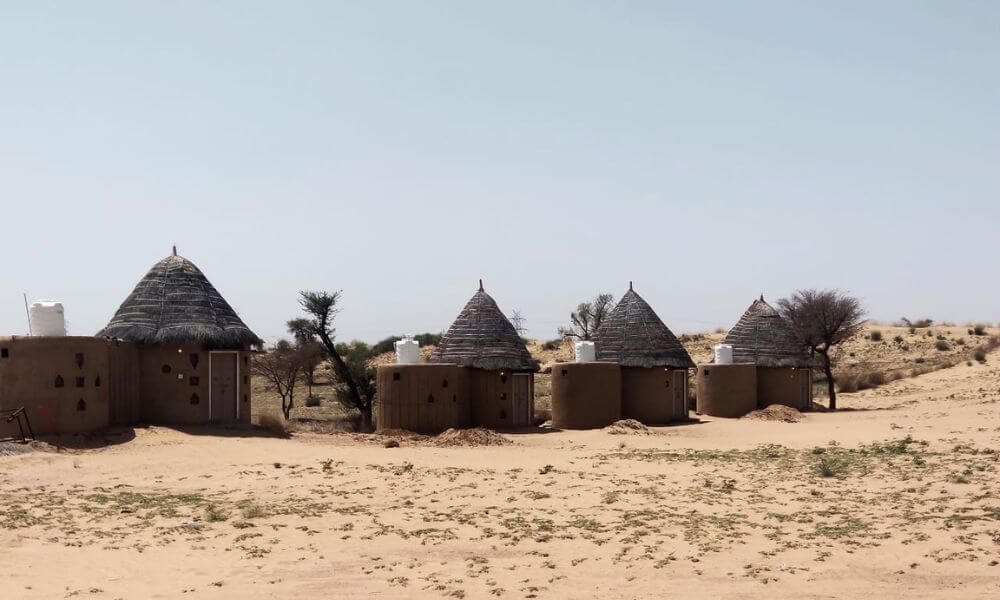 On the Jaipur Road, 45 kilometers separate Katariasar Village from Bikaner. Visitors who want to experience Rajasthan's rural culture must stop by this village. Take a camel ride over the sand dunes, please! It is beautiful to watch the sun's rays fall gently on the sand, turning it golden.
On the Jaipur Road, 45 kilometers separate Katariasar Village from Bikaner. Visitors who want to experience Rajasthan's rural culture must stop by this village. Take a camel ride over the sand dunes, please! It is beautiful to watch the sun's rays fall gently on the sand, turning it golden.
The greenery is sparse and visually appealing. Small houses are decorated with regional artwork. Vexatious women carrying water jugs on their heads are obvious. The welcoming villagers open their homes, stories, and cuisine to visitors. The majority of the population works in dairy farming, and you can easily find more cows than people. the chinkara herds.
Gajner Wildlife Sanctuary
Gajner Wildlife Sanctuary is a superb location for observing wildlife nearby Bikaner and is about 32 kilometers away. One of the top tourist destinations in Bikaner is the sanctuary, which is home to numerous types of wildlife such the Chinkara (black deer), wild boar, neelgai, and many others. Some unusual plants and animals can be found in the refuge. Blue bulls, Indian hares, antelopes, deer, wild boars, and many more types of animals can be found here.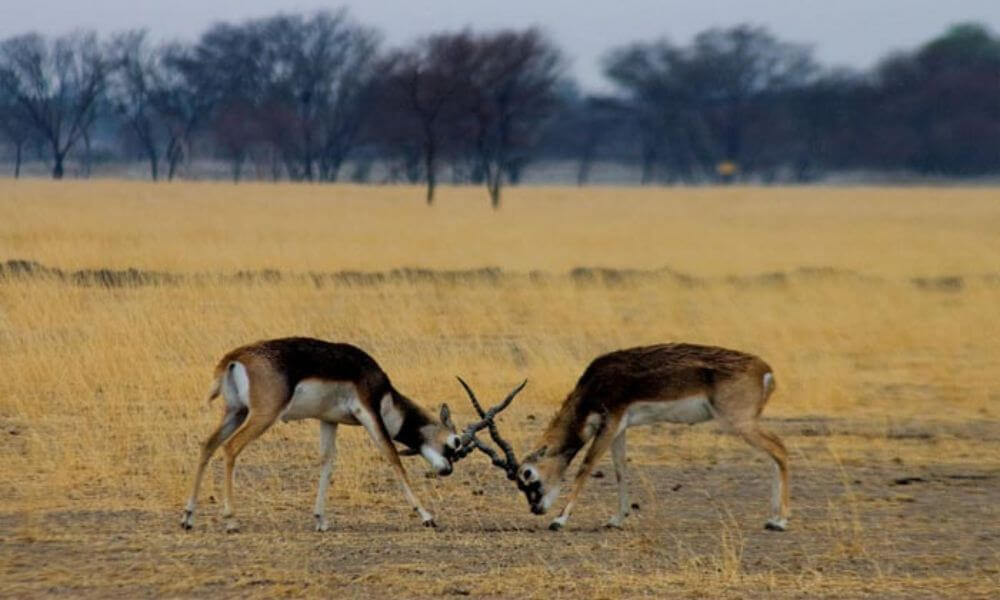 The sanctuary contains Gajner Palace and Gajner Lake. You might enjoy yourself very much when strolling. You can view wildlife and observe migratory birds on Jeep and camel safaris. The Gajner Wildlife Sanctuary, a historic hunting site for the Maharajas of Bikaner, is another well-known attraction in the city of Bikaner.
One of Rajasthan's well-known wildlife sanctuaries, it has a tiny lake inside. If you're lucky, you might see some unusual animals in the lake quenching their thirst. Numerous deer, antelopes, the renowned Nilgai, and desert foxes can all be seen.
Additionally, a sizable population of birds like sandgrouse can be seen in this area. The Maharaja and the ruling family used to hunt in this park, which has since been expanded into a wildlife reserve to protect its diverse flora and fauna. For those who enjoy wildlife, choosing a safari within it is a wonderful experience. Bird watchers also have a great chance of finding a variety of birds here.
Raisar Dunes
A cutting-edge adventure in Rajasthan's endless sea of plush sand is Raisar Village Desert Camp. Explore gloriously while riding a camel or camel cart. In Raisar hamlet, close to Bikaner, it is the ideal location between sand dunes.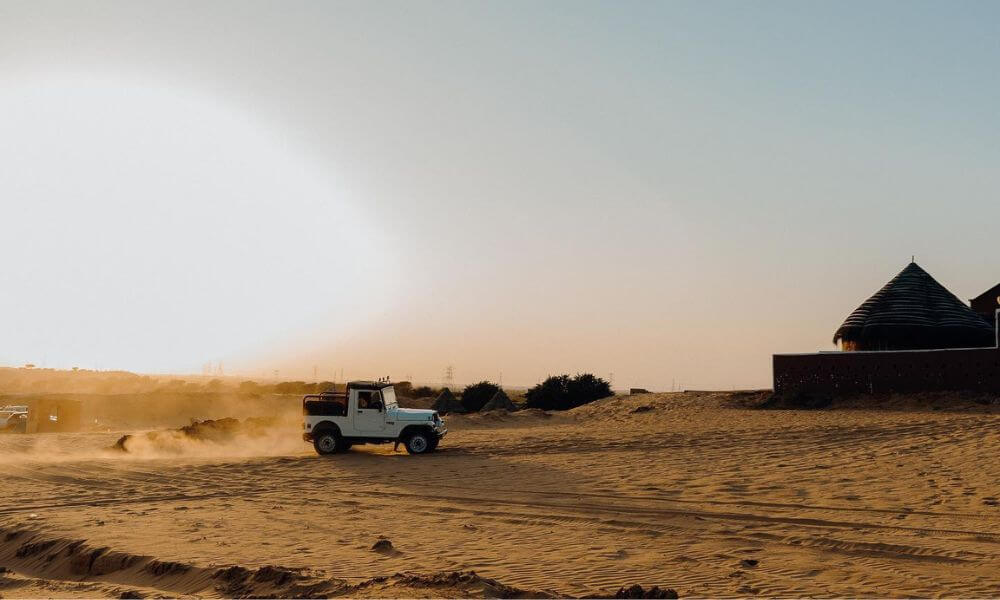 We'll be waiting for you enthusiastically to provide you a fantastic desert journey. You may see village homes, herds of livestock, vibrant clothing, and the way that villages live without the fundamental conveniences of metropolitan civilization.
The beauty of the sunset is a sight that defies description in words or scenery. A desert safari in Bikaner is a must-do excursion, and a nighttime drive across the golden sand dunes with the sun setting as the backdrop certainly qualifies.
You really appreciate the desert's flora and animals as you travel to your campsite. Camels take you on a tour of the desert as you get closer to your camp. And at the conclusion of the day, you are free to go for a stroll in the evening and soak in the complete peace of the bush at night. The camp is fully equipped, and we offer you a formal dinner with folklore, music, and dance in addition to a campfire. When your adventure is over, you'll have many years to remember this wonderful experience.
How To Reach Bikaner?
After landing in Jodhpur airport from your location, it's nearly 251 km away from the city. From there you can easily book a taxi or reach the bus in Bikaner. Jodhpur airport is quite clean and possesses all the necessary facilities tourists require. You can easily board flights from Delhi to Jodhpur, Jaipur to Jodhpur or from cities which connect Bikaner. Moreover, Bikaner is connected to many roads which helps the tourist to reach the desired location either through state buses or private vehicles.
You can even reach tourist spots as per your choice like Kalibangan (205 km), Kolayat (54 km), Gajner WildLife Sanctuary (32 km) and Jodhpur (302) through numerous transport mediums by road. Cabs facility and bus service is quite good at this place.
You can even reach Bikaner spot by train. The Bikaner Junction is nearly 6 km in distance from Lalgarh Railway Station which connects main Indian cities such as Delhi, Punjab, Jodhpur, Hyderabad, Kolkata, Mumbai, Ahmedabad and Guwahati. Hence, nowadays, reaching Bikaner spot is quite easy and there are various mediums and transport available to guide as well to reach the required location.
Read More:
Fabulous Srinagar – Must Visit Places In Srinagar
Yelahanka Air Force Station Will Host Aero India 2023 In February!