Famous Tourist Destinations To Visit In Rajkot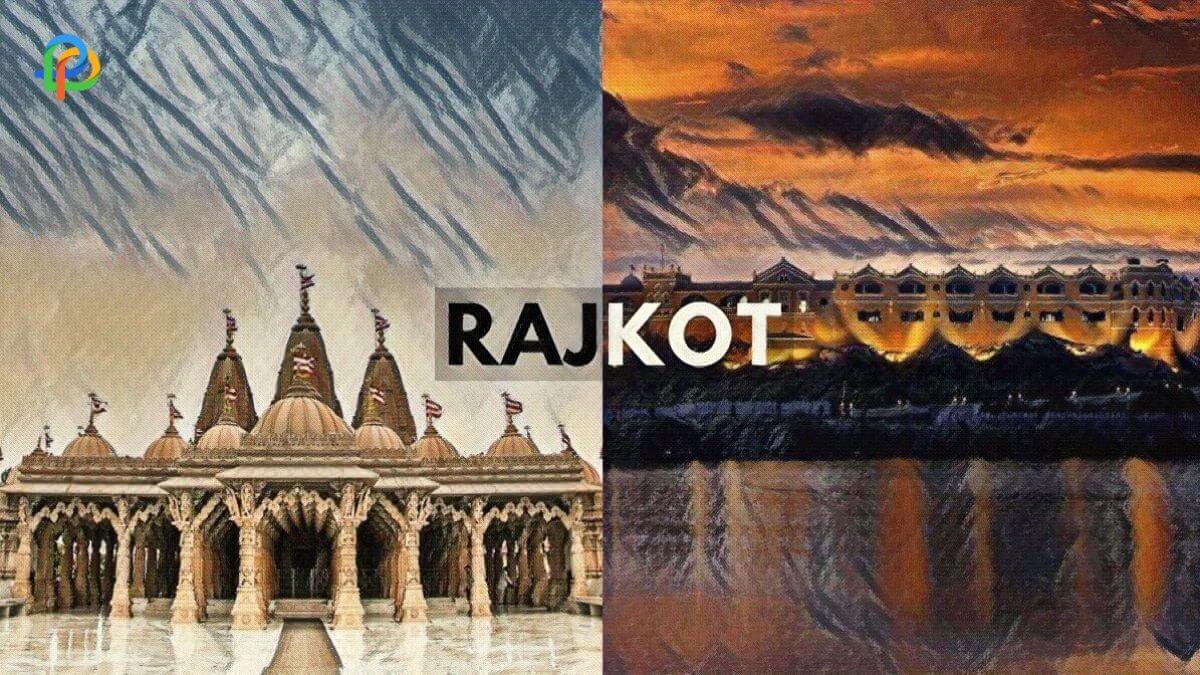 Rajkot is a city in the Indian state of Gujarat, situated on the banks of the Aji and Nyari rivers. It is the state's third-largest city and an important financial and cultural center. The city, which covers an area of 104.86 km2, holds a special place in the hearts of visitors. From culture to history, jewelry to traditional clothing and landmarks, the city is a veritable treasure trove of things to see and do.
'Rangilu Rajkot' (Colourful Rajkot) is a city located there that displays a medley of colors of intricate handicrafts, textiles, beautiful architecture of monuments, green pastures surrounding it, and joyful shopping markets. Rajkotians or Kathiyawadis are the people who live in Rajkot, which is part of the Kathiyawad region.
The people here dress similarly to those in other Indian cities, but their love for gold jewelry is unique. Both men and women enjoy wearing jewelry created by local artisans. Saris are draped in the traditional Gujarati style by the women who wear them.
The winter season, from October to January, is the best time to visit Rajkot. During this time, the temperature ranges from 10°C to 22°C. The weather is pleasant enough to visit the city's various tourist attractions. Visitors can enjoy the nine-day festivities of the Navratri festival in Rajkot, which takes place in October. The Gujarati Hindu community's combination of devotion and Garbha is well-known throughout the world. The Janmashtami Mela is held in the months of August and September to commemorate the birth of the Hindu God Krishna.
Places To Visit In Rajkot
Ranjit Vilas Palace
Ranjit Vilas Palace was built by Maharaja of Wankaner H.H. Amarsinhji in Rajkot, Gujarat. It has a total area of 225 acres. Visitors are not permitted inside the palace unless they have special permission from the current descendant of the Jhala dynasty, High Royal Highness Dr. Digvijay Sinh Zala. The palace is decorated in a fusion of historic architectural styles such as Mughal, Dutch, Gothic, and Victorian.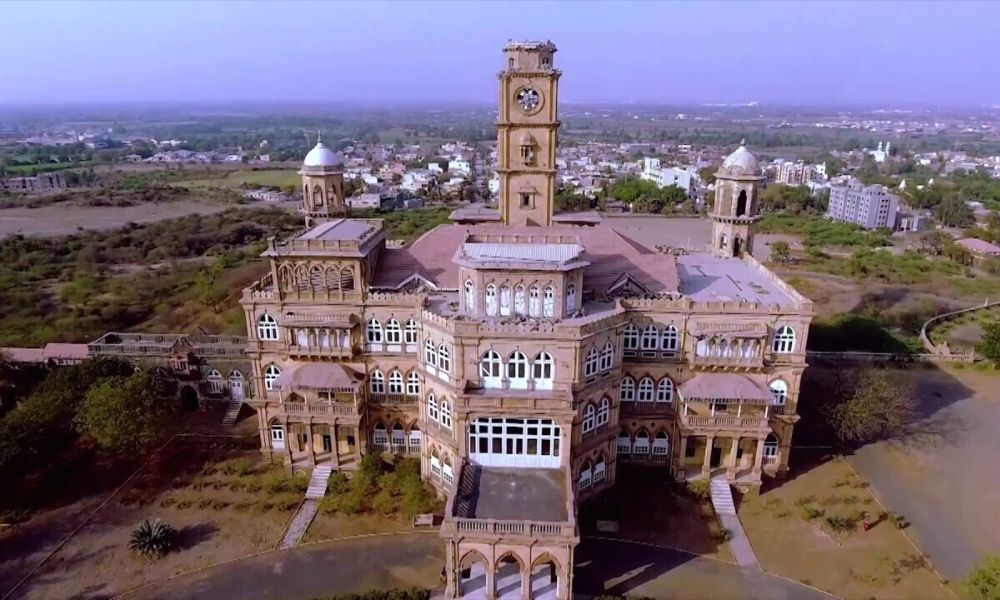 The Ranjit Vilas Palace has a large collection of weapons from the Jhala dynasty's arsenal. There are intricately crafted daggers and swords that reflect the wealth of royalties. Along with paintings, there are vintage cars decorating designated parking spaces. The grandiosity of the palace is enhanced by an Italian fountain. The public cannot enter the palace. The palace, however, can be explored with special permission from the royal family.
Gandhi Museum
The paternal house of Mahatma Gandhi, where he spent his childhood, is one of the most important places to visit in Rajkot. From 1881 to 1887 AD, he lived in a house off the Gheekanta Road known as Kaba Gandhi No Delo. An NGO now manages the house, which has been converted into a Smruti museum.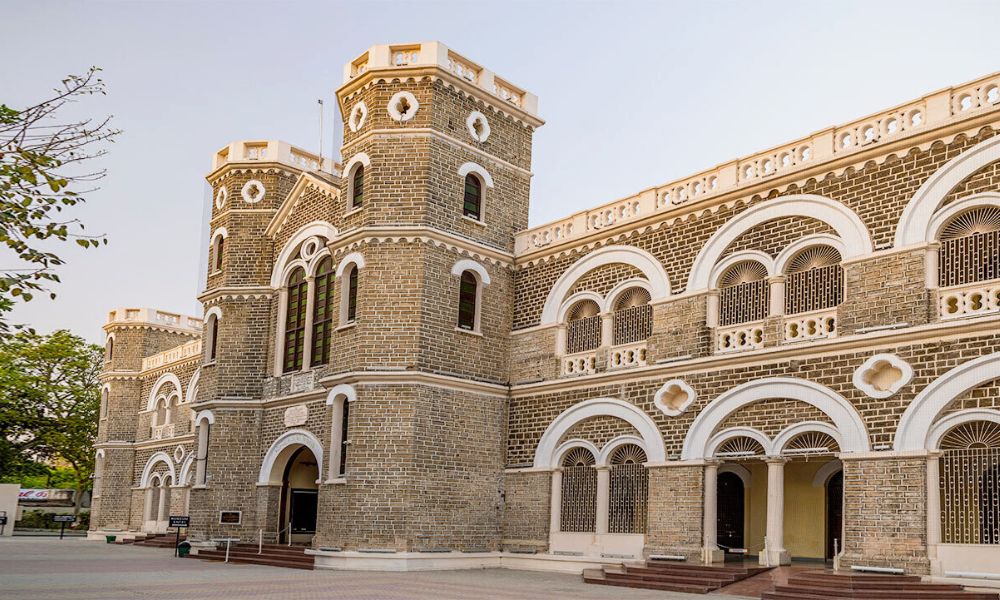 It portrays Gandhi Ji's life through pictorial representation and preserved artifacts. Some of his personal belongings are on display, and his passion for handwoven cloth is preserved through a small weaving school on the premises. Popular among historians, the Gandhi museum serves as a shrine for Gandhi devotees. It is open from 9 am to 12 noon and 3 pm to 6 pm.
Kaba Gandhi No Delo
As Rajkot is best known for being the birthplace of Mahatma Gandhi, visiting the Kaba Gandhi no Delo is one of the city's most important and popular attractions. The Kaba Gandhi no Delo is essentially the home of Mahatma Gandhi during his father's tenure as Diwan of Rajkot. The site is now a museum with preserved artifacts and a pictorial tour depicting Gandhi's life. On the grounds, an NGO also holds classes.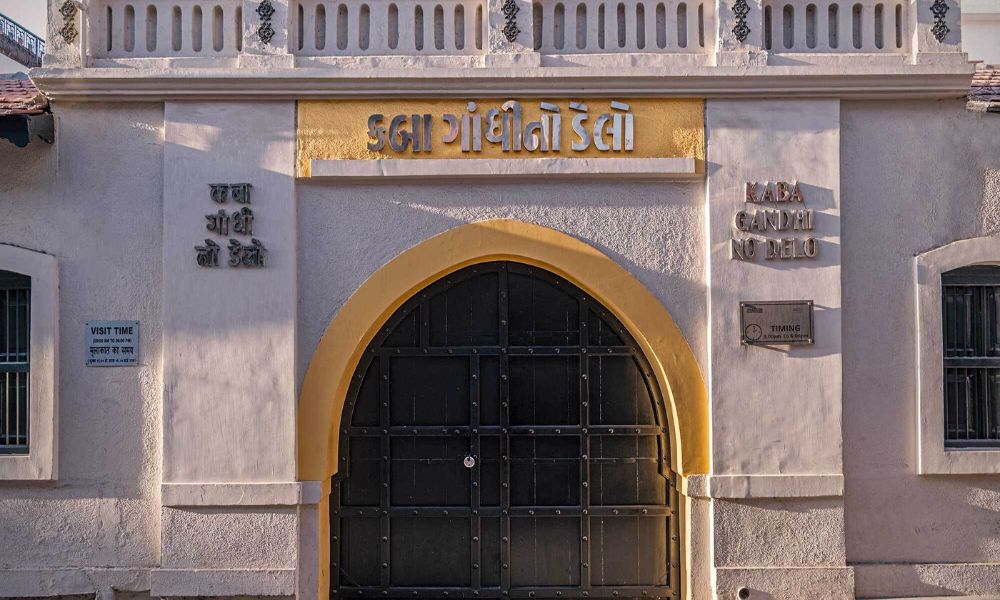 These classes are primarily for those who want to learn how to sew and embroider. The Kaba Gandhi no Delo is located just off Gheekantha Road, which is always bustling with Rajkot life and culture, and finding this simple museum is simple.
Khambhalida Caves
The Khambhalida Caves, which date back to the 4th or 5th century AD, feature beautiful carvings carved from limestone. They are made up of three caves, the central one of which has a chaitya. Avalokiteshvara Padmapani and Avalokiteshvara Vajrapani, two life-size figures of Bodhisattva, flank the entrance to the chaitya.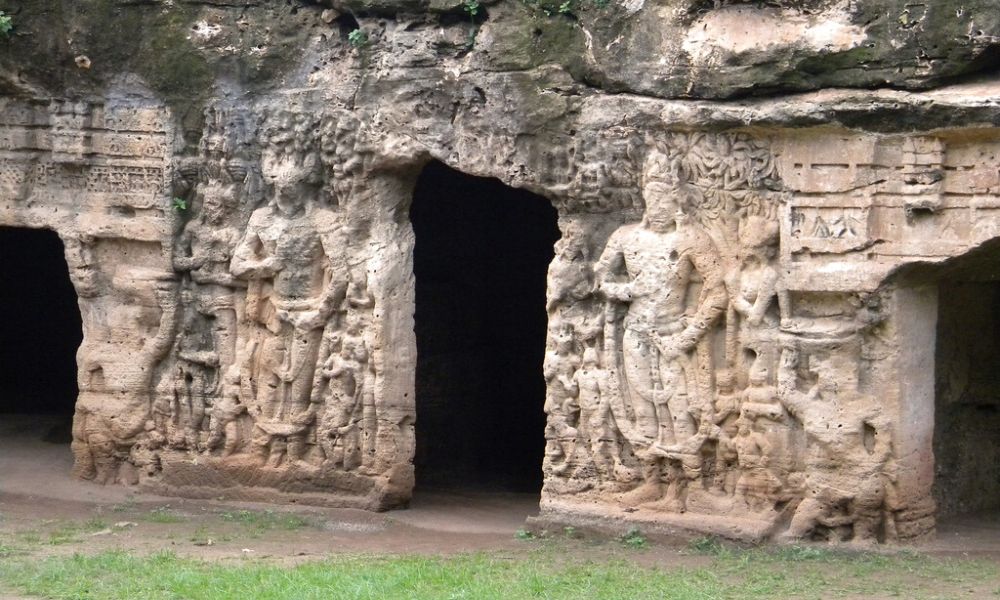 According to the site's description, the figures are the only known depictions of Bodhisattva Avalokiteshvara in Gujarat cave architecture. Cave exploration is free of charge. It is open daily from 8 a.m. to 6 p.m.
Jagat Mandir
Jagat Mandir is a universal temple that houses the idols of various deities and respects religions such as Hindu, Christian, Island, and Buddhism. The main deity to whom the temple is dedicated is Shri Ramakrishna Paramahansa. The deity is entirely made of white marble, which contrasts with the temple walls, and is depicted sitting on a lotus flower.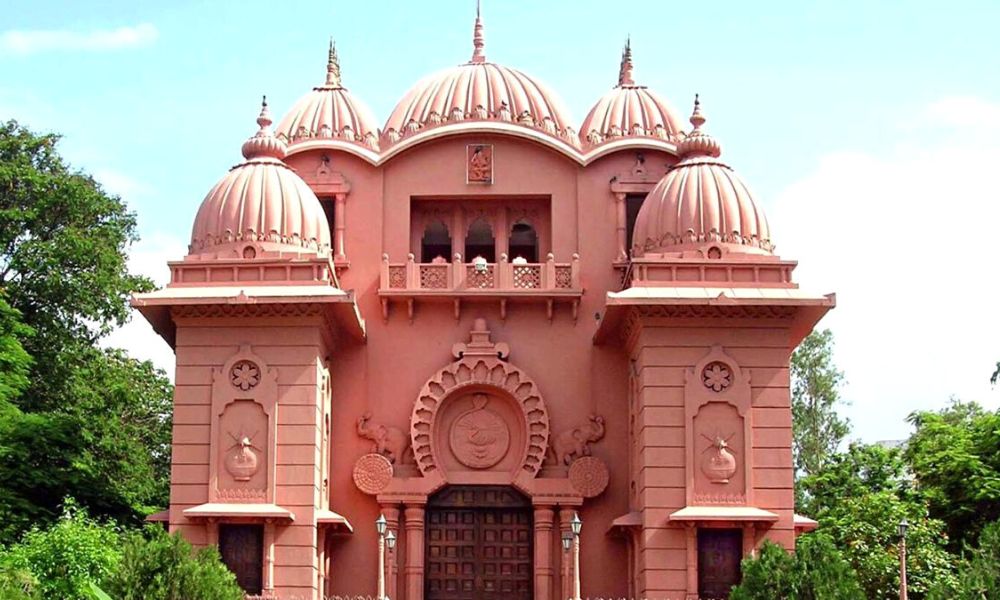 Apart from its religious significance, the temple is also well-known for its architecture. The temple is entirely made of red stone, which contrasts with its surroundings and stands out both during the day and at night. Aside from that, the temple is supported by 60 pillars made of granite and sandstone, each of which is unique in its own right.
Lalpari Lake
Lalpari Lake, located on the outskirts of Rajkot, is a lovely place to spend an afternoon relaxing. The lake has an enticing landscape that entices visitors and makes them want to spend the entire day admiring it. The gleaming lake and lush green surroundings make for an excellent picnic spot as well.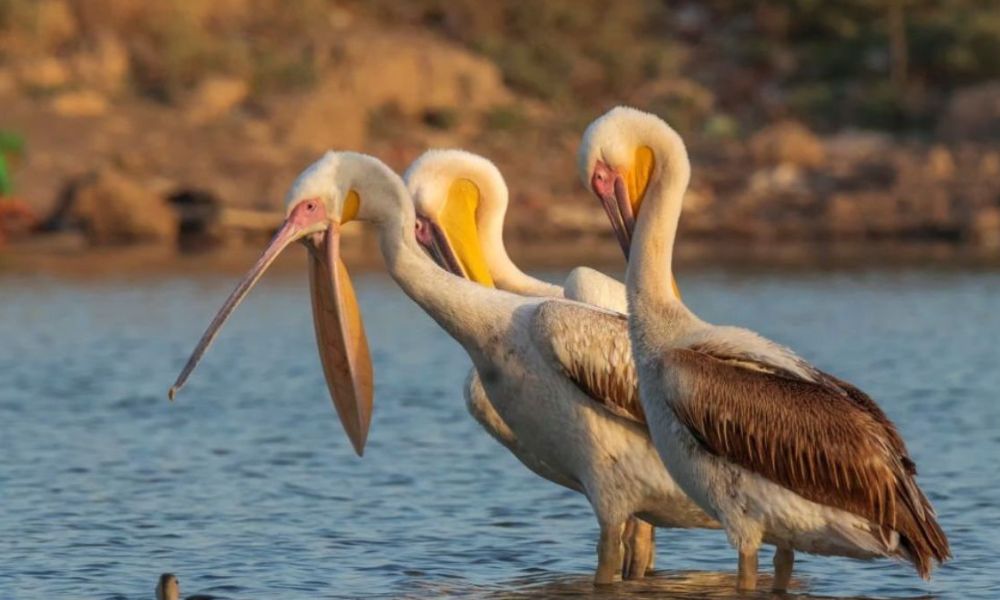 Another exciting aspect of the lake that attracts many nature enthusiasts is that it attracts several migratory birds, which can be easily spotted from the lake's shore and add to the mystic beauty of the place. There is no admission fee to explore the lake. Starting from 9 a.m. to 6 p.m., you can explore and experience nature by sitting on the lake.
Watson Museum
Saurashtra has evolved from a region of dozens of princely states to a region of industrial cities. Rajkot is one of them. The Watson Museum, located within Jubilee Garden and dedicated to Colonel John Watson, showcases the district's colonial history as well as artifacts discovered in and around the state dating back to the Indus Valley Civilization.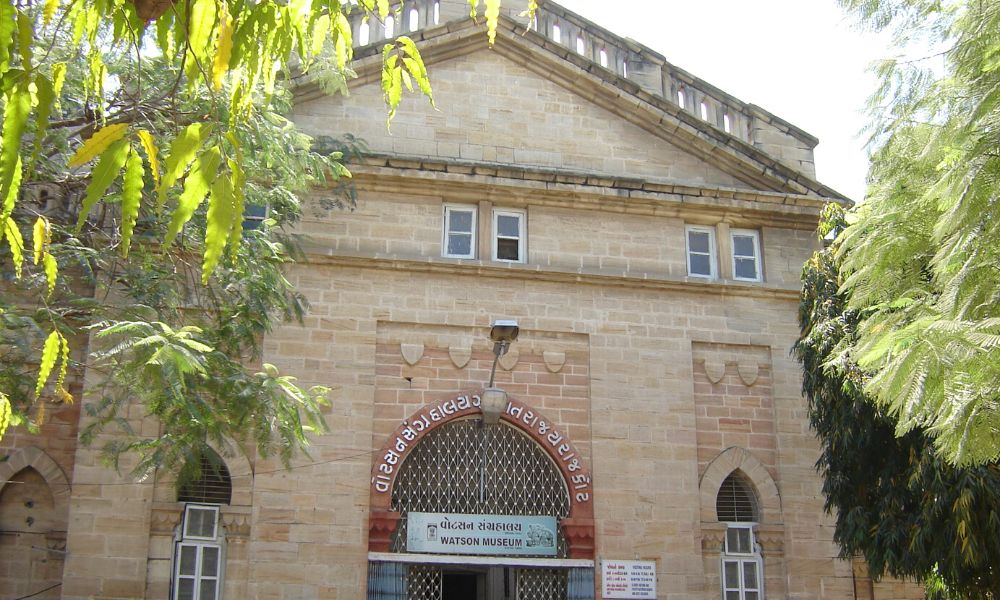 As a result, it is one of the most interesting places to visit in Rajkot. Seeing these historical relics transports you back in time and allows you to appreciate Gujarat's long history. The museum admission fee is Rs. 100 per person. Every day from 9:30 a.m. to 12:30 p.m. and from 3 p.m. to 5 p.m. it is open for you to explore.
Rotary Dolls Museum
The Rotary Dolls Museum is ideal for art lovers because it displays dolls from all over the world. It is a great place to spend 1-2 hours, especially if you have children with you. The museum displays over 1500 dolls from over 100 countries. The museums provide a glimpse of the world's cultures by displaying dolls against backdrops that highlight the locations from which the dolls originated.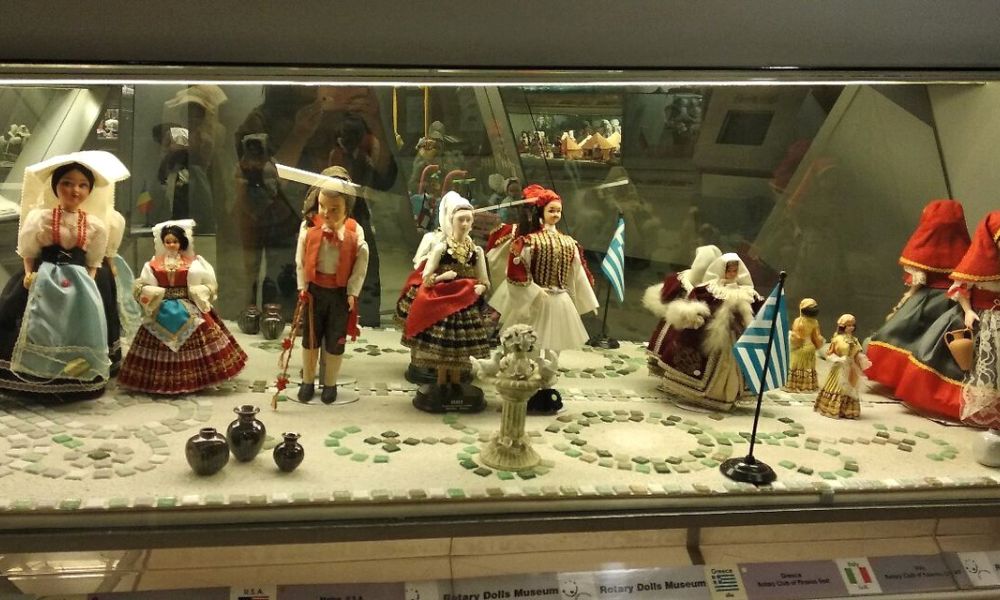 This theme-based museum displays dolls from various countries in different showcases, each with a write-up about the place's tradition and culture on the side. The museum also promotes activities such as doll-making, sculpting, and so on. From Tuesday to Sunday, the museum is open from 9:30 a.m. to 1 p.m. and from 4 p.m. to 7:30 p.m. The entry fee for children is Rs. 15 and Rs. 25 for adults.
Aji Dam
The Aji Dam, built over the Aji River in the 1950s, is the most important of the four dams built on it. The dam, which is located on the outskirts of Rajkot, is known as the 'lifeline of Rajkot.' It supplies drinking and agricultural water to the city while also keeping it clean by preserving the ecological balance. A beautiful park and zoo near the dam make it one of Rajkot's most popular tourist destinations.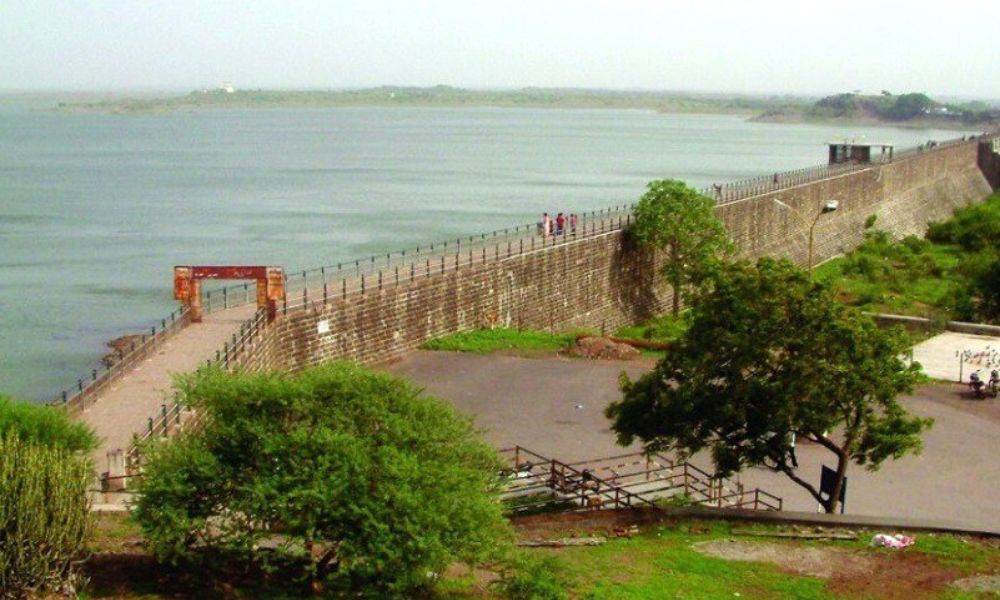 The views of the river and the park are breathtaking. The park, which includes an amusement park, a children's park, and a food court, is a popular picnic spot. The zoo houses a wide range of animals, reptiles, and birds, as well as an aquarium. You can spend a relaxing day with friends and family in the park's tranquil environment.
Swaminarayan Mandir
BAPS Shri Swaminarayan Mandir, located on Kalawad Road, is a revered Hindu temple. It is one of Rajkot's most beautiful spiritual destinations. The temple, dedicated to Lord Swaminarayan, was built in 1998 by Swaminarayan Sampradaya using Ancient Vedic Shilpa Shastra techniques.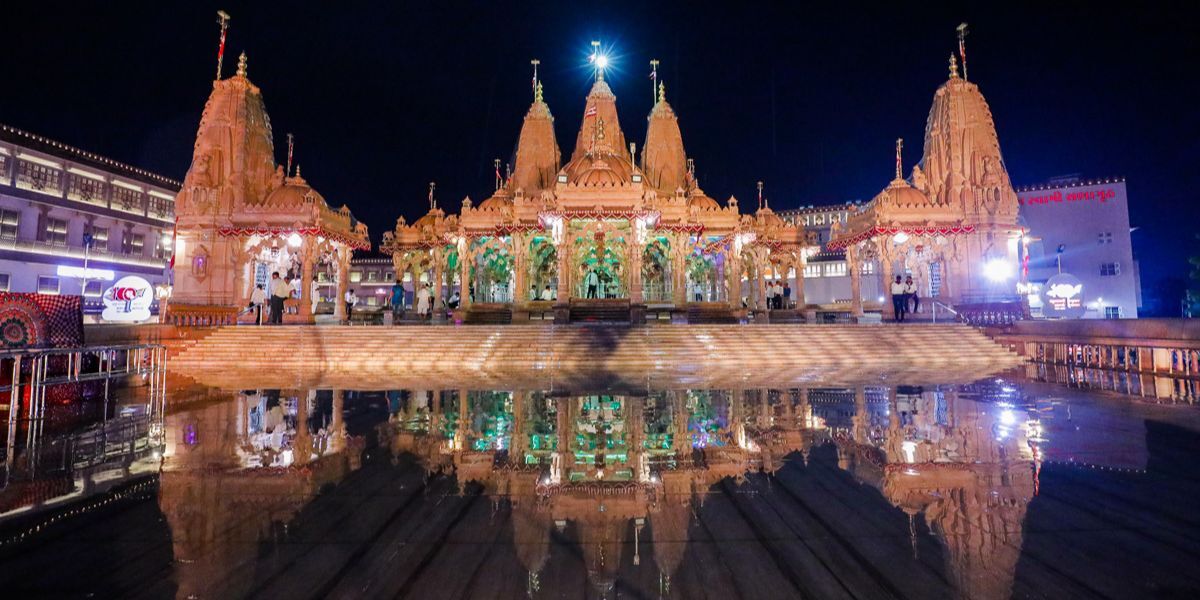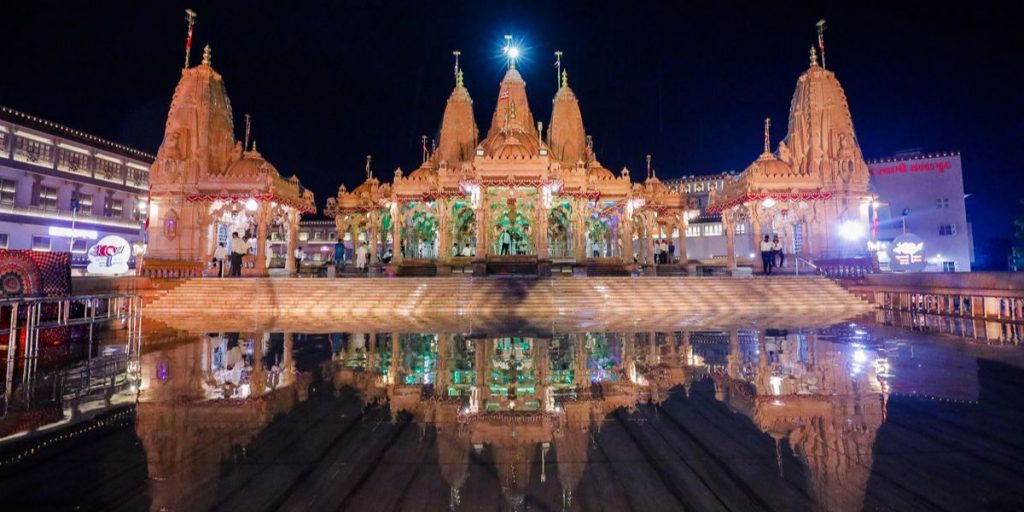 The Sampradaya adheres to Vaishnava traditions and is affiliated with the socio-spiritual Hindu organization BAPS. The temple's breathtaking beauty draws visitors from all over the country to various religions. The temple's charitable trust organizes events to celebrate Indian cultural heritage and is well-known for its humanitarian services.
How To Reach Rajkot?
There are several ways such as by road, by air, by train, etc. to reach Rajkot, Gujarat.
By Air
The easiest accessible located domestic airport in Rajkot city is the Rajkot Airport. Individuals traveling from other states and cities have to opt for a connecting flight to reach Rajkot Airport. It is the busiest airport within the region of Saurashtra after the Vadodara Airport. The closest international airport is the Ahmedabad Airport, situated in the capital town of Gujarat.
With the urbanization of the town, there are plans for growth for the airport to accommodate the expansion demand of consumers. The Rajkot airport is found at a distance of 2.5 km – 3 km from the town center.
The closest international airport is the Sardar Vallabhbhai Patel Airport at Ahmedabad, situated at a distance of 230 km from Rajkot town. Go Air, Spicejet, Air India, and Jet Airways provide regular flights from Mumbai, Delhi, and alternative metropolitan cities. Once after getting off the flight, you'll be able to book a cab and obtain a cushy ride to your hotel or resort.
It is the quickest way to reach New Delhi to Rajkot airport as it takes 1 hour 45 minutes only. It is recommended to check the weather condition before traveling on the flight because Rajkot experiences cyclones and thunderstorms after the monsoon season which results in disruption of flight schedules.
By Road
Rajkot is well connected by well-maintained roads to other cities in Gujarat and India. GSRTC (Gujrat State Road Transport Corporation) manages Rajkot's bus transportation network, which includes buses that travel from Rajkot to cities throughout Gujarat and to other states at regular intervals.
GSRTC buses are available in express, luxury, semi-luxury, and regular configurations. Buses leave Rajkot for cities such as Ahmedabad, Surat, Jamnagar, Vadodara, and Mumbai. There are buses running every hour between Rajkot and Ahmedabad that are CNG-powered and nonstop. Private buses are operated by Neeta Travels, Patel Travels, Mahasagar Travels, and others. GSRTC and several private companies offer online booking for these buses.
Because of well-maintained roads and highways, AC, non-AC, Deluxe, Sleeper, and non-Sleeper buses provide a comfortable and smooth journey. Rajkot is connected to various cities via the national highway NH8B and state highways SH 22, 23, 24, 25, 26, 31, and SH 31A. The roads connecting Rajkot to various cities are well maintained, making for a pleasant road trip.
By Train
Rajkot Railway Station is part of the Indian Railways' Western Railway Zone, and the division is Rajkot. There are express, super-fast passenger trains that run between cities in Gujarat and other Indian states. There are daily trains to major cities such as Ahmedabad, Surat, Vadodara, Porbandar, and Mumbai.
Other Indian cities with weekly trains include Varanasi, Tirunelveli, Kochuveli, Madgaon, Jaipur, Dehradun, Haridwar, Kolkata, Bilaspur, Tuticorin, Gorakhpur, and others. In a 2016 survey, the Rajkot railway station was named the "Cleanest Railway Station" in India. Rajkot is extremely well-connected to the rest of the country. Rajkot has many trains from Mumbai, Delhi, Kota, Ratlam, Lucknow, Kolkata, Pune, Bangalore, Bhopal, and other major cities in India due to their commercial and cultural importance.
Rajkot Junction is the city's main railway station. It stands 127 meters above sea level and has five platforms. There are 84 trains that stop here. There are approximately 13 trains that originate and 12 trains that terminate here. Rajkot is 730 kilometers from Mumbai and 1112 kilometers from Delhi.
Read More:
Easy Himalaya Treks You Could Do In This December – 2022
Shillong- Must Visit Spots In The Scotland Of The East