Voyage To The Kingdom Of Kutch – Best Places To Visit In Kutch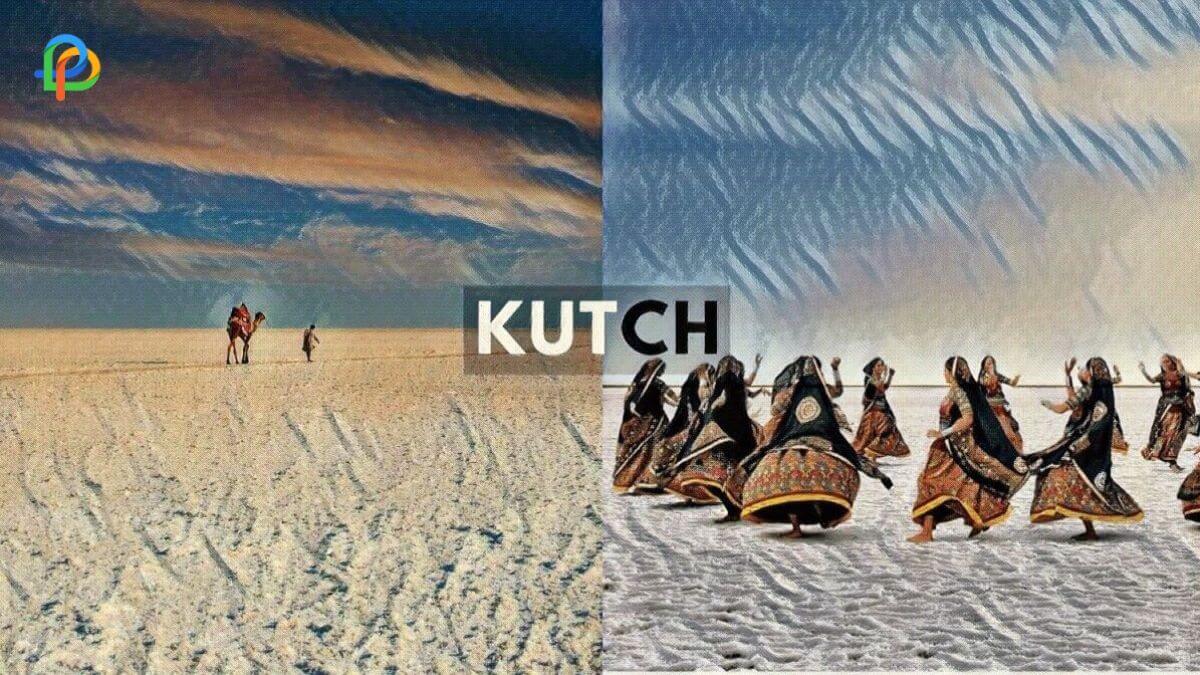 Kutch district, also spelled as Kachchh, is a district of Gujarat state in western India, with its headquarters at Bhuj. Kutch is a well-known tourist destination for a plethora of reasons. The jeep or camel safari across the Rann of Kutch while sleeping in tents is a popular tourist attraction in Kutch.
Visiting the Saurashtra village should provide you with an insight into the art of handloom weaving and dyeing units. The ancient craft of pottery-making can also be found in Saurashtra. Avid ornithologists can observe and learn about a variety of birds here. Kutchi and Gujarati are the most widely spoken languages in the Kutch region.
Because the Kutchi script is now extinct, the Gujarati script is used for the majority of Kutchi writing. Because Gujarati is used as a medium of instruction in schools, an increasing number of people in Gujarat speak the language. Now let's look at some of the places to visit in kutch
Best Places To Visit In Kutch
Kalo Dungar
Kalo Dungar is one of the places to visit in kutch which is located 1516 feet above sea level and offers a spectacular view of the desert and sky merging into each other's arms and becoming one. The vastness you see here defines infinity, and the panoramic view of the Great Rann of Kutch is a visual feast.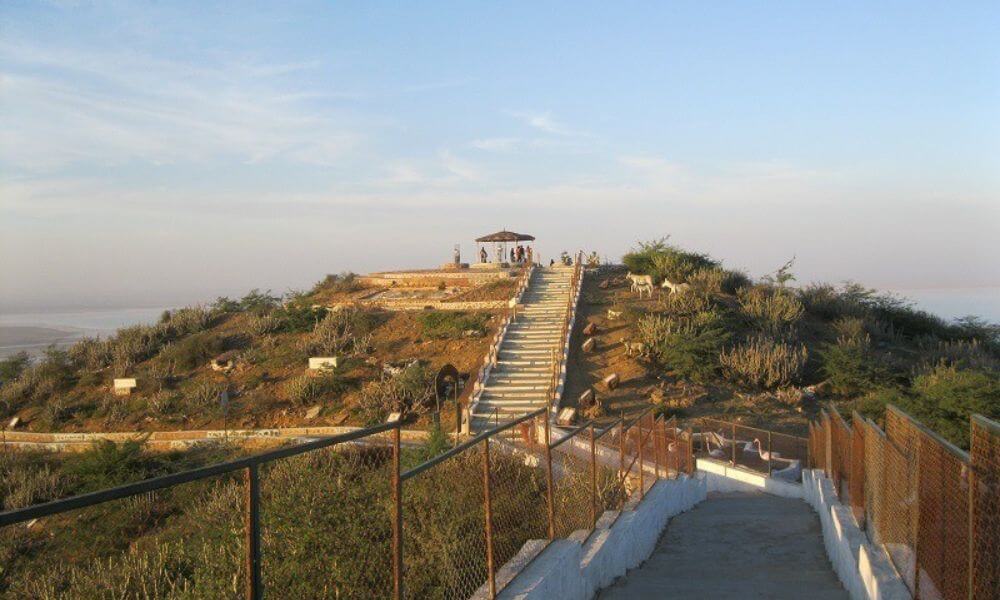 Kalo Dungar, a Gujarati term translated to English, refers to the Black Hills, thus remaining true to the enthralling vision. With Lord Dattatreya's history devoted to this location, it bestows it with a distinct beauty and a sacred temple worth visiting. It costs Rs. 100 to enter and is open from 6 a.m. to 6 p.m.
Vijaya Vilas Palace
Vijaya Vilas Palace is one the best places to visit in Kutch, constructed of red sandstone, which is the current regal abode of the royal family of Kutch and will captivate you with its Rajput-style architecture.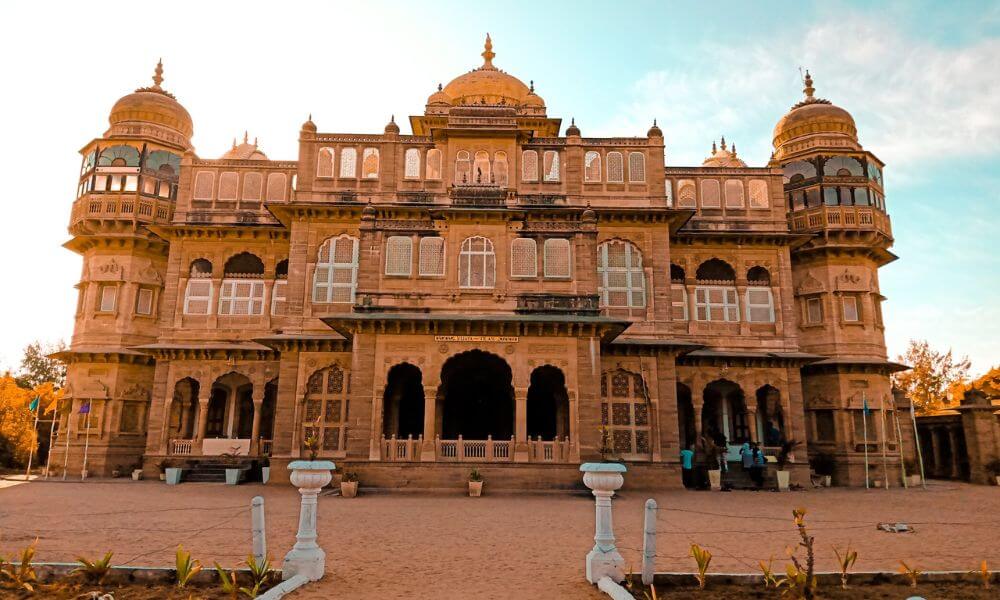 Take a walk through the sprawling lush gardens and be enchanted by the stunning palace interiors, which feature intricately carved stone engravings, jali work, jharokhas, and beautiful glasswork.
On all days, the palace is open from 9 a.m. to 1 p.m. and from 3 p.m. to 6 p.m. The admission fee is INR 20 per person. There are extra fees for photography and videography. The palace has its own private beach and tented accommodations that are air-conditioned.
Dholavira
Dholavira, also known as Kotada Timba, is a historical site in the Kutch region where the Archeological Survey of India discovered relics of the Harappan civilization. In fact, relics dating from the Harappan period (2900 BC to 1500 BC) have been encountered here.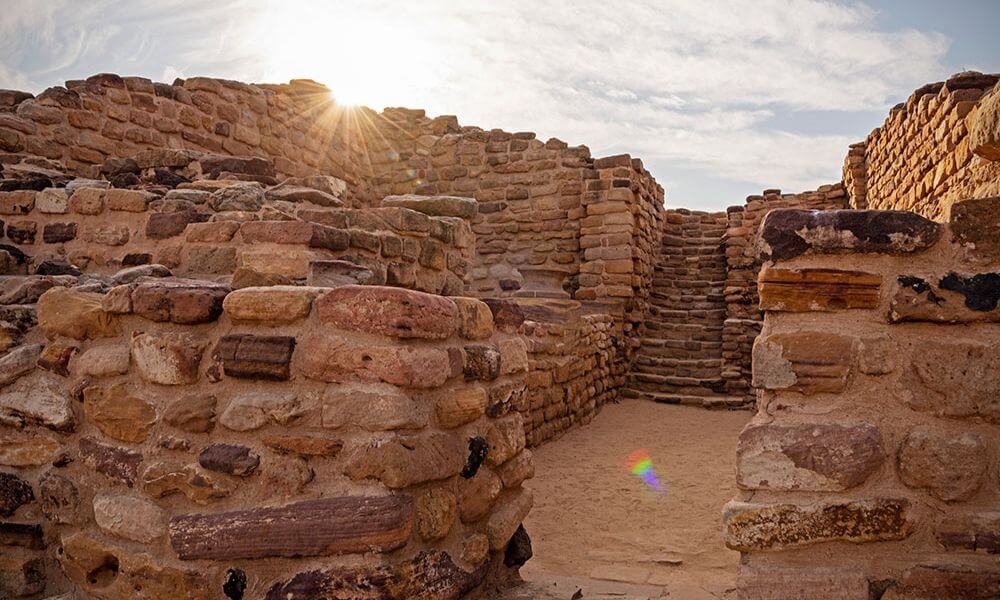 As a result, Dholavira is popular among history buffs and students, as well as travelers who enjoy exploring offbeat destinations in India. Don't miss the water storage and conservation system remnants and excavations, urban architecture, and exhumed relics when visiting Dholavira. There is no admission fee to these historical sites. This website is open from 9:00 a.m. to 6:00 p.m.
Kutch Museum
Another one on the list of places to visit in Kutch is The Kutch Museum, Gujarat's oldest museum, which is known for its collection of extinct Kutchi Script and ancient coins. The Kutch Museum, formerly known as the Fergusson Museum, opened in 1877. Maharao Khengarji III founded this museum.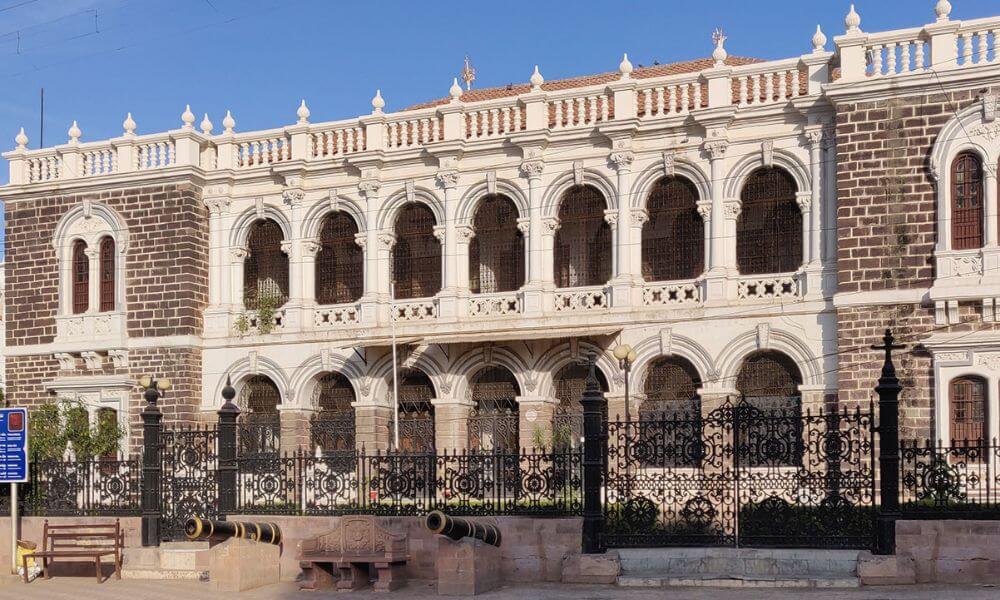 Tribal artifacts are included in the museum's exhibits, which also include embroidery, paintings, arms, musical instruments, sculptures, and precious metalwork. An individual must pay Rs. 5 to enter, but if you want to bring a camera, the fee is Rs. 100. Except on Wednesdays and other public holidays, it is open from 10 a.m. to 1 p.m. and then from 2:30 p.m. to 5:30 p.m.
Shree Swaminarayan Temple
The Swaminarayan Temple is among the best places to visit in Kutch because of its majestic grandeur and charm. This temple is a striking example of toughness, with stunning white marble on its facade and enduring idols.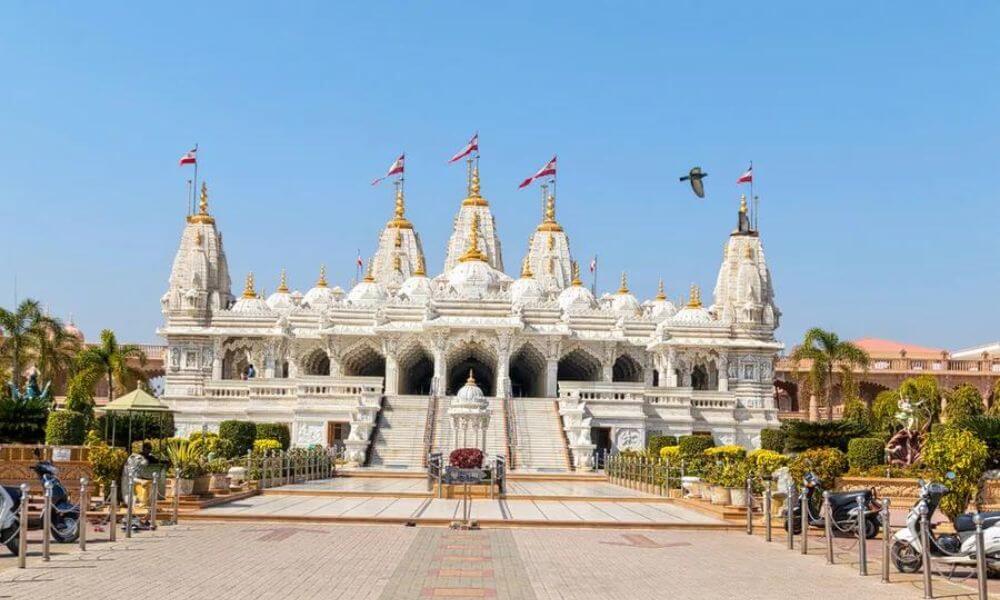 It is one of the seven temples where Swaminarayan established himself as a spiritual center. Along with Swaminarayan's entire life history, the temple also has audio, kirtan, and spiritual collections suitable for Vaishnav followers.
It has a very pious atmosphere that fills the hearts of all who come here with peace and contentment. This temple should not be overlooked when visiting Bhuj. The temple is open from 5:30 a.m. to 10 p.m. There is no ticket fee for anyone to explore the temple.
Mandvi Beach
Mandvi beach in Ahmedpur is regarded as the best in Gujarat and is a wonderful place to relax and soak up the sun on its sandy beaches.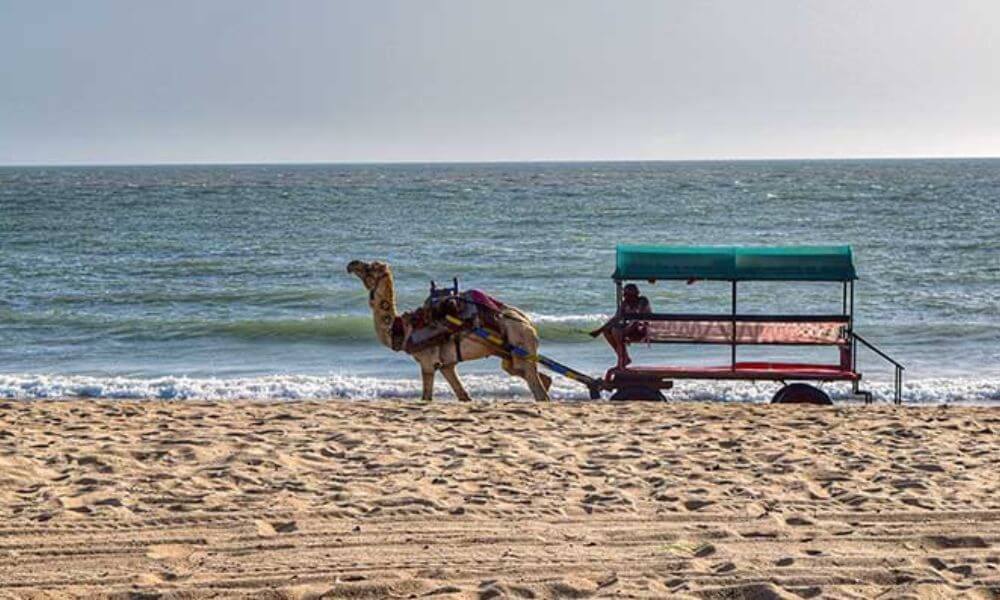 The water is suitable for wading or swimming, and there are numerous sand castles being built by children all along the beach. Skiing, parasailing, surfing, water scooters, and speed boats are just some of the water sports available at the beach. There is no entrance charge to visit this beach. Enjoy the water sports and get an adrenaline rush while you're at it.
Kutch Desert Wildlife Sanctuary
In February 1986, the Kutch Desert Wildlife Sanctuary, which is among the best places to visit in Kutch was established. This is India's largest Wildlife Sanctuary in terms of area and one of Gujarat's largest seasonal saline wetlands, with an average water depth of 0.5 to 1.5 meters.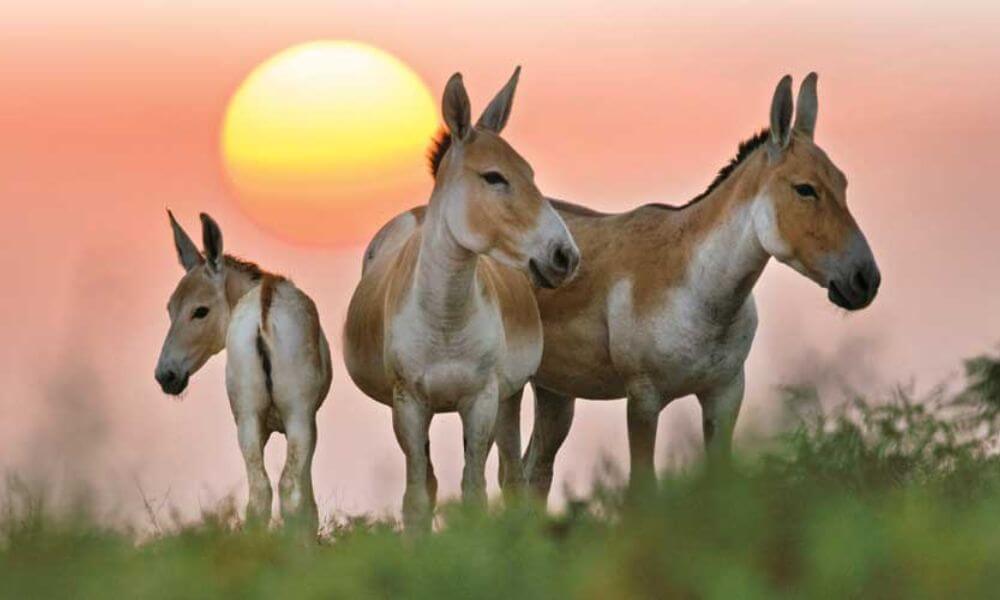 However, after October-November, the water evaporates and the entire area becomes a saline desert where thousands of Flamingos nest and breed. The sanctuary includes four hilly and rocky islands: Pachchham, Khadir, Bela, and Chorar, as well as the hills of Kalo Dungar and Goro Dungar, which are not to be missed places to visit in Kutch.
The sanctuary was created primarily to protect the Greater Flamingo's nesting grounds. The world-famous 'Flamingo City' is located in the Rann's mudflats, about 10 kilometers from the Nir outpost on Kalo Dungar. Tourists and researchers are only permitted to enter with the BSF's permission. It's open from 6 a.m. to 6 p.m.
Marine National Park
Marine National Park, India's first marine conservatory, is one of the most well-known places to visit in Kutch. Anyone who visits this aquatic world of coral reefs, starfish, sea urchins, and other creatures will have a surreal experience. Marine National Park, which is spread across 42 islands in an archipelago, is home to endangered aquatic animals and protects them from poachers.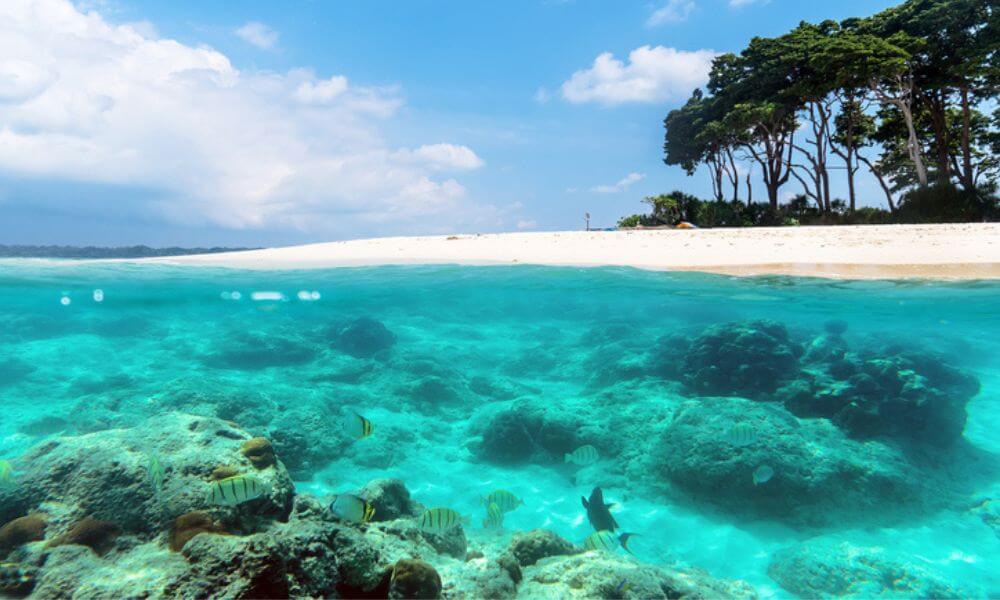 The park is one of the main tourist attractions, with approximately 108 species of red, brown, and green algae and 70 species of sponges. This conservatory, which houses numerous species of living beings, most of which are visible to the naked eye, is a must-see for anyone who wants to experience nature in its purest form.
When visiting the Marine National Park, which is one the best places to visit in Kutch, it is recommended that you hire a guide to ensure a rich and smooth experience. The Marine National Park is open daily from 8 a.m. to 6 p.m. The national park entrance fee is Rs. 150 per person.
Aina Mahal
The Aina Mahal, also known as the 'Palace of Mirrors,' is a former royal residence known for its magnificent Indo-Saracenic architecture, glasswork, stone carvings, marble walls, and murals. The recommended time to explore Aina Mahal is about 2-3 hours.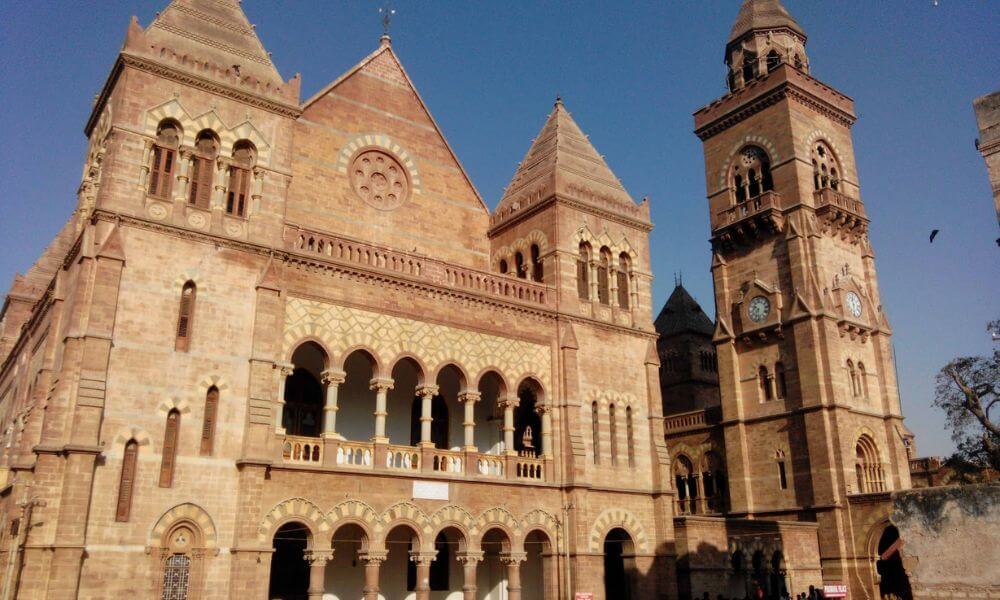 The sprawling palace, which spans two floors, will captivate you with its carved doorways, local crafts, and rare collection of paintings and weapons dating back to the royal era. The hours of operation are 9 a.m. to 12 p.m. and 3 p.m. to 6 p.m.
On Thursdays, the museum is closed. The entry fee for the mahal is INR 10 per person. There are extra fees for photography and videography. The palace is located on the shores of the lovely Hamirsar Lake which is an important location on the list of places to visit in Kutch
Roha Fort
Roha Fort, an epitome of historical grandeur, still stands firm after 550 years. If you enjoy delving into the details of the past and are interested in history, this fort will pique your interest. Built by Thakore Noganji, it is one of a kind in terms of beauty and encompasses 52 villages.
The fort is built in the style of a temple, with stone and baked bricks. Roha Fort is also famous for a poet, Kalapi, who wrote his poems on roha hill because of the tranquility and peace that surrounded him. Some birds, such as peacocks, can be seen here, making it a naturalist's paradise. It is open around the clock.
Kutch Great Indian Bustard Sanctuary
The Kutch Great Indian Bustard Sanctuary is also known locally as the Lala Prajan Sanctuary. The primary goal of the Kutch Bustard Sanctuary is to conserve the Great Indian Bustard. It's in Jakhau village, Naliya Taluka, Gujarat. There are three different types of Bustards in the sanctuary, in addition to many other different types of wildlife.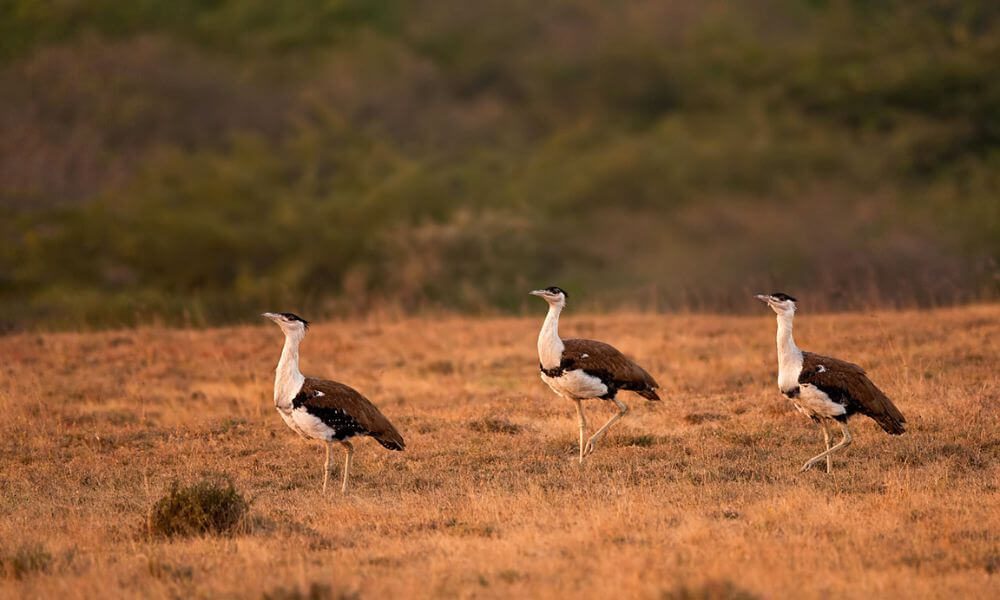 The sanctuary is just over 2 square kilometers in size, but it still has some excellent species such as harriers, common cranes, black partridges, sand grouses, Black and Grey Francolin, Spotted and Indian Sandgrouse, quails, larks, shrikes, coursers, plover, Imperial Eagle, flamingos, herons, egrets, sandpipers, and so on.
Wolf, caracal, desert cat, jackal, striped hyena, fox, mongoose, blue bull, chinkara, spiny-tailed lizard, and various types of snakes are also present.
Bhadreshwar Jain Temple
Bhadreshwar Jain Temple, also known as Vasai Jain Temple, is considered to be one of India's oldest temples. It is surrounded by 44 shrines, and the magnificent façade of the temple is a sight to behold. The recommended time to visit Bhadreshwar Jain Temple is 2-3 hours.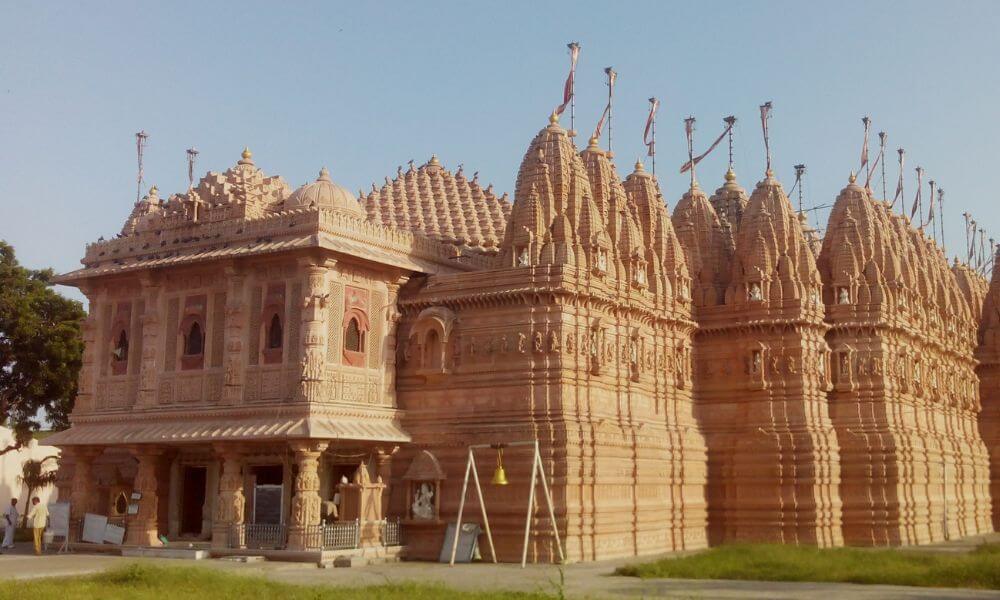 Pray and admire the temple's striking architecture, which is adorned with white marble, domed majestic pillars, and fascinating deities. On all days, the hours are 6 a.m. to 9 p.m. You can also visit the nearby Lal Shahbaz Dargah and Chokhanda Mahadev Temple.
The best time to visit this temple is during the Mahavir Jayanti Festival. Outside the temple premises, remove your shoes. Maintain the temple's sanctity by keeping noise levels to a minimum.
Indian Wild Ass Sanctuary
The Indian Wild Ass Sanctuary is included in the list of places to visit in kutch, also known as the Wild Ass Wildlife Sanctuary, which is Gujarat's largest wildlife sanctuary. It was established in 1972 as part of the 1972 Wildlife Protection Act. The Little Rann of Kutch's Wild Ass Sanctuary is the only place on the planet where the endangered Indian Wild Ass, known locally as the ghudkhar, can still be found.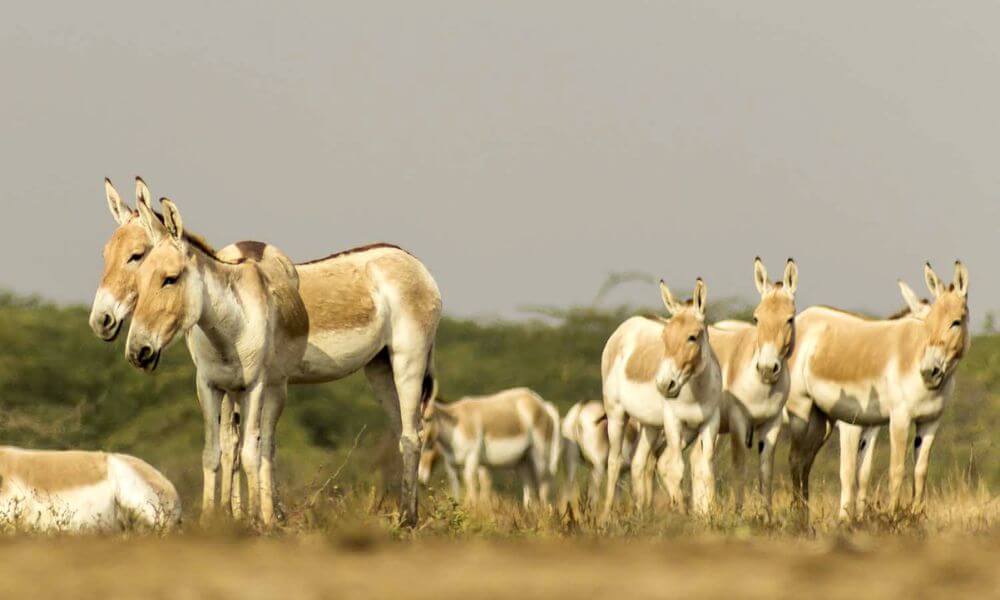 The jeep safari is one of the best things to do in Rann of Kutch to experience the best of wildlife sanctuary. Private jeeps can also be rented from any of these locations. Safaris must be accompanied by a sanctuary guide.
This sanctuary is open from 6 a.m. to 6 p.m., but it is closed during the monsoon season. The entry fee is Rs. 250 for Indians and Rs. 1200 for Foreigners (25% more on weekends), Rs. 200 for Indians and Rs. 1000 for Foreigners, and Rs. 2000 for Jeep. It is a not to be missed location in the list of Places To Visit In Rann Of Kutch
Best Time To Visit Kutch
Kutch is best visited during the pleasant winter season. Winter commences in October and continues through February. While temperatures can drop as low as 2 degrees Celsius, the weather is typically pleasant and mild, ranging between 12 and 25 degrees Celsius. Kutch is beautiful during the monsoon season, and a visit during this time should be fine as long as road connectivity is not hampered by water-logged roads.
How To Reach Kutch?
There are several ways to reach the Rann of Kutch such as by flight, bus, or train.
Kutch can be reached by train. The railway station in Bhuj is the most convenient way to get to Kutch by train. The railway station is well connected to several areas within Gujarat as well as some areas beyond. New Delhi, Mumbai, Ahmedabad, Kolkata, Jaipur, and Pune are among the major cities with train connections to Bhuj.
Buses are an excellent mode of transportation to Kutch. The city has a plethora of government and privately run buses that serve the region. The journey is quite comfortable, and there are several options available, including A/C, non-A/C, deluxe, Volvo, and sleeper buses.
Buses run from Bhuj in Kutch to several nearby cities. Mumbai, Ahmedabad, Surat, and Baroda are among the major cities with buses to and from Bhuj. Ghanshyam Travels, Maan Travels, Royal Express, and Shiv Shakti Travels are a few bus companies that run buses to Bhuj.
Those flying to Kutch should begin their journey at the Bhuj Airport. The next closest airport is Ahmedabad's Sardar Vallabhbhai Patel International Airport. This airport has better connections to cities throughout India and some outside of India.
Ahmedabad Airport serves major cities including Bangalore, Chennai, Mumbai, New Delhi, Kolkata, and Hyderabad. International flights are available from and to London, Dubai, Singapore, Sharjah, Muscat, Kuwait, and Newark.
Conclusion
Kutch is known for its Banni grasslands and seasonal marshy wetlands. The majority of Kutch is known for its dry lands that are submerged in shallow water during the rainy season, so it is a beautiful yet unusual location. Kutch is best known as The Rann Of Kutch because of its marshy salt flats, which turn snow white when the seasonal water that the land is submerged in evaporates during the summer or winter.
The salt flats give it a glossy appearance. Tattoos and Music are a popular part of Kutchi culture. When you visit Kutch, definitely shop for embroidered quilts, bed sheets and cushion covers with appliqué work, Bandhani fabrics, enameled silverware, Patola silk sarees, ghagra-cholis, wall hangings, cloth toys, embroidered footwear, and lacquer furniture in Kutch.
Read More:
Interesting Places To Visit & Things To Do In In Rameswaram!
Thalapathy Vijay Joins Atlee's Wife Priya's Baby Shower