Jaya Verma Sinha: First Woman CEO and Chairperson Of The Railway Board!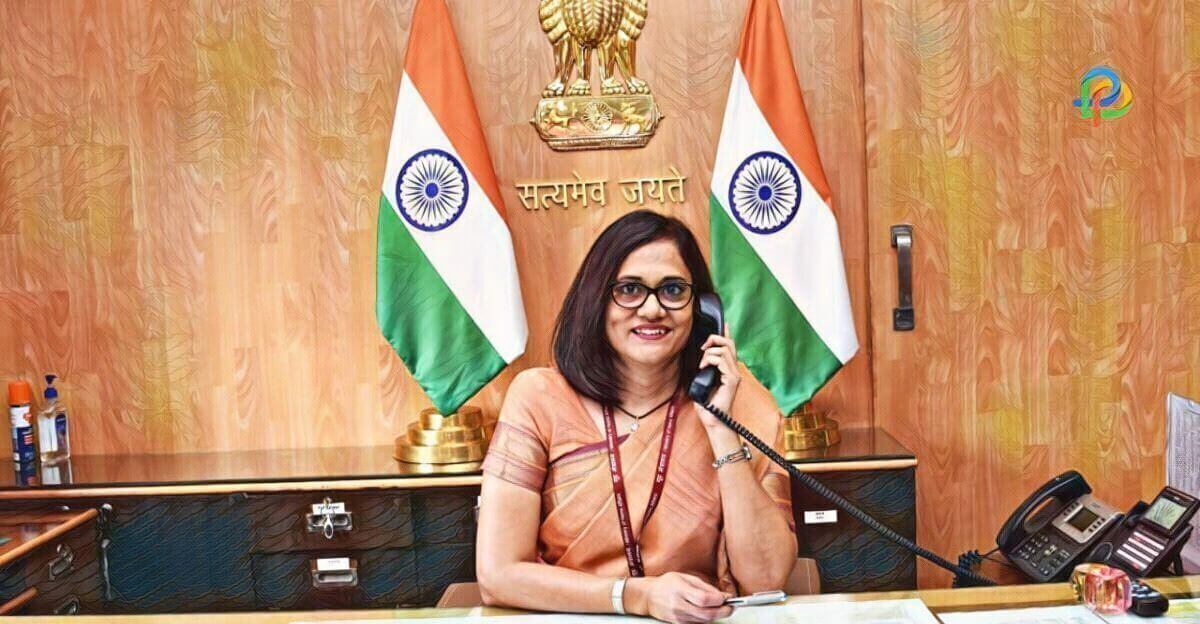 Jaya Verma Sinha is the newly appointed Chairperson and Chief Executive Officer of the Railway Board, the apex decision-making body of the Indian Railways. With this appointment, Jaya holds the distinction of being the first-ever woman candidate to assume this role in the 118-year history of the Railway Board.
Currently serving as an Additional member of traffic transportation in the Railway Board, Jaya assumed charge in her new designation on 1st September 2023 and her term will end on August 31, 2024.
Jaya Verma Sinha Physical Stats
| | |
| --- | --- |
| Full Name | Jaya Verma Sinha |
| Birth Place | Prayagraj, Uttar Pradesh |
| Date Of Birth | 18th September 1963 |
| Age | 59 years |
| Height | 5 feet 1 inch |
| Weight | 67 Kg |
| Eye color | Black |
| Hair Color | Black |
| Zodiac sign | Virgo |
| Qualifications | Postgraduate in Psychology |
| Father | VB Varma |
| Mother | Savitri Varma |
| Brother | Jaydeep Verma |
| Husband | Niraj Sinha |
| Profession | CEO and Chairperson Of The Railway Board |
| Net worth | Rs. 50 lakhs |
Jaya Verma Sinha Family
Jaya was born on 18th September 1963 at Prayagraj, formerly known as Allahabad. She was brought up in the same place and her house was located in the Baghambari Housing scheme in Allahpur.
Jaya's father VB Varma worked as an IAS officer while her mother, Savitri Varma, was an active social worker. The executive also has an elder brother Jaydeep Verma who was a former chief general manager with UPSRTC. Jaya's family still stays at Allahpur and Civil Lines localities of Prayagraj.
Jaya Verma Sinha Relationships
There is no information available about Jaya's relationships in the public domain. Jaya is married to Niraj Sinha, a senior IPS officer who is currently working as the DG (Civil Defence) in Patna, Bihar.
Jaya Verma Sinha Education
Jaya did her schooling at St Mary's Convent Inter College and passed out in 1982. Later, she earned her BSc Honours (Physics) degree from Allahabad University (AU). Later, Jaya went on to do her post-graduation in Psychology from the same institution. The executive holds a degree in advanced management from SDA Bocconi and also did a course in Public Policy Economics from the University of Oxford.
Jaya Verma Sinha Profession
In February 1988, Jaya began her professional journey with the Indian Railway Traffic Service (IRTS) as a railway traffic officer. In her career spanning over 35 years, Jaya rose through the ranks within the organization. Apart from serving the Northern Railway, South Eastern Railway, and Eastern Railway, she also worked in diverse domains ranging from operations to information technology and commercial to vigilance.
In 1990, Jaya joined as an Assistant Area Manager with Northern Railway in the Kanpur area. The very next year, she was promoted to Divisional Commercial Manager of Allahabad Division within Northern Railway.
In 1993, Jaya moved to the role of Senior Transportation Manager with the Centre for Railway Electrification (CORE). The executive's growth was pretty fast and she worked in various designations such as Divisional Operations Manager, Senior Divisional Operations Manager and Deputy Chief Project Manager within Northern Railway.
In 2007, Jaya was appointed as the Railway Adviser at the High Commission of India in Dhaka, Bangladesh and her tenure was for a span of 4 years. It was during her tenure in Dhaka that the Maitree Express from Kolkata to Dhaka was inaugurated The executive's next assignment was as the Chief Vigilance Officer with Northern Railway in 2011.
In 2014, Jaya moved to Eastern Railway as Divisional Railway Manager and was promoted to Senior Deputy General Manager within 2 years. In March 2018, the executive joined as Principal Chief Operations Manager with South Eastern Railway and she was the first woman to be appointed to that designation. Two years later, i.e. in June 2020, Jaya went back to Northern Railway as Principal Chief Commercial Manager.
In August 2021, Jaya was appointed as Adviser of Traffic Transportation with the Ministry of Railways. It was for a brief period and she moved to the role of Additional Member Traffic before being promoted to Member Operations & Business Development in 2023 January.
In her new role as Chairperson and CEO of the Railway Board, Jaya will be overseeing the overall transportation of freight and passenger services. She succeeds Anil Kumar Lahotiin in this role.
Jaya Verma Sinha Source Of Income
Jaya's source of income is from her job with Railways. Reportedly, her net worth stands at Rs. 50 lakhs.
Lesser Known Facts About Jaya Verma Sinha
She is an avid birdwatcher with a keen interest in photography.
It was her mother Savitri who motivated her to aim big.
It was Jaya who explained how the triple train collision occurred on 2nd June 2023 at Bahanaga Bazar station in Balasore, Odisha that took the lives of around 288 people.
Read more: Amiya Dev: All About Daughter Of Indian International Cricketer Kapil Dev!
S. J. Suryah: All You Need To Know About The Film Maker!