Kempty Falls, Mussoorie: A Detailed Travel Guide-2023!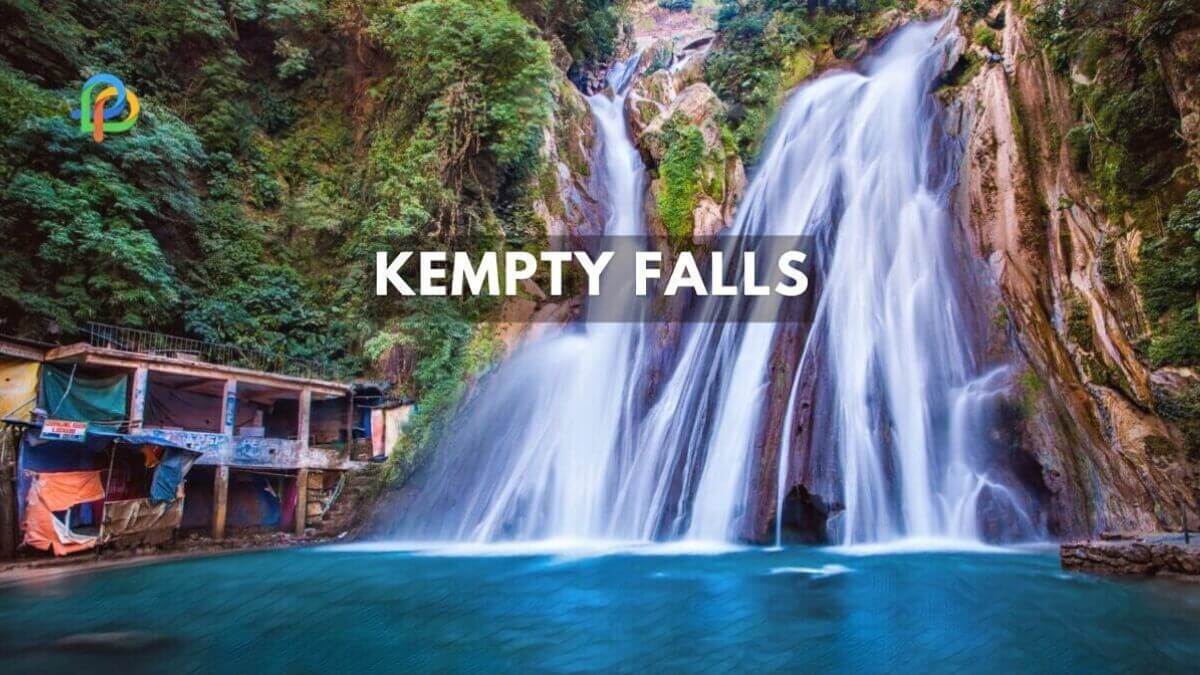 Kempty Falls, Mussoorie is an excellent picnic destination for you and your friends, family, or loved ones. John Mekinan, a British man, built it more than 150 years ago.
The name Camp-Tea is derived from the words "Camp" and "Tea." This location was well-known in British times for organizing tea parties. Therefore, if you enjoy drinking tea, you should do so while also taking in the coolness of the calming breeze.
Location
Kempty Falls Mussoorie is located in Ram Gaon and south of Kempty in the Tehri Garhwal district of Uttarakhand, India. It is about 13 km from Mussoorie on the Chakrata road, around 15 km from Mussoorie Mall Road, and approximately 45 km from Dehradun.
It lies at an altitude of about 4500 feet above sea level surrounded by mountains. It is at 30 degrees -29' North latitude and 78 degrees -02' East longitude.
Kempty Falls Climatic Conditions
Kempty Falls in Mussoorie experiences climatic conditions like the Summer season, Winter season, Spring season, and Monsoon season.
Summer Season: The summer season starts from the end of March till June in Mussoorie with extreme heat as it is at a high altitude. The minimum temperature is around 10 degree Celsius and the maximum temperature goes to 30 degrees Celsius. But, it is the most preferred season to explore Kempty Falls.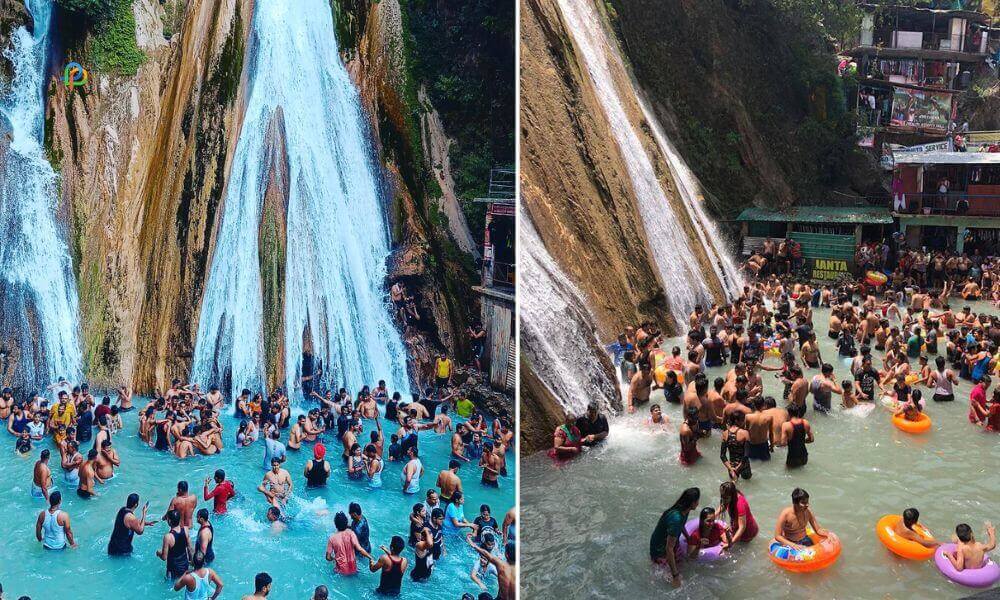 Monsoon Season: The months from July to September constitute the Monsoon season having extreme rainfalls which makes the roads unsuitable or risky for trekking and driving. The annual rainfall is approximately 180 cm every year.
Spring Season: The spring season begins to bring the area to its height of beauty from the end of September until late October.
Winter Season: The winters in Mussoorie start from late October to mid-February having a spine-chilling winter. During the winter, the temperature may drop to a minimum of 1 degree Celsius while the sun is mild and calm and the days are slightly foggy. During the day, the temperature reaches a maximum of 10 degrees Celsius. Roadblocks can occasionally result from sporadic snowfall during the winter.
Things To Do Near Kempty Falls
The tourists have a wide range of activities to choose from and enjoy:
Swim in the cool water created by the cascading water or play in it.
The small artificial pool close to the waterfall is perfect for boat rides.
Having a picnic outdoors with your family is another option.
The distance between each fall is about ten minutes of hiking.
The best way to see all of Mussoorie is to take a ride on the cable car, which you can also take pleasure in.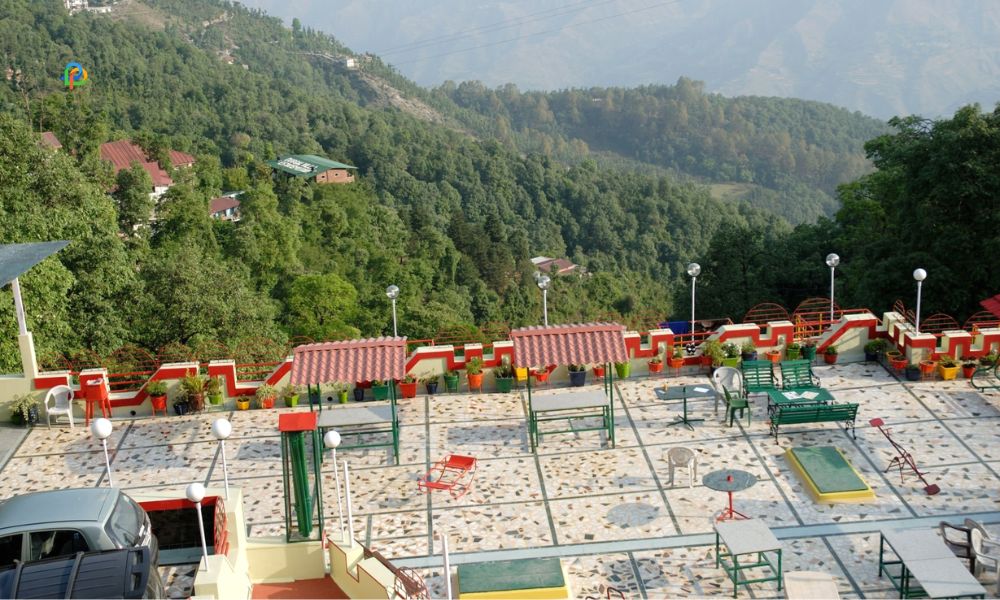 Best Time To Visit
The ideal time to visit Kempty Falls in Mussoorie is around the Summer Season i.e., between the months of March and June. During the summer months, you can enjoy the comfortable weather, relax and have fun while enjoying all the water activities.
Although you can visit this location year-round, the water gets chilly during the winter, making swimming impossible. Kempty Falls is open only during the daytime from 8 a.m. to 5 p.m.
How To Reach?
Kempty Falls in Mussoorie can be reached via various modes of transportation including airways, roadways, and railways.
By Air: The closest airport for reaching Mussoorie is the Jollygrant Airport in Dehradun at about a distance of 59 km. You can take a cab or bus to Mussoorie from the airport.
By Road: Uttarakhand has great road connectivity i.e., various private and government buses or taxis connect to Mussoorie from nearby places almost daily. One can book the tickets or directly purchase them at the time of going to Mussoorie as per convenience.
By Train: The railroad station that is closest to Mussoorie is Dehradun Railway Station. It is about 36 km away from Mussoorie. So, one can take a local bus or taxi to reach there.
Once you have reached Mussorie, the Kempty Fall is around 15 kilometers from the Mussoorie Mall Road or the Mussoorie Library Bus Stand. So, you can take a cab or bus or can trek to the amazing Kempty Fall.
You can also opt for the cable car to visit Kempty Fall which gives you an amazing bird's eye view experience, water bodies, and beautiful mountains which is a delight to all nature lovers. The ticket price for the cable car ranges between Rs. 80 to Rs. 150 per person for both sides. Try to avoid the cable car if you have children with yourself of less than 5 years as it can be risky.
Food And Accommodation
Kempty Falls in Mussoorie not only provides scenic natural beauty but also provides amazing local street food and delicacies which the tourists can enjoy a lot. The Kumaon and Garhwal food made with local ingredients is the most flavourful food that the tourist love there.
The delicacies like Phaanu, Kappa, Chains, Kabab, Bhang Ki Chutney, Aloo Ke Gutkha, Garhwal Ka Fanna, Chilli Chicken, etc, are the must-try food of Kempty Falls Mussoorie during the trip.
Mussoorie has a variety of accommodations that provides a comfortable stay during the trip. You can stay at the Welcomhotel by ITC Hotels, Ramada by Wyndham, Royal Orchid Fort Resort, the Fern Brentwood Resort, Mosaic Mussorie, and a lot more.
Shopping
Mussoorie shops offer everything ranging from Pashmina to silverware to woolens, carpets, etc. The local handicrafts are the best thing to buy during your trip to Mussoorie. You can do a lot of budget-friendly shopping from Kempty Falls as there are so many nearby local shops or stores.
These shops sell traditional items or their local products. You can also find a lot of photographers who will give you an instant picture captured by their high-quality cameras.
They also provide their local traditional dress which you can rent for the pictures and then purchase the picture from them as a token of memories.
You can also shop from the Mussoorie Mall Road, Cambridge Book Depot, the Tibetan Market, Kulri Bazaar, Himalayan Weavers, Gandhi Chowk, Classic Emporium, and others. There are some of the most famous places for shopping in Mussoorie.
Read More:
Lalita Lajmi: All You Need To Know About The Indian Artist (Painter)
Brighton Of The East, Digha: Top Spots To Explore In 2023!