Madurai Fans Cut A 15-foot Cake On Rajinikanth's 72nd Birthday
Celebrate, dance, and spread joy- it's Rajinikanth's 72nd birthday! Yes, the famous South Indian actor who took the Southern cinema on the map of the world is finally 72! As you all know, Rajinikanth has a crazy fan following all around the world. It was in Madurai that fans took his 72nd birthday to a whole new level.
Rajinikanth celebrated his 72nd birthday this year, and his Madurai fans made sure he enjoyed every bit of it. They had a 15-foot cake ready for the superstar, which was cut and celebrated later! The South Indian superstar and iconic personality turned 72 on Monday. Celebrations had to be huge, and so they were!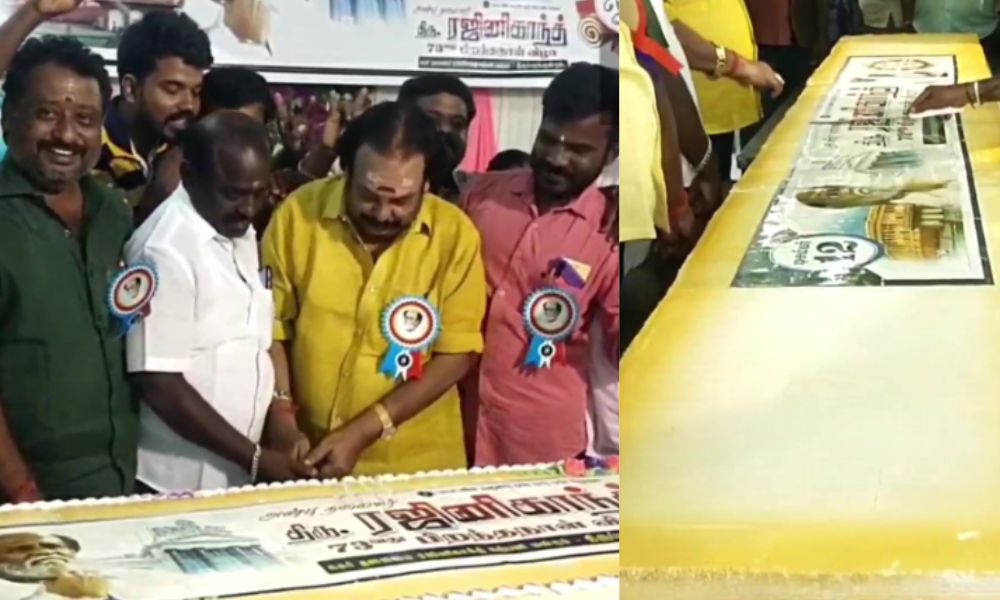 The superstar's birthday was celebrated with galore and pomp across the beautiful city of Tamil Nadu. There was a group of fans in Madurai, Tamil Nadu who made sure that their super iconic star celebrated every bit of the event.
They had a 15-foot-long cake that Rajinikanth cut, it was around 73 kg in weight! After all, with the level of an actor he is, Rajinikanth surely deserves much more than he expected! And the fans in Madurai made sure of that!
Rajinikanth is also known as Thalaivar by his fans, and he has them all (from all age groups). A 45-year-old fan in Madurai, Soundarajan, also stated that Rajinikanth is the greatest inspiration to many. He's an icon in the south, while many didn't know about the southern part of India and its talent, Thalaivar was the only one who took them to the world map. He also further mentioned how people respect and love him.
He always is in their prayers and they wish he would lead a healthy and happy life. His stardom is what defines him, and they wish it remains intact lifelong. Talking about Rajinikanth's politics, he also mentioned that fans don't care about the same. They just want to see the best for him and wish that he is always happy.
Rumors had that the South Indian superstar is all set to join politics, while this remains an uncertain thing, his fans have already given their verdict. They are going to support their superstar no matter what! They also said that Rajinikanth knows his priorities and that whatever he decides, they will accept.
Many Bollywood and Tollywood actors shared the happy birthday post for Rajinikanth on Twitter. The famous co-star and one of the other superstars of the south, Kamal Hassan shared his wishes on the Twitter social media handle- he posted some warm wishes and wished the iconic superstar a healthy life ahead. Dhanush also tweeted and wished Thalaiva. He mentioned warm wishes and that God should always protect him over anything.
Bollywood actor Shahrukh Khan also shared a happy birthday post for Rajinikanth (one superstar praising another!). Apart from the actors and actresses, political party personalities also shared a warm posts for Rajinikanth. A very happy belated happy birthday superstar!
Read More:
Preity Zinta Spends the Weekend with Sussanne Khan, Arslan Goni, And Karishma Kapoor!
Indian Army To Encourage Adventure Tourism In Border Areas!