Malaika Arora Goes Out In Green And Takes Ideas From Her Own Party Outfit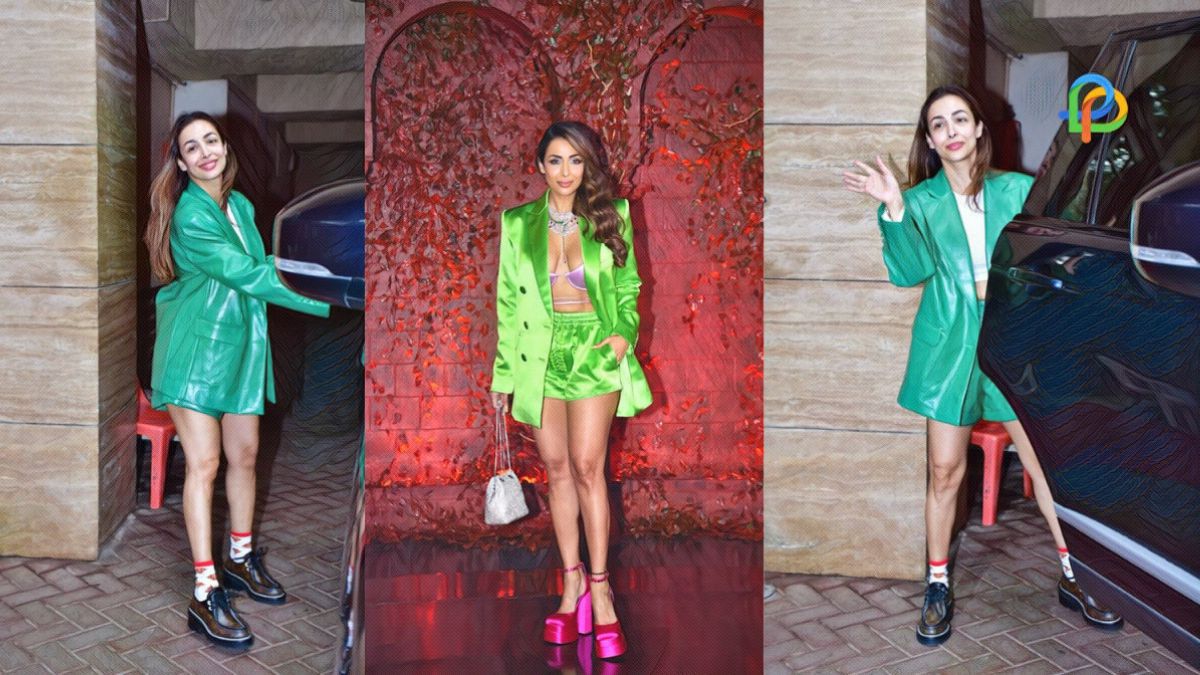 If something is beautiful and fits together, it has to be Malaika Arora! The fashion queen in herself is an iconic figure when it comes to class, gym, and glamour. This time her inspiration has set a bar- that is to be self-inspired. Malaika Arora recently attended a party in a green outfit that looked surreal and took inspiration from none other than herself!
Karan Johar's 50th birthday bash, which was celebrated last year with full energy, got many celebs together. Malaika Arora was seen in a green outfit that consisted of a green blazer with green biker shorts. And this time we spotted her again in the same outfit at a restaurant in Bandra! Yes, she repeats!
It was a Sunday night in Bandra, Mumbai when the fit queen was spotted in a beautiful and appealing green blazer with shorts. It was similar to what she wore at the birthday bash of Karan Johar. What is special about her as a performer and actress is her confidence! We have seen Malaika Arora in every outfit- be it traditional, contemporary, or another western. She knows how to breathe in her skin and takes pride in each and every inch of her body.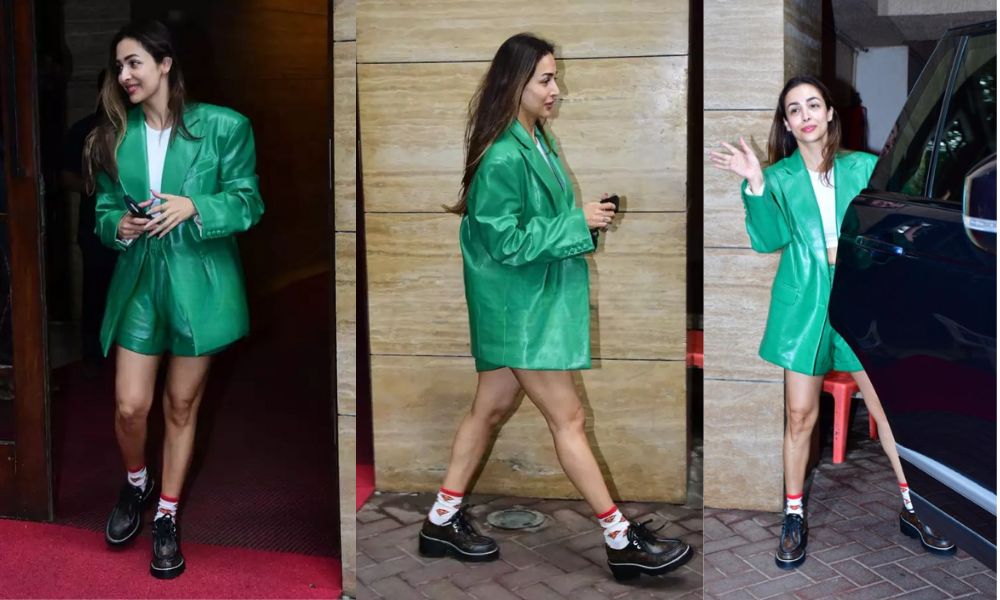 The fitness freak has always made sure to wow us with her looks- be it a normal party or a grand event. Her charisma is strong enough to allure anyone- and she proves to be confident with each experimental look. That's the aura of Malaika Arora– and you cannot deny it! Recently her repeated outfit didn't shock us! Why? Because the actress has the confidence to remain herself. She doesn't mind repeating her outfits every now and then and that's her beauty! You cannot beat the charisma of Malaika Arora!
She looked stunning back then at Karan Johar's 50th birthday and still looks the same! She's one of the most fashionable and trending fashion experts in Bollywood. If you've been following her in reality shows, you know what we mean! The actress knows exactly how to rock any look and be comfortable in her own skin. Her confidence is such that it makes her glow! Malaika Arora is not just a confident but graceful actress who has made many sexy outfits look graceful.
The actress took inspiration from her own look but this time the blazer and shorts were in leather. At Karan Johar's party, they were in satin touch along with heels (dark pink) and a lacy violet top. This time she wore a short white cami along with a leather blazer and shorts. She fashioned the overall look with a pair of sneakers- overall a casual yet appealing look!
Malaika Arora has always been an all-rounder- take it from her judging days to her reality show on her life. She has always proved to be iconic- you may see her unfiltered conversations with her peers. She's awesome and one of the most appealing actresses in the Bollywood industry!
READ MORE:
Sonam Kapoor And Dia Mirza Look Lovely In Black Ethnic Wear At Masaba Gupta And Satyadeep Misra's Wedding
Explore The Adventurous Trekking Destinations In Pune!