Not To Be Missed Places While On A Trip To Kaza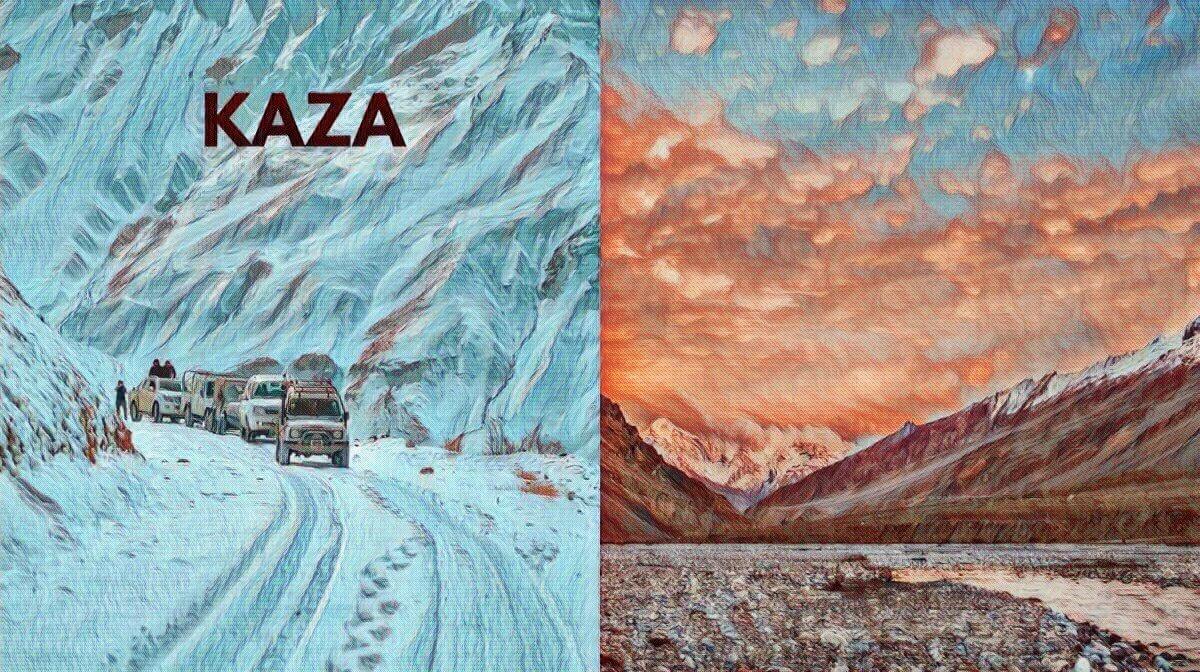 Kaza is a well-known and prominent town in the Spiti Valley in the Lahaul and Spiti regions of Himachal Pradesh. Kaza is a gorgeous destination to explore, perched on a hill 11,980 feet above sea level. Kaza is surrounded by steep mountain peaks on all sides and is easily accessible from two directions: Kinnaur Valley and Manali through Rohtang Pass. The village is surrounded by vegetation and has diverse flora and fauna.
A Kaza travel guide would be inadequate without mentioning the area's natural beauty and tranquil greenery. The town is separated into two sections: ancient and new. The old town is located on the city's outskirts, and its main feature is a historic monastery. Thang Yud, a prominent monastery near Kaza highland station, was built in the 14th century. This monastery is visited by tourists that visit the Kaza hill station. The Key Gompa Monastery is another amazing Kaza tourist attraction. The new section is adorned with modern man-made buildings.
About Kaza
Kaza, Himachal Pradesh's largest municipality, boasts of towering mountains with snowy crowns, crystal clear rivers, streams, and arid grandeur intermingled with areas of green. Kaza is well-known for its vibrant festivals as well as the Sakya Tangyud Monastery. The Lahaul and Spiti area was characterized by Rudyard Kipling as "a world inside a world."
And, at 11,980 feet above sea level, it truly is just that. Kaza and the Spiti Valley, which are connected by the Spiti River, share strong geological and cultural parallels with Tibet and Ladakh. Kaza in Spiti Valley's sub-divisional headquarters, making it a significant administrative and commercial hub.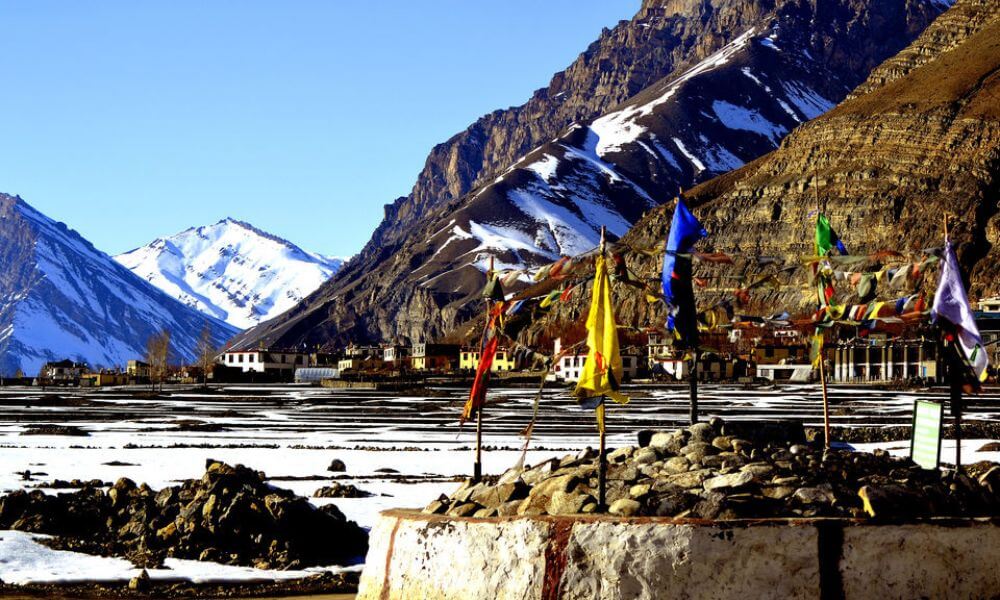 The majority of the hotels, markets, main bus terminals, hospitals, and government offices are located here. Kaza is separated into two sections: Kaza Soma, the modern town, and Kaza Khas, the historic town. Kaza Soma has government offices, whilst Kaza Khas houses the king's palace, monasteries, gompas, and other ancient structures. Its steep topography and scenic settings attract travelers seeking adventure as well as spiritual well-being.
It serves as a base camp for hiking, mountaineering, and other outdoor activities.
Some of the popular paths that begin in Kaza include the Pin-Parvati, Parang-La, and Pin-Bhaba. A stroll around the towns surrounding Kaza can also be an intriguing experience.
Monasteries and gompas are relics of Kaza's old culture and heritage. Tabo Monastery, one of western Himalayas oldest Buddhist centers, is located here. Tabo Monastery's murals are very comparable to Ajanta's paintings. It is also the greatest site to see Lama dance and learn about Tibetan Buddhism.
Kaza may be reached through Kinnaur and Lahaul valleys. Though the Kinnaur Valley route is available all year, the Lahaul Valley route is only open during the summer since the Kunzum Pass is closed during the winter. Winters in Kaza are harsh, with temperatures plummeting to sub-zero levels. Locals stay inside the bounds of their homes and only leave if required. Locals stock up on food for the winter and use their free time to create handicrafts.
Places To Visit In Kaza
Tabo
Tabo is 48 kilometers away from Kaza. It is 3,050 meters above sea level. Tabo is referred to as the "Ajanta of the Himalayas." This location is home to the Tabo Monastery, a famous monastery that ranks second in the world after Tibet's Tholing Gompa. This monastery is also known as India's "treasure hunt."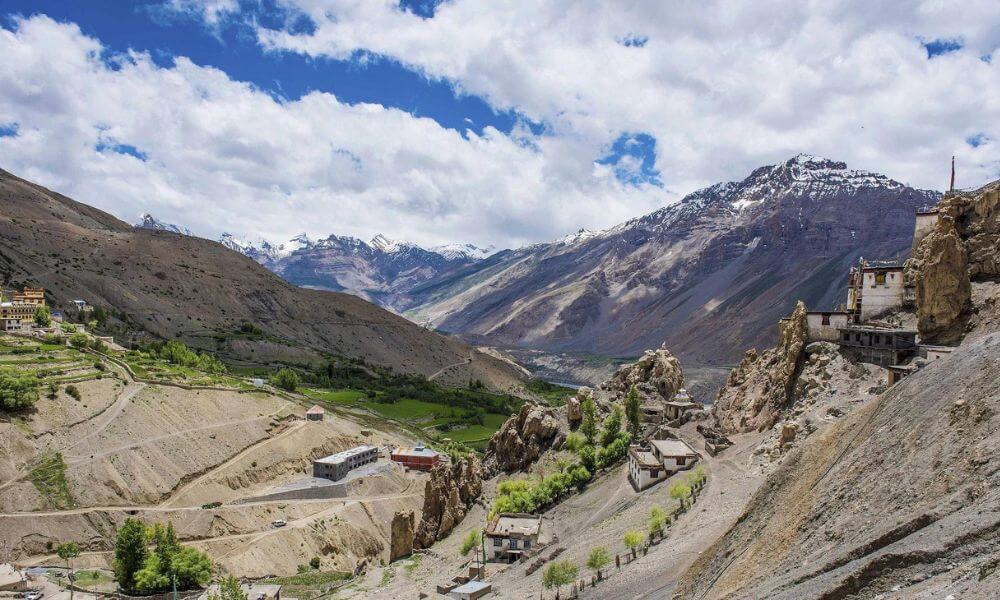 Key Monastery
Key monastery is around 7 kilometers from the town of Kaza. Key Gompa is another name for Ki Monastery. It is a must-see attraction. It is a waste not to see this monastery despite visiting Kaza. It was built in the 11th century and is a superb example of that era's architecture. This monastery is home to ancient Buddhist writings, scripts, and artwork.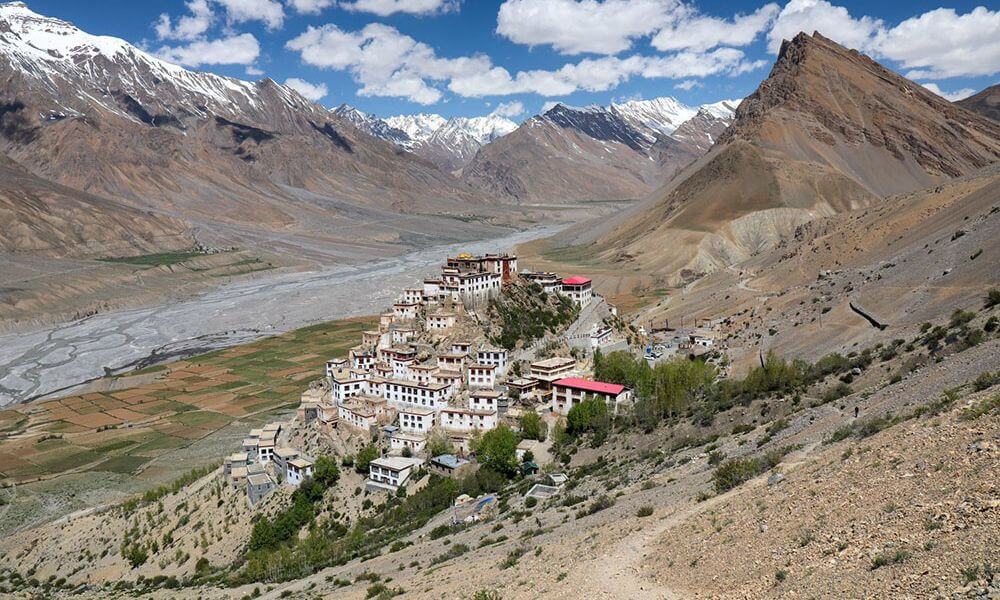 It is the largest monastery in the valley. Several monks and nuns reside here. It is also the largest training facility for llamas. The Ki Monastery has been besieged and devastated several times, necessitating multiple repairs. Each time a new storey was built for the monastery, it began to resemble a fort with overlapping temples.
Although there are twelve monasteries in Himachal Pradesh, this majestic building is not only the largest but also the oldest. The Key Gompa is a must-see tourist attraction in Spiti Valley, surrounded by gorgeous mountains and tranquil valleys. This magnificent example of monastery architecture is adorned with beautiful paintings, murals, manuscripts, and wind instruments.
Dhankar Monastery
Dhankar monasteries are 40 kilometers away from Kaza. Public transportation makes it simple to get to this site. Trekking enthusiasts may also take the bus, which takes them off at the start of the 10-kilometer journey. There are two gompas in this area.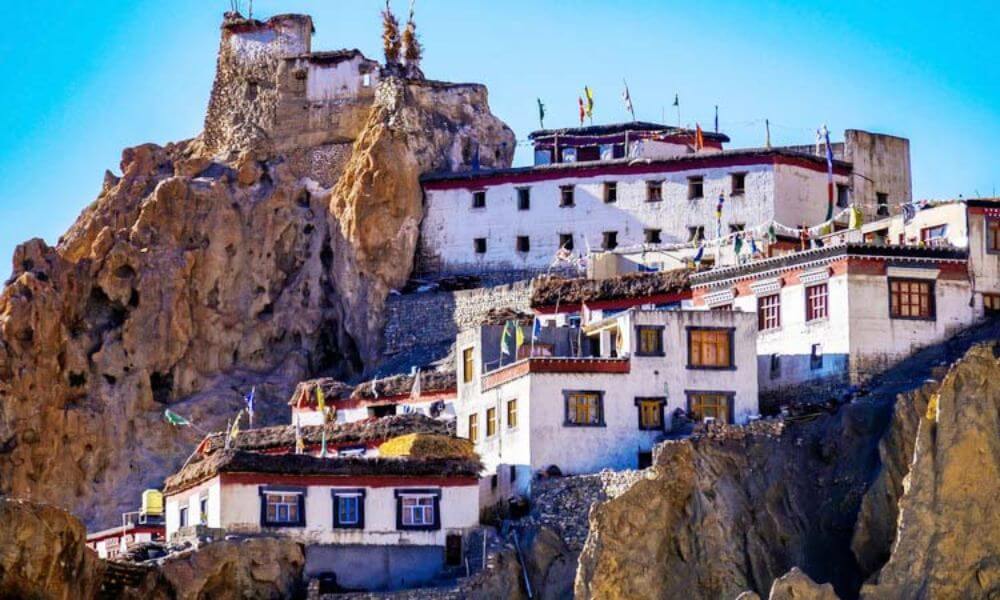 One of them dates back thousands of years, while the other was created quite late. It was dedicated by the Dalai Lama personally. You should make time to visit these monasteries because it will be an entirely different experience.
Kunzum Pass
Kunzum pass is 4551 meters above sea level. It serves as the entrance to Kaza.At the summit of the pass, there is a shrine dedicated to Goddess Durga, who is said to defend it and keep evil at bay. The world's second-biggest glacier may be seen from here. Trekking to Moon Lake is also possible from here.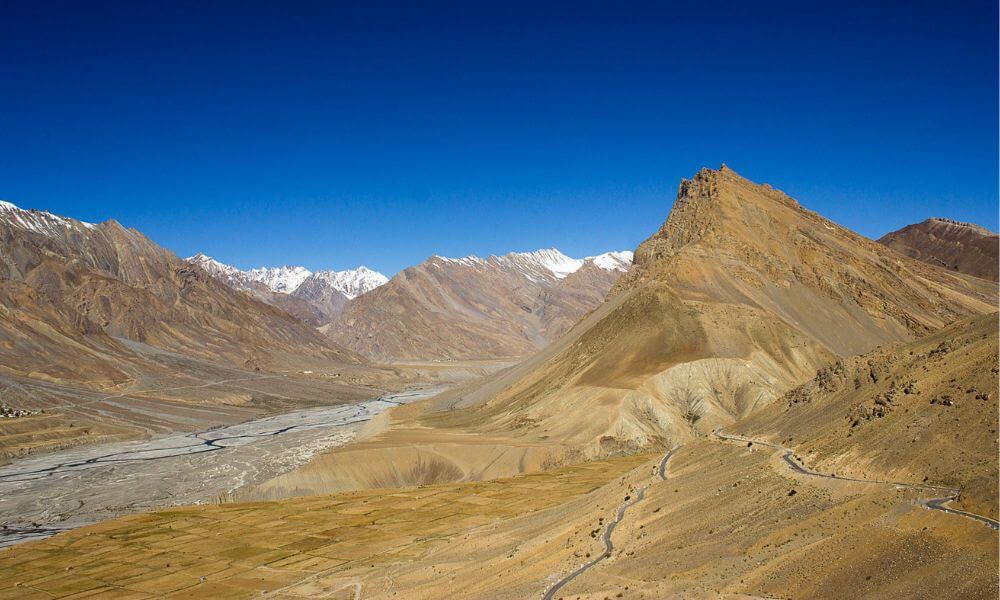 The Kunzum Pass, one of the most intriguing and quirky locations to explore in Spiti Valley, is a gateway to the beautiful Spiti Valley through Kullu and Lahaul. Treat your photography-obsessed soul by clicking away at the breathtaking scenery around you. Take in the breathtaking scenery, which includes the spectacular Bara Shigri Glacier, which is coated in virgin silvery snow, the barren mountains of the Chandrabhage range, the turquoise waters of the Spiti River, and the rough hills of Spiti Valley.
Chandratal Lake
The crescent form of Chandra Taal inspired its name. It is located in the Himalayas at an elevation of 4,300 meters above mean sea level on a plateau known as Samudra Tapu. It is a popular trekking location and should be on your list of things to do in Kaza. It also draws hundreds of thousands of fans and adventurers from all around the world.
The location has mythical significance since it is stated that Lord Indra picked up Yudhishtira, Pandava's firstborn son, from here. During the day, the watercolor of this lake fluctuates from red, to orange, blue, and green. It is a great camping location, and the walking path from Batal to Chandratal is around 6,000 meters high but well worth the risk.
Kibber Village
Kibber village is around 17 kilometers from Kaza. This community is the highest motorable settlement in the world, standing at 4,328 meters above sea level. Tibetan architectural style inspired the stone and brick homes here. This community has around 80 dwellings. It may be a little settlement, but its primary attractions are the Ki monastery and the Kibbe Wildlife Sanctuary. However, there are no luxurious hotels in the hamlet.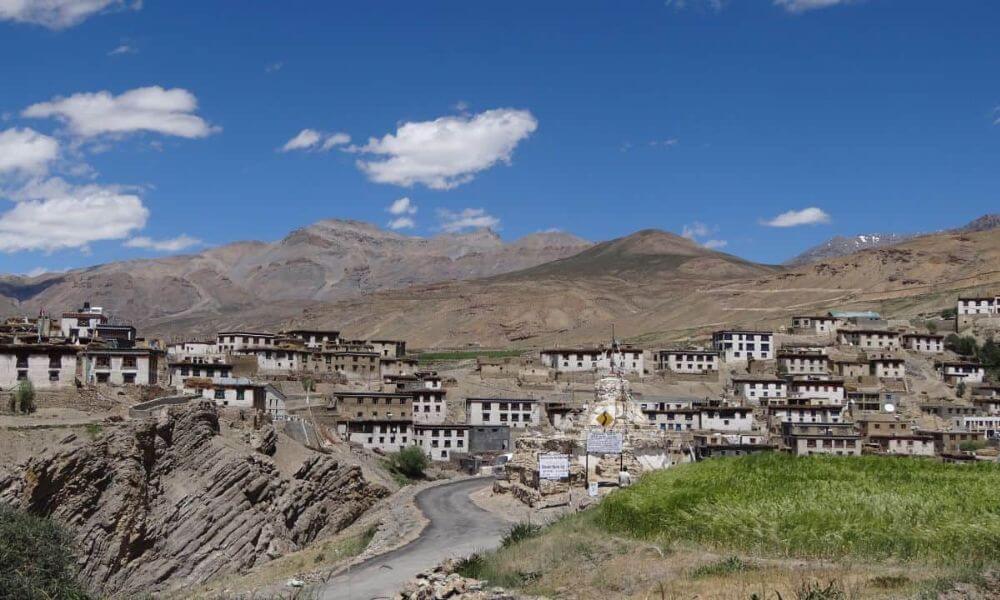 Locals rent out rooms at reasonable prices to visitors who want to stay for a day or two. Although there isn't a huge variety of cuisine to pick from, the north Indian food served here is regarded to be tasty. The greatest time to visit Kibber would be between January and July. The concept of a wonderful location is the vast height, the lovely backdrop of mountains, the green fields, and the practically non-polluted air. This village will make an impression on you. It will provide you a memorable experience that you won't soon forget.
Langza Village
Langza, located at an elevation of 14500 feet (4420 meters), is one of India's most isolated settlements, located in a remote area of Himachal Pradesh. The graphic image of Langza consists of greenfields surrounded by brown hills and peculiar dwellings built in Tibetan-style architecture. When surrounded by snow-capped peaks, this image completes the stunning panorama of the Langza settlement.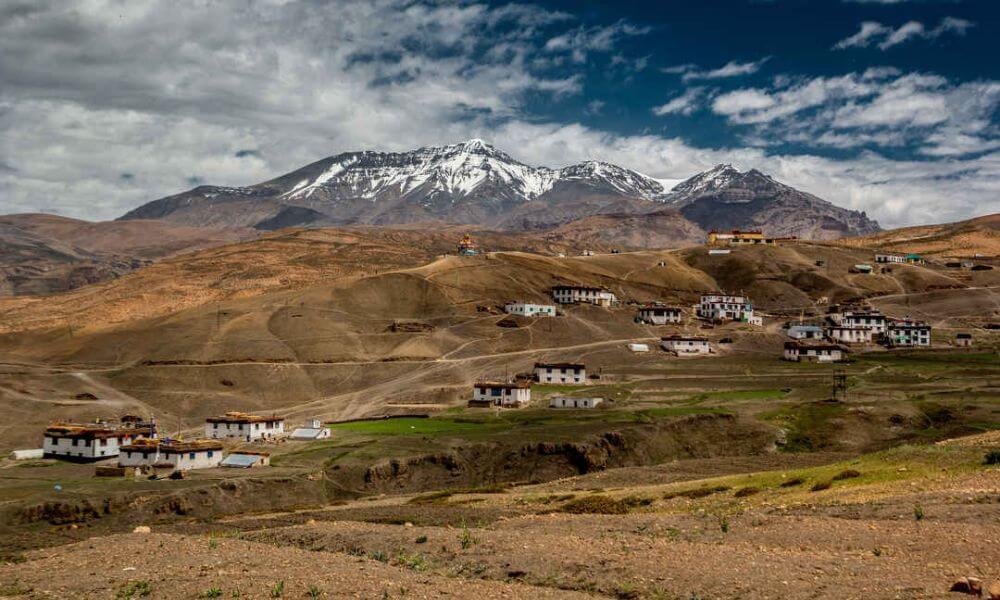 Upper and lower Spitian settlements are physically separated. Langza is no exception; the lower part of the village is known as Langza Yongma, while the upper part is known as Langza Gongma. Langza Gongma is home to Lang, a rural temple. The biggest structure here is a gigantic statue of Lord Buddha defending the hamlet, which is also the most popular image of Langza on the internet. The Chau Chau Kang Nilda peak, another prominent feature of the village, dominates the landscape.
Komic Village
Kosmic Village, located at a height of 4275 meters, is one of the most interesting and peaceful tourist destinations in Kaza that you should visit at least once in your life. This town is as vibrant as its name suggests. Traditional local dwellings fill the floors of this site, which you will not find anywhere else. Locals are also quite humble and helpful.When visiting the village, you will not feel like an alien.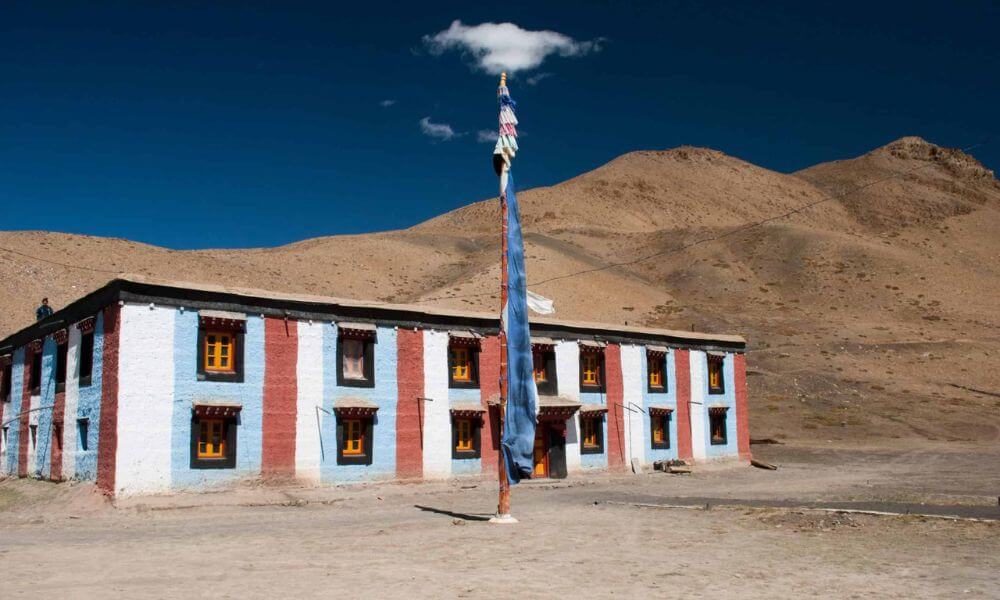 However, there are a few things to consider. One, there will be a few villagers who will try to sell you various fossils. Avoid being enticed by this since buying and transporting fossils from there to any other location is unlawful. The second is that the area is home to a tiny monastery that prohibits women from entering during prayers.
It is preferable to respect their decision because it is their territory.
Sakya Tangyud Monastery
We discussed a little monastery in the previously described Village. That Monastery is known as Sakya Tangyud Monastery, and it is the only site of worship in Komic Village. At a height of around 4250 meters, this is one of the highest altitude gompas in the whole country. It is one of the most popular tourist destinations in Kaza.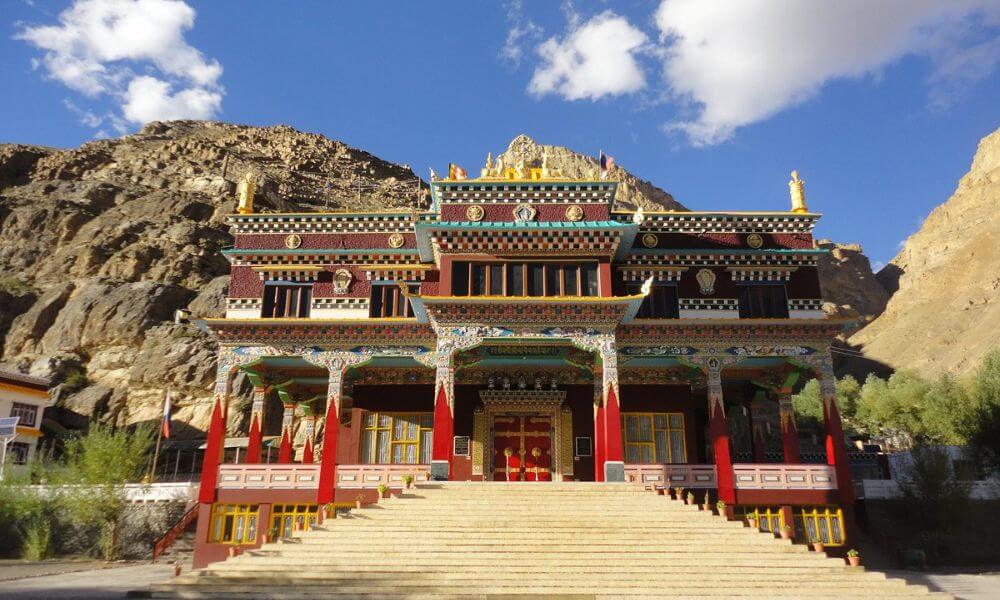 It is nestled on the outskirts of the Kibber Wildlife Sanctuary and exudes peace all around. It is also an excellent location for learning more about Buddhism. Along with solitude, this monastery has some breathtaking vistas to offer!
Dhankar Lake
Dhankar Lake, another high-altitude lake and one of the top sites to visit in Kaza, attracts a significant number of visitors every year. This lake is around 5 kilometers from its namesake Monastery and is located at an elevation of 4,140 meters above mean sea level.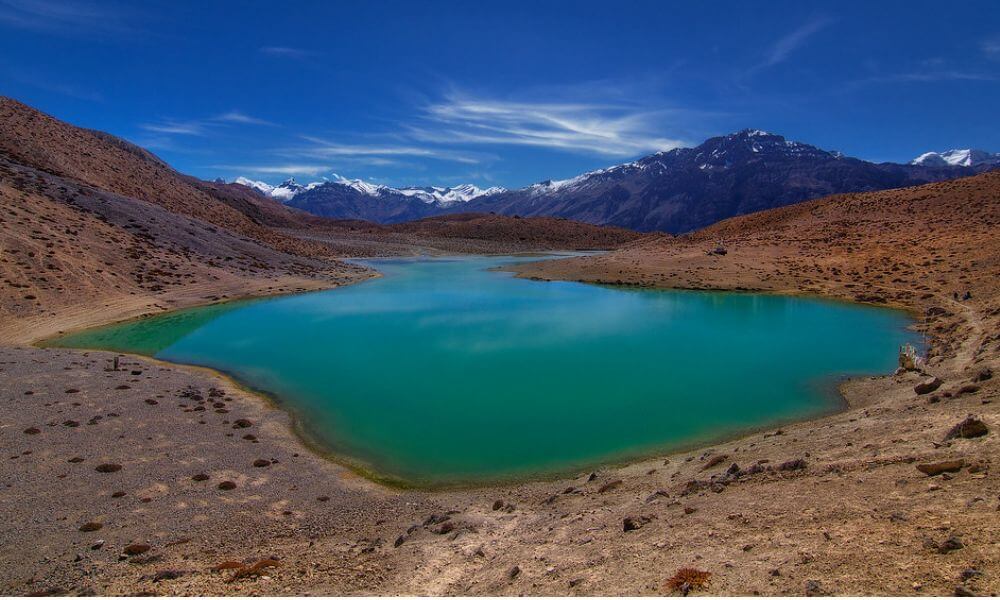 Dhankar Lake, also known as Sur Kund Lake, offers guests a once-in-a-lifetime experience. Every few hours, the lake waters mirror the shifting colors of the above sky. Keep your cameras available since it is certainly one of the finest sites to visit in Kaza.
How to Reach Kaza
Kaza is located in the northern Indian state of Himachal Pradesh, high in the mountains of the Lahaul and Spiti valleys. It lacks an airport but is well connected by road to Himachal's major cities. Here's how to reach Kaza:
By Air
Kaza may be accessible from either Manali or Shimla. Regular flights are operated by Indian Airlines and a few private airlines to Bhuntar Airport, the nearest airport to Manali. Pre-paid taxis are accessible from the airport in Bhuntar. From Manali to Kaza, buses and taxis are available for rent. Shimla airport is served by regular flights from New Delhi and Chandigarh.
By Train
The nearest railway station is Joginder Nagar. The train line between Joginder Nagar and Chandigarh is of limited gauge. The nearest wide-gauge railway stations are Shimla and Chandigarh. Kaza may be reached by bus or cab from Shimla and Chandigarh.
By Road
It takes six hours to go 115 kilometers from Manali. Another alternative is to take a bus from Shimla to Kaza via Kinnaur. The 412-kilometer road from Shimla to Kaza is available from May to October.
Traveling to some of the most intriguing sites to visit in Kaza provides tourists with a wealth of experiences. The region boasts a wide range of attractions, from temples to Buddhist monasteries and lakes. Accepting and trekking to some stunning high mountains is a terrific task for adventure seekers.
So, what are you holding out for?
Plan your trip to Kaza right now to see all of these sights.
Do Check Out:
Shubman Gill Discloses His Relationship with Sara Ali Khan
Beautiful Spots and Activities To Explore In Mandi