Best Places To Visit In Ajmer, The heart of Rajasthan!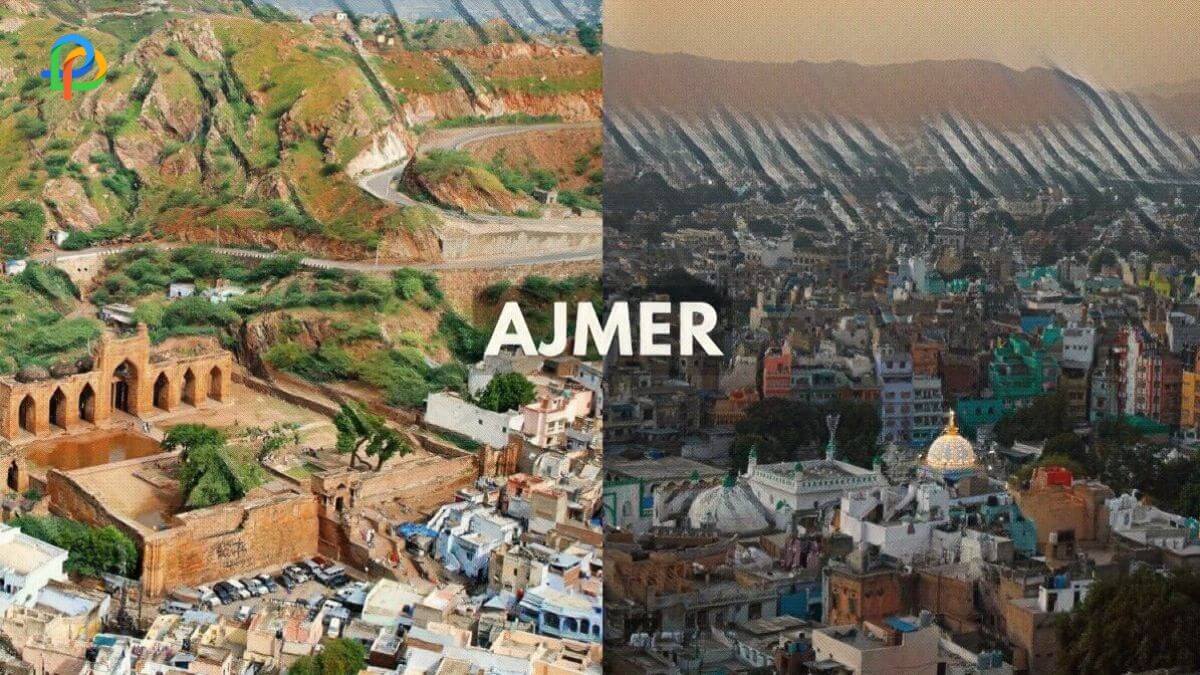 Ajmer is a city that has a unique blend of cultures. It is the fifth most populous city and one of the oldest cities in the state of Rajasthan. This charming city is surrounded by the picturesque Aravalli Hills and is located 135 kilometers from Jaipur. It is a major pilgrimage site for Muslims and is endowed with beautiful lakes, magnificent forts, and fascinating museums.
It is home to the Ajmer Sharif Dargah, the shrine of the revered Sufi Saint Khwaja Moinuddin Chishti. Every year, a large number of pilgrims and tourists from various religions and states visit the shrine. The city also serves as a base for pilgrims visiting Pushkar, an ancient Hindu pilgrimage city famous for the temple of Brahma.
Folk music, particularly Qawaalis, is very popular in Ajmer. Kalbelia, a popular Rajasthani dance form, is also popular in Ajmer and is performed by a tribe of the same name. Although Ajmer Sharif Dargah, the shrine of Khwaja Muin-ud-din Chishti, is the most well-known tourist attraction in Ajmer, the city is also well-known for the Jain religion and is home to an incredible golden Jain Temple. Ajmer is also well-known for its educational institutions. There are many historic and religious places to visit in Ajmer.
Best Places Vo Visit In Ajmer
Akbar's Palace & Museum
Akbar's palace, built in 1570 AD, is where he and his troops stayed in Ajmer when visiting the Ajmer Sharif Dargah. It is well-known for its museum, which displays ancient military weapons as well as exquisite sculptures, paintings, and other Mughal-era artifacts. The museum exhibits various aspects of Rajput and Mughal living and fighting styles.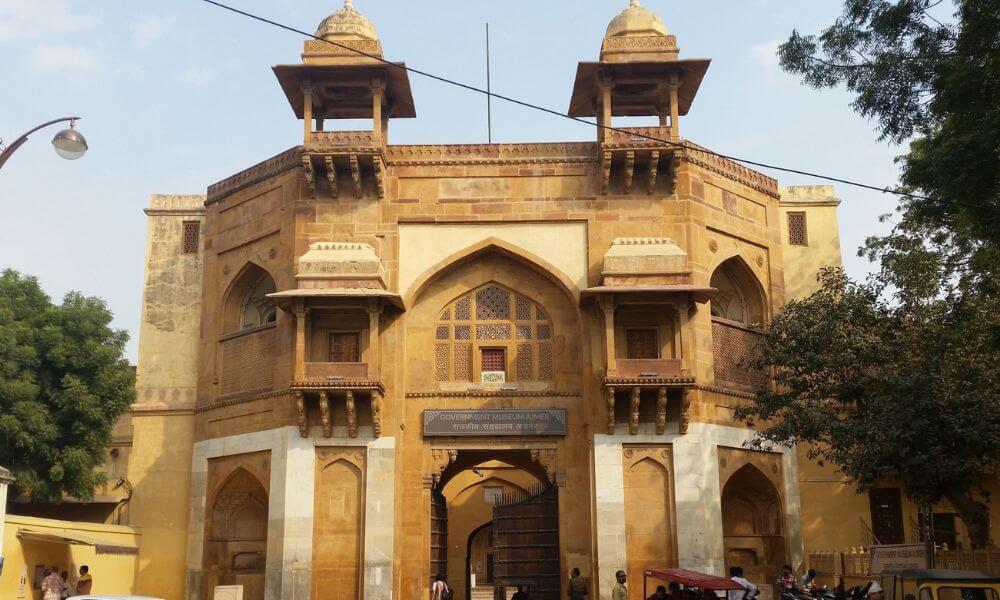 The large black marble statue of Goddess Kali in the palace is well-known. It is open daily from 10 a.m. to 5 p.m. The ticket costs Rs.10 for Indians and Rs.50 for foreigners. Photography is not permitted at Akbar's Palace and Museum. This palace and museum should take about an hour to explore.
Dargah Shariff
The revered Ajmer Sharif Dargah or Dargah Shariff is unquestionably the first tourist attraction that any tourist would visit in Ajmer. This is the tomb of the famous Sufi saint Khwaja Moinuddin Chishti, also known as Garib Nawaz, which is visited by devotees of all faiths, not just Muslim pilgrims, in the hope that their prayers will be answered.
Because the Mughals built this shrine in the 13th century, it contains elements of rich Mughal architecture, such as tombs, courtyards, and gates – Nizam Darwaza, Shah Jahan Darwaza, and Buland Darwaza. The prasad served to devotees here is prepared in two massive cauldrons located in the inner courtyard.
Notwithstanding your spiritual beliefs, you will find peace in this shrine's aura when combined with the scent of flowers and incense, especially during the six-day Urs festival that is held in Rajab (the Islamic lunar calendar's seventh month). It is open from 4 a.m. to 10 p.m. during the summer and from 5 a.m. to 9 p.m. during the winter.
Adhai-Din Ka Jhonpra
Adhai Din ka Jhonpra is a Masjid built in AD 1199 by Qutub-ud-Din-Aibak, the first Sultan of Delhi. According to legend, this Indo-Islamic architectural site was built in two and a half days, hence its name. Adhai Din ka Jhonpra is a relic of an old mosque built with remnants of Hindu and Jain temples.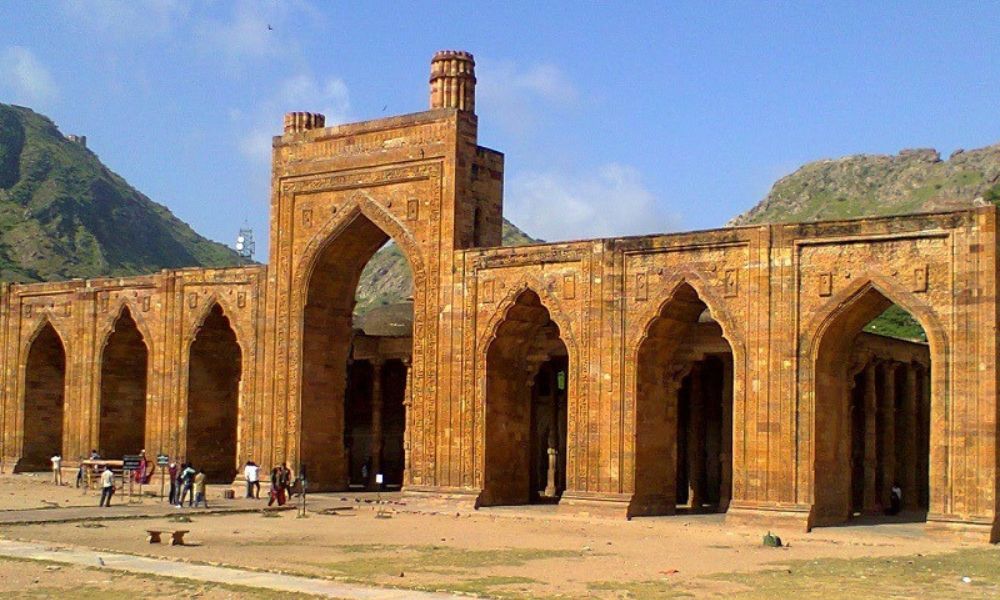 Though most of the ancient temple is now in ruins, the mosque area is still used for worship. It is an amazing place to visit, complete with arched screens, ruined minarets, and distinct beautiful pillars. No entry fee is taken for this place. The hours are from 6 a.m. to 7 p.m. You can explore the entire area in approximately 30 minutes.
Ana Sagar Lake
Ana Sagar Lake is a popular tourist attraction in Ajmer. It is in the heart of the city and is a great place to watch the sunset. Anasagar Lake is an old artificial lake built by Arnoraja, Prithviraj Chauhan's grandfather. It covers an area of more than 13 kilometers. The circuit house, built by the British on a hill near the lake, is one of the main tourist attractions of Anasagar Lake.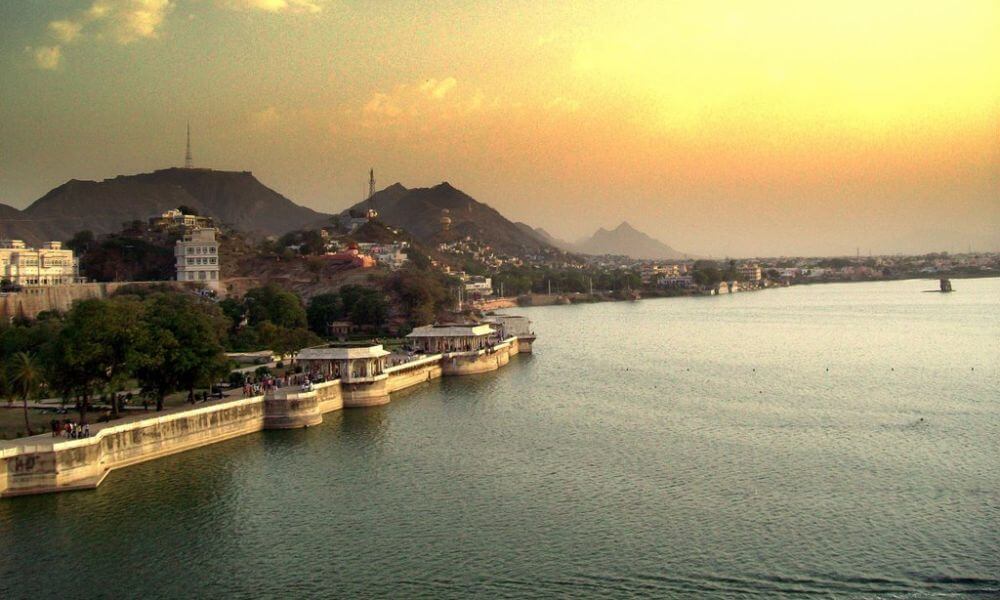 Walking around the lake and exploring the flora and fauna allows you to take some amazing photographs of the lake and its surroundings, as well as feel nature. Construction is prohibited in the catchment areas to protect the lake from pollution. The Ana Sagar Lake is open from 8 a.m. to 8 p.m. There is no charge to enter this place.
Gateways of Taragarh Fort
The Taragarh Fort, built in 1354, is one of Bundi's most impressive structures. Rao Deva established the state of Bundi. Taragarh Fort Gateway is the imposing main gate of Taragarh Fort, which is built on a hill crest. Elephant sculptures adorn the Taragarh's main gateway, which consists of two colossal bastions on both sides with strong guard rooms.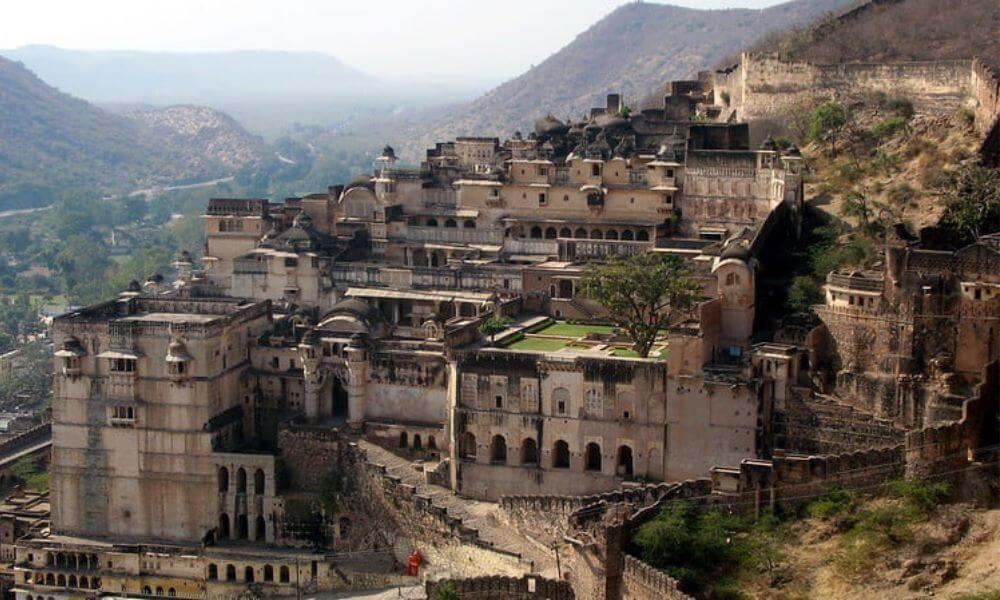 The water reservoirs and the Bhim Burj, on which the canon known as Garbh Gunjam (Thunder from the Womb) was mounted, are the main highlights of this once magnificent fort. There is also the magnificent Rani Mahal, which used to house the rulers' wives and has stained windows and murals.
All of this makes the Taragarh Fort an unrivaled example of Rajputana architecture, as well as a major tourist attraction in Ajmer. It is open from 9 a.m. to 5 p.m. This location takes about 1 – 2 hours to explore. This is one of the best places to visit in Ajmer if you are fond of history
Nasiyan Jain Temple
The Nasiyan Temple, also known as Lal Mandir, is one of the popular places to visit in Ajmer. It is dedicated to Lord Adinath, the first Jain Tirthankara. The temple structure is painted red, as the name suggests, and the two-story structure expresses the divinity of Rajasthani architecture in its purest forms.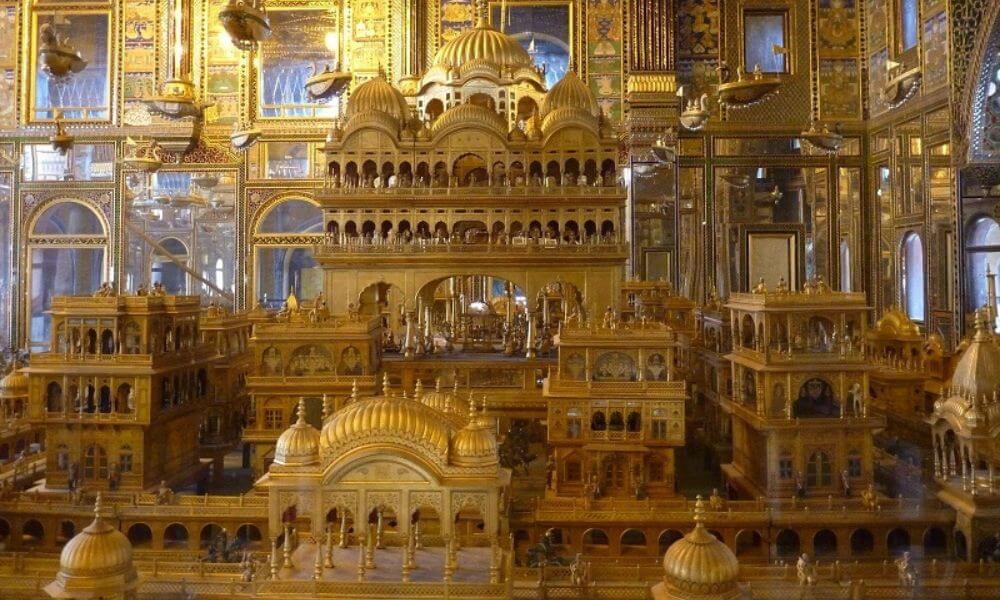 Take some time away from your camel safari plans to visit this tourist attraction in Ajmer instead. You won't be sorry because there are galleries in the temple's museum depicting Lord Adinath's five stages.
Foy Sagar Lake
Mr. Foy, an English architect, built Foy Sagar Lake in 1892 as part of a famine relief project. Lake Foy Sagar is an artificial lake in Ajmer located on the Foy Sagar Garden Road. The lake, one of the city's most popular tourist attractions, exudes peace and serenity and provides a 360-degree view of the neighboring Aravalli peaks.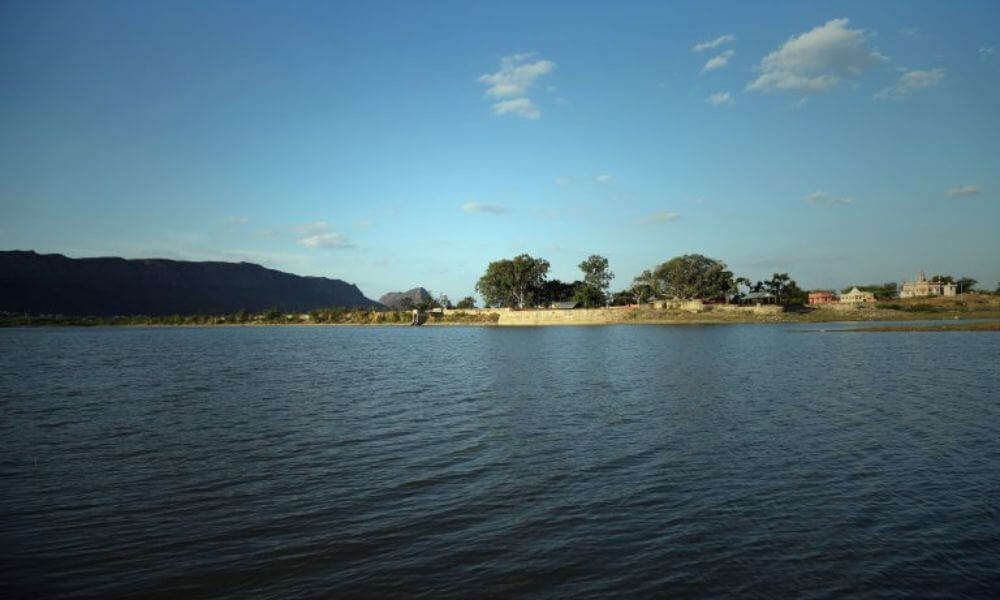 During the winter, it's a popular picnic spot. The lake has a capacity of 15 million cubic feet and a surface area of 14,000,000 square feet. The lake is accessible every day from 6 am to 7 pm. No entry fee is charged to explore such a beautiful view of the lake.
Sai Baba Temple
Sai Baba Temple is one of the best places to visit in Ajmer for a spiritual retreat. The architecture of the temple in Ajmer, built by a fellow civilian in 1999, is beautiful and admirable. Locals come to pay their respects to Sai Baba at the temple.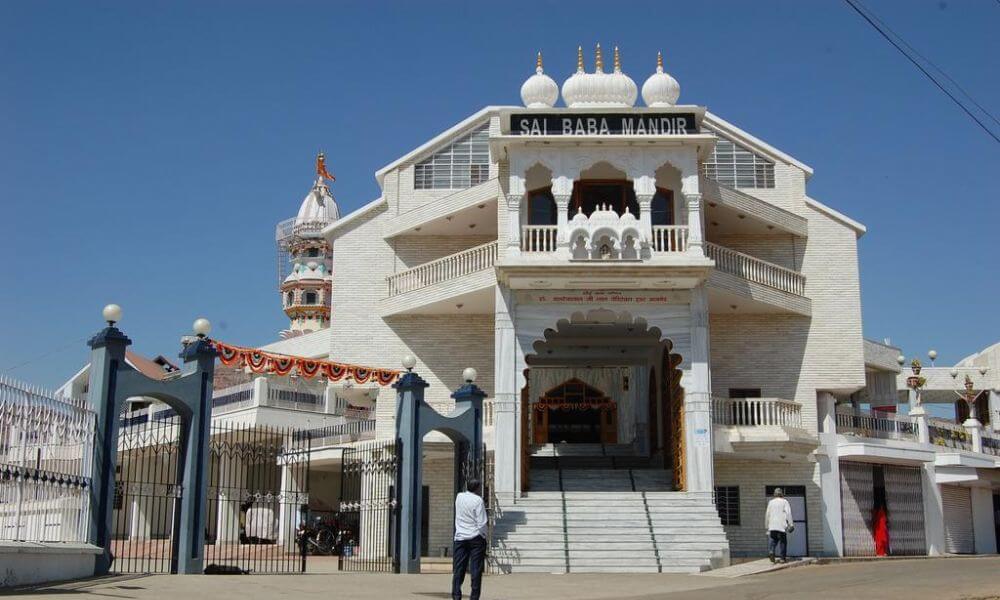 Thursdays and Saturdays are the busiest days, with thousands of devotees flocking to the temple. Anyone who prays to Sai Baba is said to be showered with blessings. Its hours of operation are 8 a.m. to 8 p.m. There is no entry fee. In one hour, you can pray and explore the entire temple.
Nareli Jain Temple
The Nareli Jain Temple, also known as Shri Gyandoaya Tirth Kshetra, is another Jain temple worth visiting on the outskirts of Ajmer. This marble temple's captivating architecture is a blend of traditional and modern elements, giving it a distinct style. The temple, with its angular designs and amazing sculptures, is an important pilgrimage site for Digambar Jains.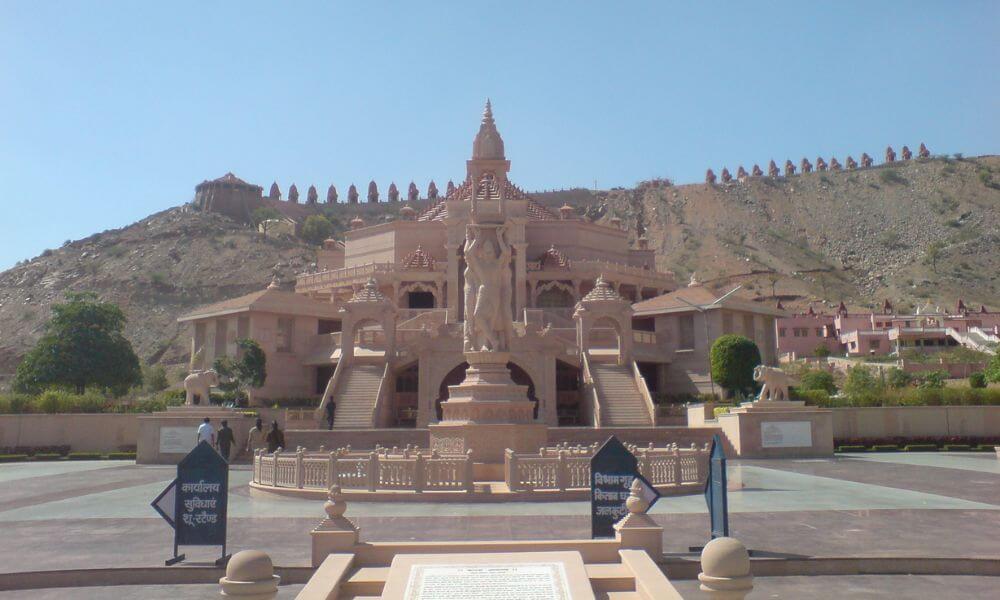 There are 24 miniature temples on the hill above, dedicated to the 24 Jain Tirthankaras who taught the path of righteousness. These smaller temples are known as Jainalaya and Choubisi. It is open daily from 6:30 a.m. to 7:00 p.m.
Mayo College
Mayo College, also known as the "Eton College of the East," is the country's oldest public boarding school, founded in 1875 by Richard Bourke, the sixth Earl of Mayo. This college is known for its breathtaking architecture and is home to the Danmal Mathur Museum, which features invaluable antics and an armory section.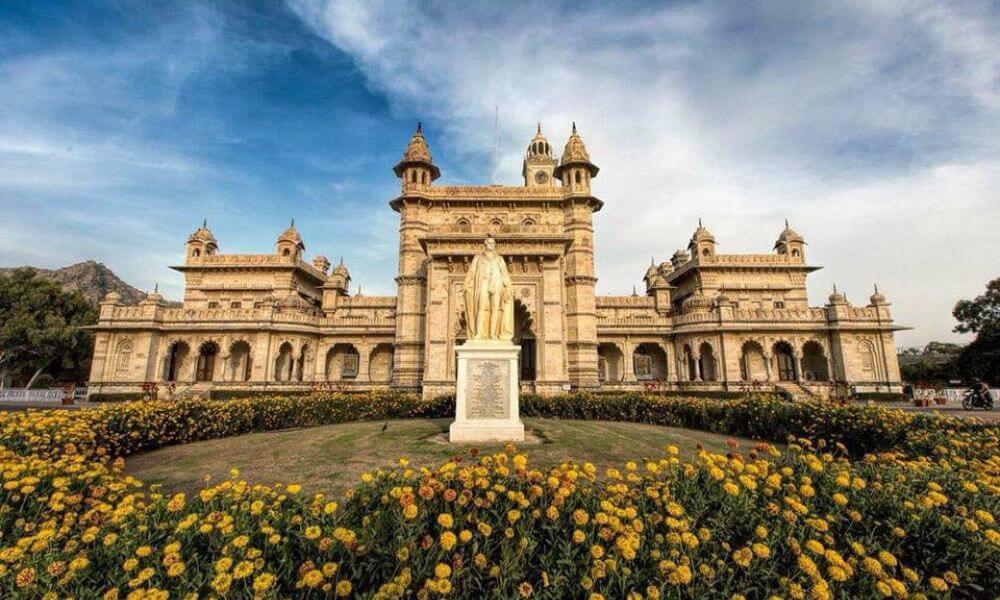 This is one of the best places to visit in Ajmer for those looking for a trip back in time. Mayo College is open for 12 hours for the public to explore from 7 a.m. to 7 p.m. Everyone who wants to explore this location can do so for free. This Mayo College exploration will take approximately 2-3 hours.
Buland Darwaza
Mughal emperor Akbar built the Buland Darwaza, or "Door of Victory," in 1602 to commemorate his victory over Gujarat. It is the main entrance to the Jama Masjid in Fatehpur Sikri, India, which is 43 kilometers from Agra. The Buland Darwaza is the tallest gateway in the world and a prime example of Mughal design.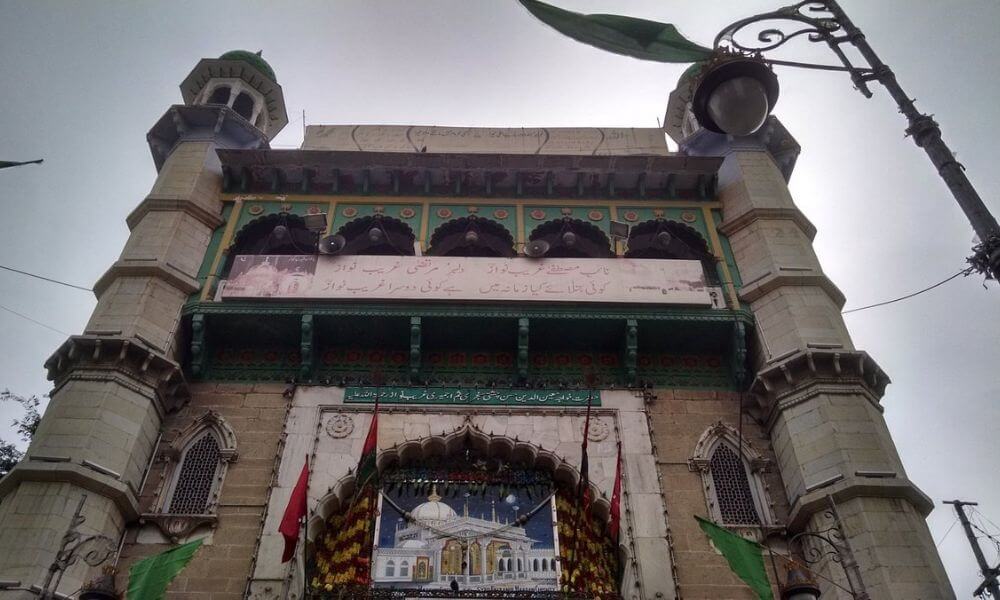 It exemplifies Akbar's empire's sophistication and technological heights. It is essentially just the entrance to the Ajmer Shariff shrine, and it is situated in a very busy and crowded market. It is essential to explore if you go there. However, because it is so crowded, one must be cautious of pick-pockets.
Baradari
The beautiful Anasagar Lake is surrounded by Baradari – white marble pavilions on the southern eastern embankment added by Mughal Emperor Shah Jahan in 1637 to further enhance the beauty of this famous water body. In the 17th century, Mughal ruler Jahangir also built a lush garden section that served as an ideal leisure spot.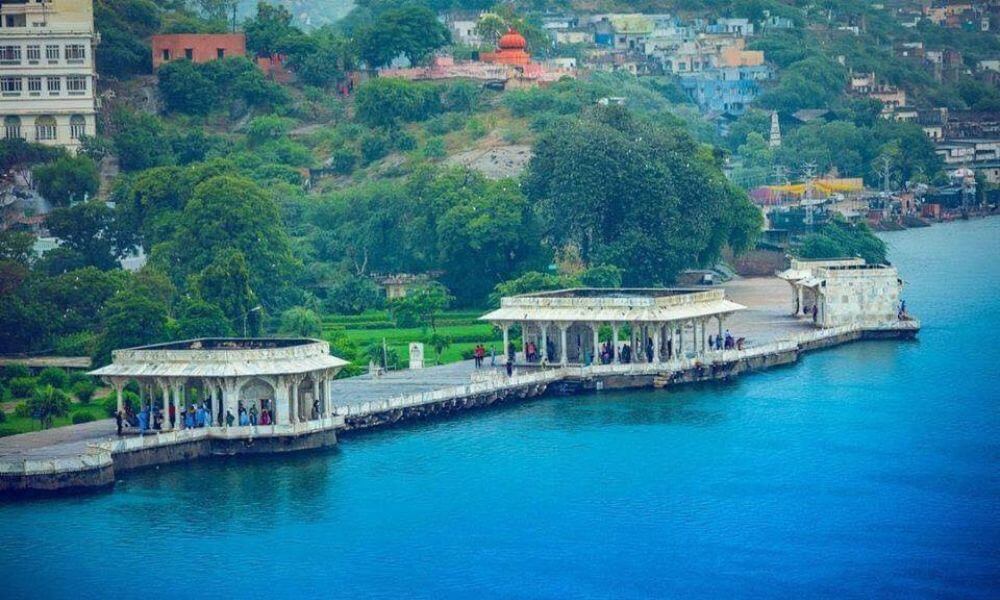 When the British took over the region, they converted this area into offices and built numerous structures to meet their needs. The five pavilions, as well as the royal bath, known as the hammam, have been restored to their original state. Visit this idyllic spot while in Ajmer to enjoy peace and quiet while admiring the greenery and calm water with loved ones. Its hours of operation are 8 a.m. to 8 p.m.
Best Time To Visit Ajmer
During the monsoon season, which lasts from July to September, Ajmer receives medium to heavy rainfall. The average temperature is between 25 and 35 degrees Celsius. The majestic Aravalli hills look stunning during the monsoon season in Ajmer.
Ajmer has a pleasant climate as the end of the monsoon and winters begin in October, with average temperatures ranging from 15 to 18 degrees Celsius. However, the nights are cool, so bring some warm clothes. The winters, which end in February, add to Ajmer's allure.
How To Reach Ajmer?
There are several ways to reach Ajmer such as by flight, by bus, or by train.
By Rail
Ajmer is connected by train to major cities throughout the country. Ajmer Junction Railway Station is situated in the heart of the city and serves a large number of commuters every day, particularly tourists who visit the city's pilgrimage sites.
Ajmer Chandigarh Garib Rath Express, New Delhi Ajmer Shatabdi Express, and Ajmer Hazrat Nizamuddin Jan Shatabdi Express all depart from this station. Ajmer Bandra Terminus Express, Ajmer Dadar Express, and other trains are available. The fastest train on this route is the Swarna Jayanti Rajdhani Express.
By Bus
The public sector transportation company Rajasthan State Road Transport Corporation provides service to Ajmer. Ajmer also has a number of private bus services. The city is crossed by National Highway 8, which is part of the Golden Quadrilateral.
The highway is thought to be the busiest in the subcontinent. The Ajmer-Jaipur Expressway is a six-lane highway linking Ajmer and Jaipur. The Ajmer-Jaipur Expressway and National Highway 8 are in excellent condition but NH8 is the busiest in the country.
By Air
Ajmer does not have an international airport. Ajmer's nearest airport is Jaipur International Airport, which is 132 kilometers away. Regular flights connect the airport to major Indian cities such as Delhi, Mumbai, Bangalore, Ahmedabad, Chennai, Kolkata, Hyderabad, and Pune, as well as many international cities such as Sharjah, Abu Dhabi, Muscat, and Dubai.
Domestic airlines such as Air India, AirAsia India, GoAir, IndiGo, Jet Airways, and SpiceJet serve the airport, as do international airlines such as Air Arabia, Etihad Airways, and Oman Air.
Conclusion
Ajmer is a very beautiful city with a hot semi-arid climate. The city was conquered and ruled by various dynasties in the past so it has a unique blend of cultures. When you visit Ajmer, it is a must for you to do some activities such as a road trip to Pushkar, visit Dargah of Khwaja Muin-in-din Chishti, explore Mayo college, nature walk at Daulat Bagh, visit Ana Sagar Lake, etc.
It will be best if you attend the International Sufi Festival which is held every year to present the whole culture of Ajmer. Ajmer is well-known throughout the world for its leather work, ornamentation, and embroidery. The city is home to some of the best sculptors, painters, and architects. Ajmer is an art lover's paradise, with so many beautiful works of art.
Read More:
Journey To The City of Palaces – Best Places To Visit In Kolkata
Explore Varanasi: The Spiritual Capital Of India!