Explore Ranthambore: Most Popular Landmarks In Rajasthan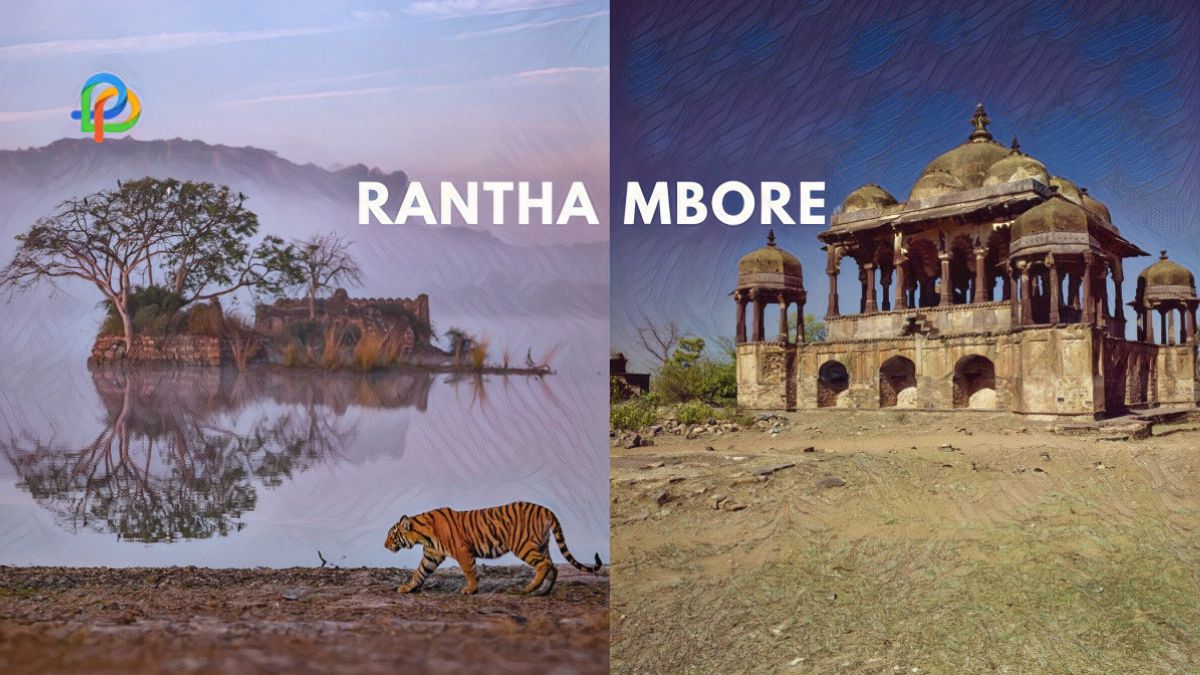 Ranthambore, a lovely city in Rajasthan's Land of Kings, is well-known for its national park. The city is renowned for its stunning maharaja realm, which includes its opulent palaces and imposing forts, in addition to its globally renowned National Park. In this article, we have listed a few best places to visit in Ranthambore.
Enjoy the beautifully preserved, evocative ruins that hold the traces of a romantic and wealthy past. It is well-known for its Nature Reserve and Tiger Reserve, however, these are not the only attractions that draw visitors. In and around Ranthambore, there are numerous lakes. The traditions and culture of Ranthambore, in addition to the wildlife, are of great importance.
Enjoy the magnificent artwork and handiwork produced by rural women working under the brilliant direction of Village Women's Craft. Furthermore, while in Ranthambore, treat yourself to Rajasthan's exclusive dishes such as Dal Bati churma, Ker Sangri, and Mawa kachori for a taste that will not leave your taste buds.
Best Places To Visit In Ranthambore
Ranthambore Fort
The magnificent fort known as Ranthambhore Fort was constructed in Rajasthan's Ranthambhore by a ruler of the Chauhan Royal family. The regal fort, which is the ideal tourist destination for those interested in learning about Royal Rajasthan, is thought to have existed since the 12th century.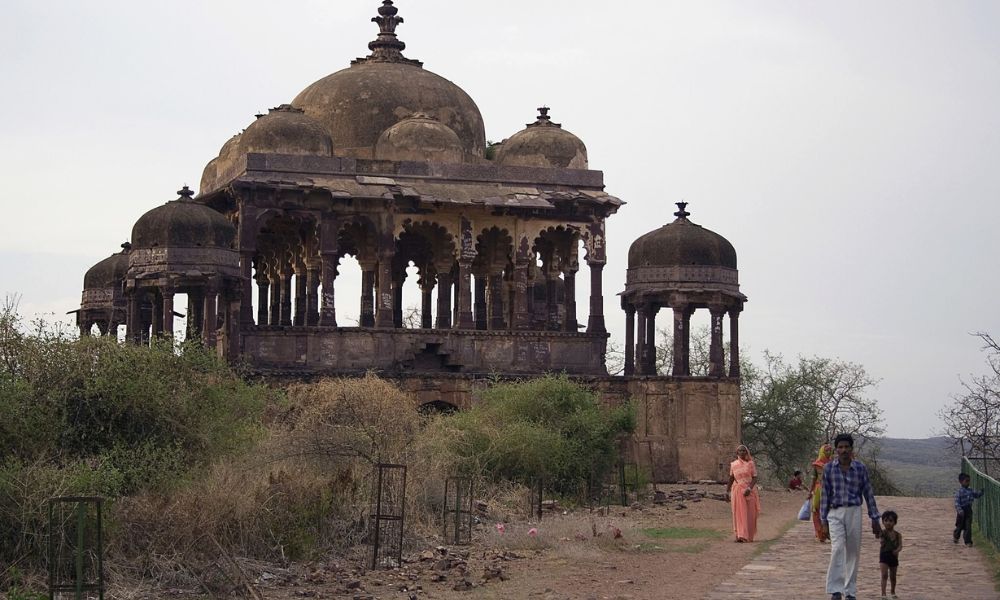 Lakes, a wide range of flora and fauna, picnic areas, and a lot of history are all located close to the fort. This fort, a significant Hill Fort in Rajasthan, has been named a World Heritage Site by UNESCO. You and your family or friends are welcome to visit this location.
The fort is open from six in the morning until six at night. Children's tickets cost Rs. 10 and adult tickets cost Rs. 15 for adults. This fort is one of the best places to visit in Ranthambore.
Ranthambore National Park
Ranthambore National Park is located in a scenic and historical setting and offers a variety of attractions. One of India's most famous national parks is known for its Royal Bengal Tiger population. The park, which spans 392 sq. km, is renowned for having India's largest tiger population.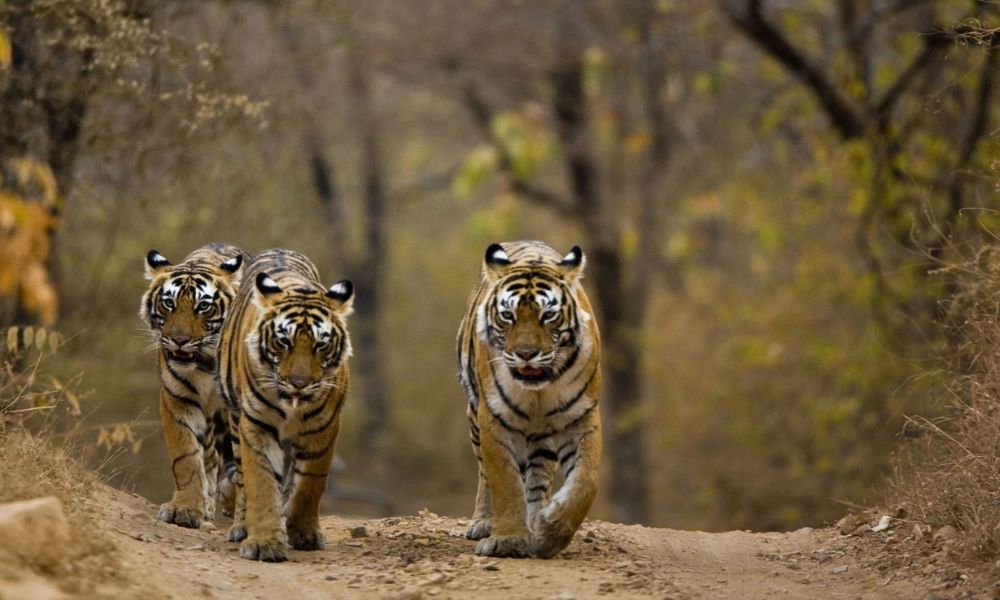 A wide variety of rare and distinctive wildlife species can be found in this tiger-friendly region. Other animals that live there include marsh crocodiles, deer, leopards, and a wide range of other birds, flora, and fauna. National Park is also marked as one of the best places to visit in Ranthambore.
It is open from 6 to 10 in the morning and from 3:30 to 7 in the afternoon. Depending on the tourist's package, different entrance fees apply to the Ranthambore National Park.
Rajiv Gandhi Regional Museum Of Natural History
One of the top attractions in Ranthambore is the Rajiv Gandhi Regional Museum of Natural History, which is India's fourth regional museum of natural history. The main objective of this museum is to raise public awareness of the value of protecting the local, extremely rare plants and animals.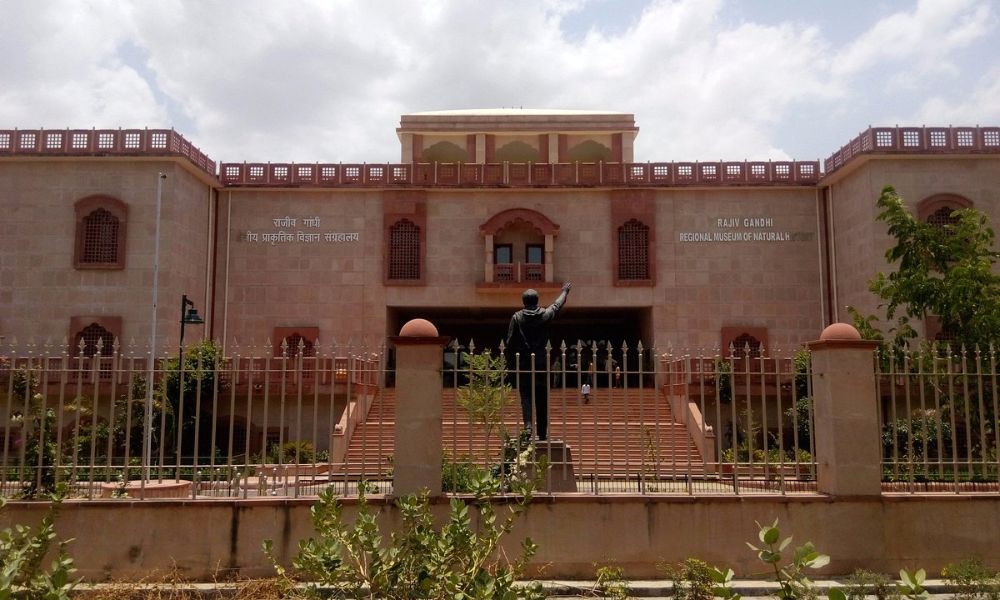 The museum has three floors, but visitors can only access the ground floor, which is where the majority of the "Biodiversity of Rajasthan or Forests and Wildlife of Rajasthan" exhibits are located.
The main draws, in addition to the assortment of village dioramas of the Bishnoi community and rural Rajasthan, include replicas of animals like the chinkara, leopard, lion, and tiger. Tuesday through Sunday, from 10 a.m. to 6 p.m., are the operating hours.
Jogi Mahal
The iconic hunting lodge Jogi Mahal was built for the royals of Jaipur's entertainment and recreation. Jogi Mahal, which is located on its banks, provides a magnificent view of the lake, its surroundings, and the miles-long green forests beyond.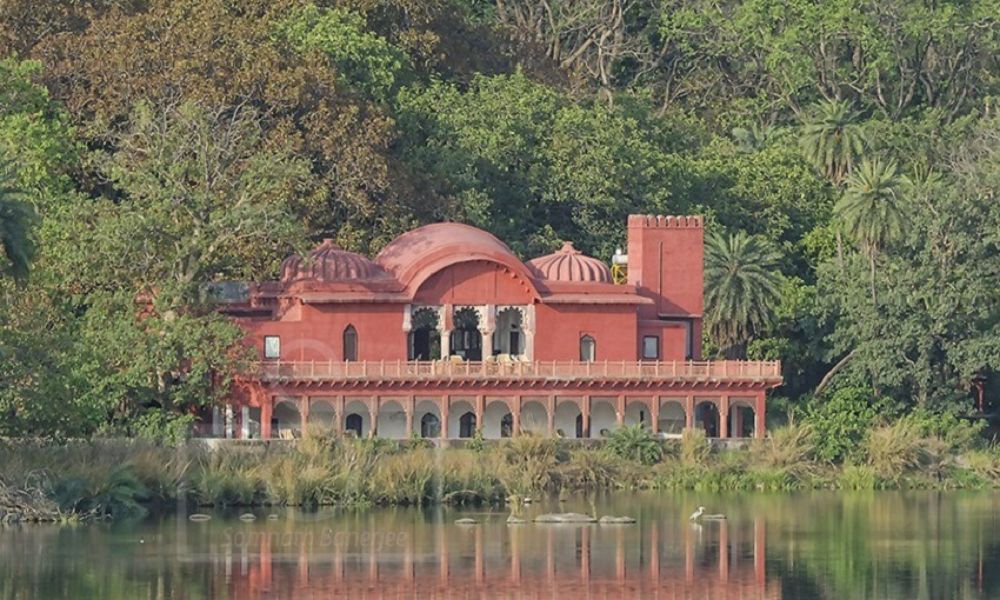 For the Jaipur kings, their royal guests, and other dignitaries, the Jogi Mahal served as a hunting retreat in the past. It now stands as an abandoned but proud example of the finest Rajasthani architecture.
In addition, it is the location of India's second-largest banyan tree, after the one in Shibpur, West Bengal's Botanical Garden. Spend about an hour here, replenish your food and drink supplies, and get some energy and click some good pictures.
Surwal Lake
Surwal Lake is about 25 kilometers from Ranthambore. You will undoubtedly be mesmerized by the lake's beauty, which benefits greatly from Mother Nature's abundance of generosity. Surwal Lake is among the best locations for sightseeing close to Ranthambore National Park because of its charming surroundings.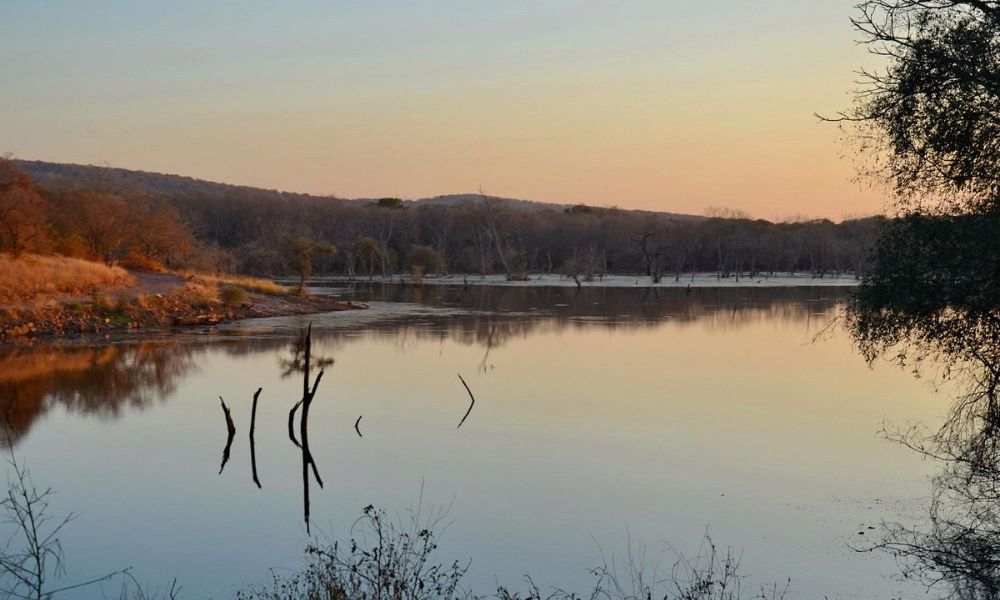 Numerous birds frequent this lake and can often be seen catching fish there, especially in the winter. It is best to visit this location during the monsoon or during the winter because the lake is shallow and dries up in the summer.
The best time of day to go here is in the morning when a lot of birds can be seen coming here to get their breakfast. Surwal Lake, which is tucked away in isolation, is ideal for those looking for some peace.
Raj Bagh Talao
Raj Bagh Talao, the most well-known and stunning lake in the park, is one of the main tourist attractions in Ranthambore. This lake is regarded as the best location to see tigers and other wild animals because they frequent this area frequently to drink water.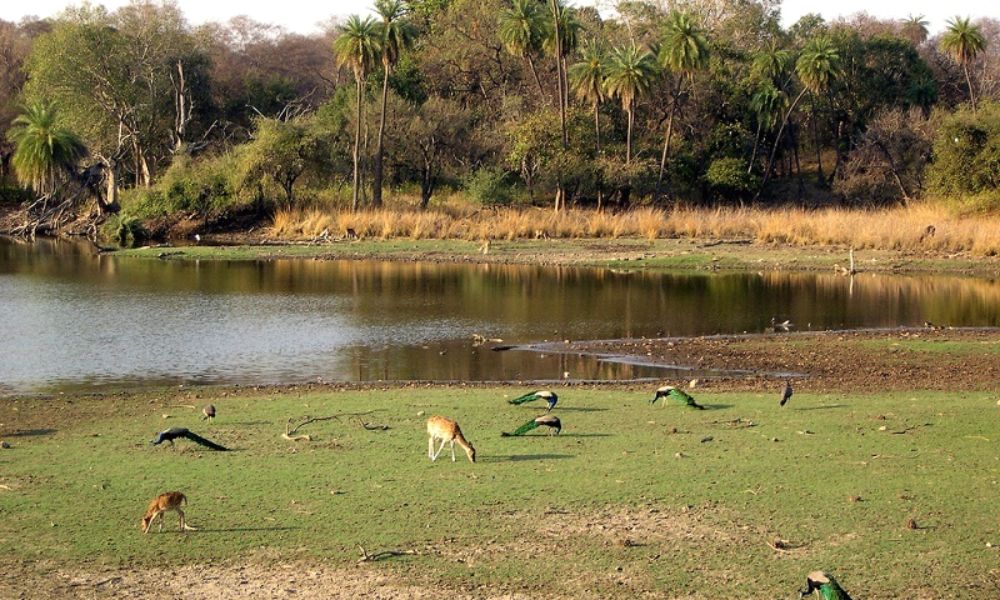 Raj Bagh ruins, which are situated between Raj Bagh Lake and Padam Lake and add to the lake's beauty, draw tourists who want to transport their minds to a bygone era. Sambhar and other herbivores like this lake's grass as a favorite source of food, which in turn draws their predators like tigers.
Photographers and nature lovers will find this place to be a paradise because of the picturesque setting and the variety of species that use the lake as a source of freshwater.
Malik Talao
Malik Talao, one of the three famous lakes of Ranthambore, is another lovely lake that is scattered throughout the Ranthambore Tiger Reserve. This beautiful lake serves as a haven for avian life. Ornithophiles enjoy coming here frequently to look for uncommon birds and photograph them.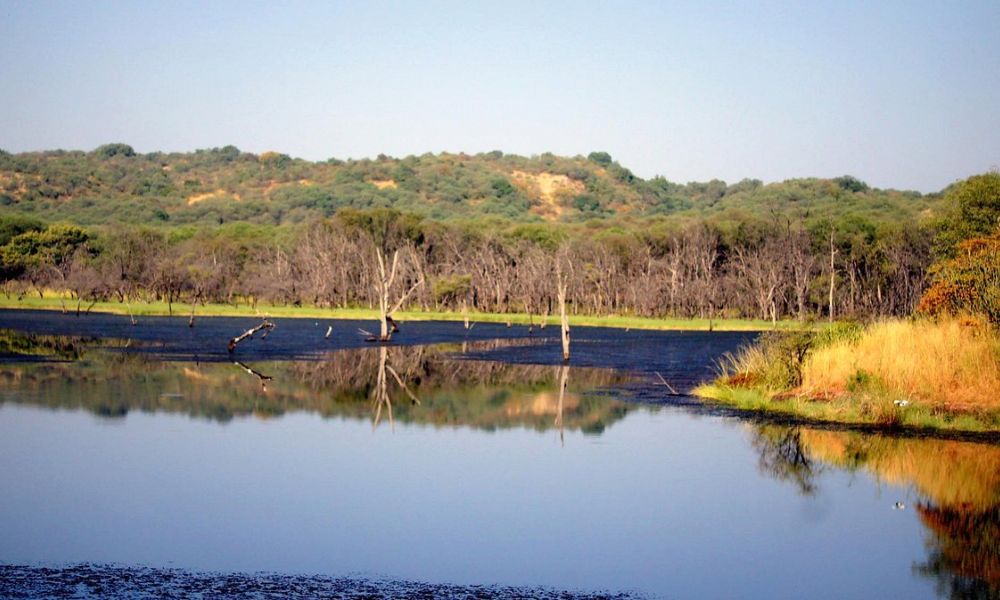 Here, along with other bird and animal species, one can frequently see the magnificent Indian Marsh Crocodile. At Malik Talao, you can frequently see kingfishers, egrets, herons, ibis, storks, and cranes, making it the ideal location for birdwatching in Ranthambore.
Your eyes will undoubtedly be nourished by the view of the surroundings, and there will undoubtedly be picturesque nature everywhere.
Raj Bagh Ruins
Raj Bagh Ruins are located halfway between Raj Bagh Talao and Padam Talao. The location transports you back to the prehistoric era with its collections of prehistoric monuments. Domes, arches, and palace outhouses are among the stone structures from antiquity.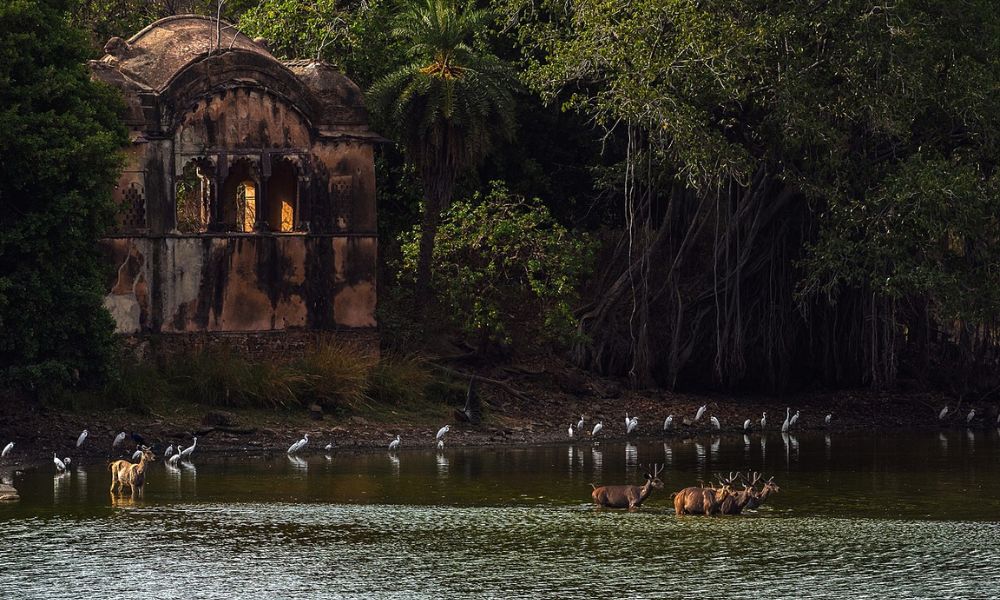 Because of its location surrounded by jungles and picturesque landscapes, Raj Bagh Ruins offer the best scenic beauty in addition to serving as a reminder of a bygone era. Among the places to see in Ranthambore, it is regarded as a must-see. From 6:30 a.m. to 10:30 a.m. and 2:00 p.m. to 6:30 p.m., you can visit it.
Padam Talao
Padam Talao is the largest lake in Ranthambore National Park. This lovely lake provides water to most of the animals in the reserve. During the season, it will be easy to spot the lily flowers that gave the lake its name, Padam Talao.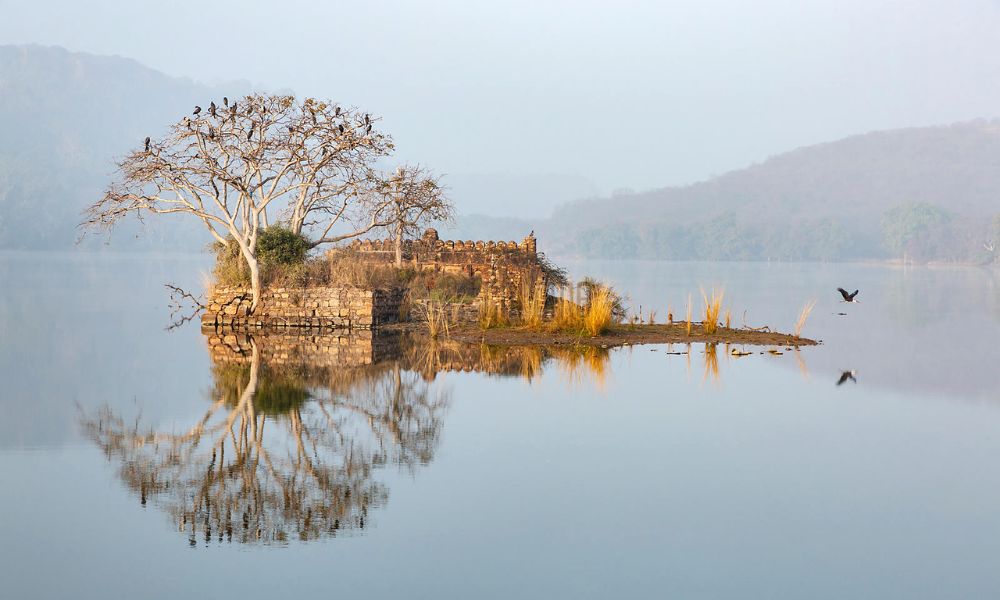 The lake's surrounding area is stunningly forested. Early in the morning is the best time to visit because many animals can be seen drinking at the lake during this time.
Here, one can also see the endangered Chinkara deer. It is always accessible. It is very calming to the eyes and energizing to the mind to spend some time here.
National Chambal Gharial Sanctuary
One of the amazing locations in Sawai Madhopur that every traveler to Ranthambore should enjoy is the National Chambal Gharial Sanctuary. There is a wealth of diverse ecosystems and alluring natural beauty in these places to visit in Ranthambore.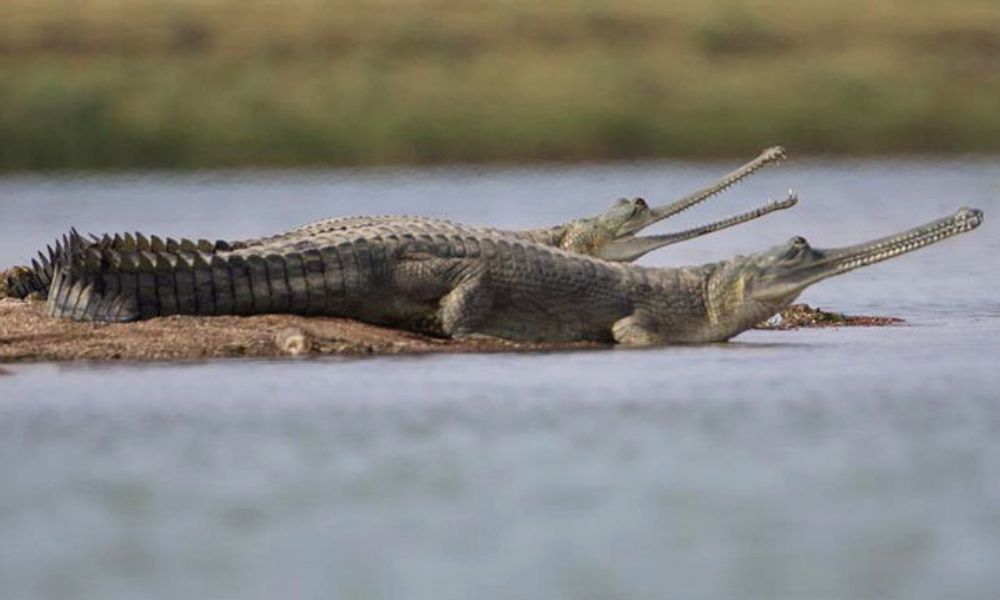 This sanctuary, which is well-known for its adventures like jungle safaris, crocodile safaris, and Chambal river safaris, is inhabited by a variety of fascinating creatures. One of the best things to do in Ranthambore is a crocodile safari in this sanctuary.
To remember the special moments you shared with your loved ones here for the rest of your life, capture the picturesque views of this location with your long lenses and wide-angle lenses. This sanctuary is open from 5 a.m. to 7 p.m.
Best Time To Visit Ranthambore
The months of October to February are ideal for visiting Ranthambore, Rajasthan in general. The best time to go sightseeing, trekking, hiking, and touring in Rajasthan is now, during the winter season there as the atmosphere is chilly during that time.
The maximum temperature at the place is about 32 degree Celsius and the minimum goes to 4 degrees Celsius. One can enjoy the fullest during the winter season. Due to the state's desert climate, traveling there in the summer can be uncomfortable and exhausting.
How To Reach Ranthambore?
Ranthambore is a popular wildlife attraction in Rajasthan. It is well-connected with all the major cities in India and can be reached via various modes of transportation including road, air, and rail.
By Air: Sanganer Airport, a suburb of Jaipur is the nearest airport to reach Ranthambore. There are about 180 km of distance between Ranthambore and the Sanganer Airport. There are flights on regular basis from all the major cities of India such as Delhi, Mumbai, Bangalore, Chennai, Tamil Nadu, etc. One can book private cabs or buses at affordable prices from the Sanganer Airport to reach Ranthambore easily.
This airport is used for mainly domestic flights. For international travel, one can reach Ranthambore through the Jaipur International Airport which is well-connected through flights with various overseas cities.
By Road: Ranthambore provides well-established bus services so that one can travel easily from nearby places comfortably. Apart from that state bus services are also available. The bus operators provide every type of bus service such as local, private, and luxury. All the bus service providers help tourists to visit Ranthambore easily and comfortably.
From Delhi, it takes around 6 hours to reach Ranthambore as it is 381 km away. It takes 3.5 hours via RJ SH 1 to reach Ranthambore from Bharatpur as it is 202 km away. To reach here from Mumbai, it takes around 17 hours via NH 3 as it is 1031 km away. It is the highest time taken by road to reach Ranthambore. Apart from this, Jaipur is the closest to Ranthambore as it is only 3 hours away. Kota is also just one and a half hours away i.e., 114 km away which can be covered by cabs or taxis.
By Train: The nearest railway station to Ranthambore is Sawai Madhopur Railway Station. This railway station is at a distance of 11 km from Ranthambore for which one can book a cab, taxi, or bus at reasonable prices.
There are direct train routes to Sawai Madhopur Railway Station from various major cities of India including Delhi, Mumbai, Chennai, Jaipur, etc. Many luxury trains like The Indian Maharaja, Palace on Wheels, Maharaja Express, and many more are scheduled to pass by Ranthambore. It is the easiest mode of transportation to reach Ranthambore. Sawai Madhopur Railway Station was awarded as the best tourist-friendly station in India.
Conclusion
Ranthambore is a haven for wildlife lovers. The city is named after two hills, 'Ran' and 'Thambor.' Unique flora and fauna abound in this area, which is peppered with deciduous forests. Ranthambhore is more than just a popular wildlife habitat because of its breathtaking scenery, palaces, and royal ruins.
It is a place that is utterly unique in its beauty, blessed with stunning natural settings, and untouched by contemporary civilization. Many other interesting activities that are of great value for your money and time should be pursued.
You can go on a safari ride, which is the most adventurous activity and allows you to see wild species roaming freely in the jungle. When visiting Ranthambore, you must try their unique dishes as well while exploring the wildlife.
Read More:
Sakleshpur: Discover The Foothills Of The Western Ghats!
Who Is Rahul Tripathi? Unknown Facts About Rahul Tripathi!