Sonam Kapoor Shares A Photo Of Her Son Vayu With Her Dad Anil Kapoor On His 66th Birthday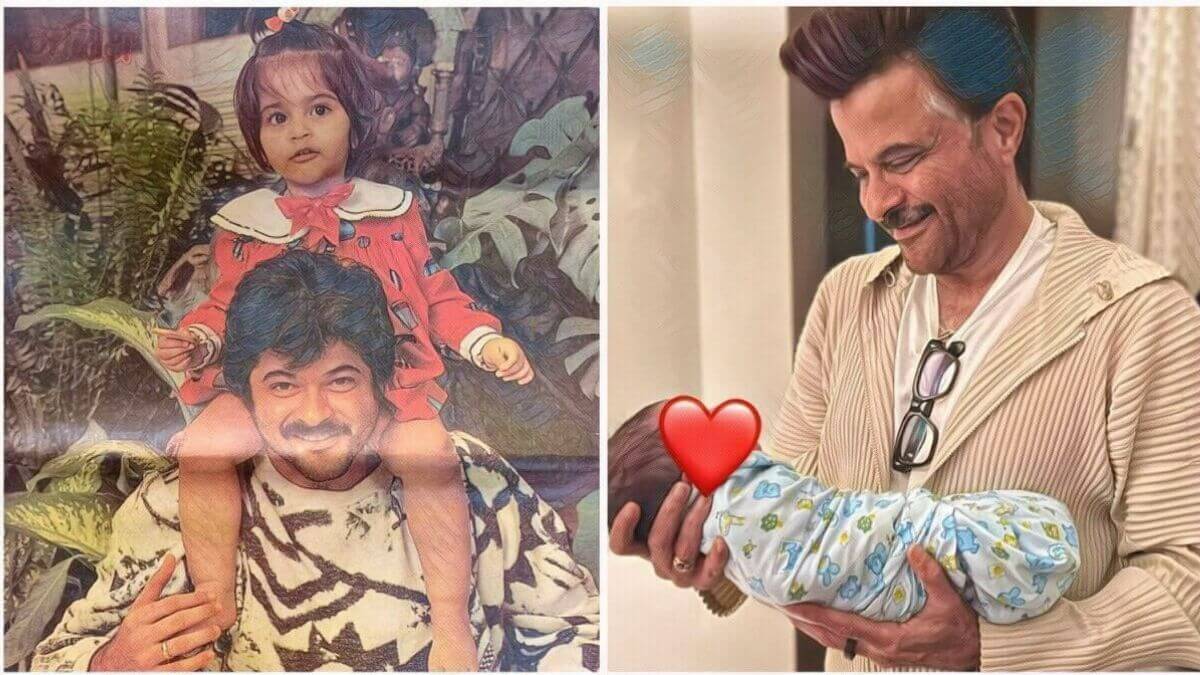 Sonam Kapoor, the style icon of Bollywood has carved a separate niche for herself in the industry. The star kid and daughter of Anil Kapoor began her career at Sawariyaa and today she is a proud mother of a boy!
Sonam Kapoor tied the knot with Anand Ahuja in 2018 and this year, she gave birth to Vayu, their son. Although we all know that Anil Kapoor doesn't like being called a grandfather, he was looking more than excited to hold his grandson on a special day.
On December 24, Anil Kapoor celebrated his 66th birthday in the presence of his loving wife Sunita Kapoor, children, son-in-law, and grandchild. On this special occasion, Sonam Kapoor took to Twitter to share an exclusive picture of Anil Kapoor holding Vayu. Along with that, Sonam didn't miss the opportunity to share some throwback photos where the young and dashing Anil Kapoor was holding Sonam, Rhea, and Harsh Vardhan. There were more pictures where Sonam was seen on Anil's shoulders and another where the daughters were playing with him on the bed.
That precious moment definitely needed to be captured! The Bollywood actress also penned down a heartfelt note for her father and wished him Happy Birthday!
The message said happy birthday and Sonam called him the best dad. She also said that Anil Kapoor is the best and greatest person and she loves him. The actress also wrote that everything Anil does is for the kids and that whoever is in his life should feel blessed.
As Anil celebrated his birthday, he was smiling from ear to ear while holding baby Vayu Kapoor Ahuja. Since no celebrity is in the favour of revealing their children's faces to the media, Sonam Kapoor is no different.
This adorable yet mysterious picture had a heart sticker on the face of Vayu.
Last month, Anil Kapoor talked to George Clooney and talked about his feelings about turning into a grandfather. This is the first time Anil was seen talking about this feeling. He shared that when he turned into a father, it took a lot of time for him to process this. Anil Kapoor feels that he is still in the process of understanding his role.
Recently, Sonam and Anand were accompanied by Anil Kapoor on their small trip to Austria. There the grandfather had the opportunity to spend some quality time with his grandson. Anil shared that as they all visited Austria, he got some time to spend with Vayu and as they both went for a walk, the weather was beautiful.
Vayu meanwhile was trying to eat food and was continuously looking at the sky. According to Anil Kapoor, this was his first meeting with the universe, nature, and planets. The entire moment was so wonderful.
Sonam Kapoor and Anand Ahuja shifted to London after their marriage and the couple is in a romantic paradise ever since!
Read More:
Best Places To Visit In Kashmir – "Heaven Of Earth"
Abish Mathew: The Most Well-Known Face In The Indian Comedy!