Here Is A Quick Travel Plan To Basar, Arunachal Pradesh-2023
Arunachal Pradesh is a state in the Northeastern part of India that is famously called the 'Land of the Dawn-lit-Mountains.' This state has an immense natural beauty all around that needs to be explored. Basar is one of those beautiful places located in this state.
Basara is an unexplored and hidden place in the northeastern state of India. This is a small village with an abundance of natural beauty all around it. This place is rich in diversity and picturesque sites for exploring. Basara, a pretty hill hamlet is the home to the Galo tribe.
The most popular festival of Basara is the BASCON festival which is held annually in November every year. BASCON, which shortens to Basara Confluence, gets its name from the meeting of the Hie and Kidi rivers, which meander through the hills before coming together at Basara. If you get a chance, try to visit this place during this festival.
What are you still holding out for? This place is the best place for trekkers, adventure lovers, and nature lovers which will soothe your body, mind, and soul. So, don't waste much of your time and plan your next trip as soon as possible to this beautiful place in Arunachal Pradesh with your friends and family!!
Location
Basara is a village panchayat located in Arunachal Pradesh's West Siang district and Lepa-Rada district. The latitude 27°59'N and 94°40'E longitude are the geo-coordinates of the village Basar. It is located in UTC 5.30 time zone.
This place has an elevation of 578 meters or 1896 feet above sea level and has pleasantly cold weather.
Climatic Conditions
Basara is a small hilly-range panchayat village situated in Arunachal Pradesh, India. So, it experiences all the seasons of the year including summer, winter, and monsoon.
Summer Season: Basara is a small village having hilly ranges which makes this place's weather pleasant in the summer season also. The temperature ranges between 20° to 35° Celsius. So, it is the best time to explore this beautiful place.
Monsoon Season: The monsoon season in Basara showers from the month of June till October. Basara experiences moderate rainfall throughout this season. But, this season is uncomfortable for tourists to travel as it is a sort of hilly region which makes it risky for them.
Winter Season: Basara experiences the winter season from November every year and ends in February. The temperature ranges between 5° Celsius and 25° Celsius which is quite chilly. You can also travel in this season but it is advised to carry warm clothes.
Top Attractions In And Around Basar
Hido Hidi Waterfall
This is a beautiful waterfall in Basara falling from a height of 70 meters giving spectacular views. Hido Hidi Waterfall will give you breathtaking views and memories that will stay with you forever.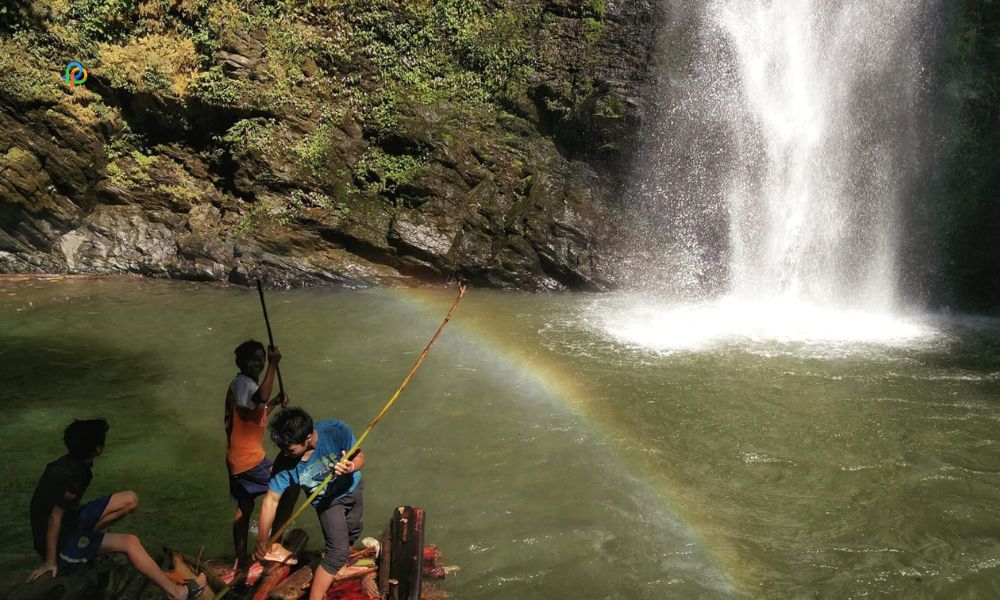 The ambiance around it with a variety of flora and fauna will give you positive vibes that will soothe your whole body and mind.
Bat Cave
In Padi Village of Basara, Bat Cave is located which is a must-visit place for ardent admirers of bats or batmans. You can trek to this location amidst the dense forests, fences, rice fields, and bamboo bridges to reach this cave.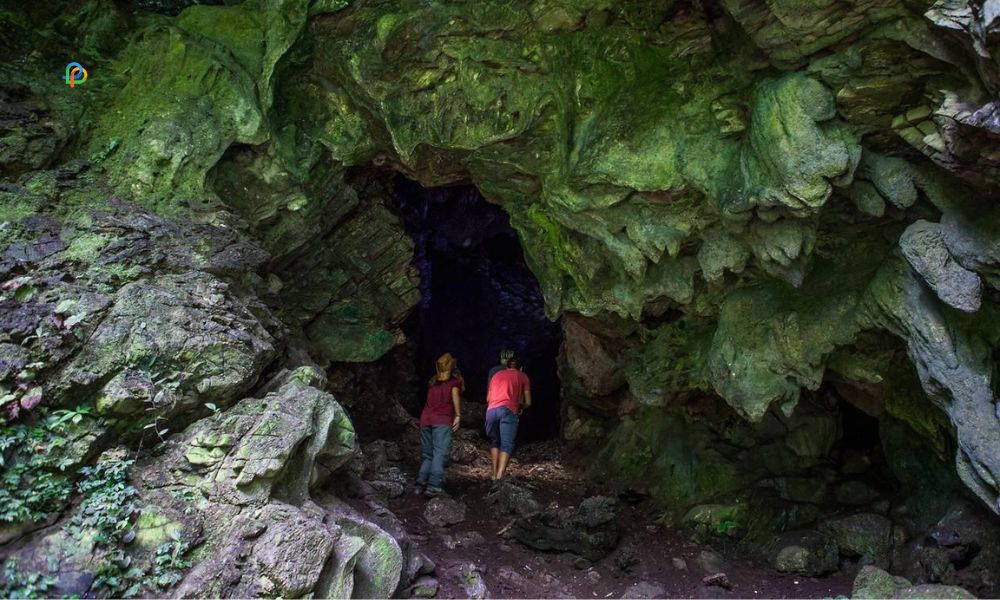 It is advised to cover your head with a cap or any cloth while entering the cave. There are thousands of different types of bats just hanging on the ceiling. The entry charge is between Rs. 20 and Rs. 30. This place will give you a nerve-wracking and adventurous experience that you will remember throughout your lifetime.
Nguda Pokcho Forest
The Nguda Pokcho Forest is the most-popular trekking place in Basara. This is the best place for trekkers, adventurers, and nature lovers. It is a picturesque place where you can click some of the most beautiful pictures.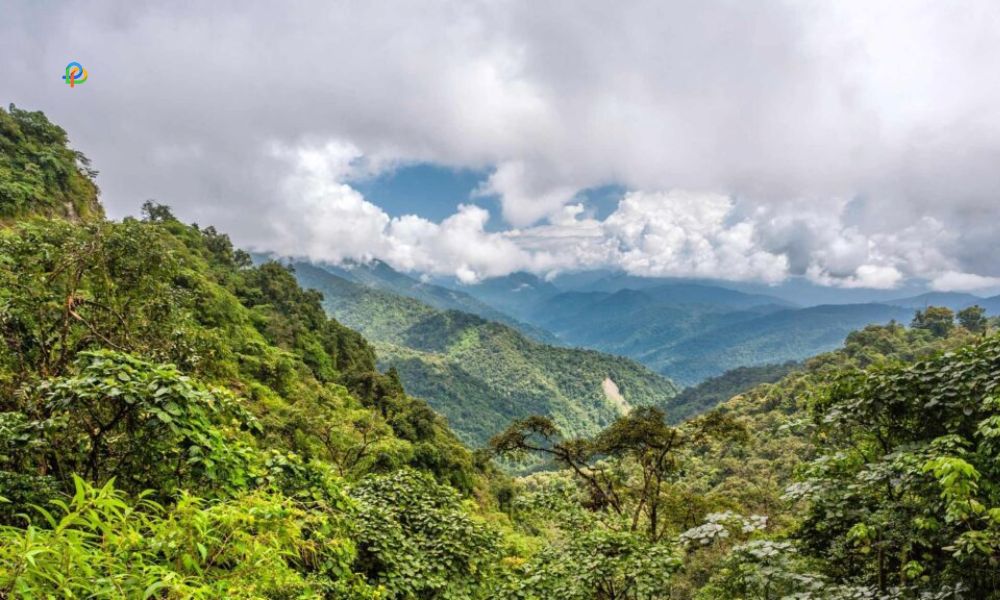 This forest is adorned with lush greenery, narrow water streams, waterfalls, trees, flowers, butterflies, and more. You can also camp at this location.
Best Time To Visit Basar
The best time to visit Basara is in the summer season starting in March and ending in July. This season is suitable as Basara is a small hilly range due to which the weather remains pleasant for exploring this place. The minimum temperature is 10° Celsius and the maximum is 44° Celsius in Basar.
How To Reach Basara?
Basara is situated in the West Siang and Lepa-Rada districts of Arunachal Pradesh, India. There is no direct connectivity of Basar from major Indian states. One can visit Basara via various modes of transportation such as roadways, railways, and airways.
By Air: Airways is the fastest mode of transportation to reach Basara. The nearest airport to Basara is the Dibrugarh Airport in Assam which is around 150 km far away. This airport is well-connected with almost all the major Indian states. Other options to reach Basar are◦ the Rajiv Gandhi International Airport, Hyderabad, and Along Airport.
After reaching this airport, you can book a taxi or take a bus to reach Basara. The ticket fare range starts from INR 3000. So, if budget is not a constraint and you want to travel comfortably choose this mode of transportation.
By Road: Arunachal Pradesh State Transport Services (APSTS) takes care of the road connectivity of Basar with various neighboring cities and Indian states. A lot of private and public travel service providers offer regular buses to Basar.
Apart from this Basar can be visited comfortably by a cab or private vehicle from Dibrugarh. The road trip to Basar via national or state highways in India is a great opportunity to witness the surreal landscapes and varied topographies, especially in the North-East states.
By Train: This mode of transportation is the most economical and comfortable way to reach Basara. The closest railway station is the Basar Railway Station which is around 2.5 kilometers away. From the railway station, you can get a bus or a cab to visit your desired location in the town.
Food And Accommodation
Basara town's locals' main occupation is agriculture and for which their staple food is Rice and Maize. Some of the most popular food items that every tourist must try are Orange, Kiwi, and Pineapple orchards. In addition, must try the south Indian traditional cuisines in their traditional manner.
Basara is a small village due to which there is no such five-star hotel accommodation available. But still, you can find good accommodation facilities available such as TTD Guest House, Vemulavada Guest Room, Saraswathi Sadan Guest Room, Gourla Guest House, Nilanghekar Guest House, and many others offering comfortable services and good food.
Basara is a paradise for nature and adventure lovers with lush green forests and waterfalls all around the place. This beautiful place is renowned for the Galo tribe of North East India that resides here. Explore this wonderland by planning a trip to Arunachal Pradesh.
Read More:
Niyati Fatnani: Successful Story Of Hindi Television Star!
Kumarakom: Scenic Bunch Of Islands Around Vembanad Lake!