Harnaaz Kaur Sandhu: Interesting Facts About Miss Universe 2021!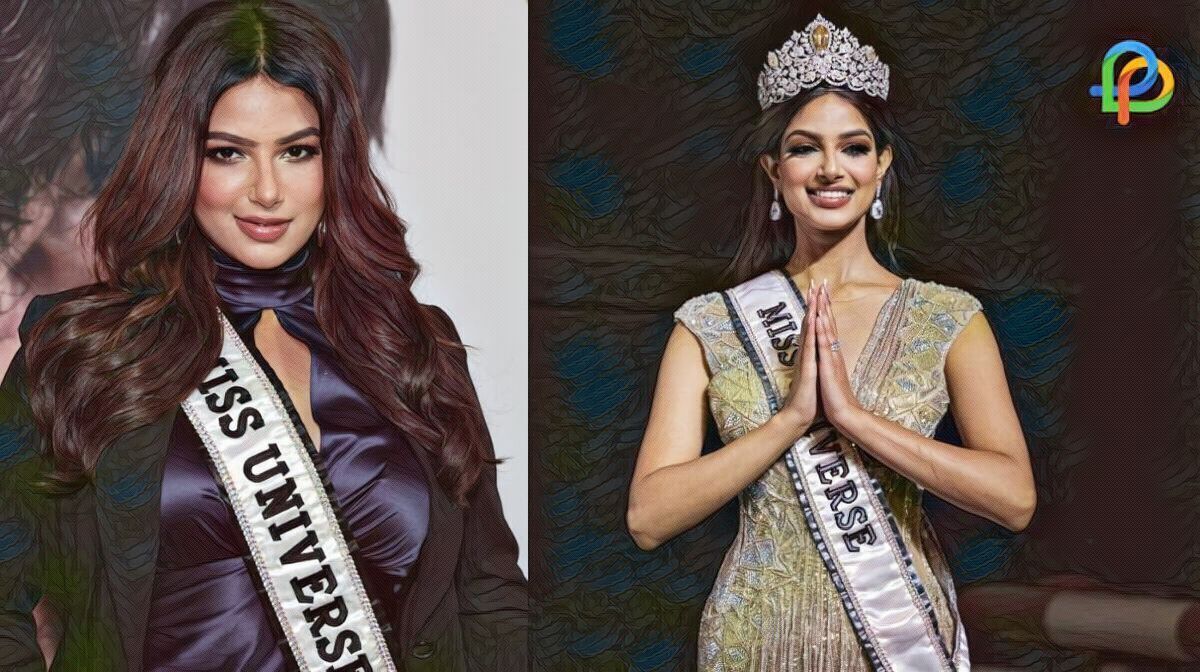 Harnaaz Kaur Sandhu, nicknamed Naaz or Sandhu is the beauty pageant titleholder of the Miss Universe 2021. She is an Indian model and actress. Sandhu was also a Punjabi couplets writer while she was not modeling. Harnaaz is the third Indian woman to win this title after Sushmita Sen and Lara Dutta.
Sandhu was also the winner and semi-finalist of Miss Diva Universe 2021, Femina Miss India Punjab, and Femina Miss India 2019 respectively. She is also known for being the cover girl of renowned magazines like Femina India, L'Officiel India, etc. For Harnaaz, her mother is the most influential person and she admires her the most.
Physical Stats
Height: Harnaaz Kaur Sandhu stands at 5 feet 9 inches or 176 cm approximately.
Weight: Harnaaz Kaur weighs around 50 kilograms or 110 lbs.
Eye Colour: Harnaaz has dazzling brown-colored eyes.
Hair Colour: Harnaaz Sandhu has voluminous and shiny black hair.
Birthplace: Her birth location is Kohali Village, Gurdaspur, Punjab, India.
Zodiac Sign: She is a Pisces as she was born in the month of February.
Age: Miss Universe Harnaaz is just 22 years as her birth year is 2000.
Qualifications: Kaur has her graduate degree in Bachelor of Information Technology. She is currently working toward her master's in public administration.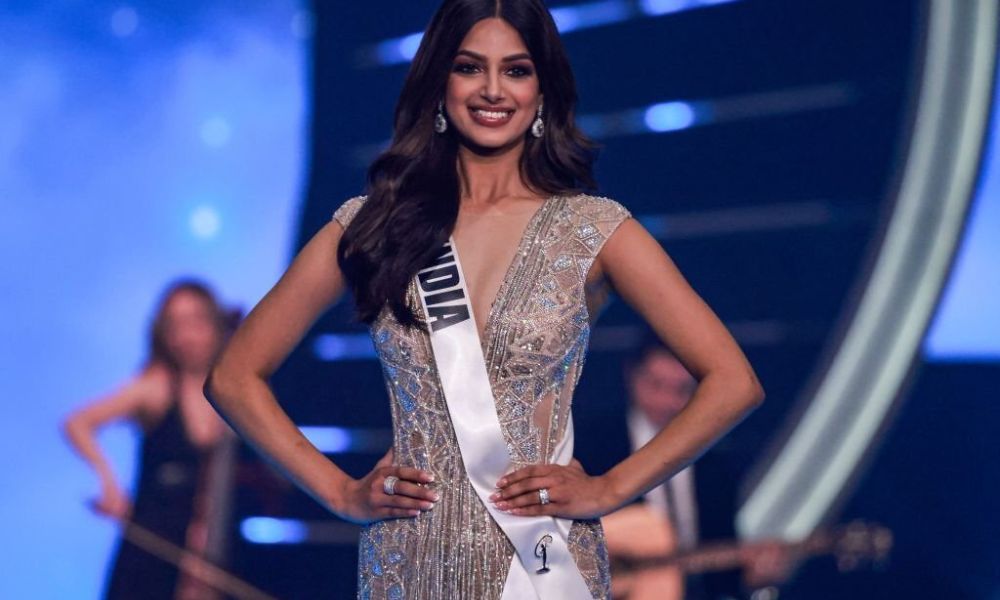 Family
Harnaaz Kaur Sandhu was born on 3 March 2000 to a Jat Sikh family in the Punjabi village of Kohali in the Gurdaspur district, Punjab, India. She is also called Candy or Naaz by her close ones. Her father's name is Pritampal Singh Sandhu, he is a real estate agent. Rabinder Kaur Sandhu is her mother's name and she is a gynecologist. Harnaaz has a sibling named Harnooz Singh Sandhu who is a musician and video editor. Sandhu's family used to live in England but left the country in 2006 and settled in Punjab where Harnaaz was raised. Her native language is Punjabi whereas she is also fluent in Hindi and English language. Sandhu's marital status is unmarried.
Affair
There is no such information about Harnaaz Sandhu's affairs as of the year 2023. She rose to such prominence after winning the title of Miss Universe beauty pageant held in Israel in the year 2021. Harnaaz was never spotted with any boy and there are no reports of her dating anyone in the past. So, it is assumed that she has never been involved in any relationship and not dating anyone as of now.
Education
Harnaaz Sandhu has done her schooling at the Shivalik Public School, Chandigarh, Punjab. After completing her schooling, she enrolled for the graduation course named Bachelor of Information Technology at the Post Graduate Government College for Girls. Additionally, she loved modeling and participating in various beauty pageants so she was pursuing her passion along studies. Prior to becoming Miss Universe 2021, naaz was pursuing a master's degree in public administration. She is also planning to move abroad for her further studies and career. If we get more information about her further studies, we will update this section immediately.
Controversies
Harnaaz Sandhu was once involved in a controversy in the mid of the year 2022 because of a Punjabi film. She was sued in the local court by the film producer Upasana Singh on 4 August 2022 for not honoring the promotion agreement signed for a Punjabi movie. Upasana demanded damages in the civil lawsuit she filed in the Chandigarh district court for what she claimed was Sandhu's alleged breach of contract as the star of her Bai Ji Kuttange. Later, the case got sorted between them. After that, she became the news highlight for everyone when she won the title of Miss Universe 2021.
Tattoos
As of the year 2023, Harnaaz Kaur Sandhu won't likely have any tattoos on her body, based on our estimates. Since she competed in several beauty pageants and the Miss Universe pageant in 2021, she was not seen having any tattoos. We'll let you know where her first tattoo was and if she gets any more in the near future.
Profession
Harnaaz Kaur Sandhu was very passionate about pursuing a career in modeling from her childhood and she was lucky enough to get supported by her parents for such a career while belonging to a Jat Sikh family. Her parent's support helped her a lot and now she is very successful in her career. While she was in her early teens, she started participating in various beauty pageants and events.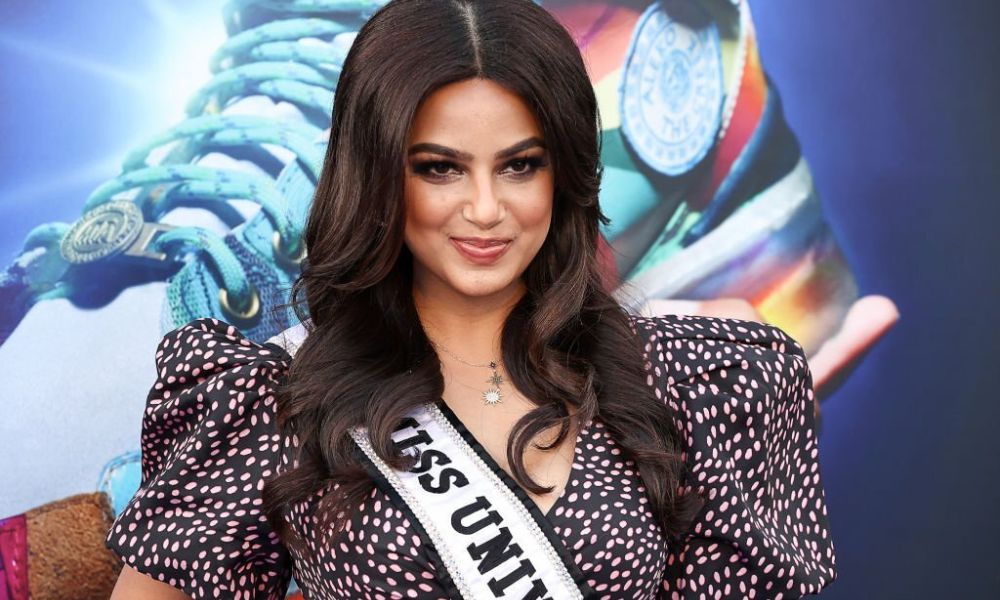 The first title she won was Miss India Punjab 2019 and also competed in Femina Miss India. She emerged as the top 20 contestants in Miss Diva 2021. And, in the same year, she won the title of Miss Universe 2021 along with being the third Indian to win such a huge level beauty pageant contest. From this win, her career started very successfully making her get a lot of work and money.
Source of Income
Harnaaz Kaur Sandhu has an estimated net worth of Rs. 22 crores or USD $3 Million dollars. She has earned such a huge wealth from her professional modeling career. Other sources of her income include acting, contests, hosting, and brand endorsements. Harnaaz earned around $2,50,000 as a winning prize for Miss Universe 2021 and she has been the cover girl of well-known magazines like L'Officiel India, Femina India, etc. She lives a lavishing lifestyle along with her family living in a luxurious house and driving some expensive cars such as Range Rover, Mercedes-Benz GLA, etc.
Lesser-Known Facts About Harnaaz Sandhu
Harnaaz loves to sing, cook, and dance in her free time.
For her fitness, Harnaaz prefers yoga, swimming, dancing, and horse riding.
Harnaaz Sandhu strongly supports women's constitutional rights to career, education, and freedom of choice.
Harnaaz Kaur is a very religious person as she often visits gurudwara for blessings.
In March 2022, she was diagnosed with celiac disease which happens because of gluten sensitivity due to which she gained weight and was heavily trolled on social media.
Read More:
Rishabh Pant: Facts To Know About Indian Cricketer!
Rohit Sharma: Facts To Know About Hitman Of Indian Cricket!