Explore Kanchipuram: Complete Travel Guide In 2023!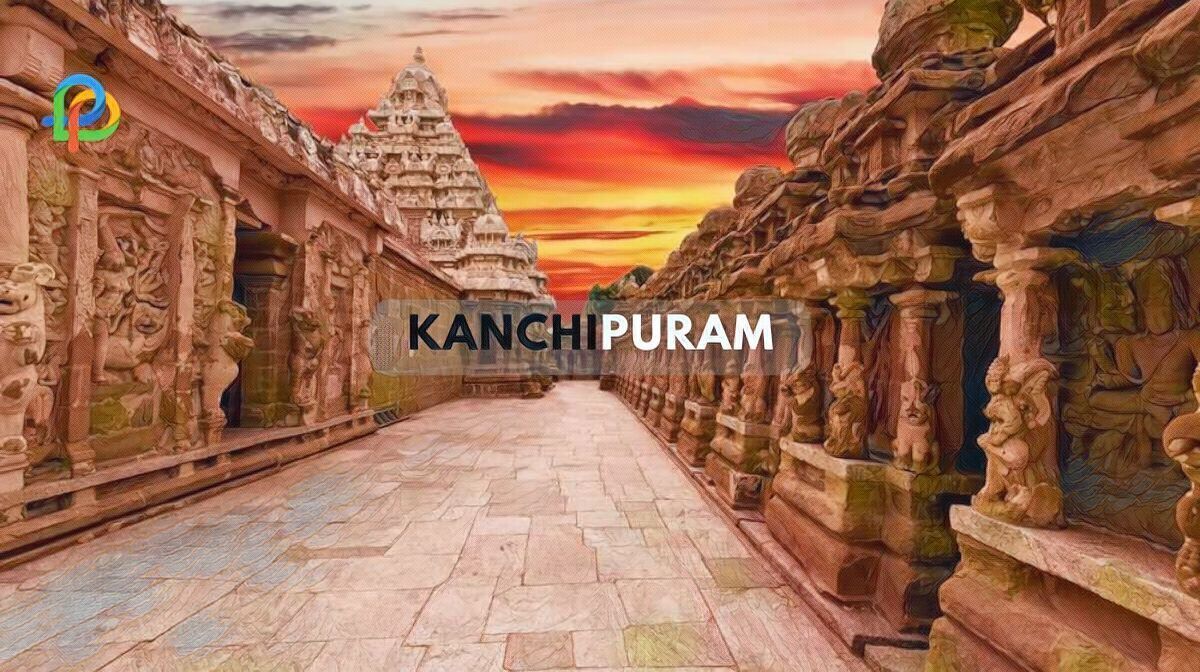 Preparing to Visit Kanchipuram? Here is a complete travel guide to Kanchipuram to help you arrange a trip you'll always remember.
Located in the southern Indian state of Tamil Nadu is the sacred town of Kanchipuram. Although small, Kanchipuram serves as the district seat for a much larger area that includes popular tourist destinations such as the coastal cities of Mamallapuram and Covelong, the sacred sites of Uttiramerur, Sriperumbudur, and Melmaruvathur, and the expansive wildlife preserves of Vandalur and Vedanthangal.
Kanchipuram is one of the most popular tourist destinations and industrial centers in Tamil Nadu, thanks to its abundance of electronics factories, automobile assembly lines, silk weavers, and software developers.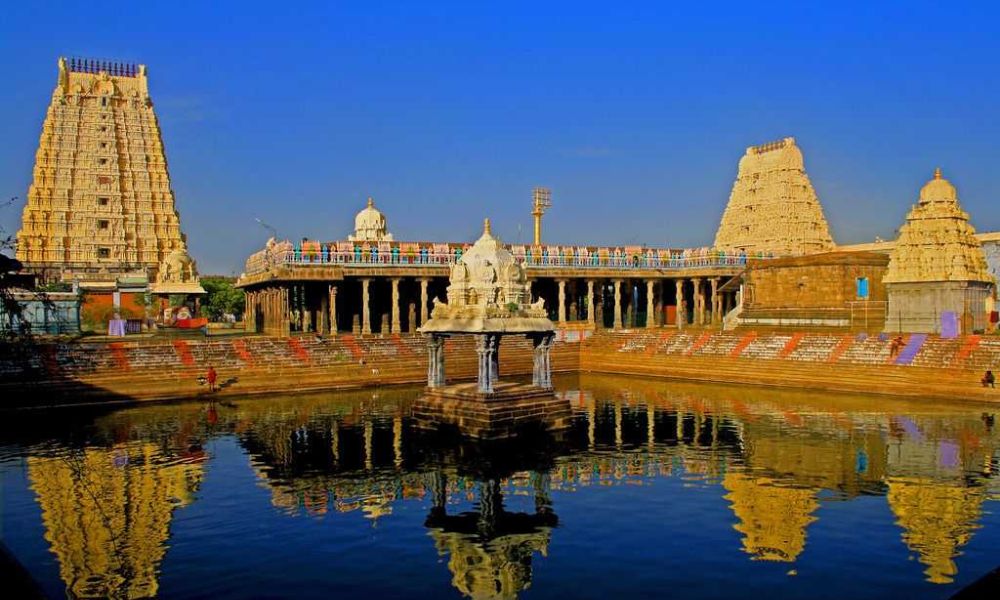 Kanchipuram was once home to a thousand Hindu and Jain temples loosely divided into three categories: the Shiva Kanchi, the Vishnu Kanchi, and the Jaina Kanchi. One of India's holiest cities still has several hundred temples. Despite being ruled by numerous dynasties, the once-glory traditions of the Pallavas' capital city are preserved in the city's many temples. Our Kanchipuram travel guide should be useful if you consider a trip there.
The Best Time to Travel and the Climate
During the winter months, December through March is the ideal time to visit because of the mild temperatures and gentle winds.
Summer (March-May): The summer months are sweltering, with nothing to liven the atmosphere but the occasional April shower and some iced apples, mangoes, and watermelons.
Monsoon (June-September): Kanchipuram receives monsoon precipitation from the southwest and northeast. Thunderstorms and cyclones along the coast can make travel difficult.
Winter (October-February): After the northeast monsoon dies in December, the weather turns pleasant and stays that way through March. The weather is perfect, and there shouldn't be any problems getting to Kanchipuram.
Things To Do / Places To Visit
Visit the Karikili Bird Sanctuary
Ducks, Night Herons, Garganey Teals, Stilts, Moorhens, pelicans, Ibis, and egrets are some migratory birds that stop over at the Karikili Bird Sanctuary, which is carpeted in lush vegetation and watered by irrigation tanks. The distance from Kanchipuram to the Sanctuary is about 38 kilometers.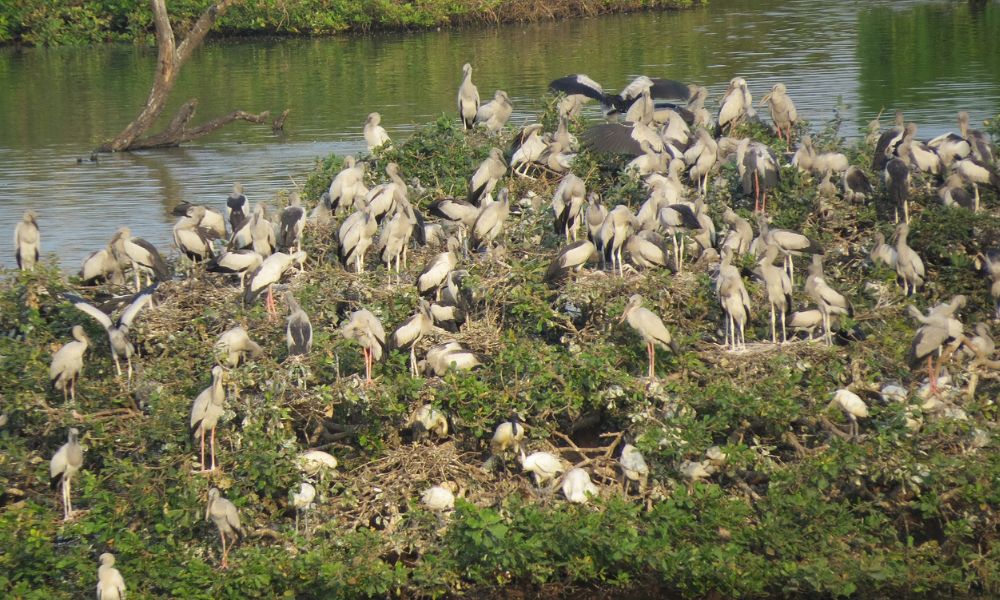 Kattaikkuttu Gurukulam
Children from the surrounding villages are recruited to attend Kattaikkuttu Gurukulam. In this elite residential theatre group, they receive training in the traditional art forms of Kattaikkuttu, including dance, music, and drama, in addition to their regular academic studies.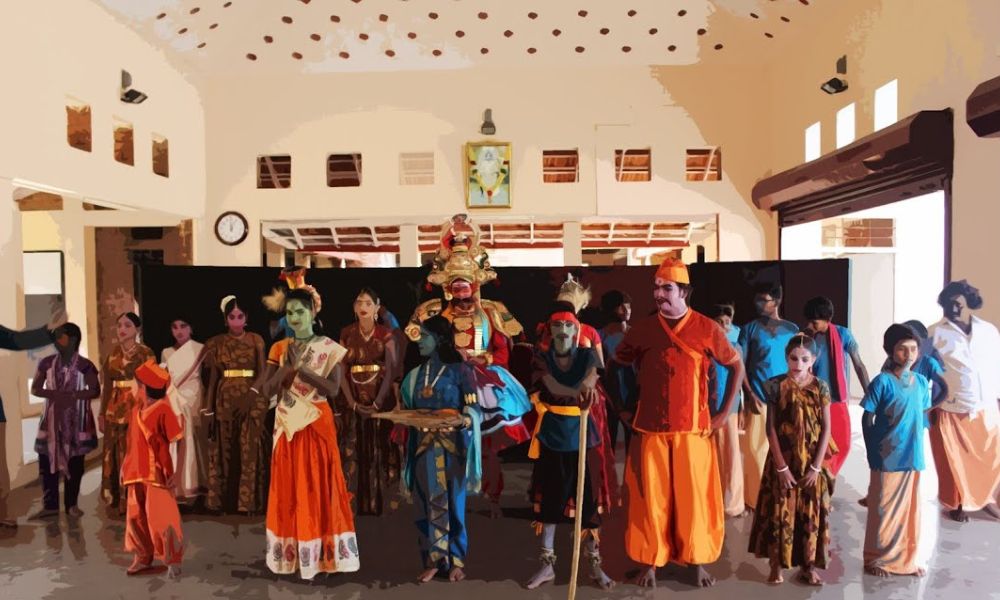 The kids' collaborative efforts as performers, musicians, and even makeup artists are fascinating. Approximately 7 kilometers from Kanchipuram is where you'll find the Gurukulam.
Aadikesava Perumal Temple
As a token of gratitude to Vishnu for rescuing them from a curse, the Boodhaganas of Shiva constructed the Adikesava Perumal Temple. A small shrine honoring Vaishnava Saint Ramanuja's birthplace, the Thanuganda Thirumeni, can be found in the temple's courtyard. About 31 kilometers from Kanchipuram is Sriperumbudur, home to the Aadikesava Perumal Temple, a fine masterpiece of Dravidian architecture.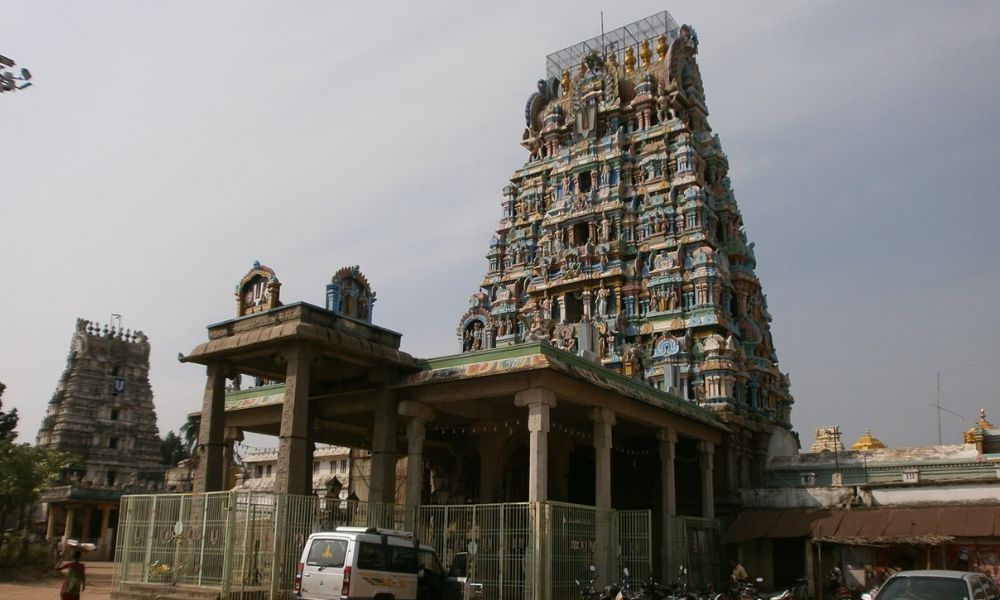 Vandalur Zoo
The first public zoo in India was the Arignyar Anna Zoological Park, also known as the Vandalur Zoo (1855). Moated atoll-style enclosures house the zoo's larger animals, while walk-through aviaries and natural grasslands keep the elephants happy. You can ride an elephant on a safari or visit a park with lions, tigers, gaurs, and deer. Approximately 50 kilometers separate from Kanchipuram and the Vandalur Zoo.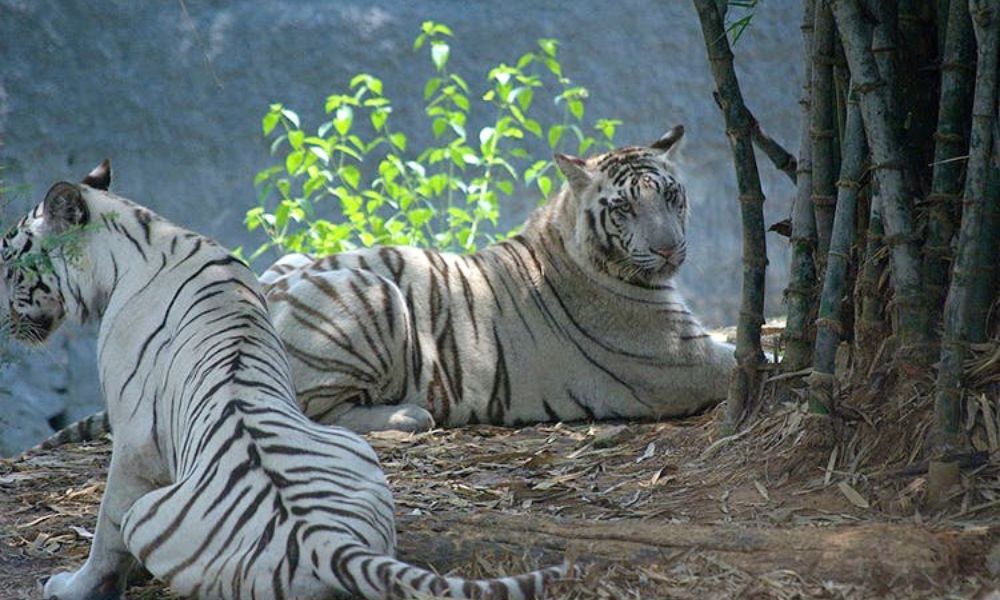 Visit Satabdhi Manimandapam
Guru Sri Chandrasekhara Mahaswamigal's Mani Mandapam is an impressive granite structure that combines elements of the Chola, Pallava, and Nayaka styles. In the holiest of holies, a granite statue of the Swami sits in front of a massive Nandhi carved from stone. Orikkai is home to the Mani Mandapam, located about 5 kilometers from Kanchipuram.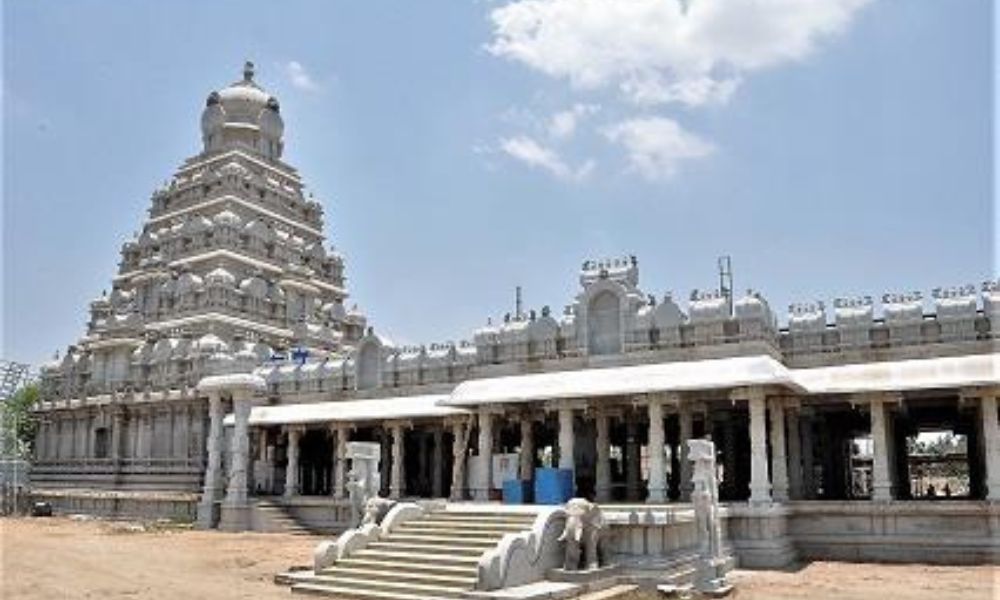 How to Reach Kanchipuram
Kanchipuram is easily accessible by both road and rail. From Chennai, driving to Kanchipuram is the most direct option.
By Air:
If you need to catch a flight, you can do so from the convenience of your hotel at the nearby Chennai International Airport, which offers connections to domestic and international destinations throughout India and beyond, including Singapore, London, Kuala Lumpur, and Sri Lanka.
By Train:
Kanchipuram is a stop for long-distance trains. Other than that, there are passenger trains and local EMUs from the nearby cities.
By road:
Kanchipuram is located on Chennai's Expressway leading to Bengaluru, making it the closest major city. Kanchipuram has excellent bus service to nearby cities and towns.
How To Get Around
Transportation options include public and private buses, auto rickshaws, and taxis. A motorcycle could be rented for individual exploration.
Find a Place to Stay in Beautiful Kanchipuram!
Visitors from all walks of life and all sizes of wallets will be able to find a suitable place to stay. All accommodations, from five-star hotels to bed and breakfasts, can be found in Kanchipuram. Travelers will have their pick of a wide variety of accommodations, from simple motels to elegant villas. Kanchipuram also has some inexpensive guest houses and hostels for visitors. Most hotels now allow guests to book their rooms online easily.
Best Places To Eat
Restaurants like Kanaga Vilas and Sri Krishna Vilas are great places to sample a variety of Kovil idlis. Indian Coffee House, Saravana Bhavan, and Upashana Hotels are just a few of the vegetarian restaurants in the area where you can enjoy authentic South Indian fare.
At hotels like the Arabbat, Dakshin Restaurant, and Eat Me veg and non-veg restaurants, you can choose from various non-vegetarian, North Indian, and Chinese menu options. There is a wide variety of dining options, and you can always explore the neighborhood on foot to find more.
The spiritual significance of this land is well known, but the world also knows it for its exquisite Kanchipuram Silks. Almost every woman in southern India wears one on at least one special occasion.
Kanchipuram, India, is famous for its authentic Mulberry Silk, as the name implies. Kanjivaram sarees, woven from this silk, have gained international renown. Remember to bring back some sarees, as most local households are involved in the silk industry, and the name Kanchipuram silk is now known worldwide.
Read More:
A Travel Guide To Mysore: The City Of Palaces!
Explore The Wild Wonder Kabini: A Complete Travel Guide For You!