Kedarnath – Perfect Getaway Places In 2022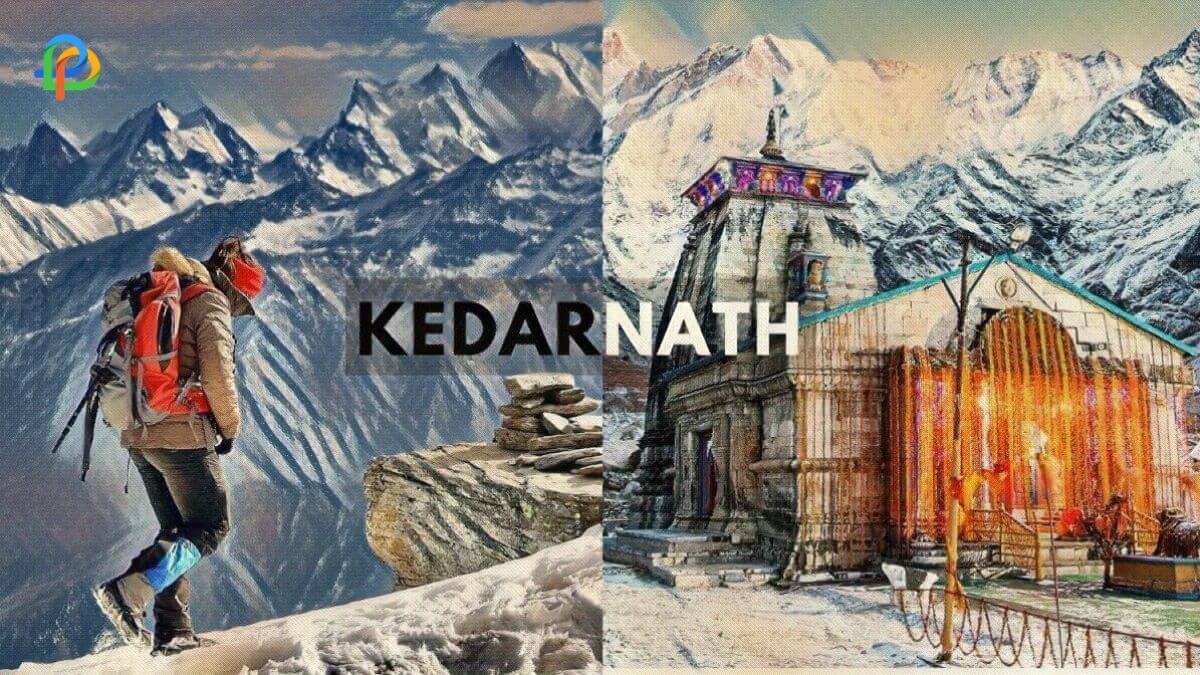 Planning to go on a pilgrimage where you can explore famous temples and sacred destinations? Kedarnath, in the Rudraprayag district of Uttarakhand is one such amazing place you just cannot afford to miss. Located in the Himalayas, about 3,583 m (11,755 ft) above sea level, the beauty of the snow-capped peaks of Kedarnath mountain is beyond description.
Apart from mind-blowing temples, you will also get a chance to view beautiful villages and lakes and peaceful meditation centres as well in Kedarnath. In this blog, we cover the top 10 places to visit in Kedarnath in 2022.
1. Kedarnath Temple
With a history that dates back to 1200 years, Kedarnath temple is situated on the Garhwal Himalayan range near the Mandakini river. A Hindu temple dedicated to Lord Shiva, Kedarnath temple is renowned for its exquisite architecture. A stunning feature that grabs one's attention is the huge, evenly shaped grey stone slabs used in the construction of the temple.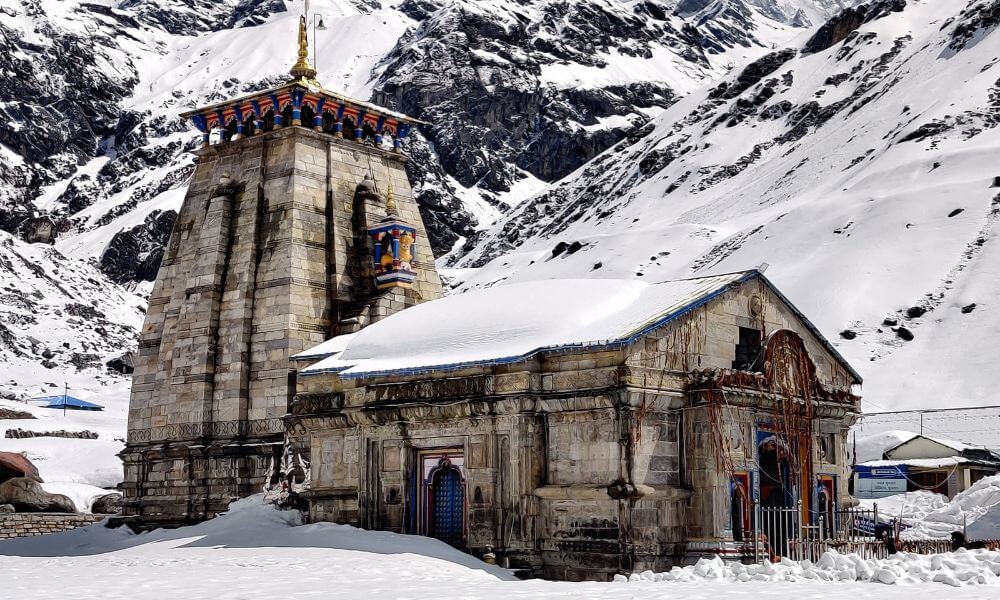 For worshipping Lord Shiva, there is a conical rock formation, the "Sadashiva" form inside the temple. Kedarnath temple, a part of Char Dham pilgrimage circuit is also one amongst the 12 Jyotirlingas of Lord Shiva in the country.
Best time to visit – Plan a visit to Kedarnath somewhere between April to November. The temple will be open for public visit only during these months. During the months of winter, there will be heavy snowfall in this area and thus the temple will be closed. At this time, the authorities will carry the deity of the temple down to Ukhimath to be worshipped for the remaining six months.
How to reach – To Kedarnath temple, there is no direct access by road. For covering the distance of 22 kilometres (14 mi) uphill trek from Gaurikund, you can either avail pony, mule or manchan service.
2. Sonprayag
Situated at an elevation of 1829 metres above sea level, Sonprayag is a village in the Rudraprayag district of Uttarakhand. A place of religious significance, the story goes that Lord Shiva and Goddess Parvati got married here at Sonprayag.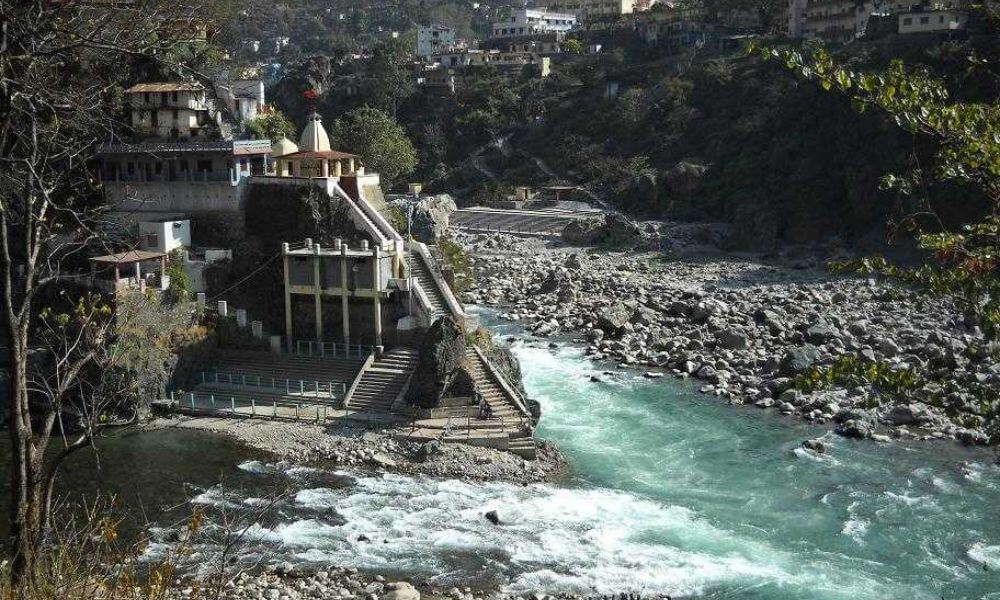 With an abundance of natural beauty and the breathtaking view of snow capped mountains, you will love this place to bits. Sonprayag is also the place where River Mandakini meets River Basuki. According to popular belief, touching the water at Sonprayag is the first step towards achieving Baikunth Dham.
Best time to visit – The best time to visit Sonprayag is between the months of September to November and April to June. During the months of November, December, January and February, this region witnesses snowfall and the temperature will be in the range of 5 ℃ to 18 ℃.
How to reach – Located between Rudraprayag and Gaurikund, Sonprayag is on the way to Kedarnath. Gaurikund is situated at a distance of 8 Km from Sonprayag. To reach here, you can either hire a taxi or avail a sharing jeep or bus from Rudraprayag. If you are planning to travel by train, the nearest railway station to Sonprayag is Dehradun, at a distance of 251 Kms or Rishikesh railway station at 212 kms. If you prefer a flight journey, then the nearest airport is Jolly Grant Airport at a distance of 226 Kms.
3. Vasuki Tal
A pristine lake situated at a height of 4,135 metres, Vasuki Tal offers a magnificent view for its visitors. The best part is that it is just within a short travelling distance from Kedarnath. As per Hindu mythology, Vasuki Tal got its name as Lord Vishnu took bath in this lake during the Raksha Bandhan festival.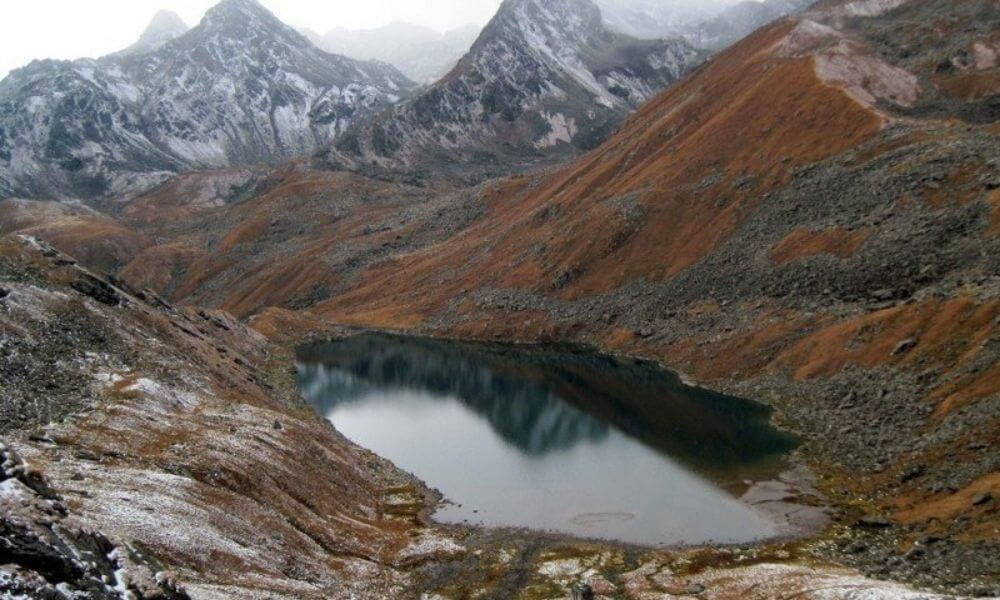 The water flowing from the snow filled mountains and glaciers such as Vasuki Glacier and the Chor Bamak Glacier, adds to the beauty of Vasuki Tal. Also, the Vasuki Ganga river originates from here. Another aspect that deserves a special mention is the spectacular view of Chaukhamba Peak.
Best time to visit – If you are crazy about trekking, the good news is that the terrains around Vasuki Tal are best suited for trekking. Plan a trip during the summer season as it is the ideal time for trekking. It is best recommended to stay away from trekking during the months of monsoon as there will be heavy snowfall.
How to reach – The nearest road head to Vasuki Tal is Gaurikund and there are good motorable roads between this place and the rest of Uttarakhand. For train travellers, the nearest railway stations from Gaurikund are Dehradun railway station (253 Km) , Rishikesh railway station (212 Km) and Haridwar railway station (236 Km). If you prefer flight travel, the nearest airport is Jolly Grant Airport at a distance of 229 Kms from Gaurikund.
4. Bhairavnath Temple
Bhairavnath Temple is situated just 1 Km away from Kedarnath temple. The temple is located on a hillock on the northern side of the Kedarnath temple. Following the ritual, devotees who visit Kedarnath temple also visit Bhairavnath Temple. The temple is dedicated to God Bhairav, the main gana of Lord Shiva. The Lord uses Trishula as his weapon and dog as his vahana. The deity of the temple is also known by the name Kshetrapal meaning the guardian of the region.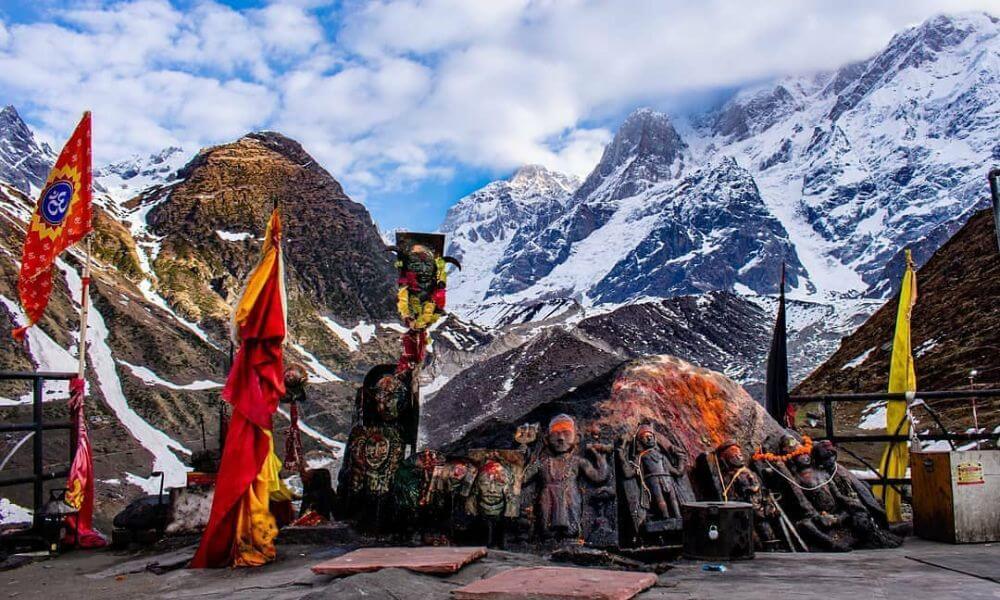 As per popular belief , when Kedarnath temples close in the winter season due to heavy snowfall, it is the deity in Bhairavnath temple that protects the main temple region as well as the entire Kedarnath valley. From Bhairavnath Temple, you can enjoy a magnificent view of the Hinalayas and the lush green Kedar valley. The temple is open for visitors from 6 AM to 8 PM.
Best time to visit – Plan a visit to Bhairavnath Temple either in the months from September to November or from April to June. During the winter season, the temple will be closed for 6 months due to heavy snowfall.
How to reach – The nearest airport is Jolly Grant Airport Dehradun at a distance of 238 Kms. If you are planning to travel by train, the nearest railway station is Rishikesh railway station at a distance of 216 Kms from Kedarnath. If you love trekking, that is one more option.
5. Chandrashila
The summit above Tungnath temple, Chandrashila is located at a height of close to 3,690 metres (12,110 ft) above sea level. The literal meaning of the word Chandrashila is "Moon Rock". From the peak, you can enjoy the mesmerising view of Himalayas, including Nanda Devi, Kedar Peak, Trisul, Bandarpunch and Chaukhamba peaks.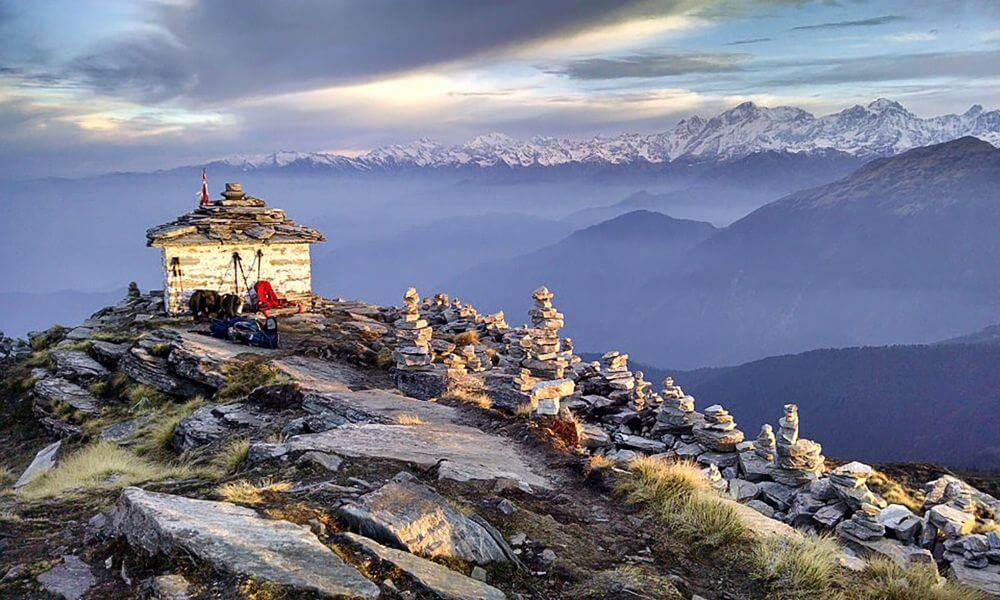 Chandrashila is one of the most favourite destinations of trekking enthusiasts. Trekking to the peak covers a distance of 5 Kms. It starts from Chopta and takes you to Tungnath, the highest shiva temple in the world. Trekking becomes hard during the winter season due to snowfall. Since the road to Chopta will be closed, you can use the Deoria Tal – Duggalbitta – Tungnath – Chandrashila route.
How to reach – If you are travelling by road, take a bus from Haridwar or Dehradun which goes to Ukhimath. The other option is to take a taxi to Rudraprayag and travel to Ukhimath which takes 8 hours. From Chopta, the nearest rail head is Rishikesh at a distance of 209 Kms.
6. Chorabari Lake
Chorabari Lake, also known by the name Gandhi Sarovar, is a beautiful lake situated 3 km from the Kedarnath temple. This lake was originally known as Kanti Sarovar. However, in 1948, a part of the ashes of Mahatma Gandhi was immersed in the lake, and thus it got the name Gandhi Sarovar.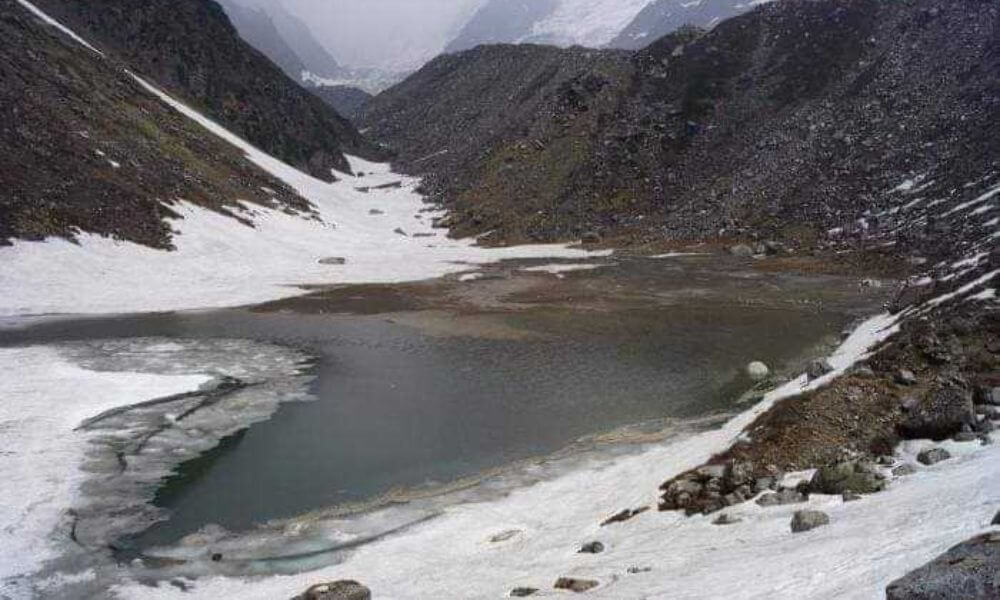 The story goes that Lord Shiva imparted the knowledge of yoga to the Saptrishis at the Chorabari Lake. Situated at an altitude of 3,900 m above sea level, Chorabari Lake originates from the Chorabari Bamak Glacier. Bhairava Temple is also closeby to this temple and the Madhu Ganga Waterfalls falling on the way is a beautiful sight worth exploring.
On 17th June 2013, in an unfortunate incident, the moraine holding back the waters of the lake gave way and huge volumes of water cascaded down the valley below leading to a catastrophic flash flood. Post that event, Chorabari Lake did not reform as a major portion of the moraine was lost, leaving a boulder-strewn flat area. Now there is a small stream flowing through it.
7. Gaurikund
The base camp for trekking to Kedarnath temple, Gaurikund is a famous Hindu pilgrimage destination. It is located at an altitude of 6502 feet above mean sea level in the Garhwal Himalayas. At the temple, you will find several inscriptions that were done during the ancient times.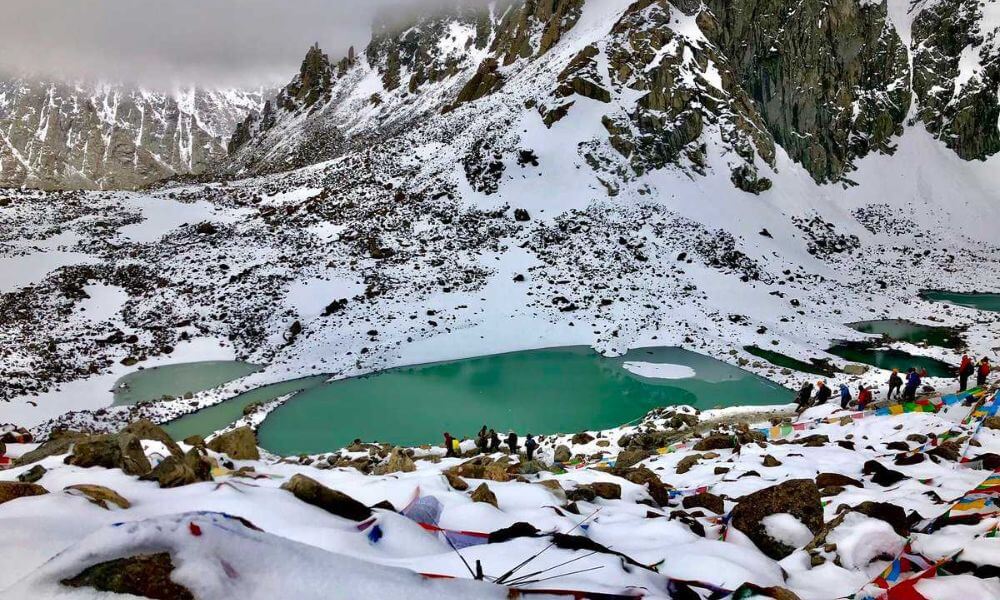 Gauri Kund has an association with Parvati, Shiva's wife who is also known by the name Gauri. As per beliefs, Parvati meditated at this place for a long time to get Lord Shiva as her husband. At last, Lord Shiva disclosed his love for her and they both got married at Triyuginarayan, a nearby location.
Thousands of Hindus come here to take a dip at the hot water spring of Gaurikund. As per popular beliefs, taking a dip at this pond makes a person pure. Other than Gauri Kund, this lake is also known by the names Gauri Lake, Parvati Sarovar or the Lake of sympathy. It is believed that Goddess Parvati had breathed life into Lord Ganesha at this lake.
8. Syalsaur
A must-visit destination for bird lovers, the village of Syalsaur is situated on the banks of Mandakini river, a tributary of the Alakananda River. Around 160 km from Haridwar, Syalsaur is located at a height of about 820 m above sea level. This village is part of the Rudraprayag District of Uttarakhand.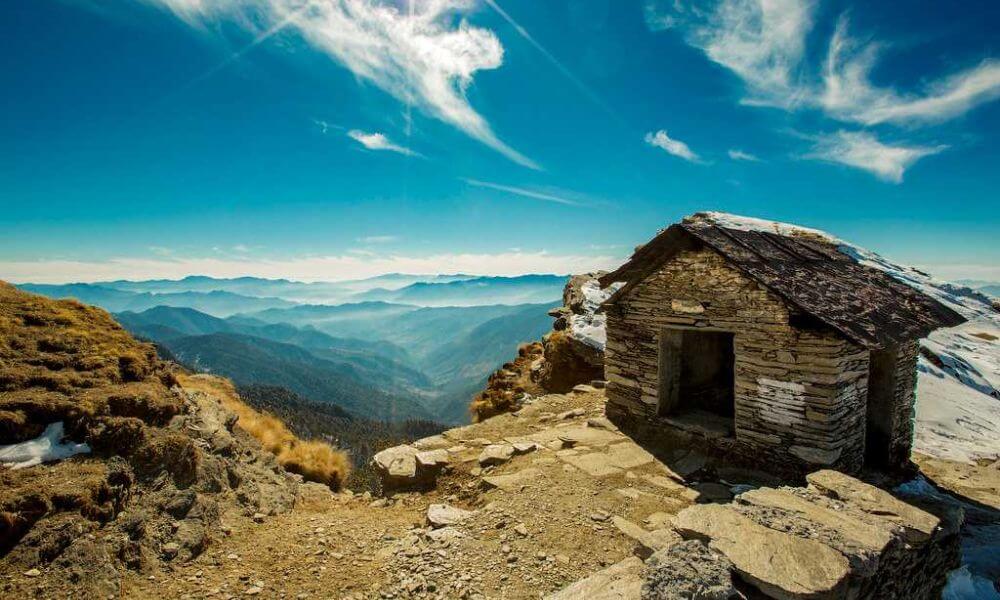 Syalsaur is a calm and quiet place unlike other overcrowded tourist spots. People who are passionate about bird watching can enjoy the beautiful sight of different species of birds. The banks of Mandakini river is also a perfect spot for nature camping.
Best time to visit – The best time to visit Syalsaur is between October to April. During these months, the weather will be chilly and you can enjoy nature's beauty at its peak. However, it is recommended to avoid visiting here during monsoon season. It will be hard to travel and arranging an accommodation will also be quite difficult.
9. Rudra Meditation Cave
Do you want to spend a few days in isolation and relieve yourself from all the tension? Just a kilometre away from the Kedarnath temple complex, you will find the Rudra meditation cave, a perfect place for meditation. Nehru Mountaineering Institute is the group behind the construction of these three meditation caves. Also known as the Dhyaan Gufa, Rudra meditation cave is located at the other end of the Mandakini river.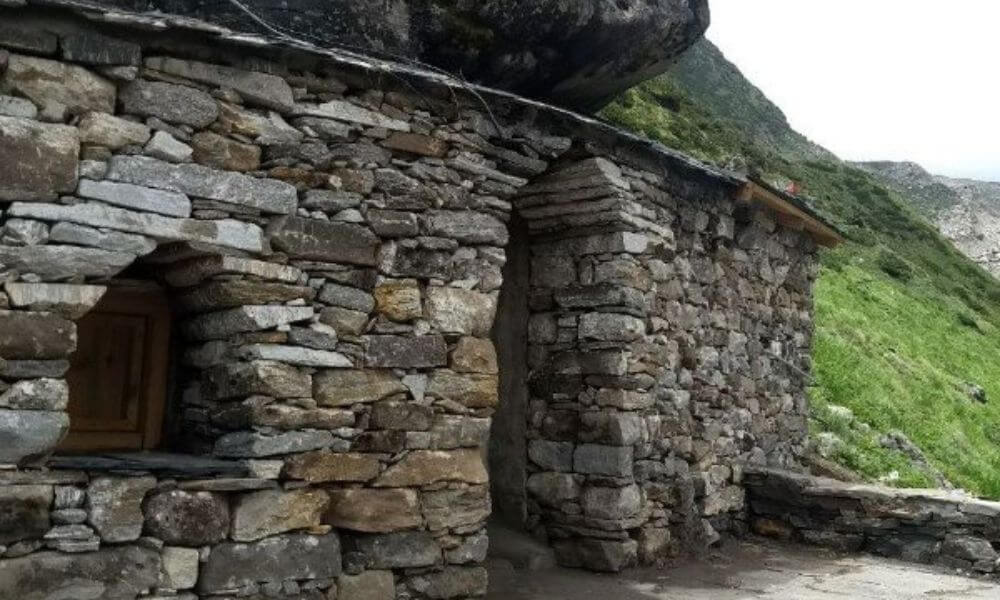 Small in size, these caves consist of a facility to accommodate only a single person. Once you step inside the cave, there is a wooden door and a window facing the Kedarnath and Bhairavnath temples. Here you will get all basic amenities such as a single bed with warm bedding, attached washroom, running water, heater, geyser, Session Initiation Protocol (SIP) phone for communication with the GMVN staff and a calling bell.
Apart from that, you also get basic food starting from morning tea to dinner. Please keep in mind that your stay has to be for a minimum of three days. Also, you need to undergo a medical checkup and be certified to be medically fit for staying at one of these caves. It is always better to book in advance to ensure your stay here.
10. Triyuginarayan
Are you looking for a perfect wedding destination? Triyuginarayan Temple in Rudraprayag district of Uttarakhand is one of the most sought after wedding destinations in the country. Dedicated to Lord Vishnu, the legend says that Lord Shiva and Goddess Parvati got married at this temple. At the shrine, there is an eternal fire or dhooni that burns 24/7.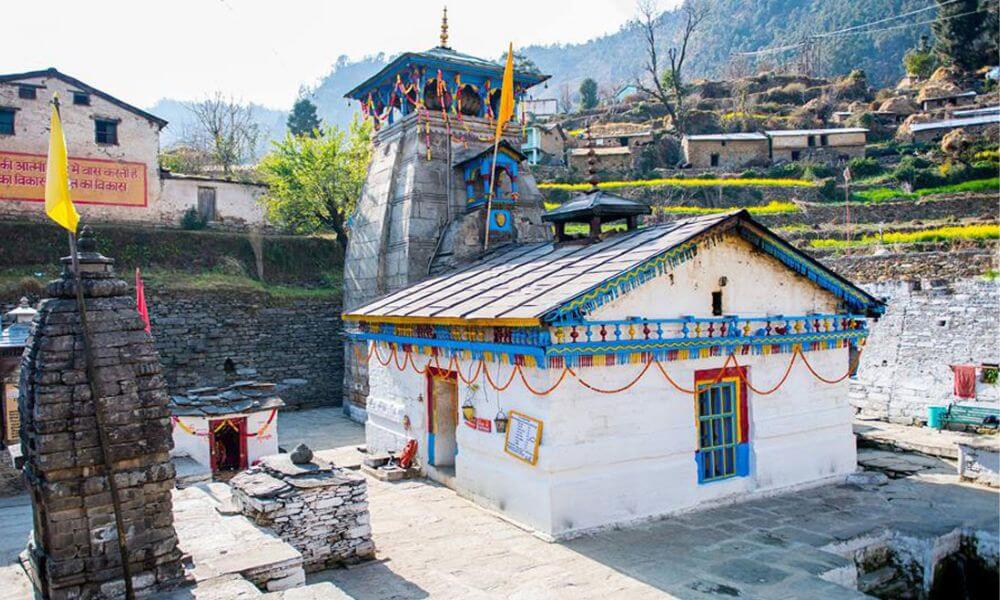 As per beliefs, this fire was lit up during the Shiva-Parvati wedding function. Also, there are four water tanks that deserve a special mention. Each has a special purpose with Rudra Kund for bathing, Brahma Kund for sipping water, Vishnu Kund for cleansing, and Saraswati Kund for offering libations.
How to reach – If you love road travel, there is a motorable road from Sonprayag that is 12 Km away. For those who are crazy about trekking, there is an option to go for a short trek of 5 km through Sonprayag on the Guttur – Kedarnath route, with a thick forest passing through this route.
If you prefer train journeys, catch a train and go till Haridwar, located 275 km from Triyuginarayan. If you opt for air travel, the option is to take a flight and go to Dehradun airport. From there, you can hire a taxi and head towards Triyuginarayan.
Conclusion
Going on a vacation and taking that much needed break is a great idea indeed. However, when you are heading for a pilgrimage, the destination is quite important. Kedarnath is one such place frequented by pilgrimage travellers from all across the country. Apart from covering various temples of religious importance, you also get a chance to explore beautiful lakes and meditation centres as well on this trip.
How To Reach Kedarnath
By Air
Since Kedarnath does not have an airport of its own, the nearest option is Jolly Grant Airport in Dehradun at a distance of 250 Km. There is good connectivity from this airport to all major Indian cities such as New Delhi, Mumbai, Kolkata and Chennai. From Dehradun, hire a cab or take a bus for travelling to Kedarnath.
By Road
There is good connectivity of buses from New Delhi and Dehradun to Kedarnath. There is a distance of 260 Km between Delhi and Dehradun and the best option is to take a bus. Once you reach Dehradun, there are lots of A/C , Non A/C and sleeper buses to Kedarnath. The other option is to take a bus from Haridwar for travelling to Kedarnath. The distance between the two places is 125 Km and it takes 5 hours to travel by bus.
By Train
If you prefer to travel by train, the nearest railway station from Kedarnath is Rishikesh Railway Station. The station is located at a distance of about 210 km from Gaurikund and there is good connectivity to this station from cities all over the country.
Read More:
Soundarya Sharma – All You Need To Know About Soundarya Sharma
Amritsar: Top Rated Attractions And Popular Tourist Destinations