Pangot: Explore The Scenic Village Nestled In Uttarakhand!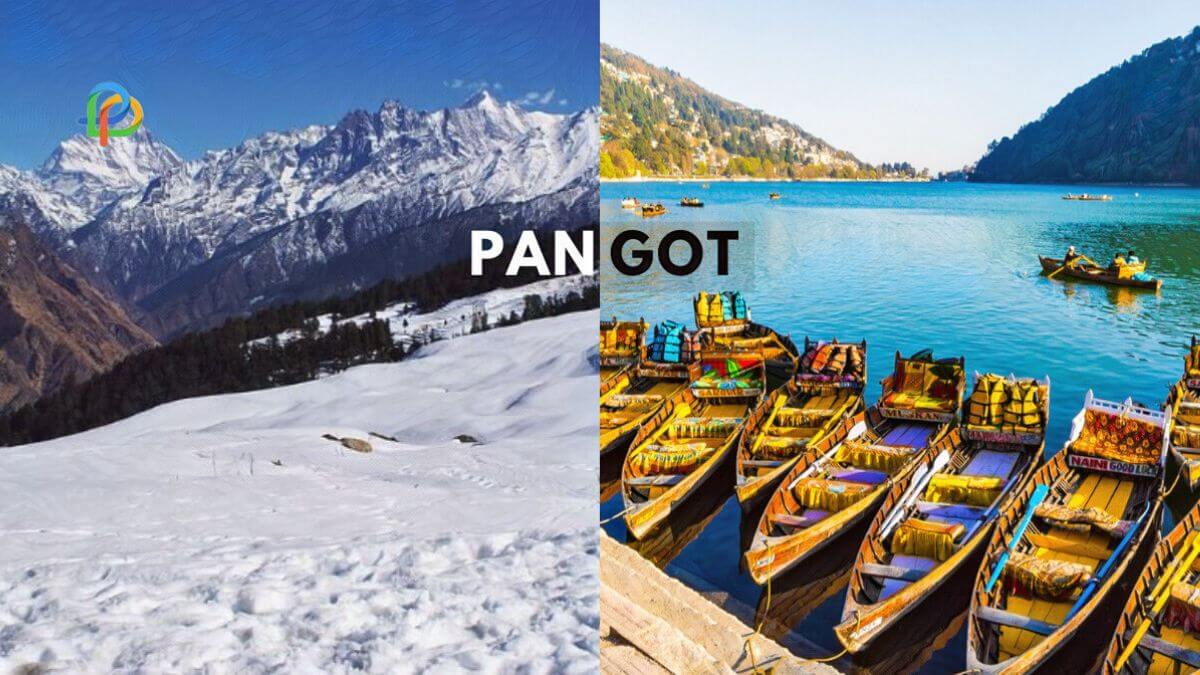 Situated just 15 kilometers away from Nainital, Pangot, situated in the Kosiyakutoli tehsil of the Nainital district of Uttarakhand. The village is at an altitude of 6,300 feet above sea level and is better known all across the nation for its rich and striking bird life.
Pangot also becomes a hub for photography fanatics when hundreds of dissimilar species of birds flock here during the severe winters in the upper Himalayas and settle down here temporarily. In this article, we have listed a few best places to visit in Pangot.
The complete drive that reaches this marvelous area passes through the forested destinations of Chenna Peak Range via Snow View Point and Kilbury, both famous and outstanding birding habitats. Innumerable bird species can be seen along the way to Pangot. Some of these involve the Rufous-bellied Woodpecker, Speckled & Slaty-backed Forktail, Himalayan Griffon, and Khaleej pheasant.
Catching mammals such as Yellow-throated Himalayan Marten, Sambhar, Leopard Cat, Himalayan Goral, Serow, Wild Boar, Red Fox, and many more., is also not uncommon. The celebrated Corbett National Park is situated just 80 kilometers from Pangot. Thick oak, pine, and Rhododendrons register the vegetation of Pangot and nearby locations.
Pangot And Kilbury Bird Sanctuary
Around 13 km away from the Nainital city is the Pangot village situated at a height of 6,510 ft above sea level. Pangot village is a famed tourist destination as it houses almost 580 dissimilar species of birds. The enormous variety of birds is not the only lure, the landscape amidst which Pangot is situated is the Cherry on the cake.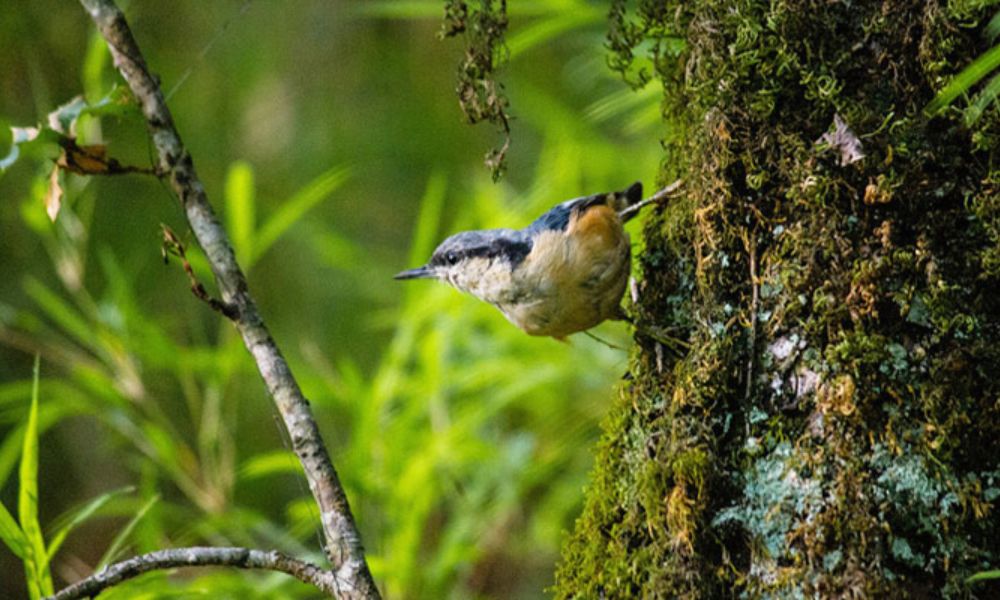 The drive to this village proposes an excellent experience as it passes through the forested zone nearby Naina Peak Range. The route is through Echo Zone and Himalaya Darshan area, well-known for a splendid view of the Great Himalayas, particularly Mt. Nanda Devi. This is also one of the best places to visit in Pangot
The Pangot and Kilbury Bird Sanctuary are also home to different mammals whose natural habitat is the Kumaon Hills. Some of these involve Leopards, Himalayan Palm civets, Yellow-throated Himalayan martens, Ghorals, Barking Deer, and Sambhar.
Nainital Lake
Nainital Lake is concerned as the Jewel of Uttarakhand and is possibly the biggest lake in the Kumaon region. The water reflects the attractiveness of the vast sky in it and is the best tourist destination. Nainital Lake has correctly bagged the sobriquet of The Lake district of India.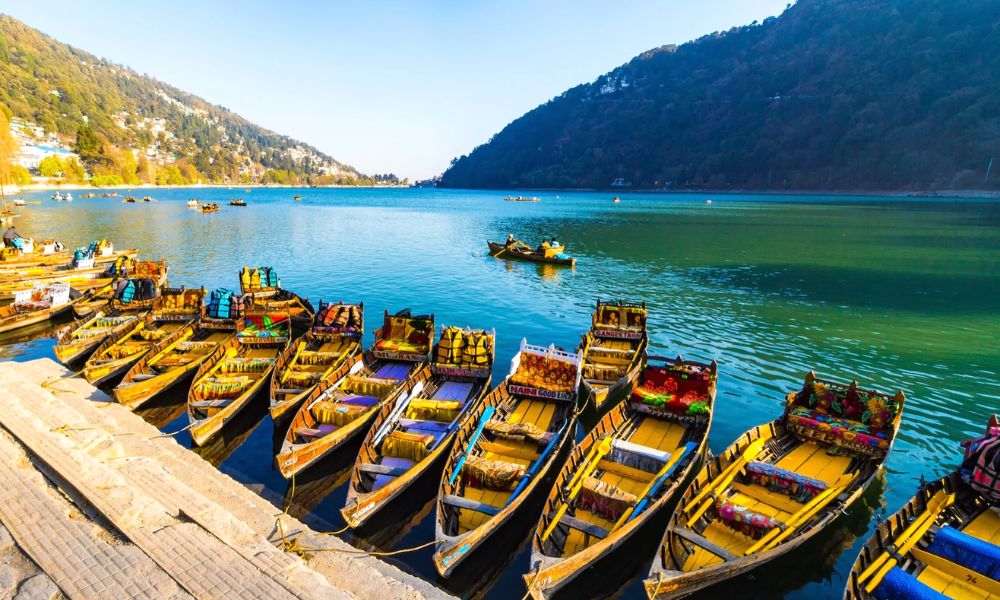 It is surrounded by hills on all sides proposing a spellbound view of the place and a tour that will be etched in your memory. Nainital Lake we have added to our list as one of the best places to visit in Pangot
Night-time augments its appeal as the sparkling water generates magic when it plays with the lights on its edges. Throughout the day you can spend your time yachting, boating, and paddling on the lake.
Guao Hills
These majestic hills situated in Nainital propose striking sight-seeing of the attractive knoll of the Pangot village. It has a good record among the visitors for the never-ending strolls and the audacious trekking. The Guano Hills wraps a blanket of oak, bamboo, and deodar trees across itself proposing an attractive and mystic journey.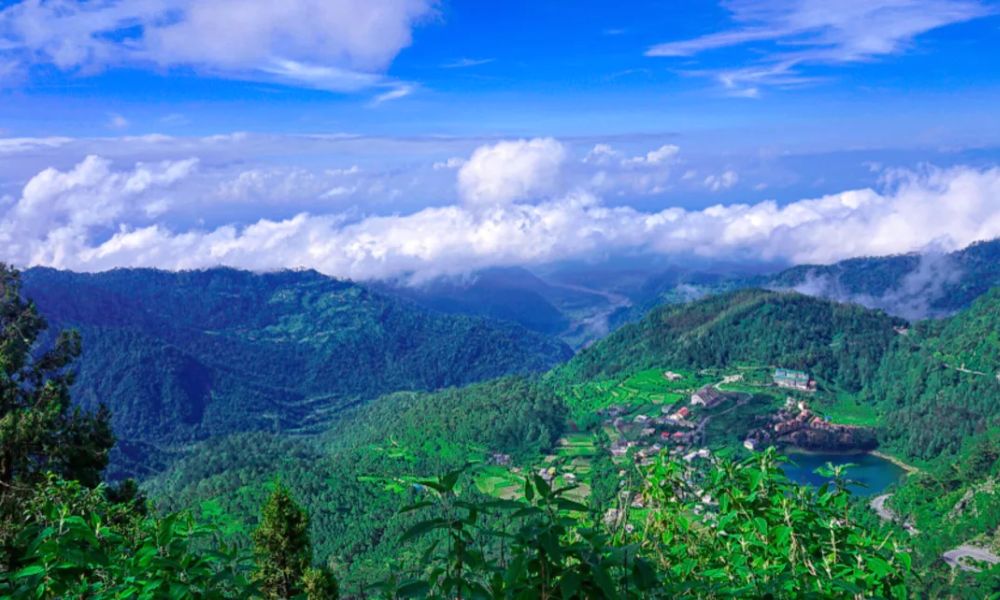 It is also home to a diversity of endangered flora, and rare species of birds such as black-chinned babblers and grey woodpeckers. The appealing hill is an ideal spot for trekking with luxurious green fields and Great Mountain peaks. Visit this calm place for a break from the exciting city life and also carry your camera if you love photography.
Snow View Point
Snow View Point is the best place from where you can catch the best glimpse of the grand Himalayas from Nainital. This place fascinates a huge number of tourists because of the breathtaking views it delivers. The beauty of the snow-covered mountains such as the Nanda Devi, Nanda Knot, and the Trishul carries grand views which can bewitch your mind and soul.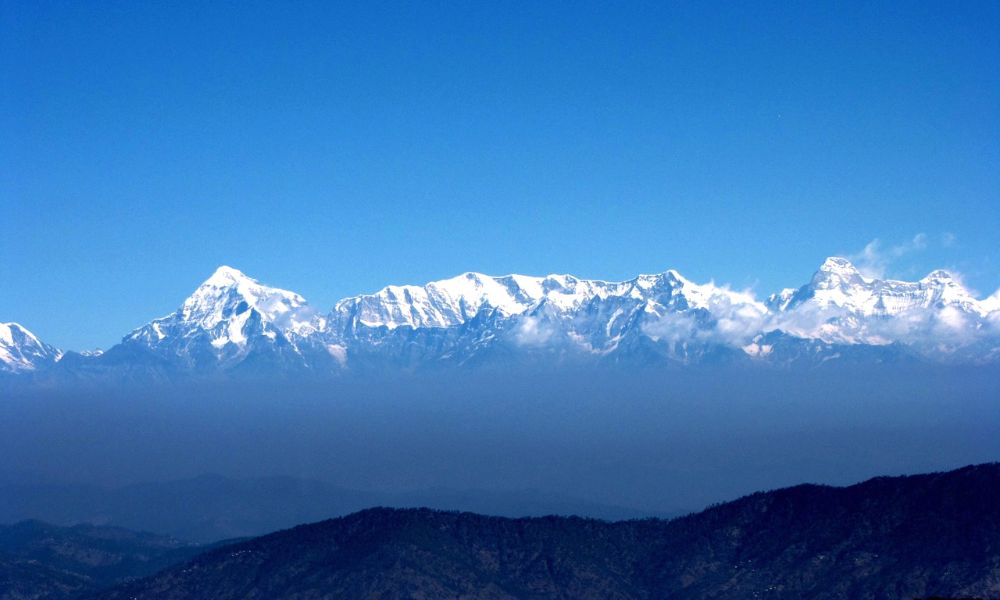 It is well linked with roads and is easily available and you can also find large binoculars, tea stalls, and snack shops across here.
Situated just 3kms away from Nainital, the Snow View Point can be effortlessly reached via trek, road, pony, and ropeway hence adding some exploration to your journey. It is one of the best places to visit in Pangot for nature and exploration lovers.
Naina Peak
This place is better known to challenge the best trekkers from all across the world. Naina Peak is prevalent for the appealing view it delivers of the surroundings, hiking, photography, and many more.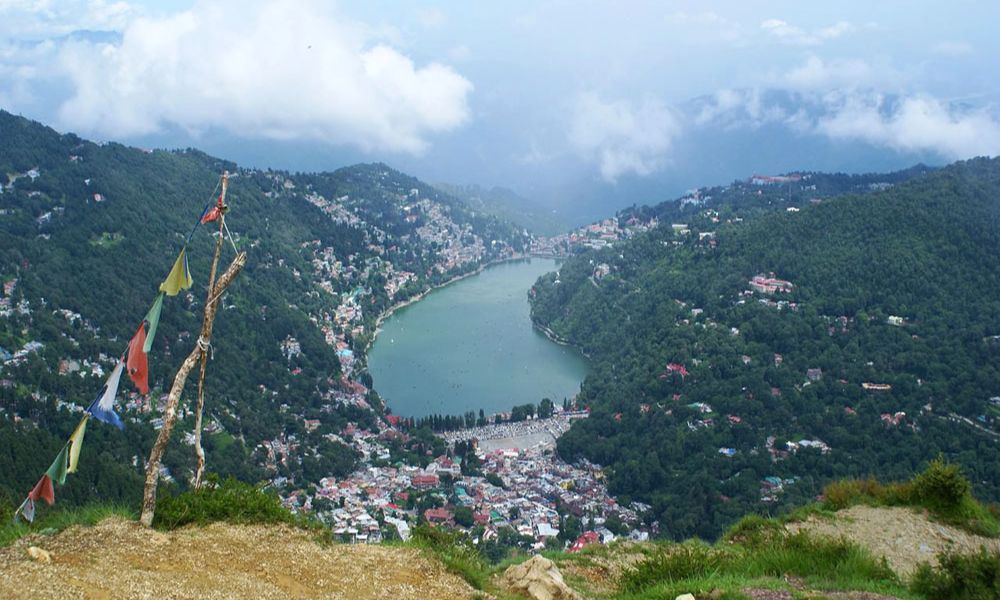 It makes its way to a mysterious forest surrounded by rhododendrons, soaring deodars, and cypresses. Celebrate the bird's eye view of this region, the neighboring Himalayas, and the Tehri region of Kumaon.
Tiffin Top (Dorothy's Seat)
Situated at an altitude of nearly 2290 meters above sea level, the Tiffin Top is a hilltop that delivers an elegant 360-degree view of Nainital. It is one of the most celebrated attractions of Nainital and is commonly better known as Dorothy's Seat.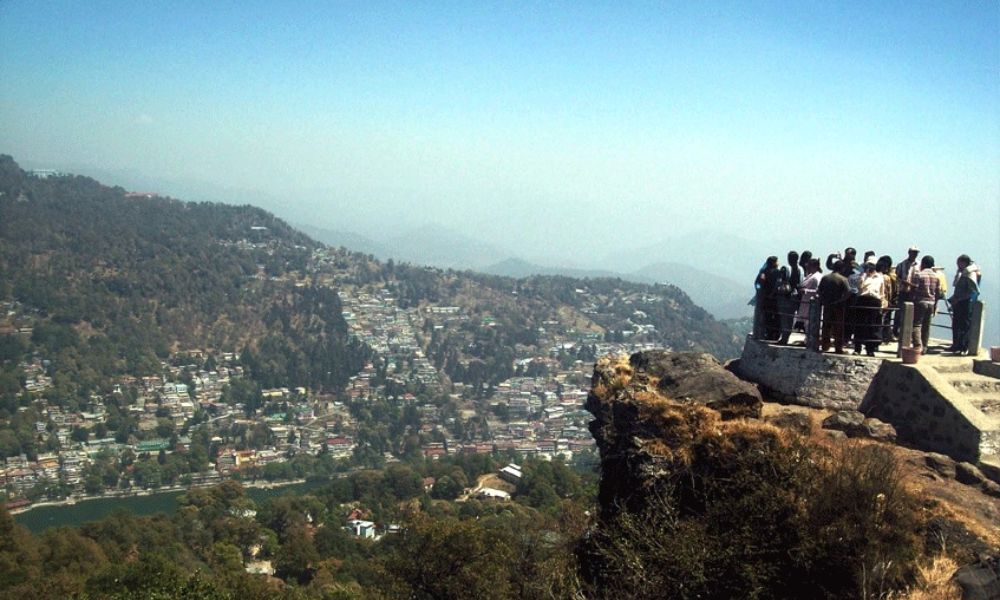 Dorothy's seat is a stone bench that was constructed by the British army officer Colonel JP Kellet in memory of his dead wife who had died in a plane crash. Tiffin Top is just 4km away and thus can be effortlessly reached by trekking, and pony. It is a picture-perfect lure where you can arrest breathtaking shots.
Eco Caves
Eco Caves is a local park upheld by the local administration and has harvested attention from all across the place. The place is in its youth and is home to a number of consistent caves and sagging gardens. It is a dream come true and is surrounded by mystery and proposes a splendid glimpse of the Himalayan wildlife.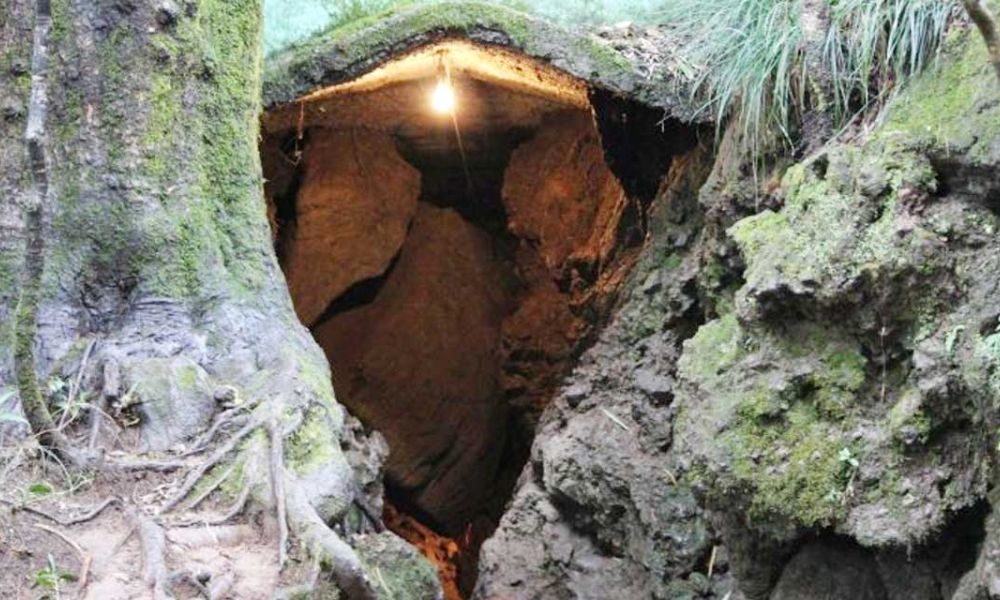 You can celebrate a lot of activities and have fun with your family and kids. If you are forecasting a vacation then visit this Eco Caves with your kids as you familiarize them with this eco-friendly place. Celebrate the panoramic views of attractive cliffs surrounding the place and watch the amount of relief it will propose to your soul.
Goddess Naina Devi Temple
Naina Devi temple is a holy place enthusiastic to goddess Naina Devi situated at the northern end of the Nainital Lake. Individuals from all across the world come here to seek dedication from the goddess.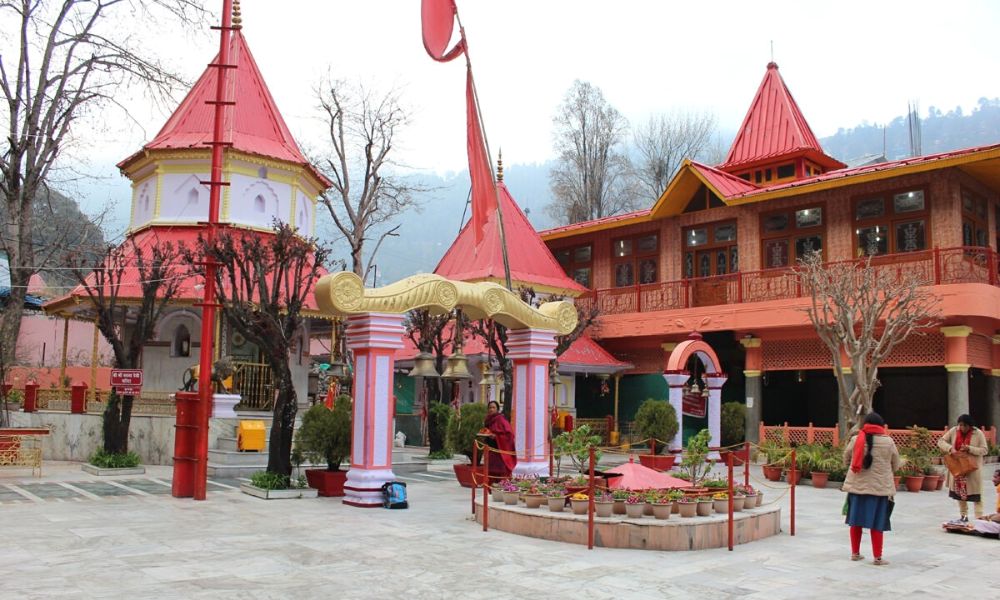 It is concerned as one of the 51 Shakti Peeths and the goddess sits on the Shivalik Mountains. The Peepal tree inside the temple is said to be an observation from the past many centuries. On entering the temple, you will first see the Ganesha idol at the major entrance.
This monument is alone a self-born Pindi and it is said that this was the very place where Sati's eyes fell. Marked as one of the most attractive places to visit in Pangot.
Kainchi Dham
A prevalent Hanuman temple situated in the womb of the Kumaon mountains is the Kainchi Dham. The place proposes an accurate combination of beauty and spirituality. Enclosed by mountains and forests with a river flowing alongside, Kainchi Dham is a heaven for individuals who seek peace and calm.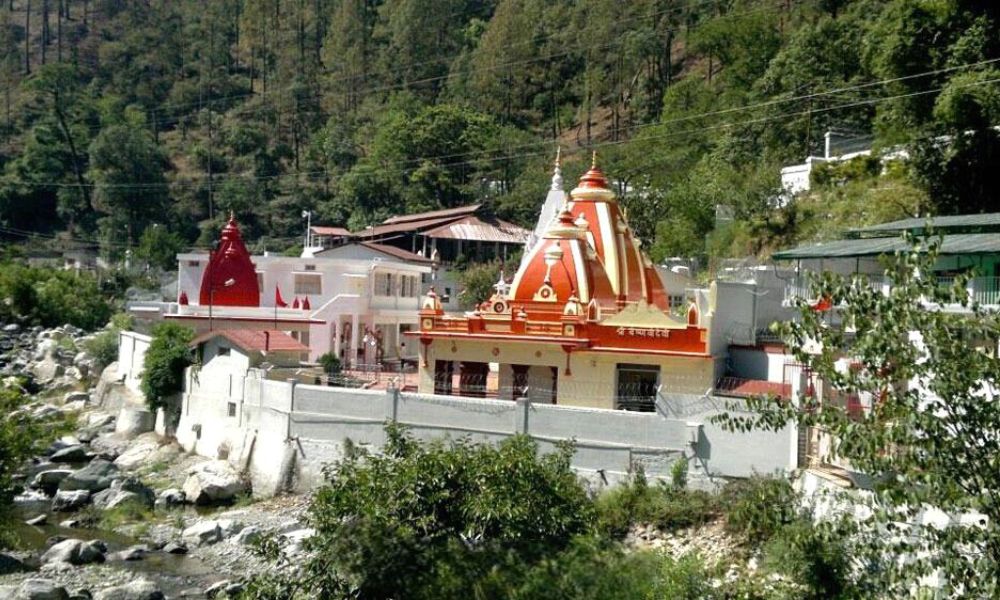 The temple was well-known by a local and very profound saint, Neem Karoli Baba during the 1960s. It is also an ashram of Neem Karoli Baba who is supposed to be an incarnation of Lord Hanuman. Devotees claim to feel the heavenly existence of Lord Hanuman and Neem Karoli Baba at the ashram.
The Kainchi Dham got famous when in the year 1973, Steve Jobs, Ex-CEO of Apple Inc, stayed at the temple. Going through a worrying time in his career, Jobs came to India looking for a place where he could find answers to his questions and gain the ultimate truth of life, Nirvana, and Prajna. Jobs pondered at the ashram and went back enlightened. Later on, Mark Zuckerberg, CEO of Facebook, also stay in the Kainchi Dham in search of peacetime and enlightenment.
Best Time To Visit Pangot
Pangot is a holy place with enjoyable weather around the year. The hill station experiences heavy snowfall throughout the winter months from November to February. It can get really supercilious with temperature dropping as low as minus eight degrees Celsius. Summer months are cool with temperatures varying from 10-25 degrees Celsius. The highest monsoon season from July to August is best circumvented as heavy rains make the place too slippery. To visit Pangot, March to June and September to November are the best time.
How To Reach Pangot?
Pangot is an attractive village in the Kosiyakutoli tehsil of Nainital district in Uttarakhand, and a prevalent destination for tourists at an altitude of 6300 feet. Situated nearly 15 kilometers away from Nainital. The drive to here passes through the forested area of Naini Peak Range via Kilbury and Snow View Point.
By Road: Pangot is well associated with motorable roads with the foremost cities in Northern India. Buses and Taxis to Pangot are easily accessible. It is located 17 km from Nainital on NH-87. You can get buses easily to Kathgodam from ISBT Anand Vihar, Delhi. Pangot can easily arrive at half an hour's drive from Nainital.
By Air: Pantnagar is the closest airport located 58 km away. The distance from Pantnagar Airport to Pangot can be conveniently covered in 1 Hour. There are 4 round trips to Delhi from Pantnagar. Taxis from the Airport to Pangot are conveniently accessible and it will cost nearly Rs. 600.
By Rail: Kathgodam is the closest railhead located 20 km before Pangot. The distance from Kathgodam Railway Station to Pangot can be conveniently covered in half-n-hour. Kathgodam is well linked by railway networks with the foremost cities in India. Taxis from Kathgodam to Pangot are easily accessible and it will cost nearly Rs 300.
Conclusion
Pangot is heaven, whether you're looking for a protracted weekend trip, a longer duration journey linked with nature, or spending some alone time with your partner. From solace to nature's company – it is all enfolded up beautifully in nature's lap. This off-beat location with prodigious connectivity is always awaiting your warm embrace.
Please feel free to post any queries or doubts you might have in forecasting your trip. If you have been to Pangot, I'd love to perceive your thoughts and any other information you might feel will be value sharing with other parallel travelers and prove accommodating to them as comments.
Read More:
Suryakumar Yadav: Interesting Facts About Indian Cricketer!
Kerala: Discover Natural Wonders Of God's Own Country!