Siddharth And Aditi Rao Hydari Pose With Bina Kak During Their Rajasthan Vacation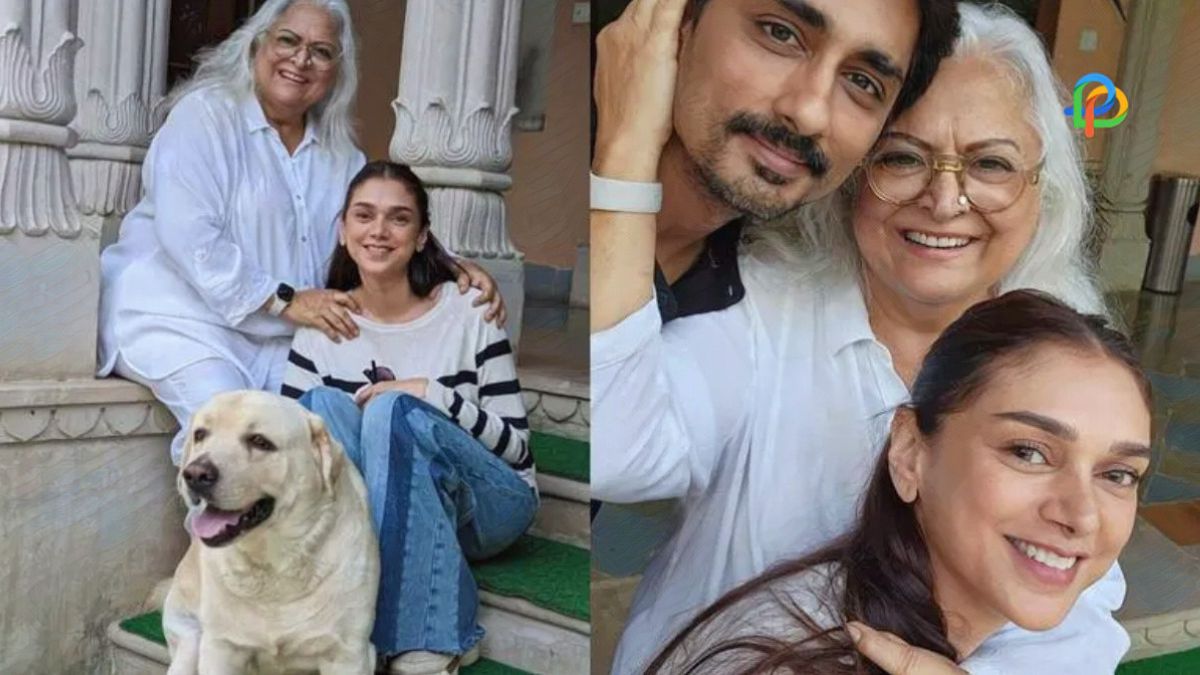 Rumours of actor couple Siddharth And Aditi Rao Hydari dating each other have been doing the rounds for a long time. In the latest Instagram post shared by actor-politician Bina Kak, Siddharth and Aditi were seen posing for photographs with her. Apparently, the duo is currently on vacation in Rajasthan.
Bina captioned her Instagram post " Happiest when the children visit me at home" and she also tagged Aditi. In the first picture, Aditi, clad in a white t-shirt with black stripes and blue jeans is sitting on the steps along with Beena, dressed in a white shirt and pants.
A dog can also be seen beside them. In the second picture, Beena is seen holding Siddharth and Aditi together. In the last picture, Beena is seen putting her hands around Aditi.
in 2021, Siddharth and Aditi played lead characters in 'Maha Samudram', a 2021 Telugu movie. Back then, the actor couple had travelled together for the promotion of the film.
Since then rumours were rife that the couple is dating each other as they were later spotted together on several occasions. Music director AR Rahman's daughter's wedding reception and actor Sharwanand's engagement were a few such occasions when Siddharth and Aditi appeared together.
Later, during the audio launch of the film 'Ponniyin Selvan1', the star couple sat together and were seen vibing together for romantic songs that fuelled the rumours. Last February, Aditi shared a video on her Instagram account where she and Siddharth were dancing to the song ' Tum Tum', a viral song from the film 'Enemy'. However, to date, both Siddharth and Aditi have remained tight-lipped about their relationship.
Both Aditi and Siddharth have gone through troubled marriages in the past. At the age of 21, Aditi got married to actor Satyadeep Mishra. Later the couple parted ways and it ended in a divorce.
Satyadeep is now married to fashion designer Masaba Gupta. On the other hand, Siddharth was earlier married to his childhood sweetheart Meghna. Later, after living separately for a year, the couple got divorced in 2007.
When asked about her relationship with Siddharth in a recent interview, Aditi said that there's nothing to clear as there are certain things which are sacrosanct. The actress also added that people will anyway assume whatever they want to assume.
During a press conference held in connection with his upcoming film 'Takkar', Siddharth was asked a personal question by the media. The reporter asked the actor why his love life was a failure.
In response, Siddharth gave a fitting reply by mentioning that he has never thought about this matter, even in his dreams. The actor went on to add that if the press reporter is really concerned about his love life, both of them can talk about it in private. In the end, Siddharth emphatically stated that others have nothing to do with his love life and it has nothing to do with his latest film Takkar as well.
Read More:
Varun Tej: Check Out Unknown Facts About The Telugu Actor!
Lalitpur: Explore The Historic And Ancient Heritage Of UP!