Tamannaah Bhatia Finally Admits To Being In A Relationship With Vijay Varma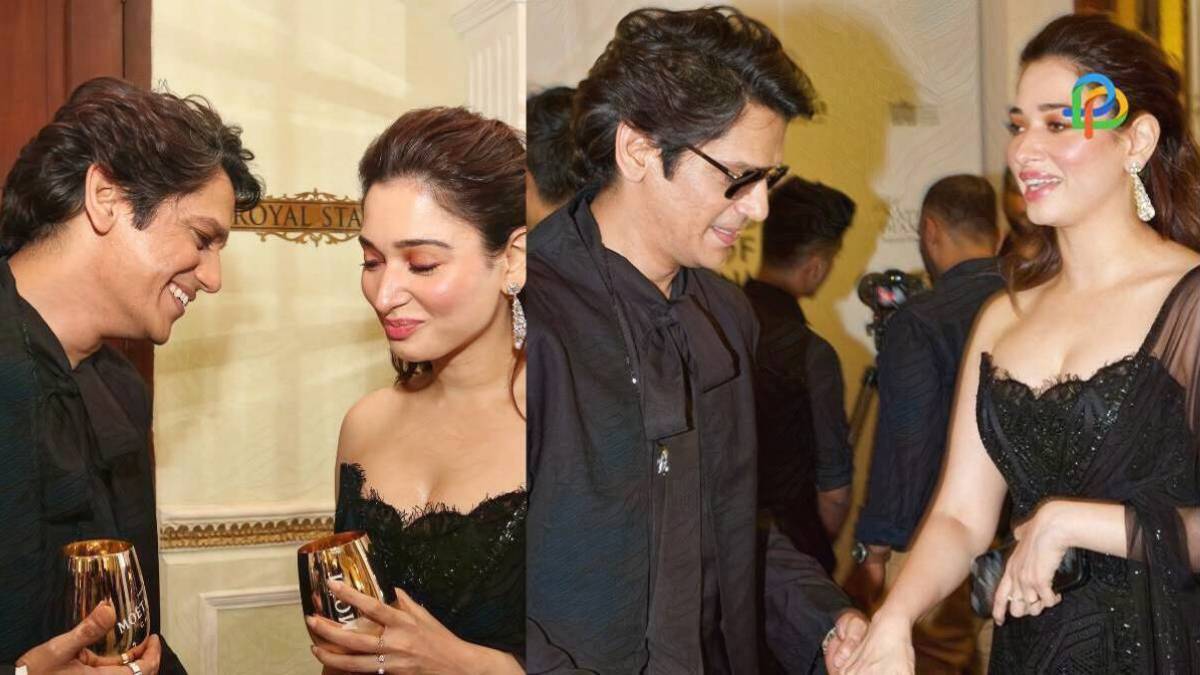 Laying all rumors to rest, actress Tamannah Bhatia has finally admitted that she is in a relationship with actor Vijay Varma. The actress also said that Vijay is a person whom she deeply cares about and he is her happy place.
In her latest interview, Tamannah revealed that it all began on the sets of 'Lust Stories 2', an anthology film directed by Amit Ravindernath Sharma, R. Balki, Konkona Sen Sharma, and Sujoy Ghosh.
For quite some time, rumors have been rife that Tammy is dating Vijay. Also, a video had gone viral on the internet where the couple was seen kissing each other at a New Year's Party Eve in Goa. Though the couple were spotted together in Mumbai on several other occasions as well, both Tamannaah and Vijay had remained tightlipped about their relationship to date.
However, in her latest interview, Tamannaah Bhatia said that she doesn't think that a person can get attracted to someone else just due to the reason that he is a co-star. The actress went on to say that she has worked with so many co-stars and according to her, if one has to fall for someone it's more personal and it has nothing to do with what the other person is doing for a living.
When asked whether things have changed between her and Vijay on the sets of Lust Stories 2, the actress said 'yes'. Tamannaah also said that Vijay is a person to whom she really looks up and she bonded with the actor very very organically. According to the actress, Vijay came to her with all his guard down and thus it became very easy for her to put all her guard down.
Tamannaah Bhatia further said that if one has to find a partner, they have to physically move or do several other things that serve the other person's understanding. According to her, she has created a world for herself and found a person who really understood that world and there was no need for her to do anything.
While speaking about her conversations with Vijay, the actress said that they are very normal, basic, and simple. She also stated that friendship is a crucial part of any equation. Tamannaah also spoke about Vijay's fashion sense and mentioned that he always shows her what he is wearing, he does that beautifully and she admires that. On a lighter note, the actress said that she doesn't show Vijay what she is wearing.
The 37-year-old actor Vijay Varma made his acting debut with the 2013 film 'Monsoon Shootout'. Later, he went on to act in roles that received wide critical acclaim such as Gully Boy, She and Darlings.
Lust Stories 2, the upcoming movie in which Vijay and Tamannaah will be seen together is a sequel to the 2018 Emmy-nominated movie "Lust Stories." The other actors in the film include Kajol, Mrunal Thakur, and Neena Gupta and the movie will be streaming on Netflix.
Read More:
Avika Gor: Unknown Facts About Multi-talented Actress!
Benreu, Nagaland: Enjoy Best Spot In The Eastern Himalayas!