Kottayam: Explore The "Letter Capital" Of Kerala!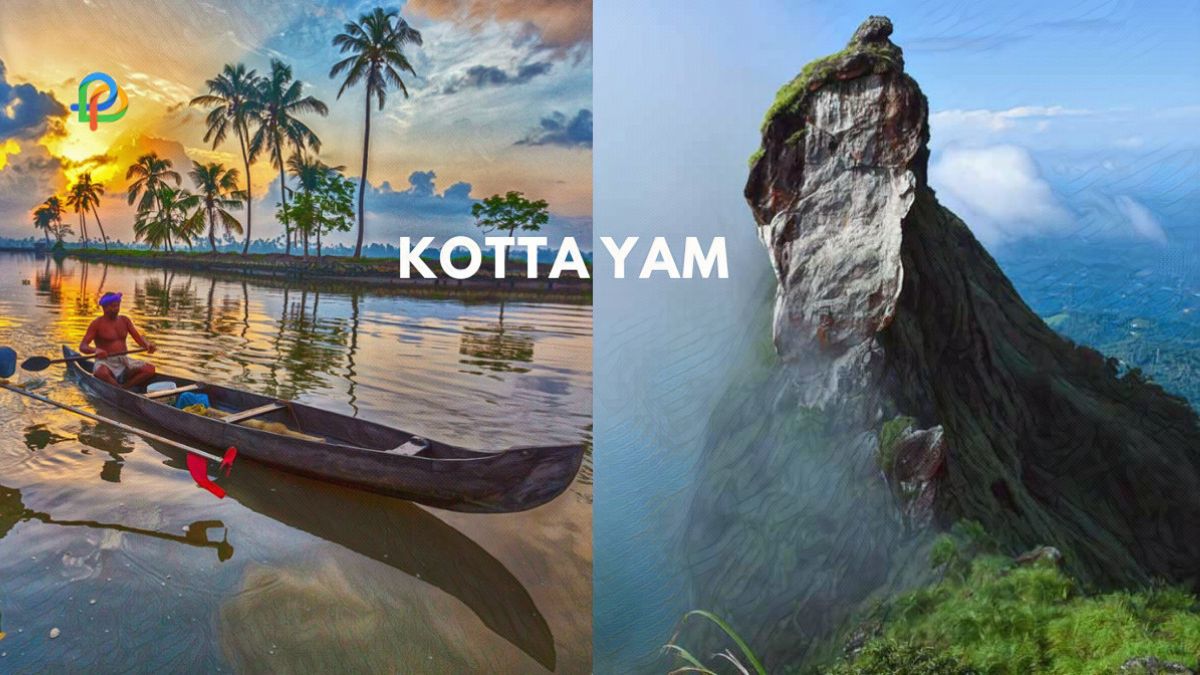 If you are a tourist who wishes to visit Kerala, you may have probably heard about Kottayam. It is a city in the southern Indian state of Kerala, known for its scenic beauty and unique land characteristics.
Kottayam, in all its magnificence, is a renowned tourist paradise, bordered on the east by the high and mighty Western Ghats and on the west by the Vembanad Lake and the paddy fields of Kuttanad.
The district has earned the admirable moniker "The land of letters, legends, latex, and lakes" thanks to its expansive backwater stretches, lush paddy fields, highlands, hills, and hillocks, extensive rubber plantations, places associated with many legends, and a fully literate populace.
Additionally, this city has drawn tourists from all over the world due to its abundance of captivating church buildings, stunning hill towns, temples, and shimmering waterfalls.
If all you crave is a gorgeous destination to chill out calmly with your friends and family on that long-awaited vacation, Kottayam may be one of your best shots. Rather than being a host to several tourist spots, the city is a tourist spot in itself, which explains its tourist hotspot status.
So, since naming every nook and corner of Kottayam is almost an arduous task, we'll take you through 10 of the most loved spots in Kottayam. Hop in, and let's go for a long ride!
Elaveezha Poonchira
Are any trekkers out there? Or hikers? Well, if you belong to any of these groups, Elaveezha Poonchira is your best shot. A much-loved hill station in the Kottayam district, Elaveezha Poonchira is situated in the Western Ghats at an elevation of about 3,500 feet (1.07 km) above sea level.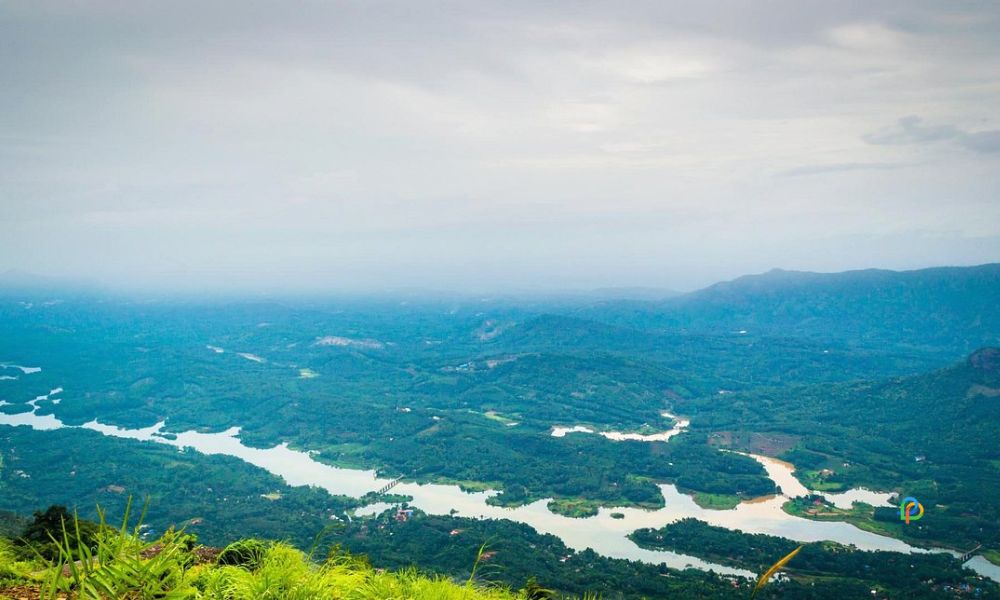 The hill station is known for its natural beauty, including its rolling hills, scenic valleys, and picturesque meadows. This is also one of the best tourist places in Kottayam.
It is also home to numerous small villages and offers a range of trekking and hiking opportunities. The place is ideal for adventure enthusiasts and nature lovers, offering a perfect blend of serenity and thrill. It is also famous for its beautiful view of sunset and sunrise.
Picnic lovers would undoubtedly find a trip to this location worthwhile given the waterfalls and alcoves that are scattered throughout.
Kumarakom Bird Sanctuary
Kumarakom Bird Sanctuary, also known as Vembanad Bird Sanctuary, is located in Kumarakom as its name suggests. It is situated on the banks of the Vembanad Lake, which is the largest freshwater lake in the state.
The bird sanctuary is home to a wide variety of migratory birds, including numerous species of cuckoos, waterfowl, and Brahminy kites.
Some of the most commonly seen birds at the sanctuary include the egret, darter, heron, and teal. The sanctuary is also home to many local species of birds such as the kingfisher, and the Indian Shag. we have marked these also as attractive tourist places in Kottayam.
One of the best features or main attractions of this spot is that visitors can take a boat ride through the 14-acre bird sanctuary to observe the birds in their natural environment. The best time to visit the refuge is from June through August when migratory birds are most prevalent.
Marmala Waterfalls
Situated in the Marmala village, near the town of Erattupetta, Marmala Waterfalls is a unique waterfall as the water falls from a height of around 200ft (0.06 km) and falls into a rocky pool which is surrounded by lush green forests. This is also noted as one of the best places to visit in Kottayam.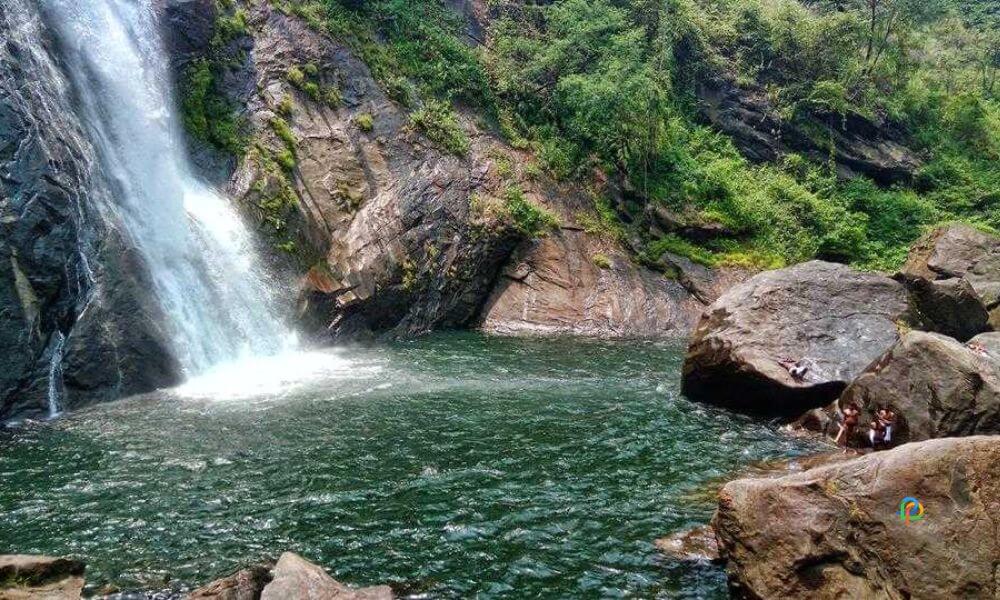 The waterfall is a popular spot for trekking and picnicking, and is known for its scenic beauty and serene atmosphere.
Surrounded by dense forest, it is one of the perfect places for nature lovers and adventure enthusiasts. Likewise, due to the location being remote and not easily accessible, the waterfall remains less crowded and is an ideal spot for those looking for a peaceful and secluded getaway.
The best time to visit the waterfall is during the monsoon season, as the water flow is at its highest and the waterfall is at its most beautiful.
But hey, there is a possible downside during the monsoon season: it can be a little dangerous as the rocks can be very slippery. So be careful. Remember, safety first!
Illikkal Kallu
The word 'Kallu' means rock in Malayalam. So Illikkal Kallu is basically a rock formation situated near the village of Illikkal, which is known for its unique shape and natural beauty.
The rock formation stands at an altitude of around 2000 ft (0.61 km) and is a popular spot for rock climbing, trekking, and picnicking. Considered as the best places to visit in Kottayam.
The surrounding area is covered with dense forest, and the view from the top of the rock is spectacular. Illikkal Kallu is also a famous spot for tourists, and many visitors come to see the beautiful sunset and sunrise views from the top of the rock.
Don't miss this place whether you're a photographer or just enjoy taking pictures, as it's a beautiful location to capture the beauty of nature.
The best time to visit Illikkal Kallu is during the monsoon season, as the surrounding area is lush and green, and the waterfalls in the area are at their most beautiful.
The Munroe Light House
Lighthouses are important aids to navigation, helping ships and boats safely navigate through waters, warning them of dangerous areas, and guiding them to safe harbors. Many lighthouses have a rich history and are considered historical landmarks.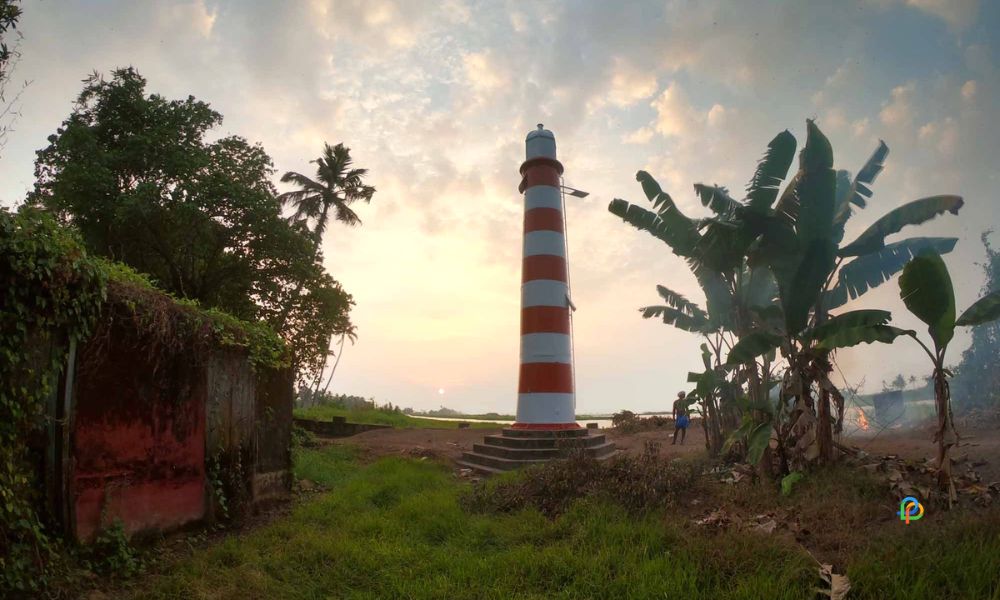 Some lighthouses have been in use for centuries and have played a significant role in the maritime history of a region, and the Munroe Light House is one of those.
The Munroe lighthouse, which is located in Pazhukkanila, Pallam, was constructed about 200 years ago. The Munroe lighthouse was an important landmark and guide for all the boats from the district of Alappuzha and Ernakulam that sailed to Kottayam for various trading purposes during the 19th and 20th centuries.
Built by Colonel John Munro in 1815 who was then the Divan of the Travancore state, this 35-foot lighthouse was lit using kerosene and a lens besides it used to illuminate a large area.
Vaikom
Situated on the banks of the Vembanad Lake, Vaikom is known for its rich history and cultural heritage and is considered to be one of the most important centers of Hindu religious and cultural activity in Kerala.
If you are into temples, their history, and architecture, Vaikom will never disappoint you. The town is home to the Vaikom Mahadeva Temple, which is one of the oldest and most significant Shiva temples in South India. The much-revered temple is believed to have been built by the Pandavas during the Mahabharata era.
Vaikom is also known for its beautiful beaches, backwaters, and scenic beauty. Offering a perfect blend of serenity and tradition, the town is an important center for the production of coir and coir products, and is a major center of the coir industry in Kerala.
Vembanad Lake
What's so special about this lake? Well, it is the largest lake in the Indian state of Kerala and the longest lake in India. Wow, now that's something, isn't it? The mighty river flows and touches the banks of three connected districts: Alappuzha, Kottayam, and Ernakulam. On the way, it is fed by several rivers and canals too.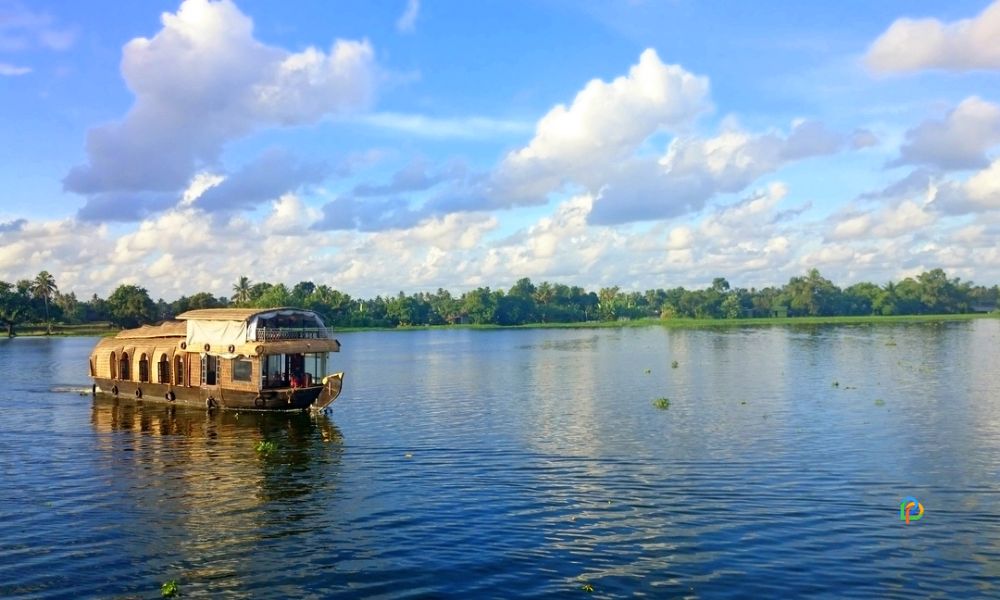 The lake is well-known for its backwaters, which are a major tourist attraction in the region. It is also an important source of fish and paddy cultivation.
According to the Ramsar Convention for the conservation and sustainable use of wetlands, the Vembanad Wetland System was listed among the wetlands of worldwide importance.
Poonjar Palace
Palaces are typically grand and opulent buildings that have historically been the residence of royalty or high-ranking nobility. They often feature intricate architectural designs, ornate decoration, and luxurious furnishings.
Mostly home to extensive grounds, gardens, and other features such as fountains, pools, and statues, most palaces have a historical, cultural, and architectural significance.
Well, if you share a craze for the above-said tastes, Poonjar Palace will offer you a special memory.
A historic palace located in the town of Poonjar, the palace was built in the traditional Kerala architectural style and is known for its intricate carvings and ornate decoration. The palace is the residence of the Poonjar Royal family and is still inhabited by the descendants of the original builders.
It is also home to a large collection of antiques and artifacts, including a number of ancient weapons, ornaments, and other items that were once used by the royal family.
Aside from that, the grand structure houses a collection of ancient manuscripts, some of which even date back to the 14th century. I think I got your special attention on this one!
Bay Island Driftwood Museum
Housed in the picturesque village of Kumarakom, the Bay Island Driftwood Museum features a one-of-a-kind collection of exquisite driftwood sculptures with extremely high artistic value.
Since the museum cultivates in its visitors the qualities of imagination, creativity, originality, and initiative to produce useful items out of materials that are typically considered waste, the student community in Kerala finds the art form used in the preparation of the museum's exhibits to be interesting and educational.
A place you must go to if you enjoy museums.
Nadukani
A hill station known for its scenic views and is a popular tourist destination. The hill station is situated at an altitude of around 4,000 feet (1.22 km) above sea level and is surrounded by lush green forests.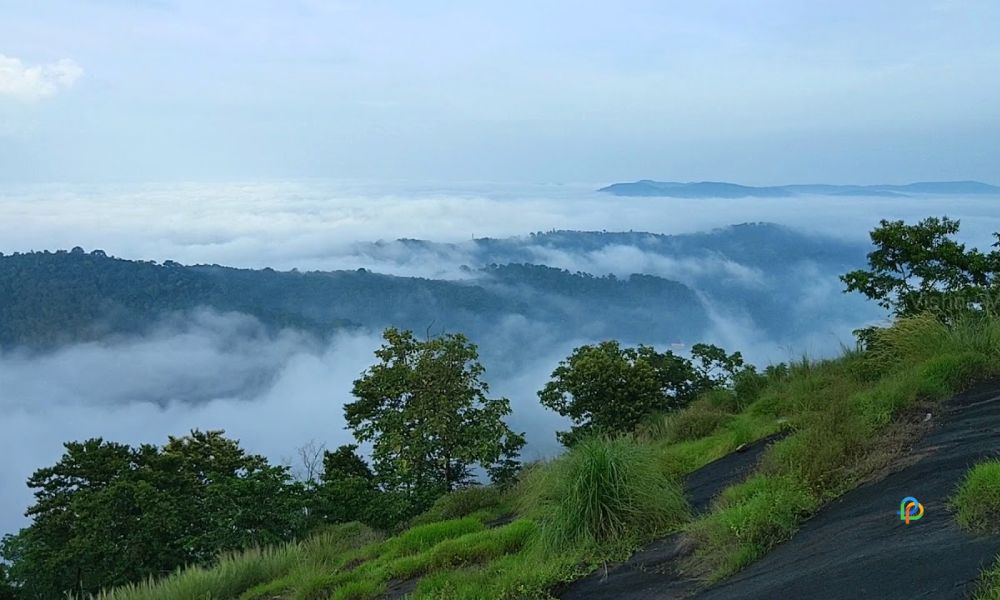 It offers a wide variety of activities for visitors, such as trekking, hiking, and bird watching. The hill station is also home to a number of small villages, which offer a glimpse of traditional Kerala culture.
Best Time To Visit Kottayam
The best time to visit Kottayam, India is typically between October and March when the weather is pleasant and cool. This period is also considered the peak tourist season, so it's also a good time to visit if you're interested in exploring the local culture and festivals.
There are several ways to reach Kottayam, India:
By Air: The nearest airport is the Cochin International Airport, which is around 80 km away. From there, you can take a taxi or bus to reach Kottayam.
By Train: Kottayam has its own railway station and is well-connected to major cities across India.
By Bus: Kottayam is well-connected by road and there are regular bus services from major cities in Kerala and nearby states like Tamil Nadu and Karnataka.
By Car: As Kottayam is well-connected by road, you can also travel there by car.
Once you reach Kottayam, you can easily get around by using local transportation such as auto-rickshaws and buses.
Conclusion
To put it short, the Kottayam experience offers a unique blend of culture, history, nature, and traditions, and is an ideal destination for those looking to explore the rich heritage and natural beauty of Kerala.
Finally, but certainly not least, Kottayam is a family-friendly location that provides a range of activities and attractions that are appropriate for visitors of all ages. If you are planning to offer your family an experience for the ages, don't hesitate to get on the wheels to Kottayam.
Read More:
All About Former ICICI Bank CEO And MD Chanda Kochhar!
Gopalpur: A Complete Travel Guide 2023!