Arijit Singh Rides His Scooter Around West Bengal For Shopping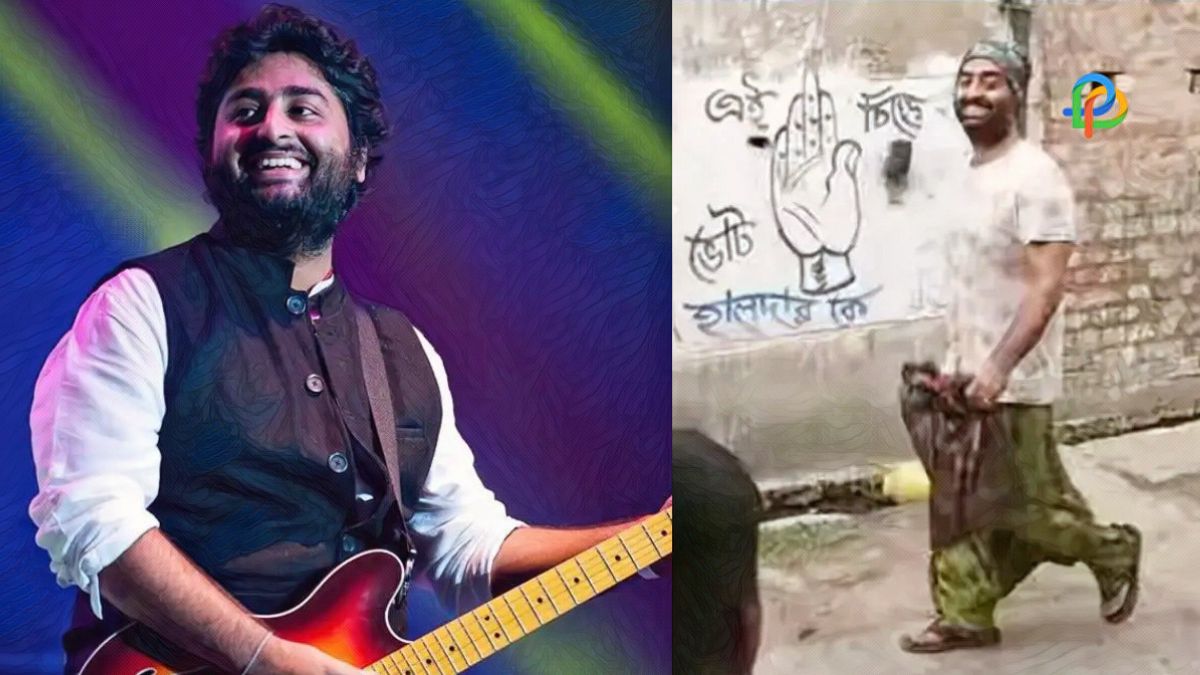 Bollywood's leading playback singer Arijit Singh is well known for his humble nature and simple lifestyle. In the latest video that has gone viral on the internet, like any common man, Arijit is seen exchanging pleasantries with the people around and riding a scooter in Murshidabad, West Bengal.
The singer sporting his signature beard was clad in casual dress. Arijit was wearing a grey color cap and he paired it with light brown color printed t-shirt and loose green, printed baggy pants.
Holding a bag in his hands, he was seen chatting in the Bengali language with people in the surroundings. Apparently, the singer was speaking about his wife going to a blood bank and also told them that he has been doing well. Later, the singer is seen keeping his bag inside the scooter's storage space and riding away his two-wheeler.
Arijit, famously known for his down-to-earth personality, was seen touching former Indian cricket captain MS Dhoni's feet at the inauguration ceremony of the 2023 Indian Premier League (IPL) on March 31st. It was at the Narendra Modi Stadium in Ahmedabad, Gujarat that the singer displayed his sweet gesture.
During a recent stage concert in May at Aurangabad, Maharashtra, Arijit was injured after a fan tried to pull his hand. In the video, the singer is seen asking the fan why he pulled his hand and tells that now he can't even move his hand.
Arijit Singh also told his fan that though he wants them to have fun, if he is not able to perform, then they can't have fun. Following his injury, Arijit went through basic medical treatment on the stage and continued to perform later.
For the unknown, Arijit was born on 25 April 1987 in Jiaganj, Murshidabad, West Bengal. The singer's father Kakkar Singh is a Punjabi Sikh and his mother Aditi Singh is a Bengali Hindu.
When Arijit Singh was 18 years old, it was his guru Rajendra Prasad Hazari who forced him to leave his hometown and give a try at Fame Gurukul, a reality show. The young singer emerged 6th in the competition following an audience poll.
The turning point in Arijit's career was singing in the Hindi movie Ashiqui 2. The songs "Tum Hi Ho" and "Chahun Main Ya Naa" went on to become superhits and helped Arijit gain immense popularity. A recipient of the national award for the Best Male Playback Singer, Arijit has also won several other coveted awards such as the Filmfare Award, Zee Cine Award, IIFA award, and Mirchi Music Award.
In 2013, while he was working as a music programmer, Arijit got married to singer Ruprekha Banerjee who was his co-contestant at Fame Gurukul, the singer's first reality show. However, their married life did not last for long and the couple got divorced.
After parting ways with Ruprekha, Arijit started dating Koel Roy, his childhood friend. On January 20, 2014, they got married at Tarapeeth temple in West Bengal.
Read More:
Meet Rahul Bhat: Successful Journey Of The Indian Actor!
Kalpa: Enjoy A Land Of Apples And Snow-Capped Peaks!