Sunny Leone Shows Off Her Stunning Look In Satin Gown At Cannes Film Festival 2023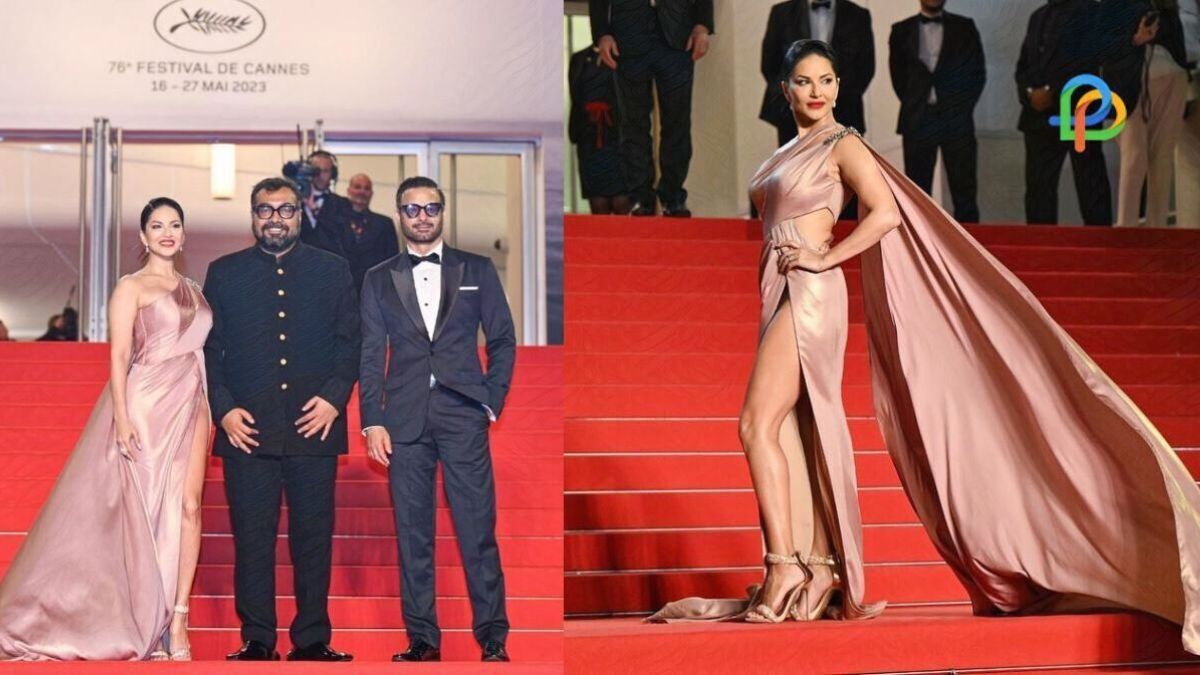 Actress Sunny Leone has taken the internet by storm with her dazzling appearance at the Cannes Film Festival. Ahead of the world premiere of 'Kennedy', the Hindi movie directed by Anurag Kashyap, Sunny appeared in a stunning, bold satin gown that made heads turn.
The actress walked the red carpet with Anurag and her co-actor Rahul Bhat. The Internet was soon flooded with photos of Sunny's red carpet looks.
Clad in a one-shoulder pale pink, thigh-high slit gown from Naja Saade and matching high heels, Sunny's glamourous makeup added to her glow. The actress sported a hair bun and upped the oomph factor with her sparkling diamond earrings. Sunny's styling was done by ace fashion designer Ilya Vanzato and her jewelry was from Helena Joy.
Sunny Leone shared her red carpet look on Instagram and wrote that she could not be more proud to represent Indian cinema. She also added that it was an amazing moment for herself and the entire team of Kennedy, her movie.
Actress Divya Agarwal commented " So proud sunnyyyyy" whereas other Instagram users commented 'sexy' and hot'. Sunny also posted some other photographs in the same attire where she is seen posing with Anurag and Rahul Bhat. She thanked both of them in her Instagram post.
Directed and written by Anurag Kashyap, the film Kennedy revolves around the story of an ex-insomniac police officer. Rahul Bhat portrays the role of Kennedy whereas Sunny appears as Charlie. The tickets for the movie were sold out at the Cannes film festival in just minutes. Sunny posted the news on Instagram by posing along with Anurag, holding tickets in her hand.
Sunny had an amazing transition from being a porn star in the United States to appearing in the reality show Bigg Boss and later switching to mainstream Hindi films. Thus, the Canadian-born actress had to deal with the perceptions of people.
In her latest interview with Reuters, Sunny said that at the end of the day, you are human and it is not a great feeling. However, she was quick to add that she understands their point of view also. According to Sunny, she came with a certain amount of baggage and it is tough to change the perceptions of people.
The actress went on to say that due to these reasons, Kennedy means so much to her. Sunny also stated that Kennedy being accepted at Cannes is one of the most amazing things. She concluded the interview by stating that one can't say anything bad about it and also cannot take it away from her.
While commenting about his co-actor Sunny in the movie Kennedy, Rahul Bhat had earlier stated in an interview that she is a very good human being. Rahul also added that she comes on the sets with no inhibitions as an actor. He also showered praises on Sunny by adding that actress is also receptive, open, and a thorough professional.
Read More:
Meet Rahul Bhat: Successful Journey Of The Indian Actor!
Dancing Diva: The Charismatic Journey Of Sapna Choudhary!