13 Places To Celebrate Christmas In India At Its Best!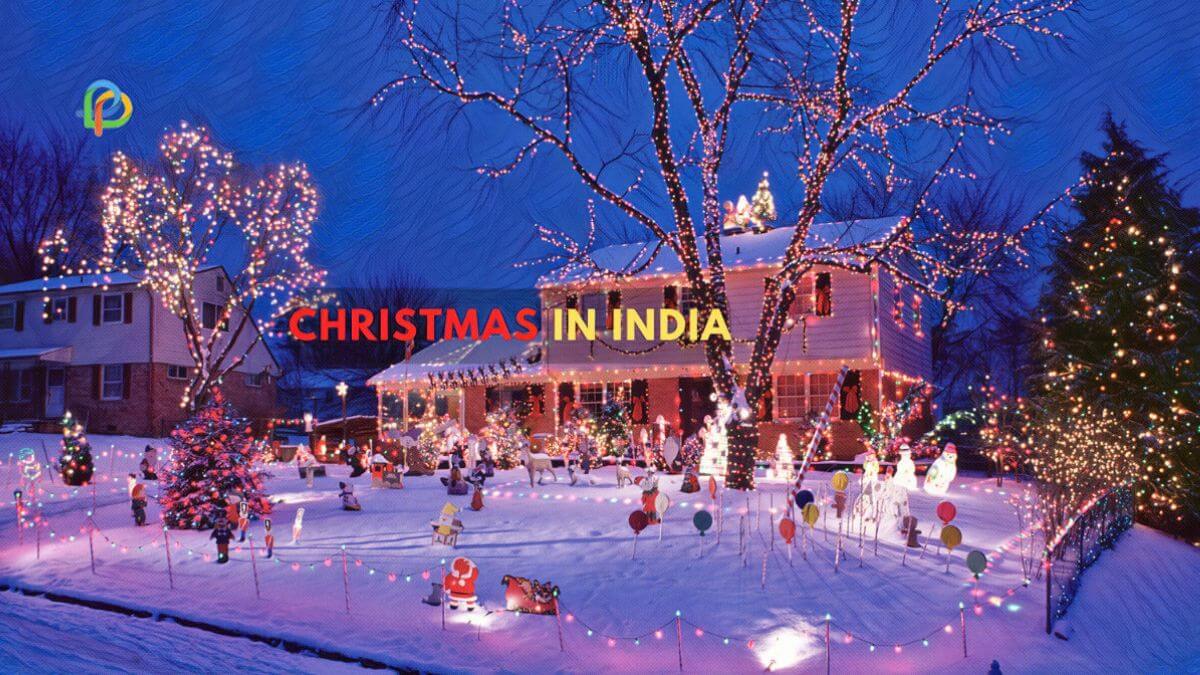 Christmas in India is about color and lighting fixtures, carols and cakes, the exchange of gifts, and commemorating Lord Jesus Christ's birth. It's that time of year when people get together to see their friends and family and prepare for the festivities. They prepare the best cakes, put up lights and stars, and dress up to attend church services. Christmas is a significant occasion in India, despite the fact that Christians account for less than 5% of the population. It has become quite commercialized, with people of all religions participating.
It is one of the most enjoyable times of the year, and people enjoy traveling to different locations to celebrate and enjoy themselves. One can take part in this festival in a number of alluring locations throughout India. However, the Indian way of celebrating Christmas is way too different than the foreign traditions followed in international destinations but that doesn't actually state that Indians don't celebrate this festival well.
A List Of The Best Places To Celebrate Christmas In India!
Pondicherry
Manali
Kolkata
Shimla
Mumbai
Dadra And Nagar Haveli
Delhi
Goa
Chennai
Bangalore
Kerala
Lansdowne
Hyderabad
During Christmas, many places in India are colored with beautiful colors of festivity, from the Northeast to Bombay, and from Kerala to Assam. Explore the best places in India to celebrate this festival with a lot of pomp and fanfare. Check out these top locations to celebrate Christmas in India right away if you have travel plans!
Best Places To Celebrate Christmas In India
Pondicherry
With pleasant weather in December, serene beaches to visit, and an endless number of gothic churches and cathedrals elaborately decorated to soothe the eyes, Pondicherry is the place to be for a Christmas vacation in India. There's no doubt about how Pondicherry landed on the list of the best places to celebrate Christmas in India, with crunchy cookies, gift exchanges, Christmas trees, and a slew of activities for visitors during this time.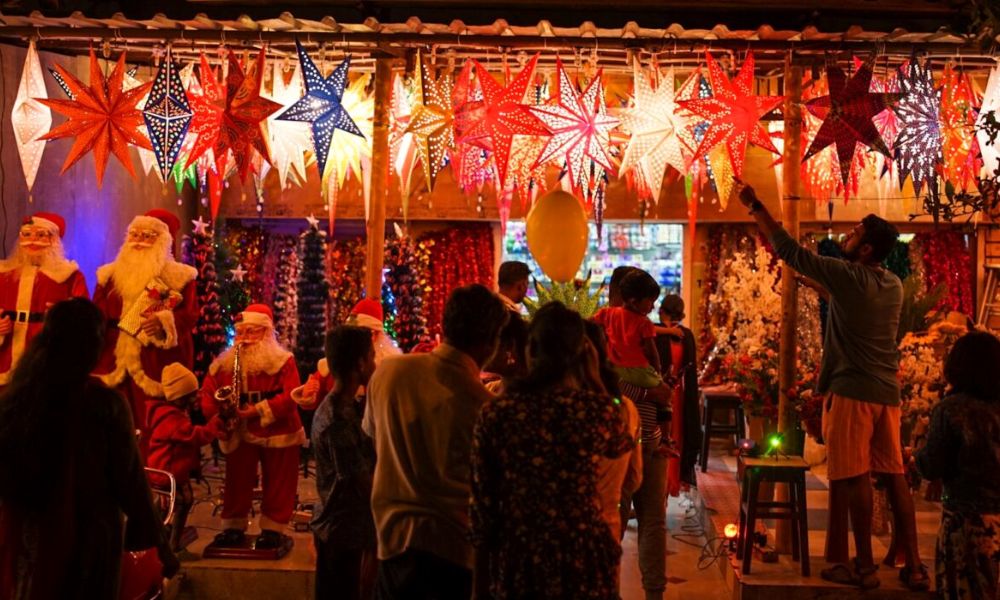 Spend Christmas in Pondicherry, a former French colony, the European way. In the run-up to Christmas Eve, choirs perform on the promenade, a Christmas market with stalls selling mulled wine and traditional yule log cakes are held at the French International School, and a French-themed Christmas service is held at the Eglise Notre Dame des Anges (Our Lady of Angels Church) in the French Quarter.
You should go to Domus Dei Cathedral because it is one of the oldest, largest, and most famous churches in Pondicherry, and it hosts many traditional Christian festivals. To do the best Christmas shopping, you should attend midnight masses and visit various Christmas markets.
Manali
Manali, a popular Himachal destination, is the ideal location for those who want to celebrate Christmas in the snow. Snow and Christmas, when combined, make a perfect setting for this much-anticipated festival; it enhances the spirit of the festival and allows tourists to enjoy skiing, building snowmen, or simply throwing snowballs at each other. The awe-inspiring beauty and charm of the hills enhance the aura during Christmas.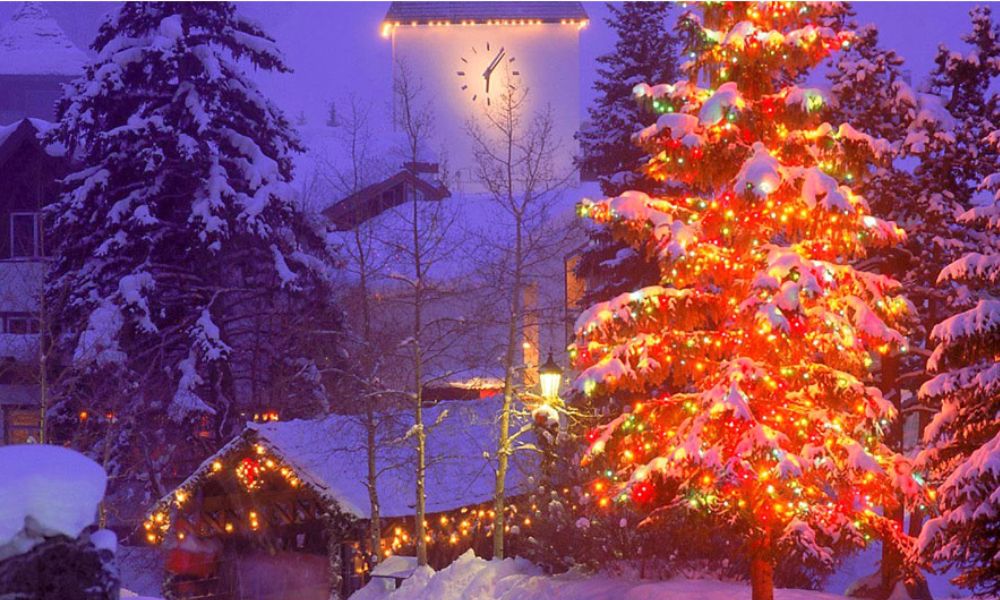 Exotic pine trees are decorated with lights and ornaments to make them resemble Christmas trees. These pine trees are really lovely when covered in snow. The entire scene is enthralling and appears even more so at night. You can also reserve a log hut to experience the true spirit of Christmas while enjoying a starry night if you want to.
Kolkata
Around Christmas, the "City of Joy" i.e., Kolkata is even happier and livelier. Christmas isn't a particularly big deal in Kolkata, but the city does have a soft spot for it. Markets get crowded and the air is filled with the aroma of fruit cake and pastries. One location that exaggerates the holiday spirit is Park Street.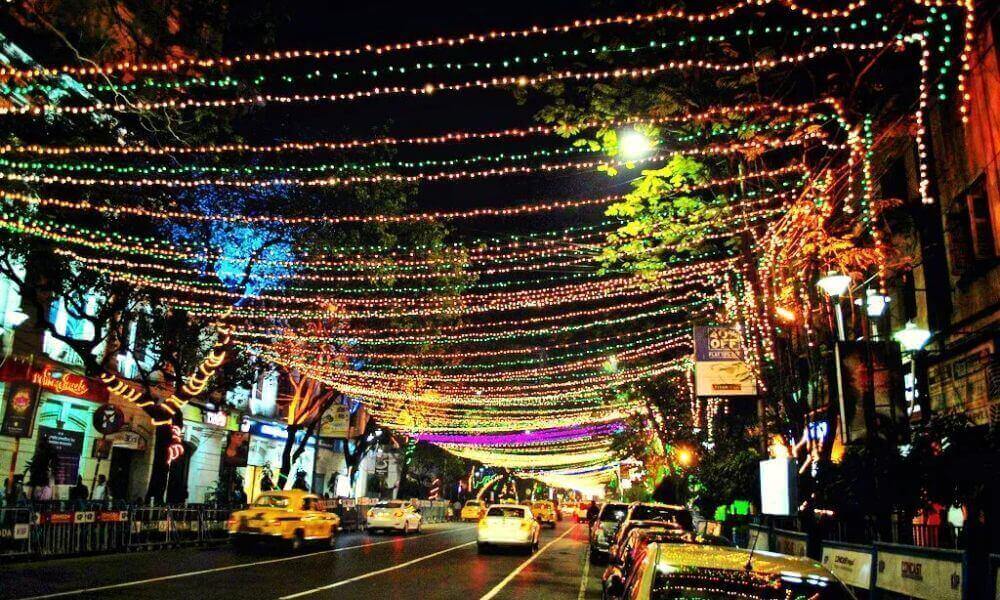 You should take part in the largest Christmas Carnival there. In the churches during the midnight mass, you might notice that non-Christians also offer prayers and sing carols. The market offers significant discounts during the holiday season, which keeps the bazaars in Kolkata busy.
The city's atmosphere is improved by the light and sound exhibit, rock music, shimmering lights, and delicious food.
Even though there aren't many Christians in Kolkata, the city's residents love to celebrate this festival with the same opulence as they do Durga Puja. You'll adore the celebrations and the fervor with which people enjoy themselves at this festival.
The Basilica of Bom Jesus, St. Paul's Cathedral, and Saint Philomena's Cathedral Church are some of the well-known Christian communities in Kolkata that you must visit during the Christmas season.
Shimla
Shimla is one of the best places to spend Christmas amidst snow-capped hills, stroll down the Mall Road, and dine at British-era cafes. Because Shimla is one of the best Christmas destinations in India, hotels and resorts host exciting New Year's Eve parties to attract visitors from all over the country.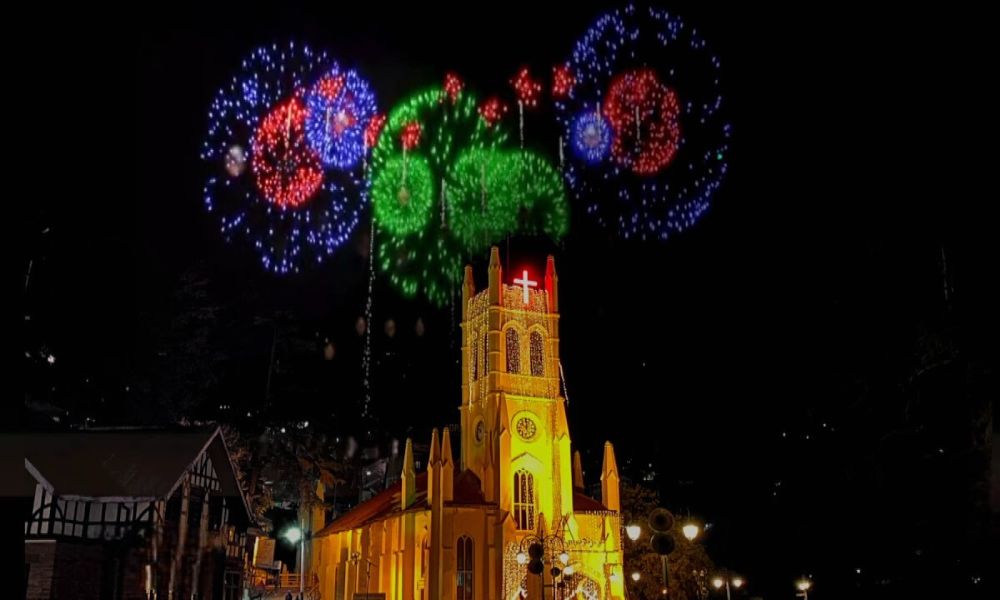 You can't afford to miss out on all the fun Shimla has to offer this time of year. Shimla's major attractions during the festive season of Christmas are Kali Bari Temple, Christ Church, Viceregal Lodge & Botanical Gardens, The Ridge, Hanuman Mandir Jakhoo, and Himachal State Museum, which are all beautifully decorated.
Mumbai
Another popular destination for a traditional Christmas in Mumbai. Bandra's western suburb is predominantly Catholic, but churches can be found throughout the city. These are the most well-known Midnight Mass churches in Mumbai. Notably, Saint Thomas' Cathedral, which celebrated its 300th anniversary on Christmas Day in 2018, has now reopened following a complete architectural restoration.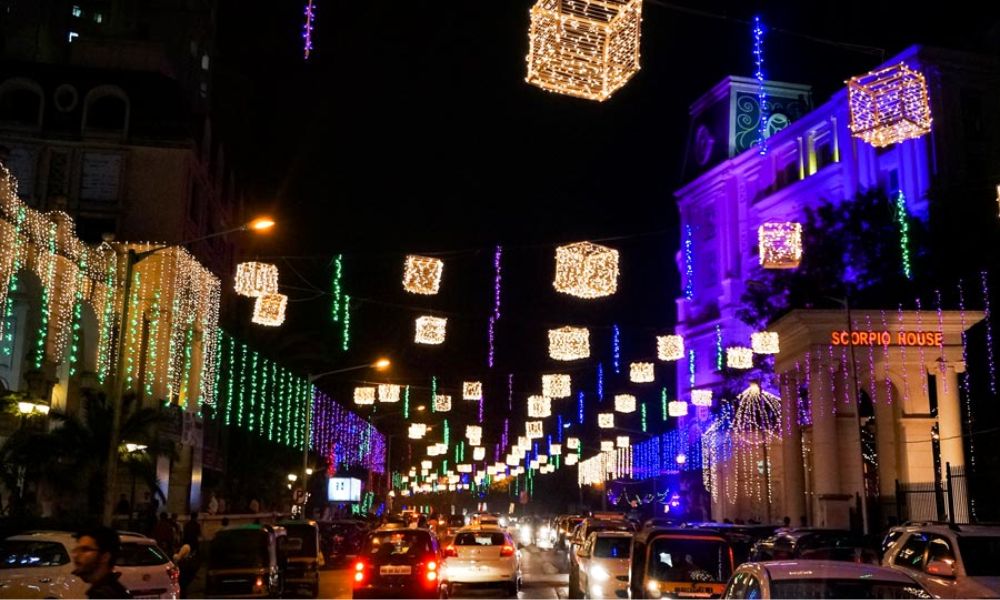 Bandra's Hill Road is also decked out in Christmas decorations, and bakeries are brimming with holiday treats. Attend the famous annual community "Carols on Convent Road" in Bandra West, which is organized by locals. Another place where Christmas is fervently observed in Mumbai is the charming, 200-year-old Matharpacady village, which is tucked away in the lanes of Mazgaon.
For the celebration, this East Indian Catholic village is exquisitely decorated and lit up at night.
Dadra And Nagar Haveli
The union territory of Dadra and Nagar Haveli has the potential to become a major haven for the same, and it is yet another charming place to spend Christmas Eve. A visit in December will demonstrate how magnificently Christmas is celebrated in this union territory.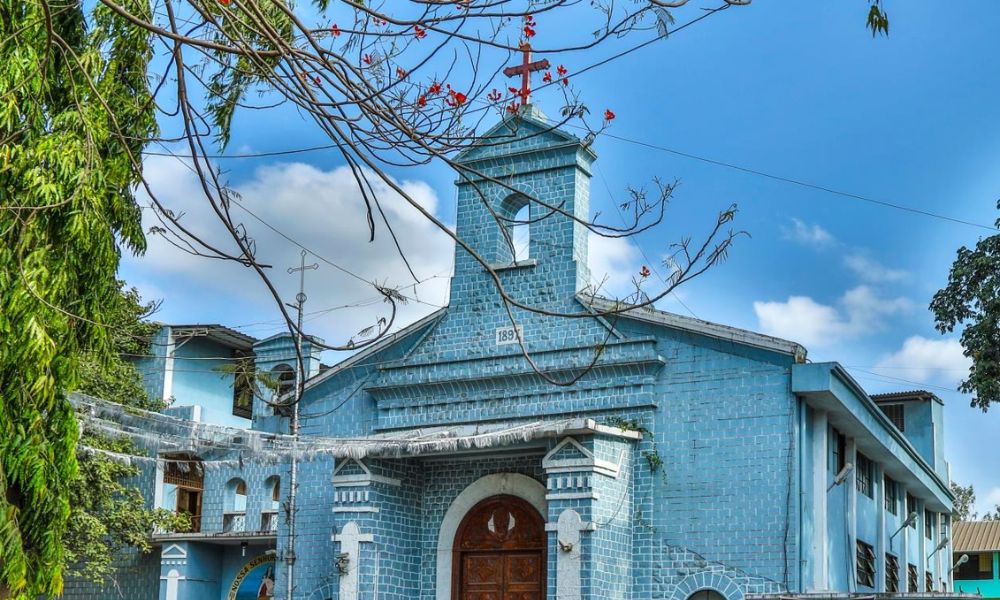 The most exciting aspect of its celebrations is the mix of tribal celebrations, which is very intriguing. There are also a few beautiful churches that have been meticulously decorated, and one can attend the evening holy mass services, which are held with great festive spirit and fervor.
The best churches in Dadra and Nagar Haveli to celebrate Christmas with friends and family are New India Church Of God, Our Lady of Piety Church, and Church Silvassa. Khanvel Resort and VITS Kamats are the best places to stay in Dadra and Nagar Haveli during the Christmas season because they are all festively decorated.
Delhi
Delhi is a city that never sleeps, and this vivacious city has another reason to party in December due to this fantastic festival. Even in the dead of winter, you can feel the festive spirit all around you. Despite the fact that Delhi does not have a large Christian population, this festival is widely celebrated.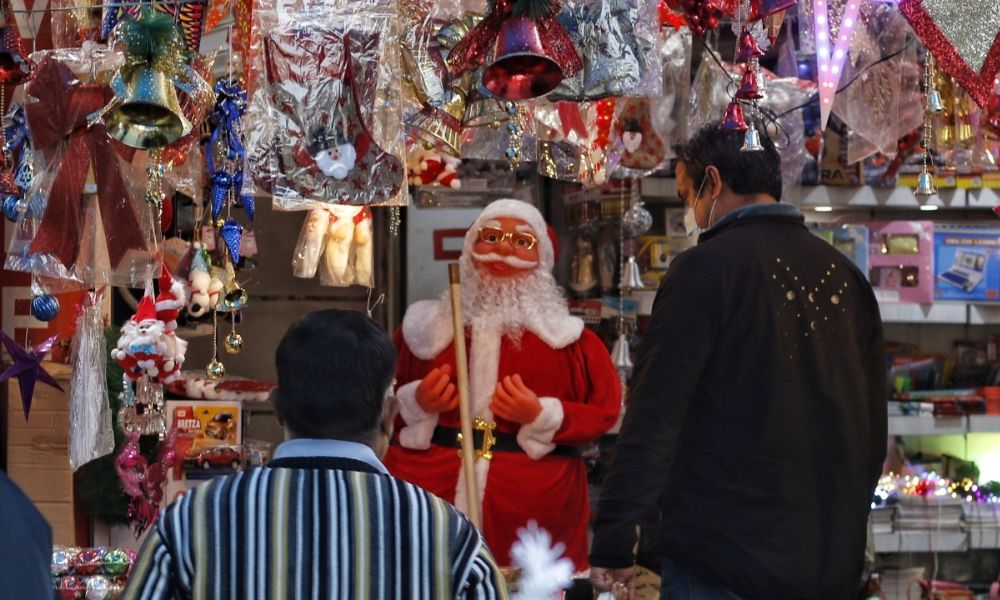 Christmas in the capital city is undeniably a great time to be there, with beautifully lit and decorated churches, colorful props adorning the streets, markets, and malls packed with excited people and eating joints serving their specials.
The Sacred Heart Cathedral and the Capital City Minstrel Choir concert are the best way to explore the traditional aspects of Christmas in the capital city, and you can actually see how Christmas is celebrated here.
Goa
Goa is the epicenter of celebrations. Especially during the Christmas holiday season. Goa, with its sizable Roman Catholic population and Portuguese heritage, knows how to celebrate the birth of Jesus with zeal, pomp, and show. The party capital of India becomes even livelier during the Advent Season, and one can actually feel the warmth of Christmas through its beautiful beaches.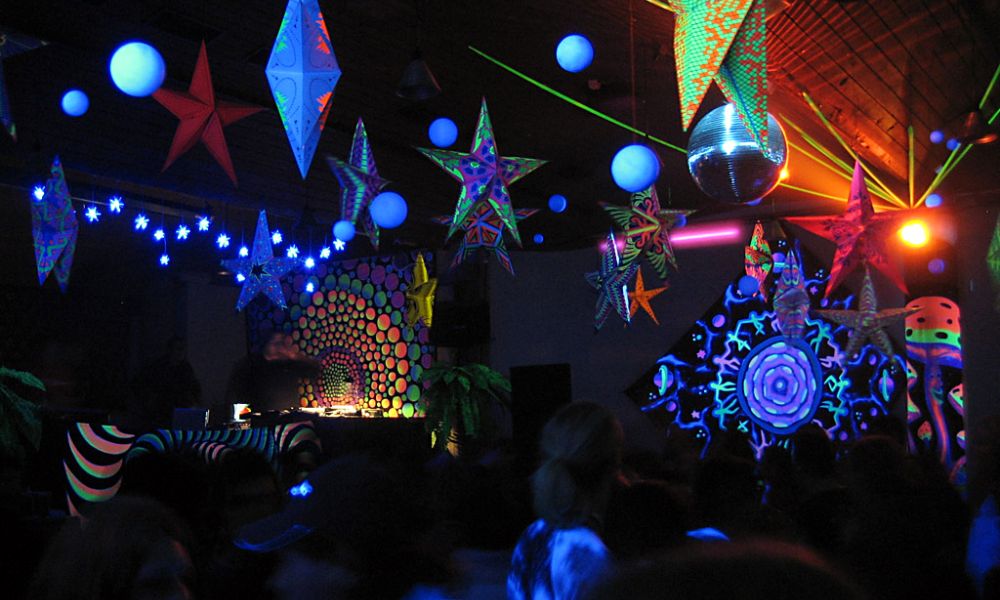 The entire city is decked out in poinsettia flowers and lights. The beach shacks and restaurants offer Christmas lunches and dinners, as well as live music. On beaches such as Anjuna, Mapusa, and Candolim, all-night parties are organized. If you go there for celebrating Christmas, you should try to participate in the ball dances and visit the Saturday Night Markets to do some extravagant Christmas shopping.
Some of the best and most famous churches in Goa are the Basilica of Bom Jesus, Se Cathedral, and Santa Cruz Church, which everyone should visit, especially during the Christmas season.
Chennai
The state of Tamil Nadu's capital, Chennai, has a significant place in Christian history due to the alleged murder of one of his disciples there. The state is home to a number of well-known churches, including the Velankanni church, which welcomes over 6,000 guests during the holiday season.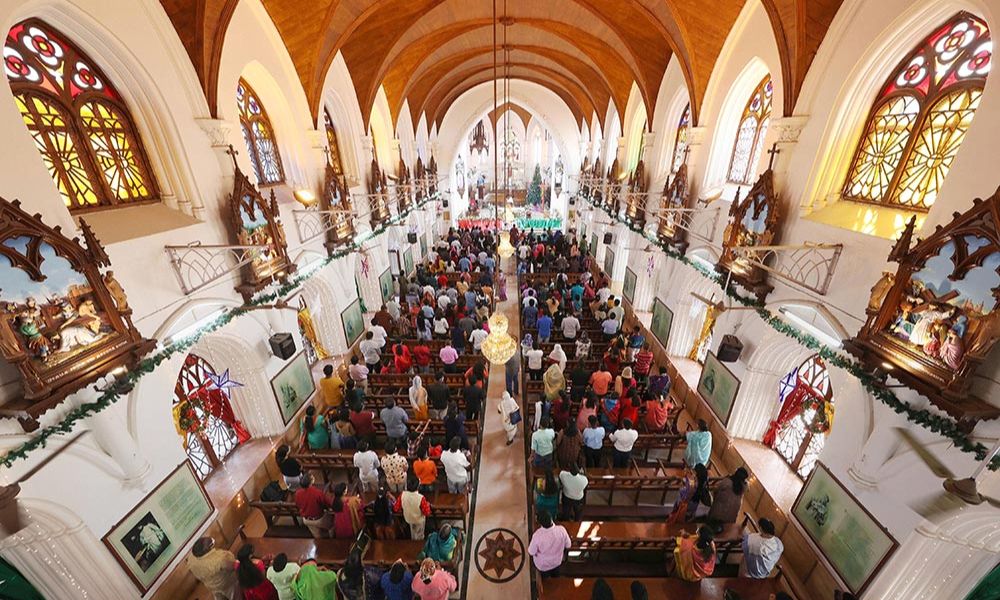 The celebrations take on a whole new level in the evenings, when clubs, hotels, and pubs host wild parties and tantalizing Christmas dishes with a touch of Tamilian cuisine. Small groups of people go door-to-door in the streets playing music announcing the birth of Christ. Away from the hustle and bustle of the city, a number of upscale Christmas parties are held on the beaches. In conclusion, if you don't like snow and White Christmas, Chennai is one of the best places to celebrate the holiday.
Bangalore
Bangalore is known as the "Garden City" of India and is one of the best places to celebrate Christmas in India. Along with pubs, microbreweries, and gardens, the city promises live performances by artists during New Year's and Christmas in India. Bangalore knows how to make festive evenings grand and exciting with delicious buffets, foot-tapping music, and theme parties.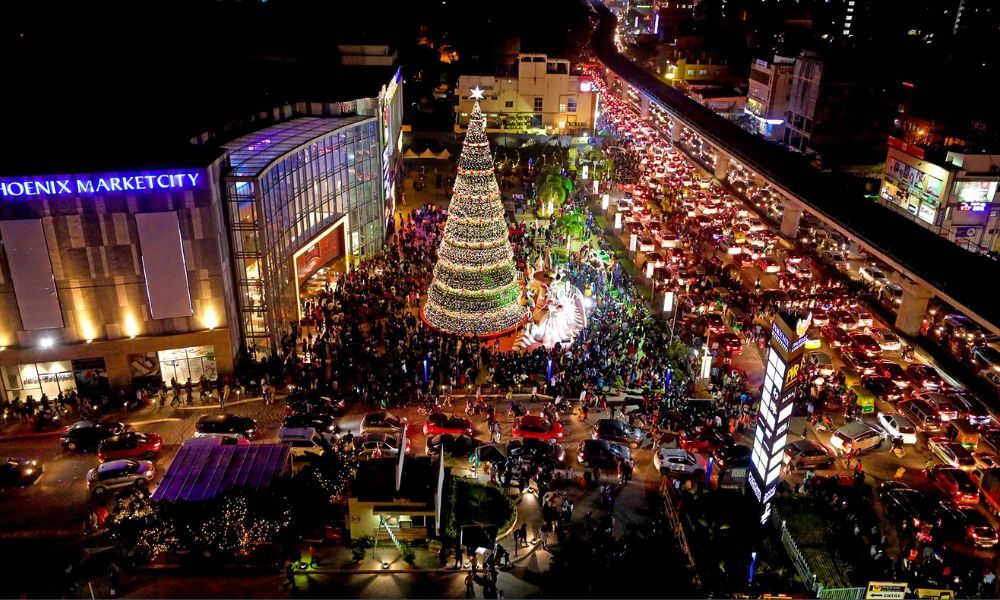 Cubbon Park, Lalbagh Botanical Garden, ISKCON Temple, St Mary's Basilica, Bengaluru Palace, Karnataka Vidhan Soudha, and Church Street are among the city's major attractions.
A leisurely stroll through Cubbon Park, reconnecting with nature at Lalbagh Botanical Garden, taking in the architectural splendor of Karnataka Vidhan Soudha, exploring Bengaluru Palace, and shopping on MG Road are all must-do activities when visiting Bangalore during the Christmas season.
Kerala
Unbeknownst to the uninitiated, Kerala has a sizable Christian population and numerous churches all over the state. Christmas is grandly celebrated with vigor throughout the state, with people decorating their homes, churches, and streets with lighting and other Christmas fineries. Christmas in Kerala coincides with the Cochin Carnival in Fort Kochi. The carnival culminates with the burning of a massive Santa effigy at midnight on New Year's Eve which is called Pappanji in the local dialect and a massive street procession on New Year's Day.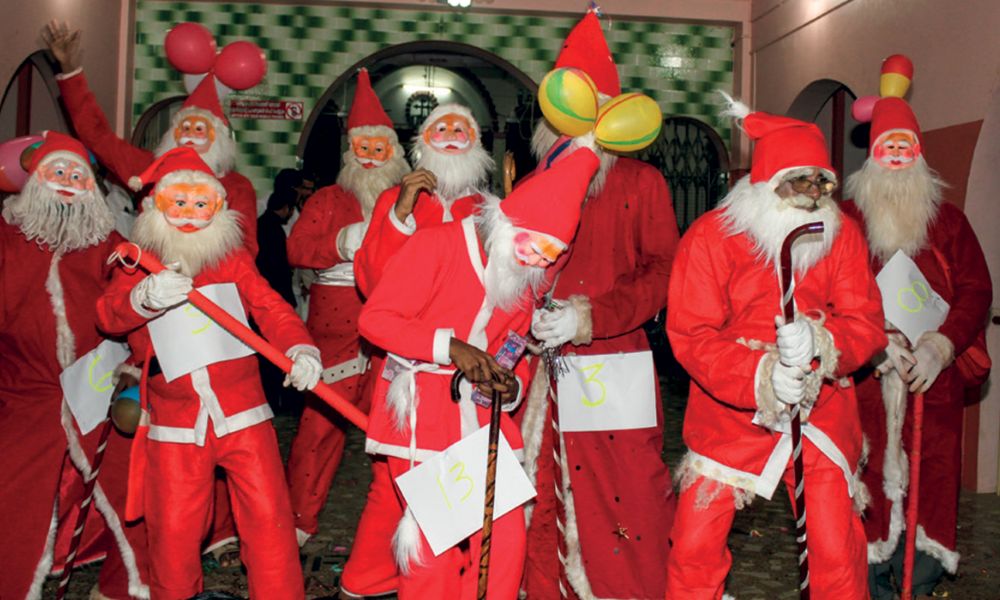 Pappanji was added to the Cochin Carnival in 1984 to honor the city's Portuguese heritage. It's a Portuguese word that means "grandpa," and some believe an effigy is actually an old man rather than Santa. The burning of Pappanji represents the end of evil and the beginning of new beginnings. On December 30, the effigy is displayed at the Parade Ground in Fort Kochi.
Some of Kerala's well-known churches include the Basilica of Our Lady of Dolores Church, Edathua Church, and St. Francis Church. You should go and stay in a well-lit tree house while eating delicious Christmas-themed food.
Lansdowne
Lansdowne offers that much-needed break from your busy everyday life if your idea of celebrating Christmas is amidst an unspoiled and pristine landscape. Bring your friends, family, or your significant other to this charming hill station to celebrate Christmas with a bonfire, guitar music, beautifully decorated Christmas trees, and freshly baked plum cakes. Lansdowne's Tip N Top viewpoint provides panoramic views of the Shivalik Hills.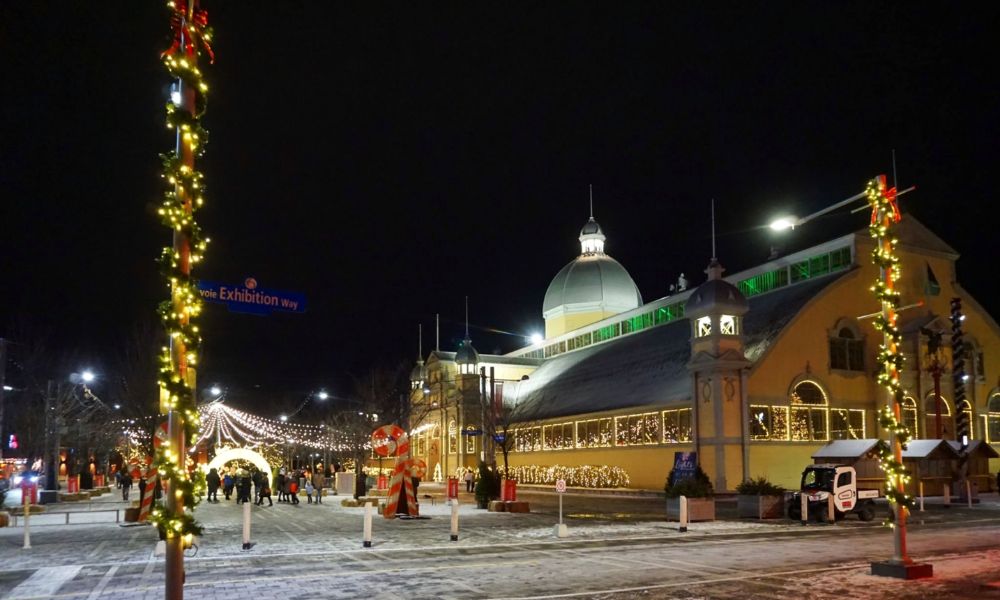 The scenic view of the hills shining brightly under the light of the winter sun, however, is what makes it a go-to spot in Lansdowne in December. The sunset views from here are also spectacular. Furthermore, December marks the winter solstice. Sunsets last longer near the solstices.
As a result, the sunset views in Lansdowne in December are superior to those in other months. St. Mary's Church and Saint John Church Lansdowne are the most famous churches in Lansdowne to celebrate the traditional festivities of Christmas.
Hyderabad
Christmas is one of the happiest times of the year, and Hyderabad celebrates this happy festival with great fanfare. For the celebration of this wonderful festival, the entire city is illuminated and decked out in lovely Christmas decorations. If you want to attend midnight mass and hear lovely Christmas carols, you can also look into churches.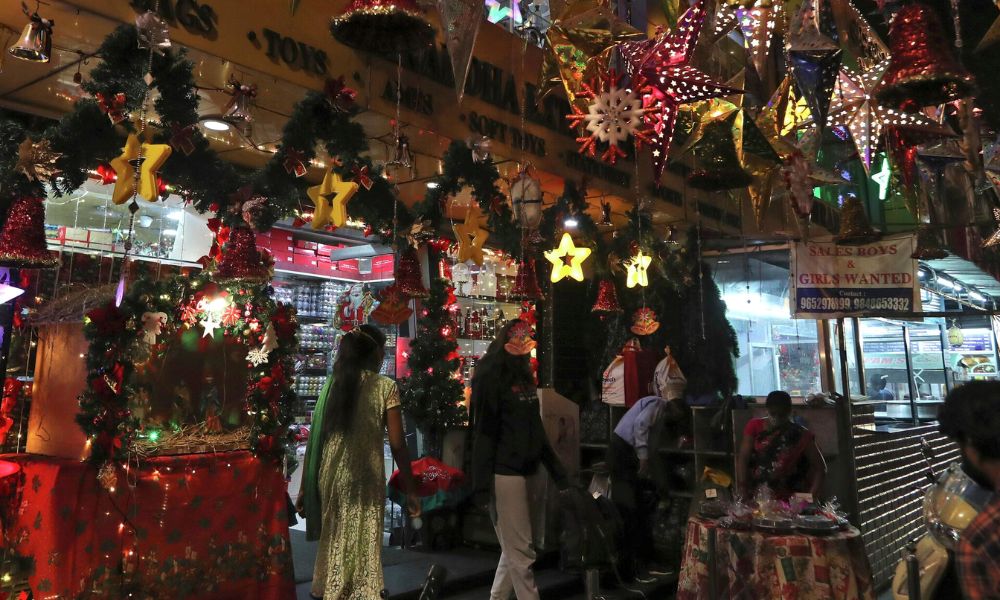 In Hyderabad, a number of eateries and cafés also provide excellent discounts around Christmas. It is yet another excellent location in India to celebrate Christmas. Plan your Christmas vacation to one of these places in India.
Conclusion
It's that time of year again when everyone in India prepares to celebrate one of the most anticipated festivals. Red and white balloons are used to decorate public spaces, and huge Christmas trees are placed as decorations at the entrances to malls and restaurants.
The major holiday known as Christmas is observed by people all over the world just before the end of the year. And the New Year's Eve celebration is the best way to usher in another wonderful year full of possibilities. These two events occur within a week of each other, giving people even more reasons to celebrate. People are joyful and excited about a better new year, and the enthusiasm is contagious. To make your Christmas celebration even more memorable, you must go and enjoy celebrating this joyful festival at any of these places.
Read More:
Jammu To Start Helicopter Services to Connect Remote Areas
Discover Hampi, The Forgotten Empire Of Vijayanagara Dynasty