Shweta Bachchan And Karan Johar Twin In Bling Attires!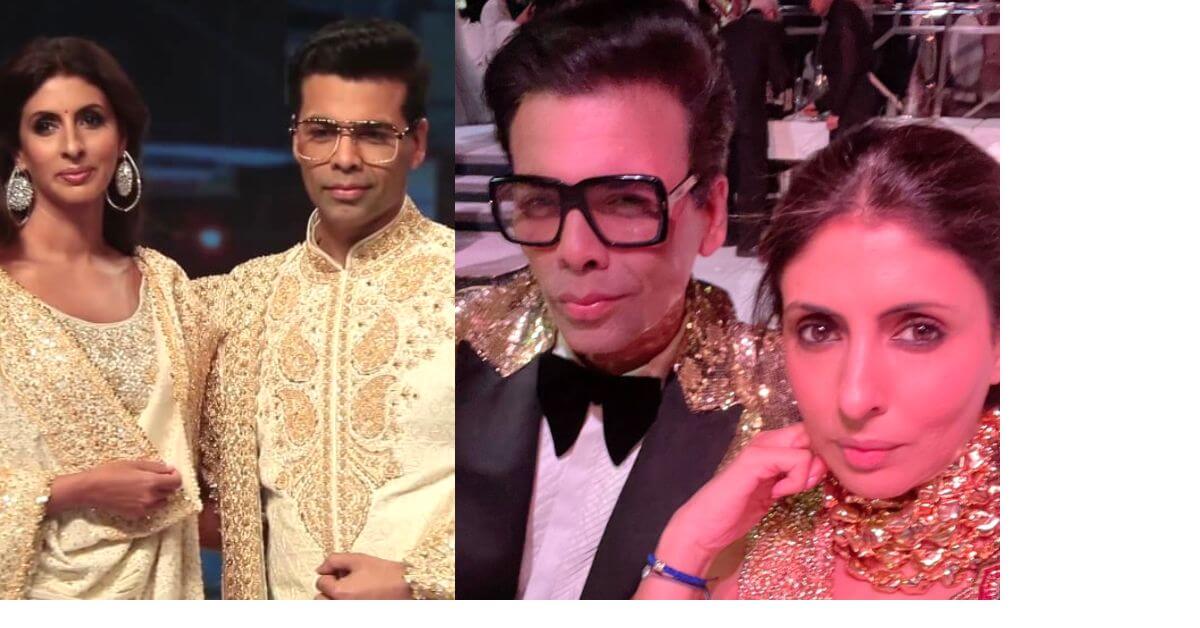 The Bachchan family and the Johar family have long been friends because Amitabh Bachchan and Yash Bachchan were good friends, and so it ended up that their children have also been lifelong friends.
In a recent incident, on a trip to a wedding in Monaco, Shweta Bachchan And Karan Johar shared an image of each other on Instagram talking about their said lifelong friendship, quipping about how they're "wolves in chic clothing".
A play on "wolves in sheep's clothing", signifies a division between their personality and clothing.
Shweta Bachchan And Karan Johar Wear Matching Bling Attire And Call Each Other BFFs
Shweta Bachchan And Karan Johar went on to mention how much fun they were having, with another post that only said, "Tuxedo times", showcasing their congruent clothes. Other people, like Sanjay Kapoor;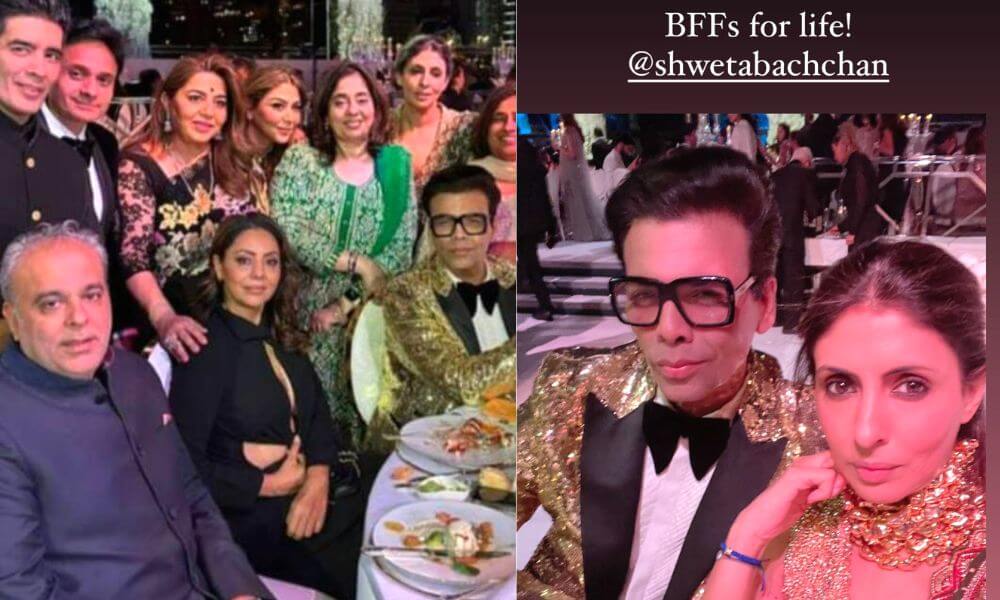 Stepped in to provide commentary on the clothing choices of the two BFFs. This was done through an image, which he uploaded to Instagram while wearing a Tuxedo. This was not the only reason that Karan was happy, earlier he announced that he had become a "Nana".
(Maternal Grandfather in Hindi and Urdu) to Alia and Ranbir's newborn, as he considers Alia to be like his daughter. One could consider him to be her Godfather, even though that term is usually restricted to a Christian definition.
He expressed his happiness at being a Nana by exclaiming that he was as happy as to the moon and back in an insta post. Part of his happiness (Karan Johar's) comes from being a father to two twins that he had out of surrogacy, not more than a few years ago.
On the discussion of clothes, Karan was in a suit that was Golden in color (either from the material itself or purely through color alone), it shimmered. Shweta Bachchan was in a Dress that was made of Gold as well (or it could just be the color) and had a heavy Gold necklace.
In that photo of Shweta Bachchan And Karan Johar dressed well, she called him her "plus 1 for life". Riddhima Kapoor and Gauri Khan were also present there for the wedding. They expressed their excitement about being in France.
Shweta Bachchan And Karan Johar are Ready to see the infant and have fun at the wedding.
Riddhima, Gauri, and Riddhima's mother have been sharing photos of the wedding since they got there. With so many A-list celebrity presents, fans quipped that the "Student of the Year" casting has been sorted.
A lot of celebrities have been sharing images of their gowns, dresses, and other such pretty outfits from the wedding on many social media outfits, Bollywood has been quite abuzz lately with the birth.
The shaadis (weddings in Hindi/Urdu) and other events that spell good omen (is in the air). The people behind these outfits, which include Abu Jani and Sandeep Khosla, their "advertisement" so to speak on Social Media is in a way.
A tribute to Indian textiles and embroideries. And a part of the proceeds goes to charity, in particular, the effort to help the organization known as Cancer Patients Aid Association (CPAA) in India.
Although sometimes the rich, wealthy, and famous are criticized for self-aggrandizement and ostentatious displays of wealth, it is at times like these that their fame and fortune begets many good things as well.
Read More:
As Delhi's Air Is Deemed Hazardous, Schools Are Closed!
Priyamani Still Keeps The 300 Rupees Given By Shah Rukh Khan!